Community
Whatcom Peace & Justice Center celebrates 20 years
International Day of Peace event draws attention to change-makers
September 12, 2022 at 3:19 p.m.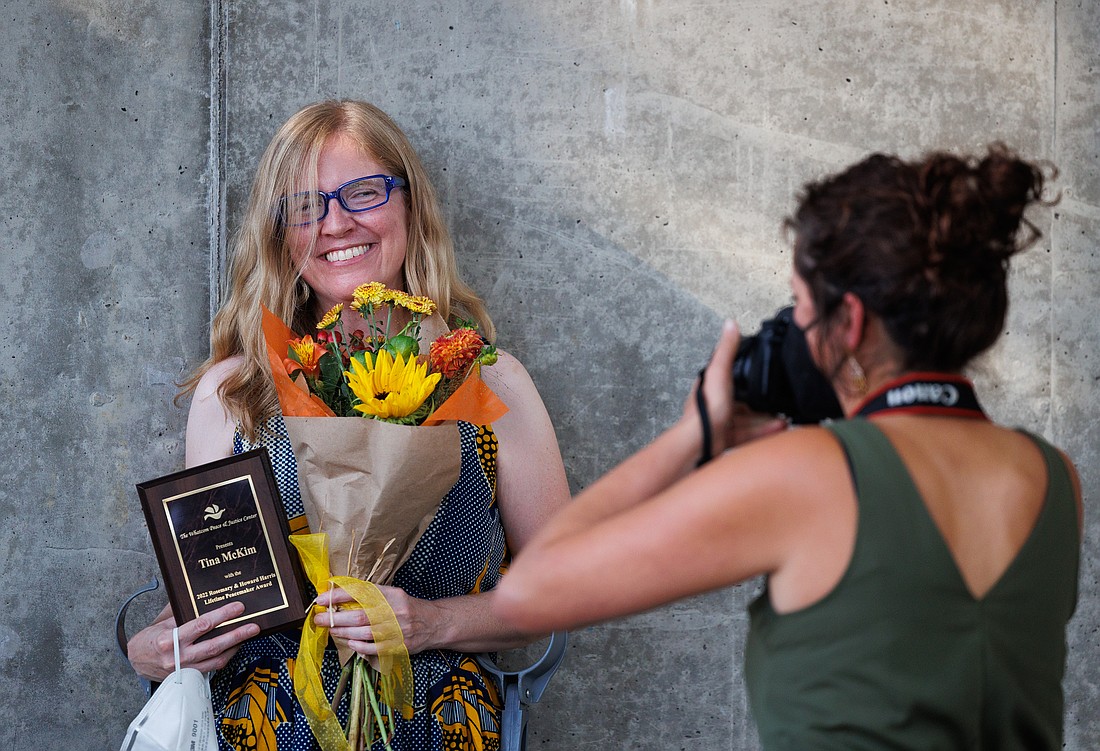 ---
---
Twenty years after the Whatcom Peace & Justice Center's (WPJC) inception, staff, volunteers and supporters of the nonprofit dedicated to promoting lasting peace, social justice and a culture of nonviolence gathered at Bellingham's Depot Market Square to commemorate the milestone.
Coinciding with WPJC's International Day of Peace fundraiser on Sunday, Sept. 11 — which kicked off via a virtual talk with renowned historian and author Roxanne Dunbar-Ortiz at noon at the Pickford Film Center — the celebration also included the handing out of awards to two community members who are actively working to make the world a better place.
Before introducing the Lifetime Peacemaker Award to Tina McKim and the inaugural Youth Peacemaker Award to Kwastlmut (Sadie Olsen), emcee Shu-Ling Zhao reflected on a recent conversation she'd had with Aline Prata, WPJC's executive director.
"I said, 'Well, we're going to talk about peace,' and she was like 'No, no, no, we're not just going to talk about peace, we're also going to talk about justice, because justice is an essential part of peace,'" Zhao said of their conversation. "Justice acknowledges the struggle and the work of resistance in order to manifest peace, and so that's what we're here talking about today."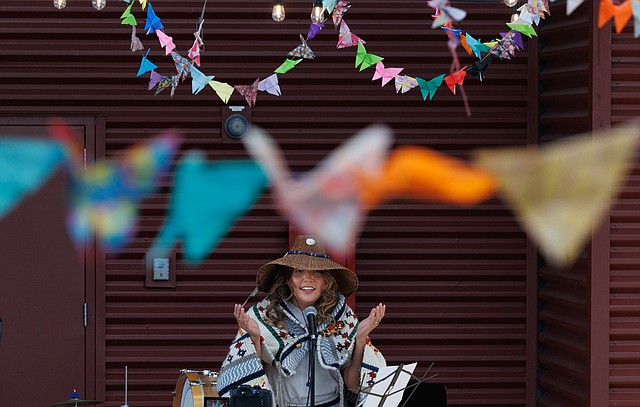 Zhao went on to discuss her own involvement with the local Black Lives Matter movement and the many marches, protests and social justice movements she's been involved with since the 2020 murder of George Floyd in Minneapolis, Minnesota. 
Choking up, she said being able to count on Prata and others who are a part of the Whatcom Peace & Justice Center to be peacekeepers at these events has meant that protestors aren't getting hit by cars and police don't have to be brought in — potentially escalating the situation.
"I think about the Whatcom Peace & Justice Center as a movement incubator, as an essential support for movement organizing here in Whatcom County," Zhao said.
Shortly thereafter, Zhao introduced McKim, the founding member of Birchwood Food Desert Fighters, a group focused on bringing attention to the "food desert" in Bellingham's Birchwood neighborhood. McKim is also a part of the Bellingham Deaf and Disability Justice Collective, but her advocacy goes beyond both groups.
In her acceptance speech for the Rosemary and Howard Harris Lifetime Peacemaker Award — named after the couple who founded Bellingham's first peace vigil in 1966 — McKim, 47, focused on moving toward a government based on values, dignity and mutual care. 
She pointed toward the recent death of Queen Elizabeth and the global response as one incident of people creating revisionist history in real time, but also drew attention to a not-so-long-ago event in downtown Bellingham, where SWAT vehicles, cops in riot gear and armed ICE agents surrounded City Hall to evict "roughly 100 of our neighbors who were trying to survive."
"The city continues to actively and deliberately choose to use state violence against our unhoused neighbors," McKim said. "Where we could provide increased emergency shelter and essential services, our government chooses to spend millions to have cops chase people around the city, taking away more and more resources from our neighbors each time."
McKim said she believes change is possible, but not without people fighting for the best version of their dreams — whether those visions include providing mental health care and addiction treatment to people who are incarcerated, seeing more tiny house villages being built instead of displacing houseless neighbors, bringing food equity to low-income neighborhoods, or making sure every citizen has their basic needs taken care of.
"I think the biggest thing is to amplify the voices of people who are already speaking out," McKim said after her speech, when she was asked if she thought people had an obligation to speak out for marginalized communities. "As Dr. Su'ad Abdu Khabeer said, 'You don't need to be a voice for the voiceless, just pass the mic.'"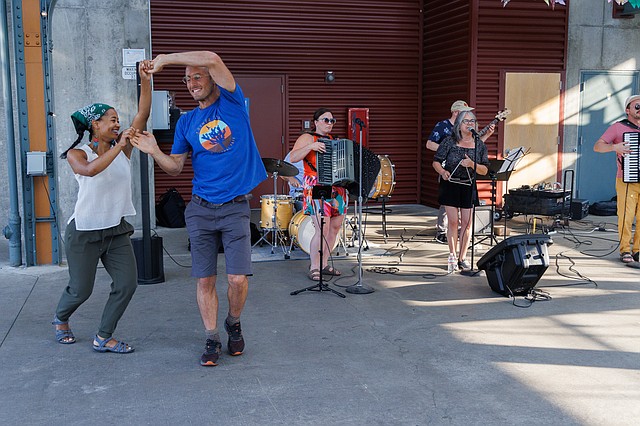 When Kwastlmut accepted the first-ever Dotty Dale Youth Peacemaker Award, she began her speech using the language of her ancestors of the Lummi Nation. The 20-year-old Northwest Indian College student has been making change in and for her community since she was 13, when she cofounded the Indigenous-led nonprofit Whiteswan Environmental with her parents.
"Our mission is to support the natural, cultural and historical restoration through the Salish Sea for seventh-generation sustainability as a measure of ecological health protection for all," Kwastlmut said. "Our vision is to see seven longhouses in the San Juan Islands and seven longhouses in the Gulf Islands."
Kwastlmut has also been instrumental in the startup of Whatcom Intergenerational High School, is a member of the Northwest Portland Area Youth Indian Health board, and co-facilitates diverse groups of students and adults for Western Washington University's Community Engagement Fellows.
As a voice for Indigenous rights, Kwastlmut said she believes that social and environmental justice go hand-in-hand. She ended her speech with a story that's been passed down in her family about two swans who meet every year on top of a hill. When they come back, it's a sign that they'll see each other again. When she sang about the swans in the Lummi language, history came alive in her voice.
Following her moving speech, as the band Foleada played lively Brazilian music in the background and people checked out the silent auction items and a WPJC timeline focusing on the last 20 years, Kwastlmut moved to the courtyard in the Depot Market Square to talk with those who'd come to see her accept her award.
When asked what advice she'd give to other youth who want to make a difference in their communities, she was quick with an answer.
"I would say keep your hands busy, know who you are and where you come from, and value your strengths."
The Whatcom Peace & Justice Center's International Day of Peace fundraiser concludes on Wednesday, Sept. 21, when Takeout for Peace will see Bellingham-based restaurants Guud Bowls (delivery only) and Ambo Ethiopian Cuisine donate a portion of the day's proceeds to WPJC. A silent auction also continues through that date, and there will also be a virtual program of Roxanne Dunbar-Ortiz's keynote speech from Sept. 11. Info: whatcompjc.org.