Restaurants
Review: Big Stick BBQ
From brisket to beans, you won't leave hungry
September 10, 2022 at 5:00 a.m.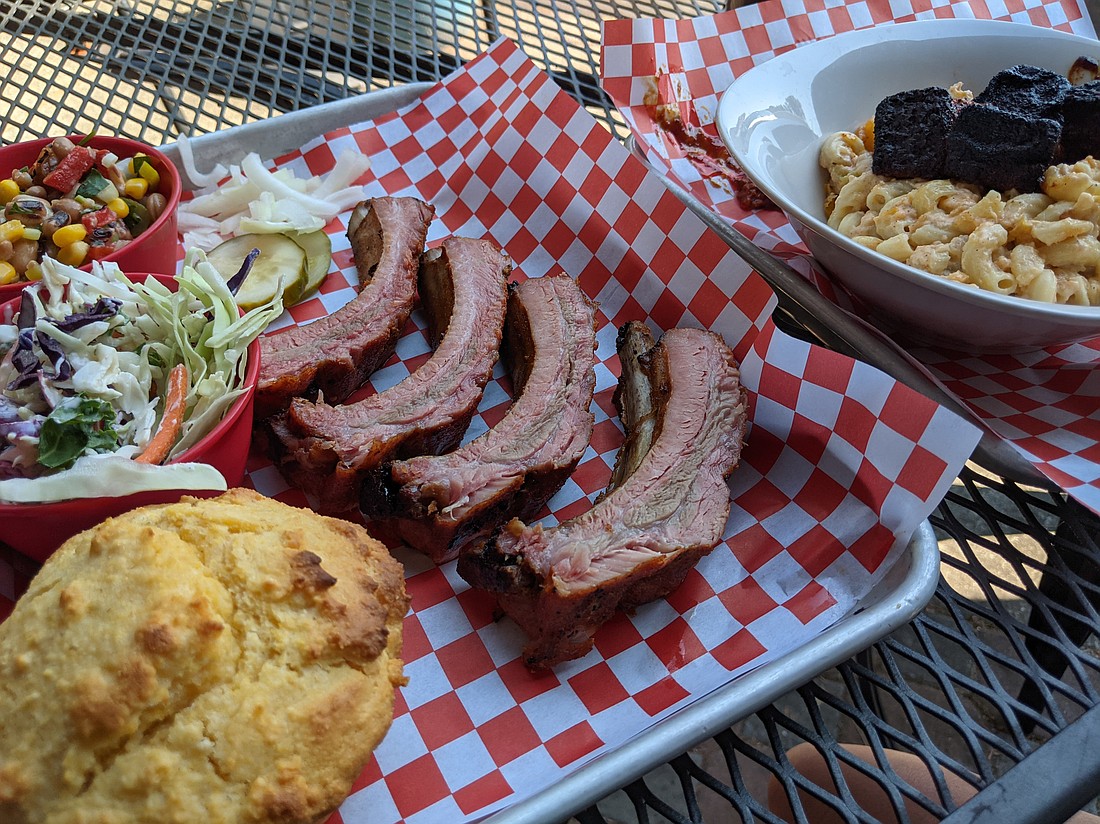 ---
---
Almost five years ago, Big Stick BBQ first appeared in Bellingham as a food truck, the result of Rick Atkins' barbecue obsession, supported by his wife Linda. I first learned about them when they won a Cascadia Weekly Best of Bellingham award in 2019 and I was sent to photograph their food truck, which was parked at Kulshan Brewery on Kentucky Street at the time. I got lunch since I was there and was happily blown away by their brisket slider. I got to try them again shortly afterward at Stone's Throw, but then the pandemic rudely interrupted. 
While the lockdown was a blow to business, as it was to most restaurants, the Atkins doubled down by moving to a permanent brick-and-mortar location in late 2020, and have been slinging barbecue there ever since. Their new restaurant in the old Jeckyl & Hyde Ale House location is in a strip mall in the Orchard Business Park off Meridian, and I admit I got lost trying to find it the first time, even with my GPS turned on. It was much easier the second time — just look for the Big Stick sandwich board.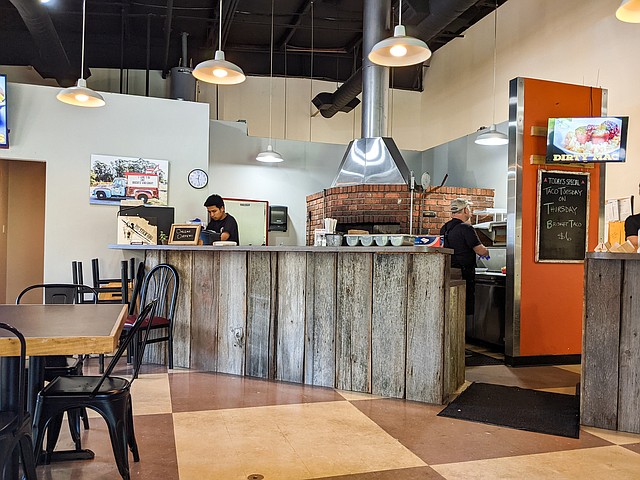 The space is large enough for quite a lot of tables, plus several outside. The restaurant is counter service, with delivery to your table, and food is ready fast but can be even faster if you order online or by phone. Local craft beer is available on draft, as well as wine and soda.
For your first visit, the combo plates ($17 for one person) are a great way to start. They feature three different meats (brisket, ribs and pulled pork), a rosemary potato bread roll, beans and slaw. You can get combos for as many people as you want, making it a perfect dinner or even picnic lunch to share. Once you zero in on your favorite meat, you can get plates of any single meat along with a roll (or cornbread) and two sides.
Of all the meat options, pork ribs were the star for us, heavily meaty and tender. Pulled pork, my go-to at barbecue places, is also excellent. Slabs of brisket are tender and flavorful but slightly dry, which is just fine in a sandwich but slightly lacking eaten alone. All meats are available by the pound.
Pork belly burnt ends are also a specialty here. I was a little surprised the first time I tried these, as I'm more familiar with the original Kansas City style of the dish made from cutting the ends off of barbecued brisket, then chopping them and mixing them with sauce. Big Stick's version involves chunks of pork belly that have practically been candied, with a dark, crispy top and plenty of pockets of melted fat. Get a few as a snack with beer, or even better, get them on top of macaroni and cheese as a Dirty Mac ($13). This is absolutely a calorie bomb but is definitely worth it — just make sure you come hungry.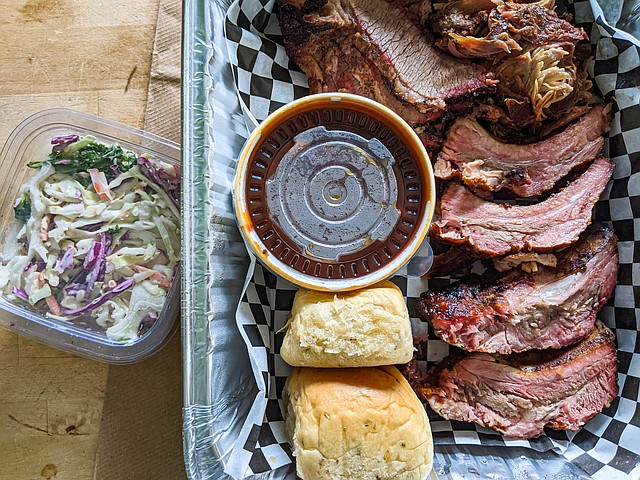 Choose from plenty of sides, including some unusual options ($3–$4 each). The coleslaw has both cabbage and kale in it, and a very strong fresh lemon flavor. The potato salad is made with sweet potatoes and a curried dressing, an unusual combination that I liked but didn't love. My favorite side is actually the cowboy caviar, a salad of black-eyed peas and peppers in a sharp, savory dressing. It's the perfect acidic complement to the rich barbecue.
In addition to the bean salad, Big Stick makes two kinds of pot beans: regular barbecue and Texas pinto. The regular beans are vegetarian, served in a thin broth that tastes strongly of molasses and vinegar. Personally, I prefer the Texas pintos, which have a rich, meaty broth with pieces of pork and sometimes even a pork bone.
Sandwiches are served on a large version of the rosemary roll. In addition to traditional pulled pork and brisket sandwiches, there's also the Rissa ($12.50), a popular but unusual combination of pulled pork, brie and jalapeño jelly.
Then there's the Texas Reuben ($13.50), which features a pile of sliced brisket with Swiss cheese, sauerkraut and Russian dressing. You can also get sliders in several different flavors, excellent for the more moderate appetite. Burgers are available on Fridays, made with brisket trimmings and featuring a different burger topping every week (I was sorry to miss a jalapeño popper burger on a recent Friday). I also have yet to try the Magpie, a hand pie of pastry crust stuffed with barbecued meat, which makes an occasional limited-time appearance on the menu.
Since the food here is cooked well ahead of time, sometimes one of the meats or sides might run out. But don't worry — no matter what you end up ordering, you won't leave hungry.
Big Stick BBQ can be visited from 11 a.m. to 8 p.m. Wednesday through Friday, 10 a.m. to 8 p.m. Saturday, and 10 a.m. to 7 p.m. Sunday at 709 Orchard Drive in Bellingham. Info: bigstickbarbecue.com.