Health
Against the wind, with resolve
Paddlers highlight battle against ovarian cancer
September 3, 2022 at 6:29 p.m.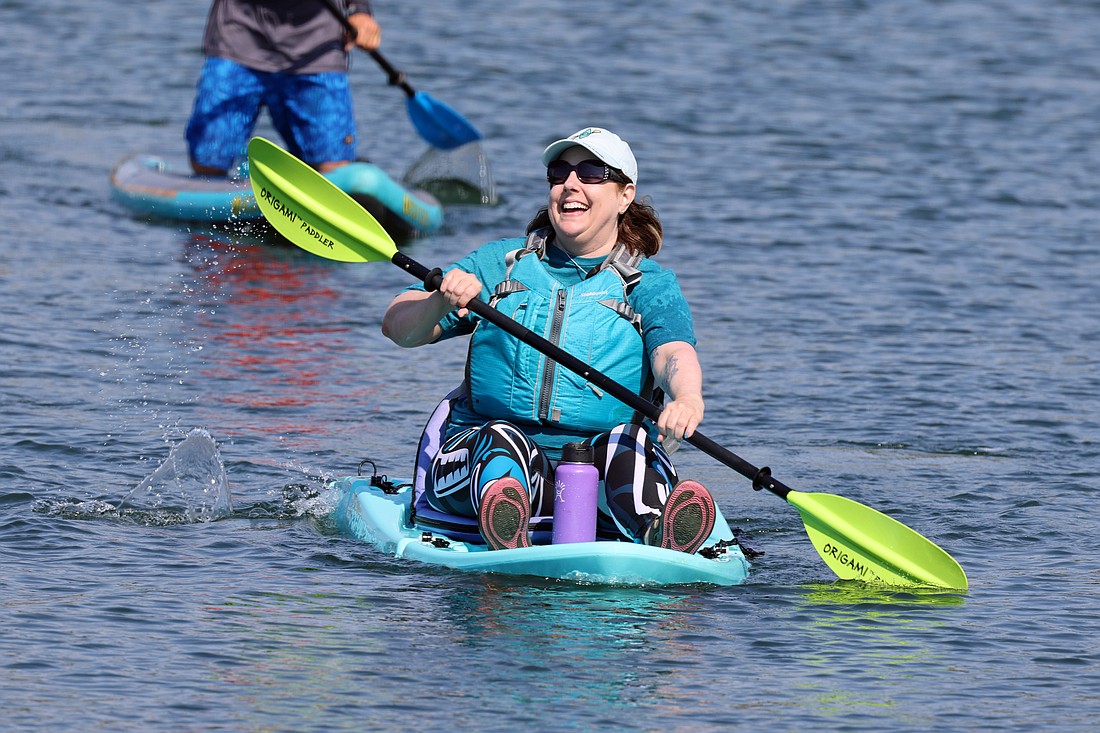 ---
---
Kari Neumeyer came off the water with a touch of windburn and a smile that sent a message: A bit of headwind on Bellingham Bay is nothing when you've had a run-in with ovarian cancer.
All too often, she thinks, patients battling the oft-deadly disease are gathered in crisis, out of necessity. Saturday, she and several dozen other cancer survivors, family friends and loved ones took to the water of Bellingham Bay in kayaks and paddle boards to burnish hope, focus resolve — and celebrate successes.
"I'm just so very happy to have an event where people can do something fun," she said, beaming as she greeted her mother, Kathy, ashore after an hourlong paddle route between the Community Boating Center near Fairhaven and Boulevard Park.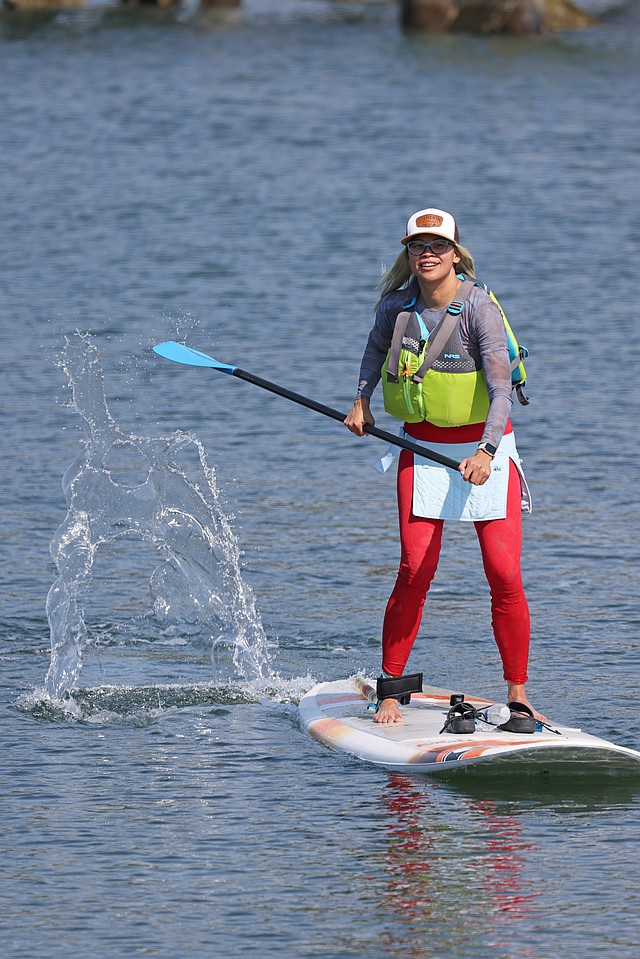 In a growing series of ovarian-cancer awareness events nationwide — organized locally under the slogan, "Ride the Teal Wave," which comes with its own theme color such as the successful pink motif for breast-cancer awareness — many cancer battlers and friends have organized fun runs.
"I'm not a runner," said Neumeyer, 46, a Bellingham communications professional. "But I love to paddle." 
She organized the inaugural event during Ovarian Cancer Awareness Month, she said, to celebrate her own two-year, cancer-free diagnosis — by no means a guarantee of freedom from the disease, which is difficult to detect and has an unusually high rate of recurrence.
Neumeyer discovered her own cancer, by then stage four, by accident, because of a small growth on her belly button, which was removed and biopsied. She related the tale nationally in a first-person account, "My Belly Button Saved My Life," on Huffington Post in 2020, in which she, like other survivors, described the cancer as a chronic illness.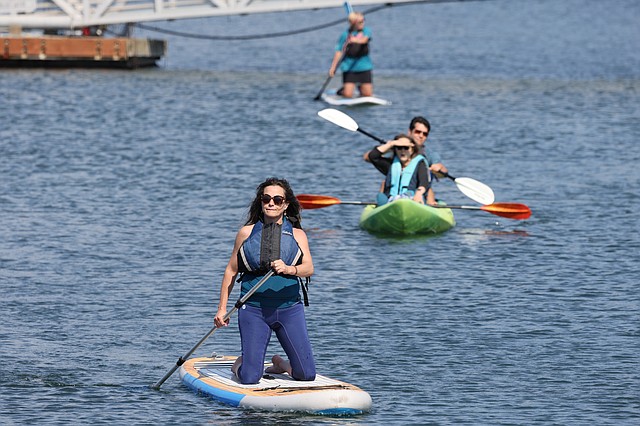 Ovarian cancer often presents symptoms that are disregarded as common maladies — or evidence of something else. Even many doctors fail to make the connection until it's too late. That's why patients-turned-activists such as Neumeyer are organizing public events to urge women to become their own best health advocates by recognizing early symptoms, which can include back pain, heartburn, fatigue and bloating.
"Sometimes I feel like the [symptom] awareness campaigns should be for doctors," Neumeyer said.
There are no early detection tests for ovarian cancer and no cure. Compared to other types of cancers, research into effective treatments for ovarian cancer is extremely underfunded, Neumeyer noted.
She learned only after rounds of difficult chemotherapy, performed at PeaceHealth St. Joseph Cancer Center, that she had a rare form, low-grade serous ovarian cancer, unusual in that it can strike women at younger ages than other forms. Her only option was major surgery, which was performed at Seattle Cancer Care Alliance in June 2020.
"I had a really good outcome because I had a really good surgeon," she said.
Her surgeon saved her life, she believes. But the terrible math of the disease leaves her all too aware that it might return.
If and when it does, "She would like there to be a treatment because she's got plans," Kathy Neumeyer said of her daughter, paddling at that moment against a stiff early afternoon breeze on Bellingham Bay.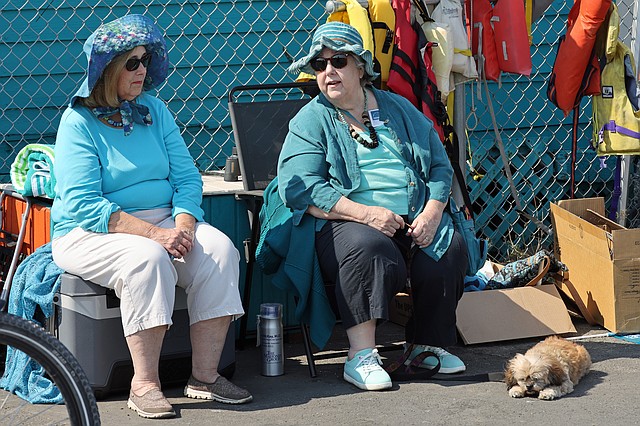 Other participants in Saturday's fundraiser/awareness event said the lack of treatment options and ominous recurrence rate of ovarian cancer has brought their daily lives into closer focus, making moments like an afternoon on a sparkling bay with friends and loved ones all the more special.
They hope the event becomes annual, and might help create support for more research and treatments for one of the deadliest, stealthiest forms of all cancers. Saturday's event, organizers said, aimed to "turn up the volume on what has been mislabeled a silent killer."
Nearly 20,000 women in the U.S. are likely to be diagnosed with the disease in 2022, according to the American Cancer Society. About 12,000 likely will die from the disease, ranking fifth among cancer deaths in women.
Saturday's "Ride the Teal Wave, Paddle for a Cure in Bellingham Bay" was part of a national campaign, Step Up America for Ovarian Cancer, running throughout September. Money raised from the Bellingham event will go to the STAAR Ovarian Cancer Foundation, directed toward research. STAAR also offers an online self-diagnosis tool.