Outdoors
Breathing smoke and battling gravity
The Cascades as your personal climbing wall-mart
October 28, 2022 at 5:00 a.m.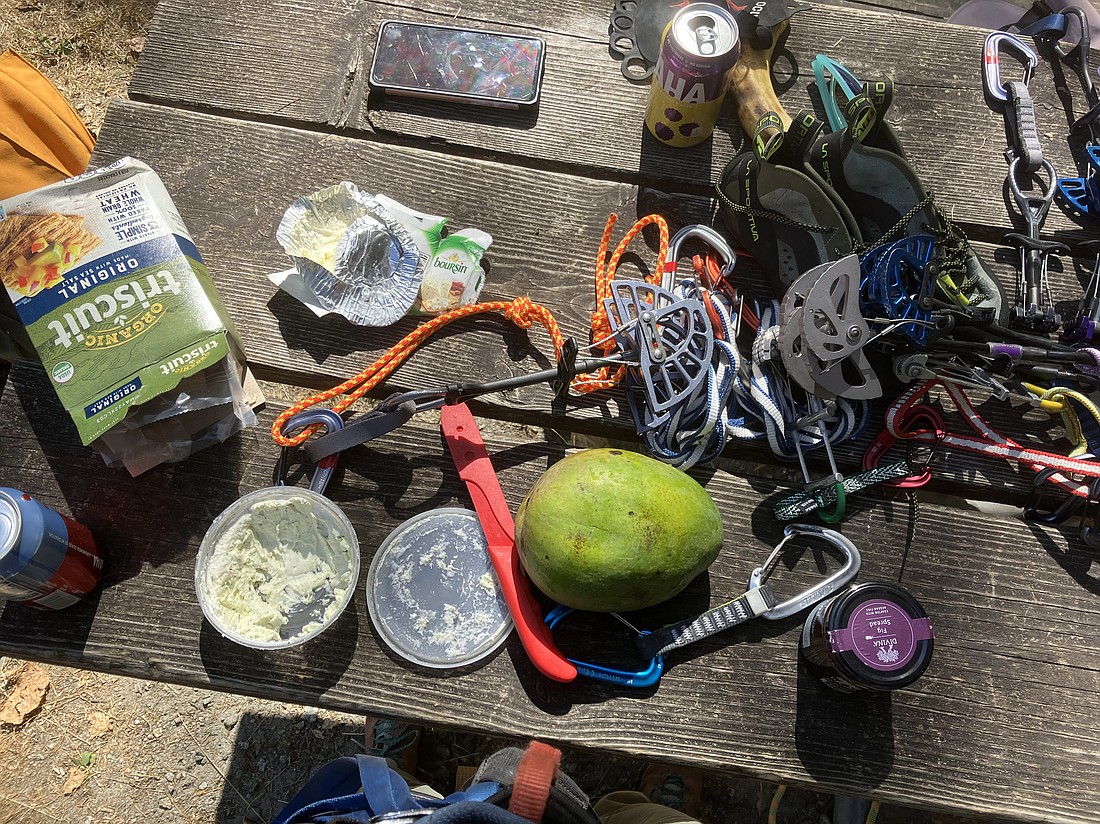 ---
---
The Monroe Taco Bell drive-thru line stretches almost 25 cars deep as we pull into the back of it. Weekend warriors need their fuel, including my partner, my dog and me. One veggie crunch wrap supreme later, we are back on the road.
It's 7 p.m. and our loose plan needs some tightening. We are headed east for some rock climbing — Leavenworth is first on our to-do list. Highway 2 is littered with cars ready for their Bavarian-infused weekend and all the campsites are booked. Lucky for us, we do well with the bare minimum. We pull off on a backroad just outside of Leavenworth and settle in for the night.
The next morning, we wake to the dense smoke socking us in and burning our throats. Pushing through the haze, we head west on Icicle Creek Road toward Playground Point, a mellow climbing area where we planned to practice lead climbing — a form of rock climbing where one person sets the route up a cliff, clipping into protection as they go. 
We were mostly on sport climbs, meaning there are bolts placed in the wall with each, ideally, about 10–15 feet apart. As you climb up, you attach your rope to the bolts. The rope will catch you, but you may fall a couple of feet depending on how far away you are from the last bolt you clipped into. This makes for a more intimate experience between you and the rock. 
Playground Point is scattered with climbers, all braving the sharp smoke to participate in the encapsulating thrill of climbing sticky Cascade rock. One of my favorite climbs is Birthday Boy. I led it, slowly moving up the wall, only focused on placing my next piece of protection —  forgetting about the smoke, the heat and all the other people around. My head goes quiet. 
Four routes later, the smoke has gotten to us. We head back down the steep approach, pass by the last remaining people bouldering — a style of climbing with no ropes on shorter pitches —  and back to Icicle Creek Road. Our year-old husky, who is not the biggest swimmer to say the least, looks longingly at the fast-moving creek. You can tell how cold the water is just by looking at it. We jump in and immediately gasp for air. This is our one shower for the long weekend.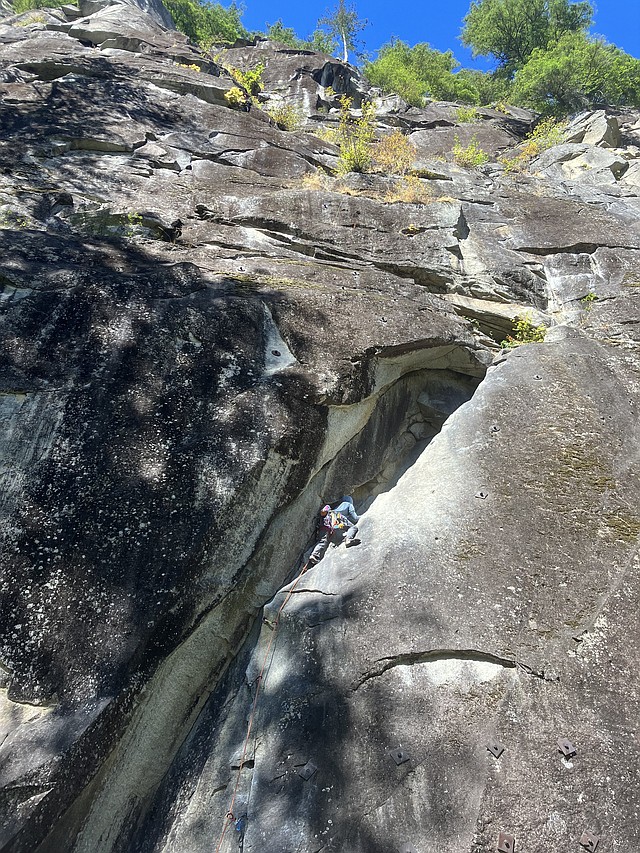 We head west back through Okanogan-Wenatchee National Forest. Stopping for a chilly evening bathroom break at Stevens Pass, we watch mountain bikers rocket down Washington's only lift-served downhill bike park. 
About 45 minutes later, we reach Index. We pull into town and stop at the only store, the general store, for some refreshments. Across from the general store is the public bathroom and water source, which is non-potable water that we consumed anyway out of thirst.
We head down another backroad just outside of town right on the North Fork of the Skykomish River and are astounded at the number of climbers who are calling the side of the road home for the night. It looked like a crowded music festival full of hacky sackers, van lifers, dog lovers and chess players. We join our friends in one of the crowded parking lots and quickly say our hellos, make some veggie burgers and head to bed, way too excited to wake up and experience the Yosemite-like granite walls.
The next morning, we eagerly head to the first area we planned to climb, Walking Legend Wall. Just across the train tracks from the parking lot we were calling home, the wall rockets above the tallest of pines, humbling us immediately. I climb Finger My Slot, a route way above my pay grade. A frustrating and painful 30 minutes later, I finish the climb. Climbing can make me feel oh so alive! It also holds the power to make me feel smaller than the egotistical chipmunks that scurry all up and down the vertical walls, just to rub it in my face. 
On our final day, we head to a crag called The Country. This area is full of very difficult climbs that are way too hard for me, but I enjoy them anyway. The most challenging and fun (kind of) climb of the day, in my opinion, was Zoom. One of the moves entails you getting up and over a small roof using a few finger jams, which for me, meant shoving my soft and delicate fingers into the tiniest of cracks in the rock and hoping I am good enough to get up in one painful attempt. 
Following up on a long weekend of difficult climbing, we ended on a beautiful and obtainable climb called SS Ultrabrutal, a right-arching crack tucked into the rock — a perfect way to end our climbing rendezvous of a weekend.
We kissed the granite walls goodbye and headed back toward I-5 with the rest of the adventure-seekers, turning the hour 45-minute drive into nearly three hours. This time we avoid the Taco Bell from hell and choose the delicacy of Little Caesars pizza instead.
Kayla Heidenreich's outdoor lifestyle column appears monthly. Email: heidenreichmk@gmail.com.