The Beat Goes On
Horror Business: A Halloween tradition
Music and madness in downtown Bellingham and beyond
October 26, 2022 at 5:05 a.m.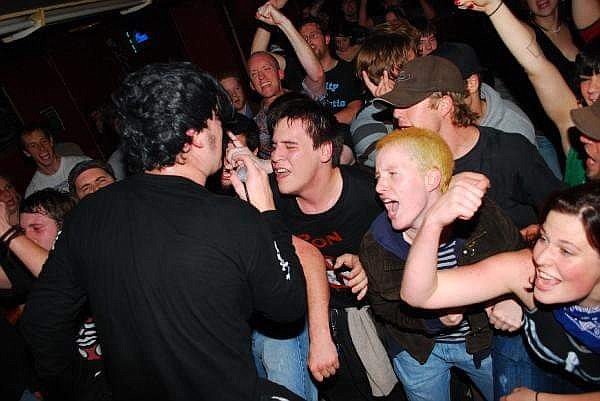 ---
---
Bellingham has always gone just a little bit wild for Halloween. The local music venues know this well and are glad to create opportunities for folks to rock out in costume. This year is no exception, so I thought I'd run down some of the possibilities for you. Saturday, Oct. 29 seems to have become the focus for Halloween-themed events, but I suspect you could dress up any night this week and not feel out of place. 
The Shakedown is our spookiest venue to begin with, so it makes sense it goes all out for Halloween. The State Street mainstay has a great week full of goth- and horror-themed punk and metal shows. Saturday night is the only night without live music, and that will feature a costumed dance party.
Monday at the Shakedown brings back Bellingham's longest-running Halloween tradition: the return of Horror Business. This Misfits tribute, featuring members of a bunch of other local bands, has been popping up on Halloween nights for the last 19 years. The Monday night show also features the return of hard rock heroes Black Beast Revival, and Zeke tribute band Kicked in the Zeke. 
The Wild Buffalo will also be getting in on the tribute action with a Saturday night show featuring Queen Mother. This high-quality tribute to the extremely theatrical music of Queen should be an ideal soundtrack to a costumed night out. On Monday, Oct. 31 the Buffalo also has its regularly scheduled lip sync battle, but I suspect the already-wild event will ascend to new heights for the occasion (which will also be the finale of the fall season).
If you prefer your spooky served with a side of jam, The Sleepy Alligators will bring their Grateful Dead tribute to Boundary Bay Brewery on Saturday night, for an event entitled "The Dead Will Rise," which includes a costume contest and photo booth. The brewpub is also hosting a haunted house in the beer garden area all weekend, which is open to all ages from 6–9 p.m. and then gets super scary later.
Also in a funky/jammy/psychedelic vein, you've got Whalien and Smooth Kiwi grooving out at the Schweinhaus on Saturday night. And if you are out in the eastern part of Whatcom County on Saturday, ELK will be jamming it up at Chair 9 in Glacier, while to the north, Arcade Cowboys rock a costume party at the Main Street in Ferndale.
Finally, it's not live music exactly, but since it's at a major music venue I want to mention The Blue Room has a dance party Saturday night, plus three live theater performances of "The Rocky Horror Picture Show" — two on Sunday and one on Monday.  
Live music calendar 
Wednesday, Oct. 26
Boundary: 6 p.m., Aaron Guest on piano
Blue Room: 8 p.m., No-Fi Soul Rebellion, North by North, PS Webster (rock)
FireHouse: 6:30 p.m., Dave Meder Trio (jazz)
Foundation Lounge: 7:30 p.m., Open Mic
Honey Moon: 8 p.m., Open Mic
Rockfish: 6 p.m., Joan Penney (jazz)
Shakedown: 8 p.m., Vision Video, Gallowmaker, Flais (goth pop)
Stones Throw: 6 p.m., Thomas Corlett
Underground Coffeehouse: 7 p.m., Les Ailes, Kazmyn
Thursday, Oct. 27
Blue Room: 6 p.m., Open Mic/Jam
Brown Lantern: 8:30 p.m., Open Mic
Honey Moon: 8 p.m., Bluegrass Jam
Make.Shift: 8 p.m., Pan-Amerikan Native Front, Pigsblood, Melancholia (metal)
Shakedown: 9 p.m., Evelyn's Casket, Raw Dogs, Teenage Kreepshow (horror punk)
Thirsty Badger: 7 p.m., Open Mic
That's What I Like: 6 p.m., J.P. Falcon and Friends (folk/rock)
Wild Buffalo: 9 p.m., Snakehips, Pacifix, Kraymer GDot, Emma Ecstasy (electronic)
Friday, Oct. 29
Aslan: 8 p.m., Hopnotic (funk/jazz)
Beach at Birch Bay: 6 p.m., Jimmy Wright Band
Big Stick BBQ: 5:30 p.m., Sean Hall (acoustic guitar instrumentals)
Blue Room: 9 p.m., Stevie Stone, Dank Zavala, Ray-D-Ology, guests (hip-hop)
Birdsview: 6 p.m., Tom Mullin
Fireside: 7 p.m., Free Harmony (classic folk/rock)
Greene's Corner: 6:30 p.m., Deep River Blues
Honey Moon: 8 p.m., Fritz and the Freeloaders (acoustic rock)
Make.Shift: 8 p.m., Checker Bloom, Color Works, Collins Beach (rock)
Paws for a Beer: 5 p.m., Michael Dayvid
Shakedown: 9 p.m., Swamp Lantern, Greenseeker, Mount Saturn (metal)
Skylark's: 8 p.m., Wes and Carly Jones (folk)
Vault: 7 p.m., Michele D'Amour and the Love Dealers (blues/R&B)
Saturday, Oct. 29
Beach at Birch Bay: 4 p.m., Popology (pop/rock covers)
Birdsview: 6 p.m., Goodtime Hustle (funk/rock)
Boundary: 9 p.m., Sleepy Alligators (Grateful Dead tribute)
Brown Lantern: 9 p.m., Min Far
Chair 9: 8 p.m., ELK (funk/rock)
Eagle Haven: 7 p.m., Minimum Wage (classic rock)
Fireside: 4 p.m., Singers' Saturday
Greene's Corner: 6:30 p.m., Michael Dayvid (acoustic covers)
Guemes Island General Store: 6:30 p.m., Ebb, Slack & Flood (reggae/rock)
Honey Moon: 8 p.m., Ivan Sandomire (singer-songwriter)
Karate Church: 8 p.m., Stillvettas, Drayton, Bennycamps and the Bastards (rock)
Make.Shift: 8 p.m., Loonieboys, Niko Haley, Toler, Madeline Dean
Main Street: 9 p.m., Arcade Cowboys (classic rock)
Rockfish: 7:30 p.m. The Atlantics (classic rock)
Schweinhaus: 8 p.m. Whalien, Smooth Kiwi (psychedelic rock)
Skylark's: 8 p.m., Jeffrey Slough (acoustic covers)
Wild Buffalo: 9 p.m., Queen Mother (Queen tribute)
Sunday, Oct. 30
Culture Cafe: 7 p.m., Open Mic
Kulshan: 5 p.m., The Devillies (Irish folk)
Old Edison: 5:30 p.m., The Bow Diddlers (classic rock)
Shakedown: 9 p.m., Adventure Bites, Old Cross, Done to Death (punk)
Monday, Oct. 31
Kulshan: 6 p.m., Traesti Darling (folk)
Shakedown: 8 p.m., Black Beast Revival, Horror Business, Kicked in the Zeke (punk/metal)
Tuesday, Nov. 1
Aslan: 8 p.m., Jazz Night
Boundary: 6 p.m., Paul Klein on piano
Zeeks: 6 p.m., Open Mic featuring BeatRoots
Wednesday, Nov. 2
Wild Buffalo: 8:30 p.m., Trevor Hall (folk/rock/reggae)
Before heading out to listen to live music, check with individual venues to make sure the event is still taking place as scheduled. 
Jesse Stanton's music column, The Beat Goes On, runs Wednesdays. Email: jsbhammusic@gmail.com or Twitter: @JSBhamMusic