Education
Follow the numbers: A look at WWU enrollment rates, budget
Enrollment drop due to pandemic's lasting impacts
October 26, 2022 at 5:55 a.m.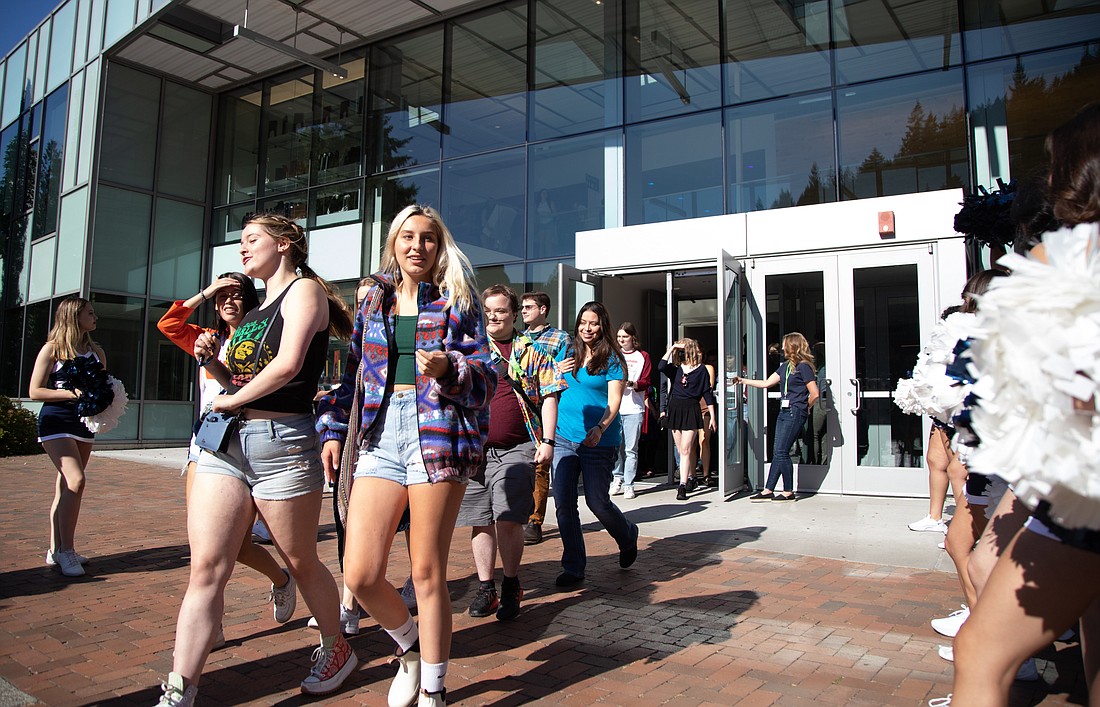 ---
---
Western Washington University is experiencing yet another wave in the impacts of the COVID-19 pandemic as total enrollment drops for the third straight year.
Despite the university having its largest freshman enrollment yet for fall 2022, just 14,748 students are enrolled this year, according to Western's Office of Institutional Effectiveness (OIE). In fall 2019, the university peaked with 16,142 students.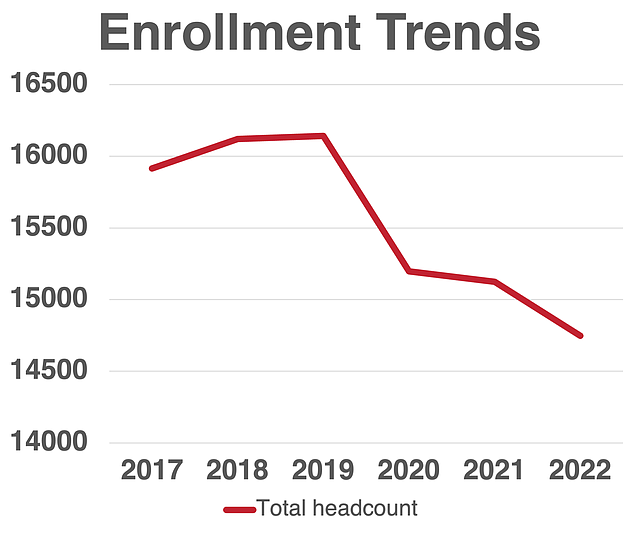 "It takes a long time for the overall enrollment to recover," Western Provost Brad Johnson said at an Oct. 14 Board of Trustees meeting. "Therefore, it takes a long time for the overall tuition revenue to recover."
The 2022–23 operating budget for Western Washington University notes that revenue will need to be recouped to the tune of "approximately $9 million in tuition revenue on a recurring basis."
Dropping enrollment
A large chunk of the loss of enrollment has been in first-generation students. In fall 2019, 4,977 students were the first in their families to attend college, according to OIE. For this fall quarter, just 3,305 first-generation students are enrolled. Additionally, Pell Grant-eligible students have dipped from 3,757 to 2,911 in the same timeframe. The number of students of color, however, experienced a small dip around the pandemic but has risen from 26% of the student body in 2019 to around 28% this year.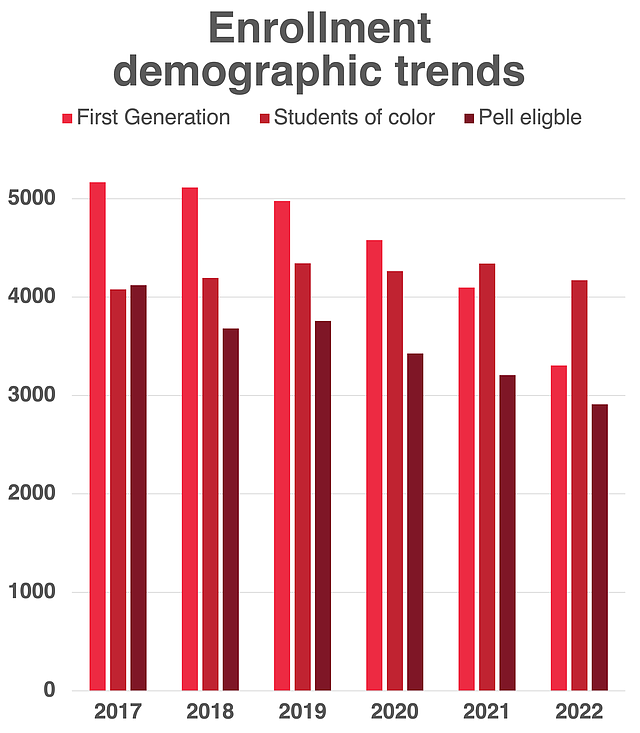 Retention rates, which have steadily dropped for the last decade, also impact enrollment. The university reported that 84.9% of freshmen who started in fall 2011 returned for a second year. Just 77.1% of freshmen students from fall 2021 returned this year.
To offset this, the university has continually raised tuition rates to increase tuition revenue. Just this year, they charged an additional 2.4% in tuition to resident undergraduate students and 3.5% for graduate and non-resident students.
In fiscal year 2018 (July 2017–June 2018), the university reported $84.5 in tuition revenue. This fiscal year, it expects $93.7 from tuition, according to the 2022–23 operating budget.
Impending national enrollment drop
Higher education institutions across the country are preparing for a drop in enrollment due to a drop in the U.S. birthrate following the 2008 financial crisis. In 2025, it's expected that the number of high school graduates will begin quickly decreasing.
By 2029, many universities like Western will experience a "demographic cliff" with a decline in enrollment. Seattle is expecting to see an enrollment decline of 6.21% in 2029 compared to 2013, according to the College and University Professional Association. Washington and Oregon, as a whole, will see an enrollment drop of 1.5% in the same timeframe.
East Coast schools will likely see a larger decline in students, forcing them to pull more students from the West Coast and further impacting local enrollments, Johnson said.
Looking forward
Johnson discussed Western's need to look at these trends and take action to sustain the university at the Oct. 13 Board of Trustees meeting. He focused on the need to diversify revenue now and make data-informed decisions to help the university in the future as it approaches periods of stagnancy or decline.
"This notion in the back of our minds [is] that Western will just keep on with this nice, steady growth," Johnson said. "We have to kind of rethink that. We have to get it out there under the ethos that this may not be what's coming."
He encouraged the university to look for more grant funding and has spoken about expanding graduate programs to grow enrollment in that area.
President Sabah Randhawa also noted at the meeting the university will grow its contribution to educating the state by growing Western's satellite campuses. He also hopes to reach nontraditional students and help other groups complete degrees.
Johnson said he is working with faculty to strategically plan for the future of their programs, the use of decision packages in the state Legislature and opportunities for revenue related to research and other projects.
Johnson also said he hopes for more community engagement.
"By having better alignment between these two divisions, contact with our community members will actually increase automatically by generating this notion of how we can co-invest in the university's operations," he said.