Business
A third Bellingham Starbucks seeks unionization
Sehome location filed intent to unionize Monday
October 18, 2022 at 3:56 p.m.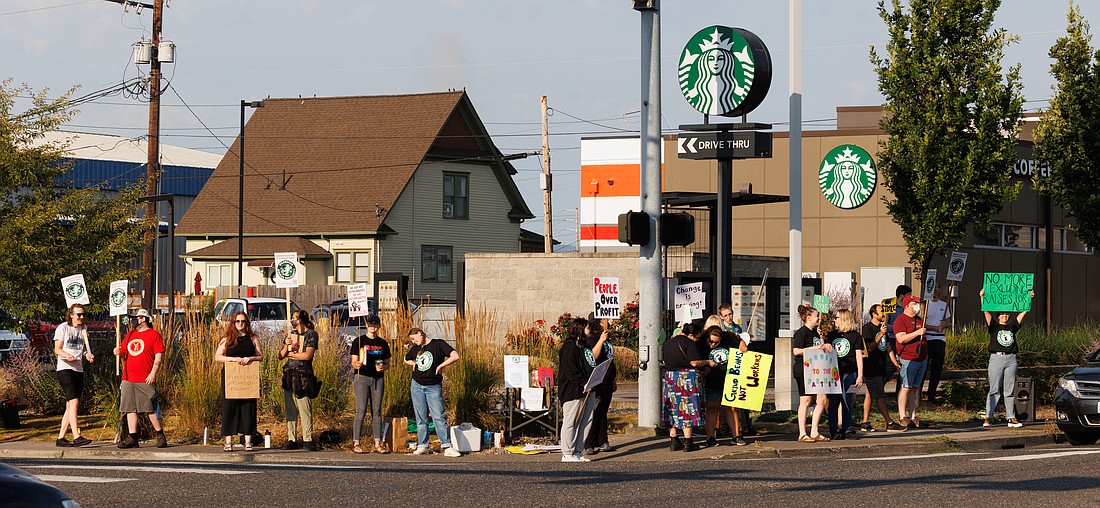 ---
---
Staffers at a third Bellingham Starbucks announced their intent to unionize Monday. 
Baristas at the Sehome location, near Western Washington University, published a letter addressed to the new Starbucks CEO Laxman Narasimhan detailing their concerns regarding respect, operating conditions and worker empowerment. 
"The working class Starbucks employees are given the title of 'partner,' but a true partnership is dependent on equality, respect, honesty, and equitability," baristas wrote. "We hope Starbucks will work with us in good faith as we have worked with them. We cannot pour from an empty cup, so we look forward to negotiations."
The letter, signed by 15 employees and "the members who wish to remain anonymous," is the first step in the unionization process. Next, eligible employees will vote in a formal election, hosted by the National Labor Relations Board. 
The Sehome union vote follows closely on the heels of two other Bellingham Starbucks union pushes this summer. The Iowa and King drive-thru location was the first to unionize, announcing its plans in April, and the Cordata location followed soon after in May. Though both stores successfully voted to unionize, their efforts continue as the corporate coffee chain has not been willing to meet at the negotiation table. 
Both locations have gone on strike several times since voting to unionize, as recently as last week. 
Employees went on strike Friday, Oct. 14, to "protest Starbucks' continued union-busting tactics, such as threats, intimidation, enforcement of unprecedented policies, denial of benefits, and the imposition of stricter discipline," employees at the drive-thru location wrote. "Starbucks has continued to cut workers' hours, make illegal changes to store operations, and preemptively refusing to engage in good faith bargaining. Starbucks has failed to recognize our union despite having no good-faith reason not to."
More than 300 Starbucks locations across the country have filed to form unions, though Starbucks headquarters remains adamantly against the union process. 
Howard Schultz, who served as the company's interim CEO until Oct. 1, was openly anti-union during his time at the helm. Starbucks Workers United accused Schultz of violating labor laws in early June when he told New York Times reporter Andrew Ross Sorkin he did not plan to "embrace the union." 
Schultz said the company's customer experience "will be significantly challenged" if a third party was integrated into the business. 
The local Starbucks district includes about a dozen locations across Bellingham, Lynden, Ferndale and Blaine.