Government
Housing, veterans' needs the focus of Larsen meetings
Congressman meets constituents in first 'come one, come all' meetings since pandemic
October 15, 2022 at 5:00 a.m.
|
Updated October 15, 2022 at 1:41 p.m.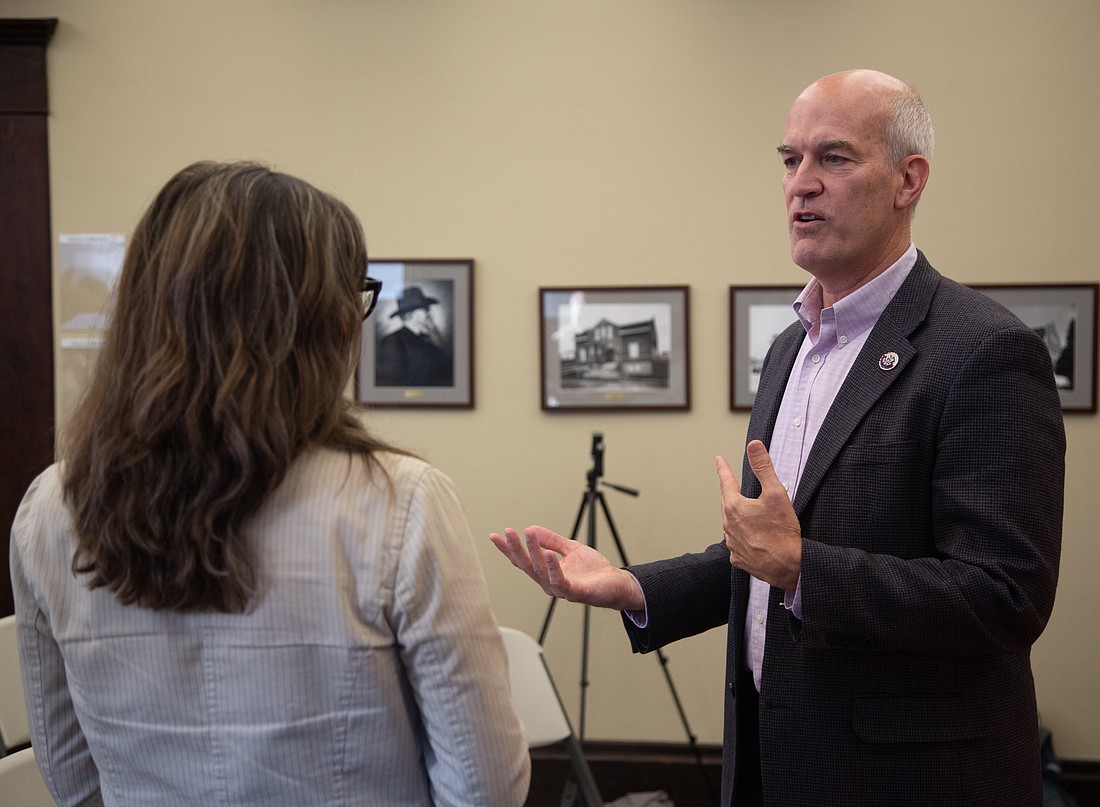 ---
---
U.S. Rep. Rick Larsen met with constituents this week at a veterans' hall in Burlington and a library in Fairhaven, hearing their concerns and letting them know what a Democrat-controlled Congress and President Joe Biden have done for them over the past few months.
At American Legion Post 91 in Burlington on Oct. 11, much of the focus was on veterans' health care. Inside the Fireplace Room in the Fairhaven branch of the Bellingham Public Library on Oct. 13, housing advocates pressed for federal solutions to homelessness and the affordable housing crisis in Larsen's district.  
Larsen said the events, billed as community coffee meetings, were his first "come one, come all, say anything" meetings in more than two and a half years, due to COVID-19 pandemic restrictions. Compared to some pre-pandemic meetings, last week's gatherings were sparsely attended — about two dozen in Burlington and a dozen in Bellingham.
With his usual wry sense of humor, Larsen scolded Major League Baseball for scheduling Mariners' playoff games during both events. And on an unusually warm fall afternoon in Bellingham, Larsen thanked climate change for encouraging people to stay outdoors instead of venturing into a library basement.
Larsen summarized recent legislation. The Inflation Reduction Act capped prescription drug costs under Medicare and gave the federal government authority to negotiate prices for the 10 most used and most expensive drugs. Larsen encouraged those at the meetings to weigh in over the next year about which prescription drugs should make the list.
Larsen had good news for veterans: The Promise to Address Comprehensive Toxics (PACT) Act, in part, grants health care benefits to all veterans diagnosed with illnesses that have been associated with toxic fumes from burn pits in Afghanistan and Iraq.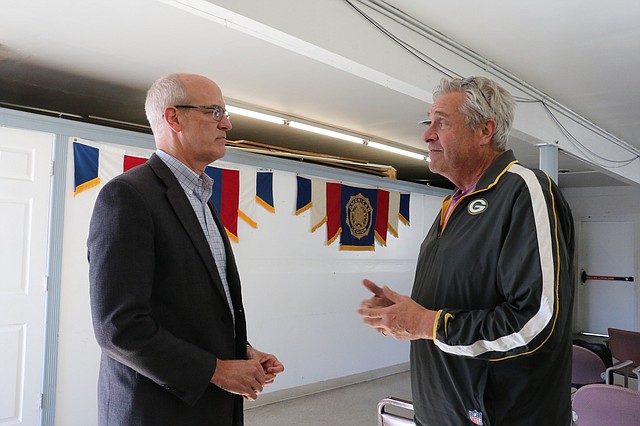 Skagit County Veterans Assistance Specialist Chris Diaz asked Larsen at the Oct. 11 meeting for federal support for telehealth spaces for veterans, adding that he expects the Department of Veterans Affairs to rely more on telehealth in the near future.
"The writing's on the wall," Diaz said.
Larsen wasn't quick to promise anything at these meetings. He said he would need to learn more about telehealth needs at veterans' organizations before acting on Diaz's request.
In Bellingham, attendees underscored Whatcom County's housing crisis. Libby Teerink of A Way Home Washington asked Larsen to steer Congress toward a greater focus on homeless youth.
"I'd be open to any ideas you might have," Larsen said.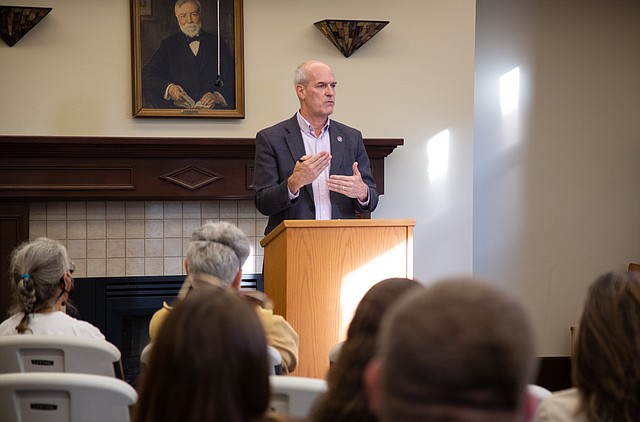 Michael Chiavario, a member of the Kulshan Community Land Trust board of trustees, asked Larsen about funding additional staff at the land trust as the organization seeks to acquire more properties. Larsen said the land trust would need to come up with a specific proposal, adding bluntly that the federal government doesn't have a dump truck of money it can dispense indiscriminately. 
Chiavario and Guy Occhiogrosso, president of the Bellingham Regional Chamber of Commerce, both talked about how the housing affordability crisis has spread to become an employment crisis. Chiavario mentioned Pepper Sisters, a downtown Bellingham restaurant that closed temporarily, in part because it had difficulties maintaining a full staff.
"Our employers are having a harder time finding employees due to a lack of housing," Occhiogrosso said, and he asked Larsen if the federal government could subsidize workforce housing projects.
"If there's a proposal that comes out of Whatcom, we'll take a look at it," Larsen said.
"Solutions are going to be community and nonprofit-driven," Larsen added, referring to the housing problem. The federal government's role, he said, is to provide "tools" to support local agencies.
"Several tools are available for the development of workforce housing," Larsen said.