Restaurants
Review: Poke Oasis
In Burlington, a new go-to takeout spot
October 14, 2022 at 5:00 a.m.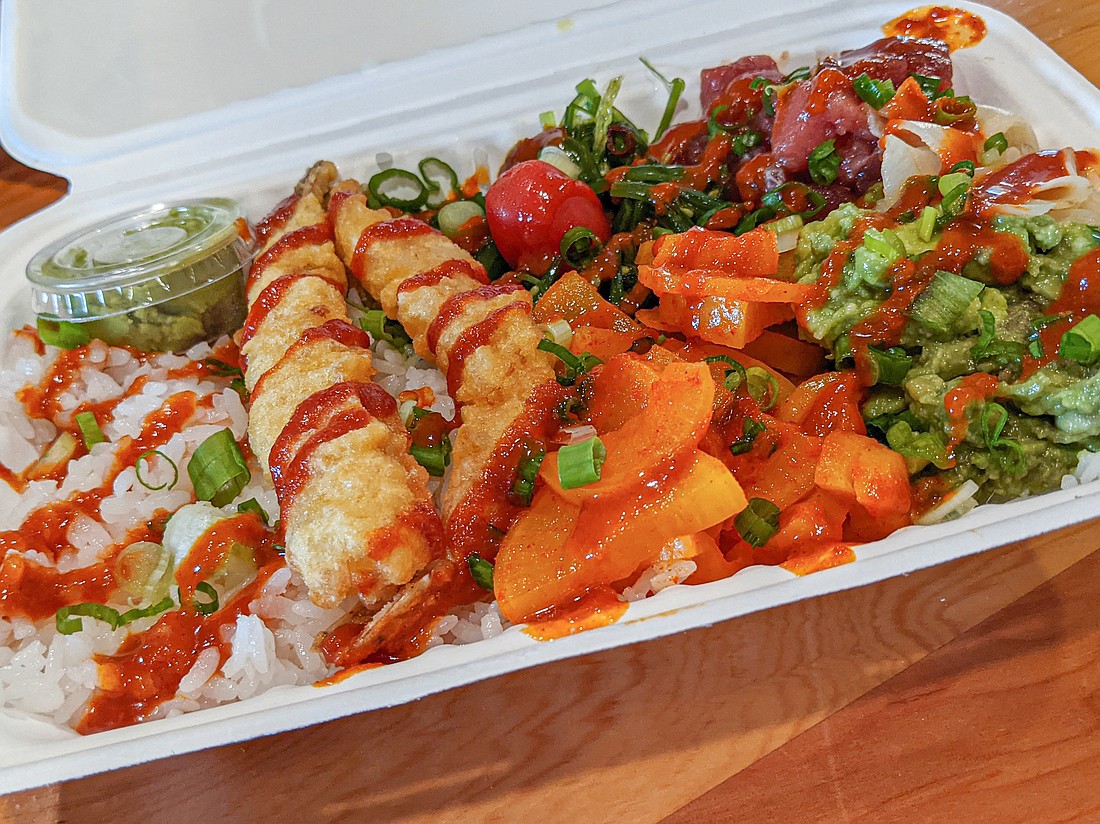 ---
---
A traditional food of Hawaii, poke has been taking the mainland by storm for the last 10 years or so. While its essential form is marinated or seasoned raw fish, there can be so much more to it.
Think of a poke bowl like deconstructed sushi, with rice, marinated fish, vegetables, sauces and toppings. It can be endlessly adjusted or scaled, making it easy to modify for different tastes or appetites. While not as widely known as other fast foods, poke is one of those things that only takes one encounter to love.
Until now, there hasn't really been anywhere to get poke in Skagit County except at fish counters, but as of a couple of months ago, there is now a dedicated poke restaurant in Burlington. Located in a mostly deserted outlet mall, Poke Oasis was originally supposed to open a couple of years ago but was understandably delayed. Now it's open — to much rejoicing from poke-loving locals.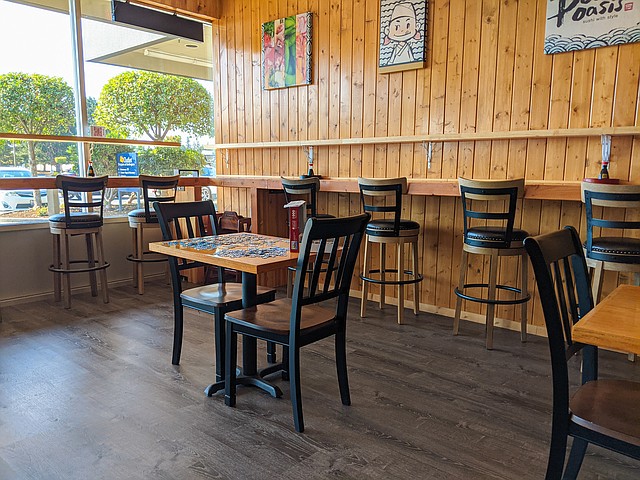 Because a poke bowl is mostly assembled to order out of pre-prepared ingredients, it makes outstanding takeout, and Poke Oasis is well set up for it. Their online ordering system works extremely well, and each time we've used it our food has been ready within 15 minutes — just enough time for us to drive to the restaurant.
If you prefer to dine in, there's a self-checkout station in one corner of the room, with a few tables and a long bar along another side of the room. The cute window bar table doesn't offer much of a view (unless you enjoy parking lots). There is no outdoor seating, but tables are spaced out. Food is packed in takeout containers, whether you dine in or not, and beverage options are limited.
The menu includes soups, salads, appetizers and various mixed rice bowls. It's fun to try a bunch of the different pre-designed options first, to get an idea of the ingredients, but eventually, you can graduate to your choice of beginner, intermediate or expert build-your-own bowls (depending on how many ingredients you want to throw in there). Vegan is also an option. Rice bowls are available with one free topping of your choice (such as fish roe, pickled ginger or scallions), and additional toppings are available for a couple more bucks.
On our first visit, my dining partner got the Spicy Tuna Don ($9.25), a nice combo of ahi tuna with tamago (Japanese omelet) and spicy mayo over sushi rice. On the same trip, I ordered the Tuna Hunter ($13.50), which has both raw ahi and seared albacore tuna accompanied by seaweed salad, pureed avocado and cucumber salad. Some of the ahi was cut larger than I liked and had lines of sinew in it, although on a different visit it was perfect.
While the Tuna Hunter was good, I much preferred the C.A.T. bowl ($13) I got on my next visit, which combined two pieces of perfectly fried battered eel with cucumber, avocado, masago (capelin fish roe) and krab (imitation crab) salad, topped with a sprinkle of tenkasu (crispy tempura bits). I ordered this with pickled ginger as my added topping but added furikake, an umami-rich powder of seaweed and sesame seeds, at home. This was fantastic and if eel weren't a problematic choice sustainability-wise, I would order it forever.
Overall, Poke Oasis does a nice job with its tempura. The seafood tempura bowl (a great deal at $14) includes prawns, whitefish, krab stick and skin-on salmon, as well as a deep-fried krab sushi roll, rice and dipping sauce. I would definitely suggest getting a side salad or soup to go with all the fried fish. A more moderate option for tempura is the Cruncher bowl ($8.25), which gives you two tempura prawns to enjoy along with krab salad and cucumber salad; a nice combo.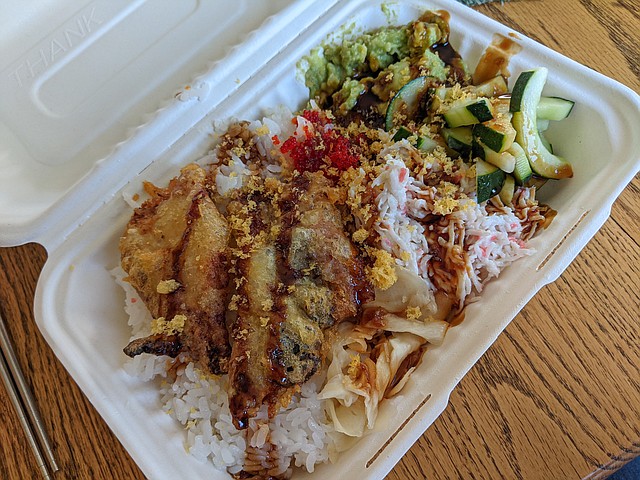 Intermediate-sized bowls like the Tuna Hunter and C.A.T. are very substantial, and you can get even more food by ordering a combo, which includes an appetizer and drink. The smaller "beginner" bowls like the Spicy Tuna are a better portion for a more moderate appetite. They also come in a smaller takeout box, which unfortunately means they are so tightly packed that it makes them a little tricky to eat. 
If, like mine, your significant other is not a huge fan of sushi, there are some nice options like udon soup and bibimbap. In addition, they offer various sides, including miso soup, seaweed salad, a smoky squid and vegetable salad, and edamame, as well as a favorite of mine since childhood, freshly made inari sushi (rice stuffed into fried tofu skin). Plus, a dish of avocado wrapped around a seafood filling — accurately named the "Avocado Bomb" — which I have not yet ordered but admired on someone else's table and need to try. 
If you're looking for a fast meal that's affordable and also relatively healthy and delicious, Poke Oasis may become your go-to takeout spot. It's already become one of mine.
Poke Oasis is open from 11 a.m. to 8:30 p.m., Monday through Saturday in Burlington at 212 Fashion Way. Info: 360-899-4567 or pokeoasis.menu11.com.