Running
WWU professor breaks records, busts myths
Daphne Scott is an American and decathlon record holder
October 9, 2022 at 5:00 a.m.
|
Updated October 11, 2022 at 3:58 p.m.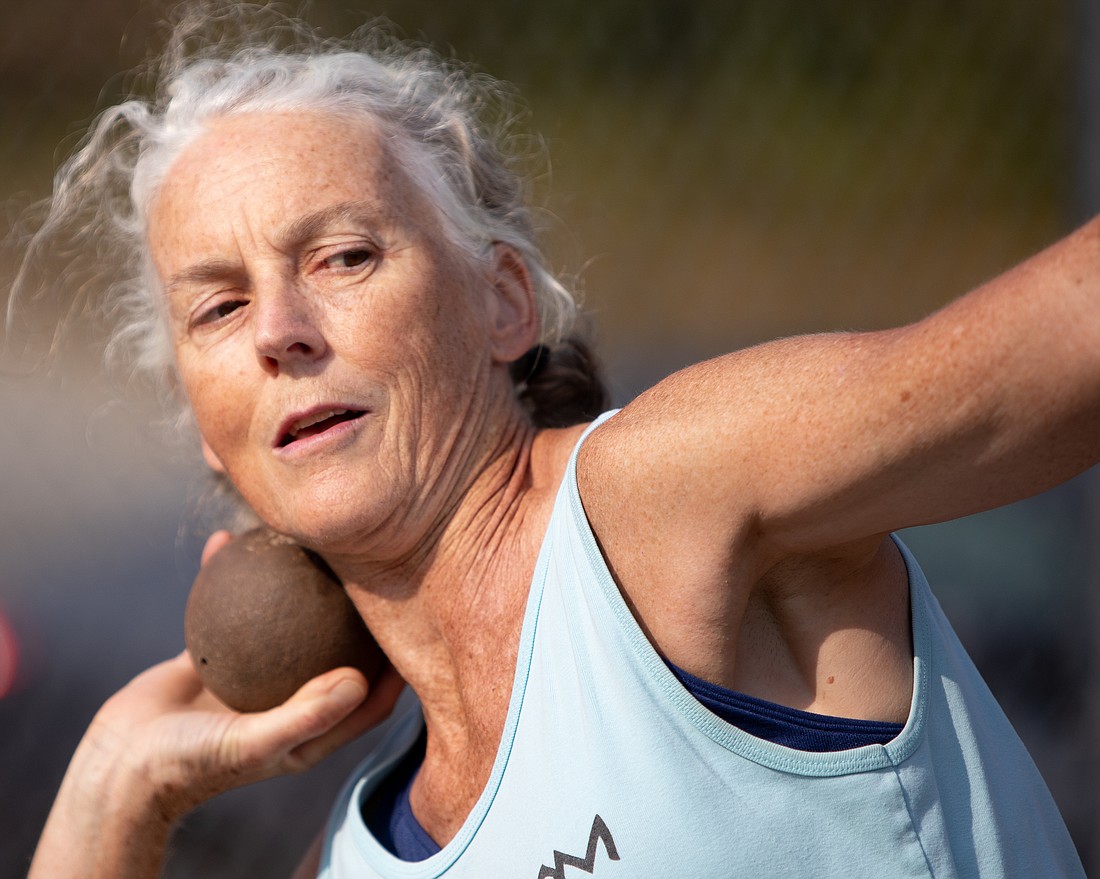 ---
---
When Daphne Scott isn't teaching math at Western Washington University, she's busy smashing records. Using her mathematical skills to sharpen her athletic abilities, Scott recently broke an American decathlon record for the 60–64 age group.
"A lot of people buy into this myth that as you age you have to slow down," Scott said. 
In her 40s, Scott, in some ways, also bought into this myth. She believed herself too old to begin learning how to pole vault. She worried she could break a bone. This misconception was corrected when Scott met a woman who had begun pole vaulting at age 60.  
"There are possibilities that I didn't even think of," Scott said. 
When Scott was 46 years old, she was searching for exercise she enjoyed. Scott had heard about masters decathlon competitions and, in 2007, went to a meet in Seattle where she ran the sprints and threw the shot put. Scott loved being around the people at the meet and the challenges it presented her with.  
"We've all got our physical baggage. You don't get gray hairs without getting physical baggage, and they're focused more on what they can do rather than what they can't do," Scott said.  
Scott participated in her first decathlon, a two-day meet with 10 different events, in 2009 and her second in 2021 when she won gold. The win made Scott believe she could break the American record for women aged 60–64.  
"I worked all year towards that goal," Scott said in an email.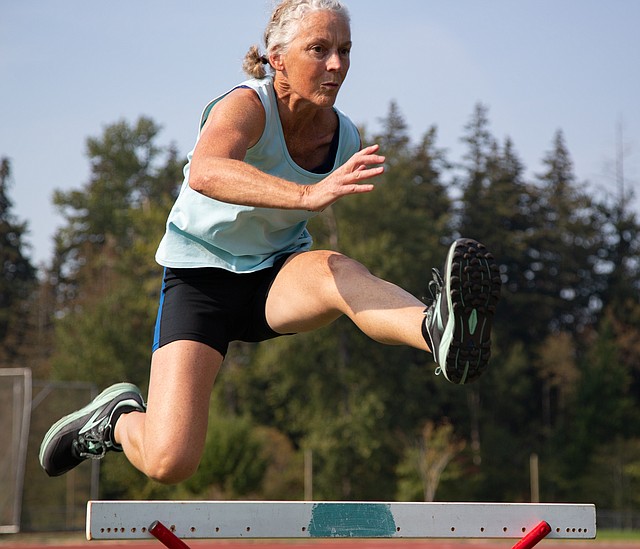 Scott succeeded in her goal at the 2022 National Combined Masters Championships at Lindenwood University in St. Charles, Missouri, in August. Some of the 10 events she participated in were sprints ranging from 100- to 1,500-meter long and high jumps, pole vaulting and hurdles. 
Scott broke the American record for the 60–64 age group, racking up 7,221 points to top Rita Hanscom's U.S. record of 6,946.
"It was not easy. It took a period of years to learn these things," said Steve Kemp, Scott's longtime coach. "Teaching her to sprint through the hurdles versus jumping — that was a big step. Because If you jump them, you're up in the air too long and the clock is ticking away ... you want to be on the ground as fast as possible." 
Scott has helped other women realize their own capabilities as well. While running a race at the University of Washington, a senior college student approached Scott. The woman thought her running career would have to be over after she graduated college.  
"Because she saw me running, she realized she didn't have to end her career," Scott said.  
During another race, as Scott was preparing to run the 200-meter dash, a 3-year-old girl said, "Mom, I didn't know old women could run." Scott said the young girl had never seen an older woman run and believed it impossible.  
"To shatter that and get her to rethink and have that conversation with her mother — that was really special," Scott said.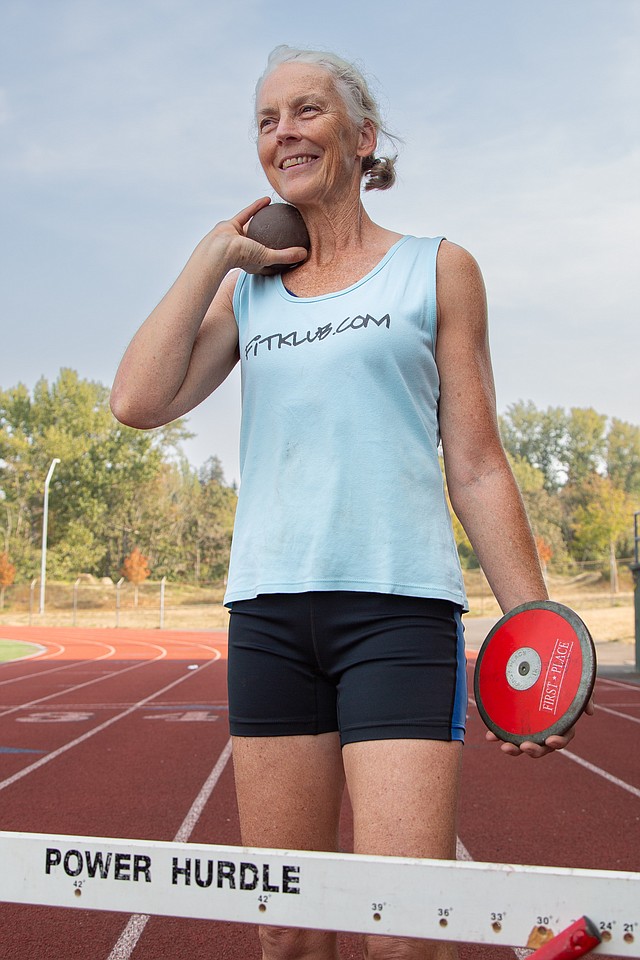 Scott's math capabilities help her in her athletic life. 
"Math is in everything that we do; it's data," Scott said. 
Scott found if she keeps track of her data over time and looks for patterns, she can learn things about herself.  
Kemp echoed how exact and persistent Scott is in tracking her progress.
"She writes down everything she does in practice; she's got volumes of books on it," Kemp said. 
Mathematical application goes beyond just looking at numbers.  
"I use my math and physics to understand how my body works," Scott said. "If you are trying to develop new skills, understanding the forces and the physics of your three-dimensional body as you are trying to go through these actions is very useful." 
Scott understands that math can seem like a frightening subject to some. She describes the process of learning math as building a brick wall. If one's bottom layers are shaky, they will never be able to reach a higher level. She also believes parents and elementary school teachers show their insecurities around math too frequently. 
 "If you grew up seeing that, that's what you're going to think and that's what is going to become your reality," she said.  
On rainy days, Scott finds motivation to train from her job as a professor and as a mother.  
"What motivates me on the down days is knowing that I've advised young folks around me to get out there and exercise, so I have to live up to my words, right?" Scott said.
A previous version of this story incorrectly stated that Daphne Scott broke the world record for the masters decathlon women ages 60-64. There is no world record for the masters decathlon for women. The women's decathlon has only been held as an official competition in two instances, both within the U.S. The story was updated to reflect these changes at 3:58 p.m. on Oct. 11. Cascadia Daily News regrets the error.