COVID-19
Point Roberts hopes for workers, visitors after border restrictions lifted
Current labor shortage dampened busy summer
October 5, 2022 at 5:55 a.m.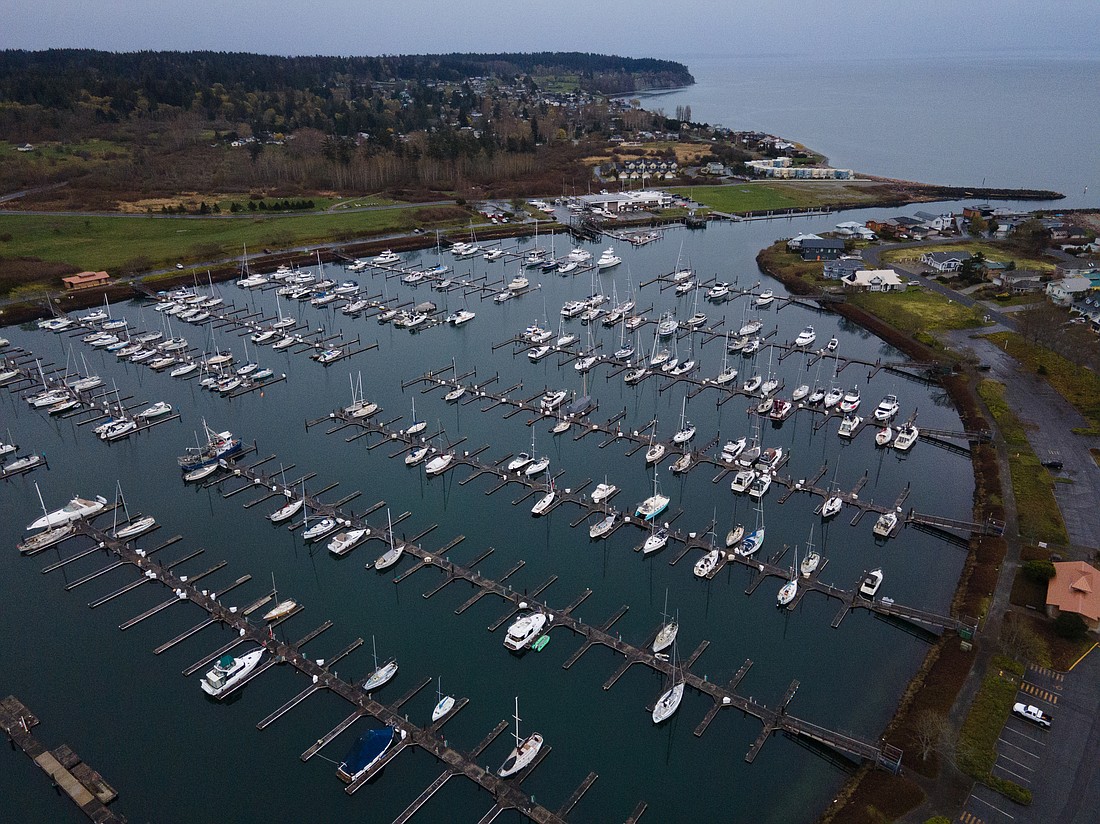 ---
---
Point Roberts business owners and residents see a light at the end of the tunnel they have been trudging through for two and a half years. 
Since Oct. 1, travelers entering Canada no longer need to provide proof of vaccination or use the ArriveCan app to declare their quarantine plans or symptoms. The border restrictions, which had been in place since October 2021, lifted Saturday.  
With the now-loosened restrictions, business owners hope to expand their pool of eligible workers, easing a labor shortage that was not created, but exacerbated, by the pandemic.  
Over the past two summers, Point Roberts had to be resourceful to keep businesses operating, despite huge financial losses and a workforce that migrated out when pandemic travel restrictions were at their peak. 
Allison Calder, chair of the Point Roberts Community Advisory Committee and general manager at Kiniski's Reef Tavern, was proud of how her community worked together when travel in and out of the exclave was heavily restricted. Businesses shared employees, people volunteered to help owners with paperwork and some residents bartered their services for perks, like mowing the golf course for a free round, Calder said.  
But moving forward, Point Roberts needs to find a solution to its labor shortage, she said. 
"The issue Point Roberts faces to be able to revitalize in any shape, manner or form, is labor," Calder said. 
An expanded seasonal labor market will be essential for Point Roberts to meet the demand of visitors, Calder said. Currently, the town doesn't have enough workers to service the number of customers coming in.  
Ali Hayton, owner of the Point Roberts International Marketplace, wishes the border restrictions could have been lifted early in the summer, rather than at the end, to boost numbers back to what they used to be. 
"Anything compared to where we were the last two summers looked fabulous," Hayton said. "So, nobody was complaining. But it was not a banner year by any means." 
Because of labor shortages, Hayton had to close her store an additional 42 hours per week. Jessica Basore, owner of the boat yard Westwind Marine, had to turn away 30% of business this summer because her technicians wouldn't have been able to look at the work orders for months, she said. 
Travel to Point Roberts has been decreasing since the turn of the century, according to statistics from the Bureau of Transportation. But the nosedive in 2020 is markedly obvious. From 2019–2020, the number of passengers in personal vehicles crossing into Point Roberts fell 96%.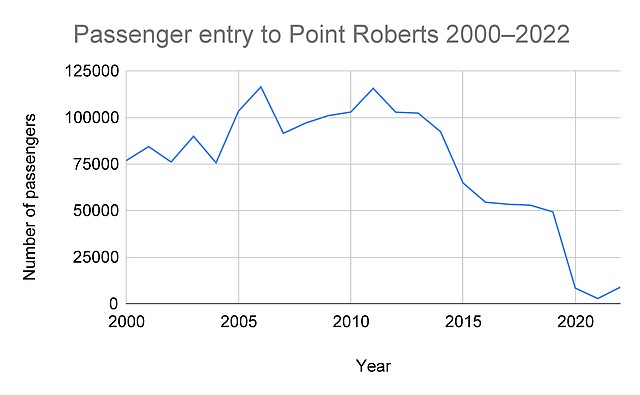 There was a slight improvement in 2021, but travel was still down significantly. This year, the summer season saw visitation down 65% compared to 2019 levels.  
For the short term, some blame the low numbers on the border restrictions. 
Basore, who commutes to Point Roberts from Bellingham five days a week, described the border crossing as "counterintuitive and horrible." Random testing, long border waits and a glitchy ArriveCan app made getting to and from Point Roberts a slow, unpredictable process.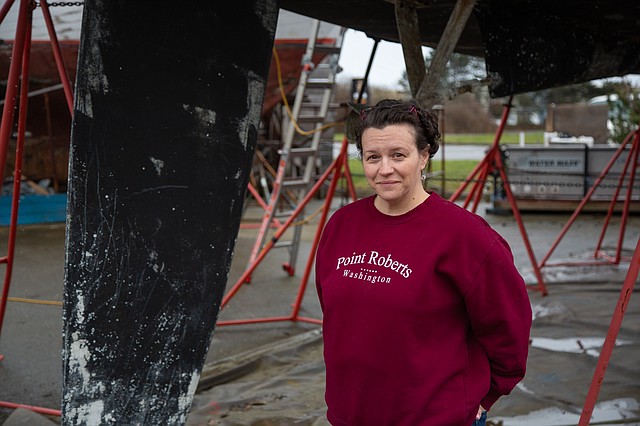 For some community members, those border restrictions made the town the safest place on Earth during the pandemic, Hayton said. But for business owners, the restrictions felt suffocating.  
Point Roberts is the largest of four pene-exclave communities in the U.S., or communities separated from the rest of the country by an international border. The town has a particularly co-dependent relationship with its Canadian neighbors. Prior to the pandemic, Canadians owned three-quarters of the real estate, created 85% of the town's economic activity and provided essential utilities like water, electricity and fire services, said Brian Calder, president of the Point Roberts Chamber of Commerce.  
"Canada, economically, owns Point Roberts. They just weren't given the keys," Calder said.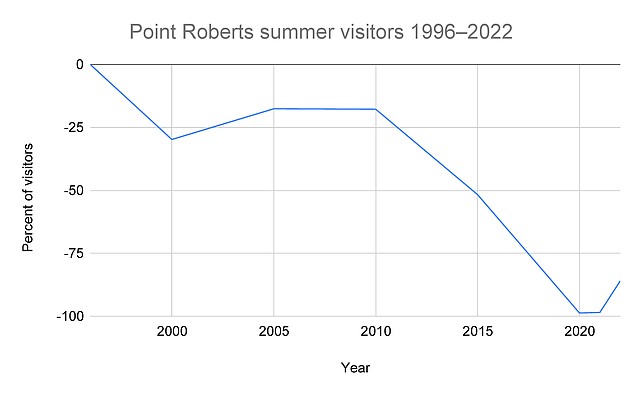 In the long term, however, people in town recognize a broader development challenge when it comes to bringing Point Roberts back to its pre-pandemic boom. For workers to return to Point Roberts and bring with them a varied labor market and services like concrete, construction and plumbing, they would need a place to stay first, Allison Calder said.  
Only 30% of the housing units in Point Roberts are occupied because so many people live there seasonally, according to Census data. Of occupied housing, less than a fifth of that is rented, and multi-unit housing only makes up 2% of the structures, compared to single-unit housing which makes up almost 90% of the market.  
"We want to see families return and we want to see labor return to the area, but I have to ask myself, 'Where would they live?'" Basore said. 
Brian Calder wishes the community could take its development into its own hands. Without an incorporated Point Roberts government, the town relies on the county for planning and development services. 
Because it depends on planners, zoning law and developers from Whatcom County and Bellingham, there are difficult limitations to what can be done and how quickly it can be achieved. Point Roberts, which is similar in size to Sumas, could have more control if there was the initiative for it, Brian Calder said. 
"[Sumas is] somewhat in control of their own destiny. They have their own planners, locally," Brian Calder said. "We see a planner here from the county once a year. I mean, how can you know anything about Point Roberts unless your feet are on the ground?" 
Brian Calder and Hayton are trying to work with state and federal elected officials like state Rep. Alicia Rule and U.S. Sen. Patty Murray to get Point Roberts the financial support it needs and the exemptions it would benefit from in the event of another shutdown. So far, Hayton said, progress has been slow.  
"So, there should have been, and there still should be, and there always should be, an exemption for Point Roberts to be treated differently because we are completely unique," Calder said.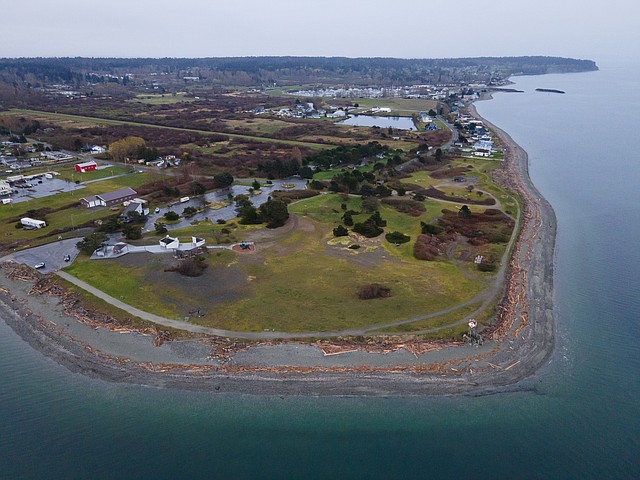 The ongoing labor and housing shortage will require long-term solutions, Allison Calder said. The town is hoping to re-enable an agreement with the U.S. government that allows businesses in Point Roberts to hire Canadian citizens through a special visa. In the meantime, owners like Basore hope an open border means easier access to employees with dual or American citizenship.  
For the people that haven't had the means to visit recently, Basore encourages them to make the trip.  
"Give it a try. Make them hire more guards. Make them man those stations and open those borders up," Basore said. "Get them out here and make a line. Really just put a burden on the system and show Point Roberts the love."