Football
A QB's nightmare: How Jake Mason broke a decades-old sack record
Ferndale defensive end is Whatcom County's new all-time sacks leader
October 5, 2022 at 5:55 a.m.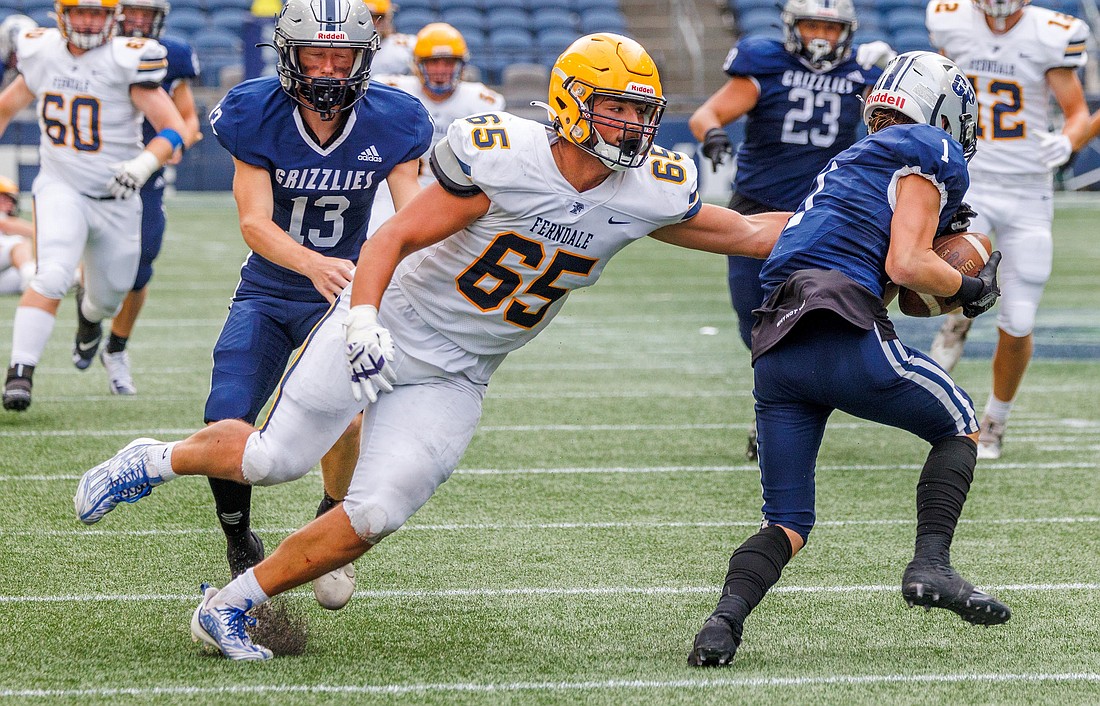 ---
---
Heading into a week four matchup with Arlington on Sept. 24, Ferndale senior defensive end Jake Mason was on the cusp of claiming a historic title. 
Mason, a three-year starter on the Golden Eagles' offensive and defensive line, was three quarterback sacks away from tying the all-time Whatcom County career record. 
He knew he was close, but he wasn't sure exactly how many he recorded in the 27-24 victory. Ferndale's defensive line coach Brian Hoelzle texted him on Sunday morning to let him know he was credited with four — setting a new county record of 28 sacks in a career, according to Whatcom Preps. 
Four sacks are also his single-game career-high, and they came right when he needed them most.
Mason isn't done yet. The previous record of 27 was held by Meridian's Steve Bernardy for 26 years, according to Whatcom Preps. 
After posting another three-sack outing versus Marysville-Pilchuck on Sept. 30, Mason now has 11 this season. That puts him at 31 with at least three games remaining in his high school career. 
While the initial rush of emotion has worn off a bit, he has appreciated everyone who has gone out of their way to congratulate him since he nabbed the milestone.
"It's awesome to be able to capture that goal and continue building off of it," Mason said. "My goal is to put it out of reach for a long, long time."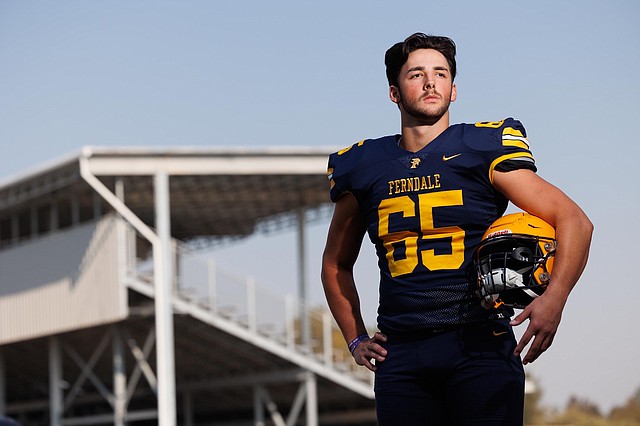 College dreams becoming reality
Eastern Washington University is currently Mason's lone college offer, and if accepted, he would play center. While Mason loves playing on the offensive line, Hoelzle believes prospective schools would be making a mistake not bringing him into their defensive trenches.
"Right now, Eastern's the one out there with an offer, but I can't imagine there aren't more coming with the way he's playing," Hoelzle said. "He's got speed, he's strong and he can pack on a lot more weight if that's what they're looking at ... the sky's the limit for the kid."
Even though he may be considered an undersized defensive end at the college level, Mason has done everything he must to set himself apart from prospects who are more in line with what schools want physically. His motor is what most impresses Hoelzle, who has worked closely with Mason for the past three seasons.
The 6-foot-3, 240-pound game-wrecker may be flying under the radar for now, but Hoelzle is confident that's going to change.
"He doesn't have a major hole in his game. I mean, I struggle to find things to fix about him sometimes," Hoelzle added. "I don't do much [talking to college coaches] but if people don't start offering him, I am going to be on the phone."
Mason draws a lot of his motivation from the success of current and former Ferndale football players. He and University of Washington-commit Landen Hatchett do every workout together. 
"Knowing where [Landen] is going next year, and knowing where I can go next year, it keeps me motivated for sure," Mason said. 
Jake Locker, who also played at Washington and went on to the NFL in 2011, is a family friend of Mason's. Whenever he gets a chance to discuss football with Locker, Mason listens closely.
No matter what happens post-high school, and whether he ends up on an offensive or defensive line, Mason just wants to play football.
"I will be playing somewhere next fall, for sure," he said.
Family and football
Mason has enjoyed one of the more unique circumstances in the state throughout his high school career. His fraternal twin brother, Jordan, is also a three-year starter for Ferndale.
Jordan Mason made the move to tight end on offense this season after playing guard his first two years as a starter. The pair lined up right next to each other every play, and still do on occasion.
"Just to have him right next to me, and us both working really hard on the offensive line, was just a great bond that we created," Jordan Mason said. 
When Jordan Mason scored the first touchdown of his career versus Lynden on Sept. 2, Jake Mason was the first one there to celebrate with him. The support they provide one another on and off the football field cannot be overstated. They are truly each other's No. 1 fan.
"Jake is one of the hardest workers I know," Jordan Mason said. "He's just always playing 110 percent. I'm glad to see him succeed the way that he is, and I'm glad that I get to be his biggest supporter on the field, and we get to do it right next to each other."
Jake Mason said he began to realize how special their circumstance is this season now that their high school careers are nearing an end.
"Every sport I've played — baseball, basketball, football — all of them we've played together," Jake Mason said. "It has been pretty special, and I love that."
Consecutive years of dominance
Jake Mason finished his junior season with 56.5 tackles, 15 sacks, three forced fumbles and two pass deflections through 10 games, according to Whatcom Preps. Jake Mason is on pace to shatter those first two statistics this season, sitting at 33.5 tackles and 11 sacks through five games.
As he continued to grow and get stronger, getting in the backfield became easier, he said. Jake Mason's fellow defensive linemen also require a lot of attention — including senior Trevor Fetty, junior Camden Raymond and Hatchett — which often frees him up. 
Numbers are great, but Jake Mason is focused on putting notches in the win column. He helped Ferndale to a 7-3 record last season before being eliminated by Garfield in a week 10 state play-in game. The Golden Eagles are currently 3-2 overall this year and 3-0 in 3A Wesco North conference games.