The A-List
A&E Calendar: Mics, lights, parades and Aristocats
A curated selection of happenings in Whatcom and Skagit counties
November 30, 2022 at 5:20 a.m.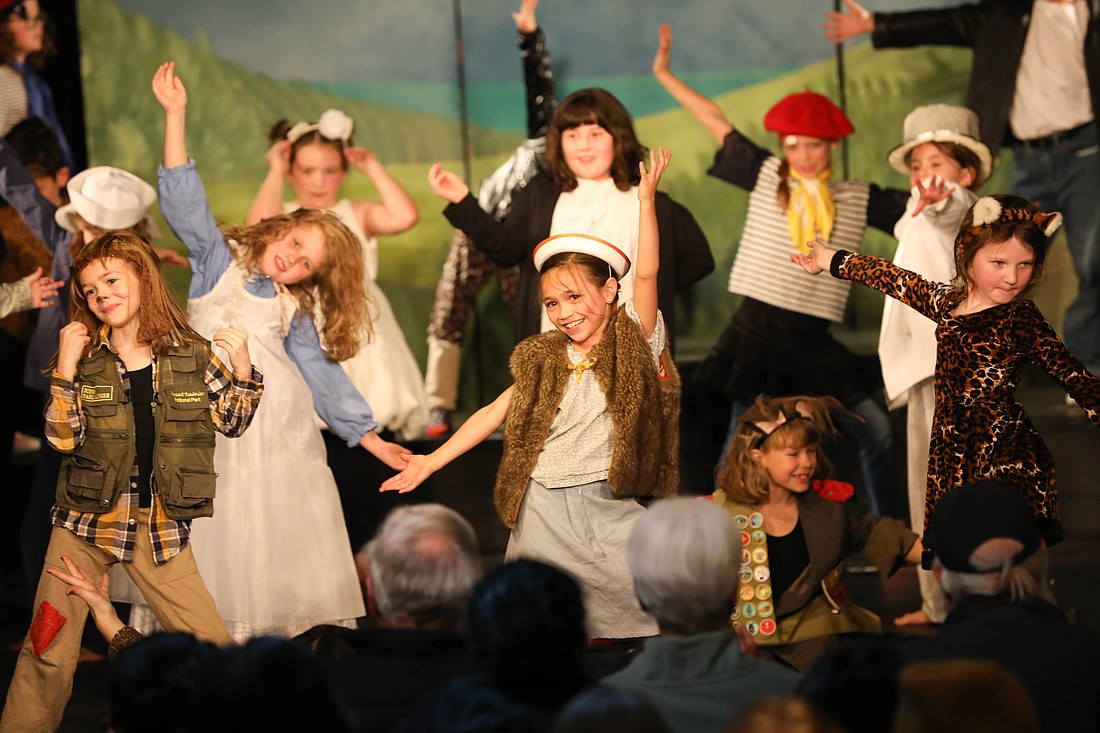 ---
---
Thursday, Dec. 1
Elf, the Musical
7:30 p.m., The Claire Theatre, 655 Front St., Lynden
Tina Miller directs this heartwarming musical, which sees Santa narrating the story of Buddy, an apparently oversized elf who has been raised at the North Pole and must now find the true meaning of Christmas on an adventure in New York City. Shows take place Thursdays through Sundays through Dec. 11. Tickets are $11–$15. Info: theclaire.org.
Fall Concert
7:30 p.m., Heiner Theater, 231 W. Kellogg Road
Enjoy performances by the Whatcom Community College Chamber Music Ensemble and student soloists at this free event. All are welcome. Info: msehman@whatcom.edu.
Menace on the Mic
8:30 p.m., Menace Brewing, 2529 Meridian St.
This open mic comedy night happens every other Thursday, so show up early to sign up for your spot. Big Bites Food Truck will also be on hand serving up wings and hot sandwiches. Entry to the show is free. Info: menacebrewing.com.
Friday, Dec. 2
A Creek Runs Through It
6 p.m., Mindport Exhibits, 210 W. Holly St.
Featured artist Sam Bottman will be present for the opening reception of his exhibit, "A Photographic Exploration of Whatcom Creek." Masks will be required. Info: mindport.org.
First Friday and Art Walk
6–10 p.m., downtown Bellingham
Get started on your holiday shopping and support local artists at this monthly venture which, in addition to art exhibits at galleries and businesses, features live music and other special events. Tonight's events also include the annual tree lighting at the Depot Market Square, with activities kicking off around 5:30 p.m. Info: downtownbellingham.com.  
Make.Sale
6 p.m., Make.Shift Art Space, 306 Flora St.
This annual holiday arts and crafts fair takes place during the monthly Art Walk, and continues from noon to 5 p.m. Saturday at the creative collective. Info: makeshiftartspace.org.
Swing Connection Holiday Concert
7 p.m., First Baptist Church, 110 Flora St.
The Swing Connection Big Band presents its 15th annual concert, Swing Christmas Carols and Other Seasonal Songs. Bellingham High School Jazz Band will be the special guests of the evening. Suggested donation is $10. Info: swingconnection.org.
The Aristocats
7 p.m., BAAY, 1059 N. State St.
Bellingham Arts Academy for Youth presents this Disney classic at 7 p.m. Friday; 2 p.m. and 7 p.m. Saturday; and 2 p.m. Sunday at their downtown digs. The feline fun features a trio of different casts through its three-week run. Tickets to the musical are $12–$18. Info: baay.org.
The Nutcracker
7:30 p.m., McIntyre Hall, Mount Vernon
Skagit Valley Academy of Dance presents this seasonal ballet at 7:30 p.m. Friday and Saturday, and 2 p.m. Sunday. Other than the Pacific Northwest Ballet's rendition, this is the longest-running seasonal performance for any ballet company in western Washington. Tickets are $20–$37. Info: mcintyrehall.org.
Ha-ha Holiday
7:30 p.m., The Upfront Theatre, 207 Prospect St. 
Based off suggestions from the audience, improvisers will create a holiday "movie" filled with romance, merriment and holiday cheer every Friday and Saturday in December. Tickets are $10–$15. Info: theupfront.com.
Opera Scenes
7:30 p.m., Performing Arts Center, WWU
Western Washington University voice students will perform a program of scenes from opera and musical theater, including works by Verdi, Mozart, Sondheim, Bernstein and more. Entry is free. Info: cfpa.wwu.edu.
Andrew Rivers
8 p.m., The Blue Room, 202 E. Holly St.
This lauded standup comedian returns to Bellingham to share his big talents. Rivers is a regular opener for Christopher Titus and has toured across North America and Europe with Steve Hofstetter. Tickets are $20–$30. Info: blueroombham.com. 
Saturday, Dec. 3
Holiday Harbor Lights
9 a.m. to 7 p.m., throughout Blaine
A holiday bazaar, Christmas market and bake sale, book sale, Holiday Lights Obstacle Dash, live music, caroling, tree lighting, visits with Santa and horse-drawn carriage rides will be part of this annual event. Info: blainebythesea.com. 
Dockside Market
10 a.m. to 2 p.m., Squalicum Harbor, Gate 5
Local fisherfolk will be selling their fresh and frozen wares at this twice-monthly market. Visit the dock early to find the best selection of seafood options. Details and participating vendors and products are posted 24 hours ahead of sale days. Info: bellinghamseafeast.com. 
Bellingham Farmers Market
10 a.m. to 2 p.m., Depot Market Square, 1100 Railroad Ave.
The 30th annual event takes place every Saturday through Dec. 17, featuring produce and craft vendors from throughout Whatcom and Skagit counties. Info: bellinghamfarmers.org 
Winter Studio Tour
10 a.m. to 4 p.m., Guemes Island
Ten studio sites featuring the work of 28 Guemes Island artists will be part of this free, self-guided tour, which will showcase a variety of mediums including ceramics, fiber, glass, jewelry, painting, photography, wood and more. Info: guemesislandart.org. 
Holiday Parade
11 a.m., downtown Anacortes
This annual parade hosted by the Anacortes Lions Club will feature holiday-themed floats and walking groups. Entries will assemble on 3rd Street and O Avenue and proceed up Commercial Avenue. Info: cityofanacortes.org. 
FishBoy Holiday Show
2–8 p.m., FishBoy Gallery, 617 Virginia St.
Check out paintings created by folk artist R.R. Clark at this special event at his home gallery. Art will be in every nook and cranny of his Sunnyland abode, with prices for every budget. Info: fishboygallery.com. 
Lighted Boat Parade
5 p.m., Bellingham Bay
"Holiday Magic" will be the theme of this annual parade put on by the Bellingham Yacht Club. Line up along the waterfront to view the procession, and enjoy the lights in the dark night. Info: byc.org. 
An Evening of Belly Dance
6:30 p.m., FireHouse Arts and Events Center, 1314 Harris Ave.
Rachel Harris of Rachel Belly Dances will be joined by fusion dancer Kathleen Houseman and the Middle Eastern folk dancers of Qabila Folkdance Company — including drummer David B. Metz. Tickets are $15–$25. Info: firehouseperformingarts.com. 
Open House Party
7 p.m., New Prospect Theatre, 207 Prospect St.
Come check out what's happening with the former Sylvia Center space at this party and fundraising launch. Attendees can sign up to volunteer, donate, become a member, meet local theater companies and hobnob with possible collaborators. Info: newprospecttheatre.org. 
Sunday, Dec. 4
Depot Comedy Club
8 p.m., Aslan Depot, 1322 N. State St.
Andrew Sleighter will headline this monthly standup comedy show, which features some of the region's funniest folks. Elliot GB, Vanessa Dawn and Lynette Manning will also be part of the lineup. Tickets are $20. Info: aslanbrewing.com. 
Wednesday, Dec. 7
Katt's Meow
8:30 p.m., Katt's Westside Stories, 100 S. Barker St., Mount Vernon
Katie Chandler, Nikki Kilpatrick, Don Lawton, Joel O'Connor and Annie Sutherland will be part of this standup comedy show. Ben Menard hosts. Entry to the 21-and-over event is free. Info: kattswestsidestories.com. 
Before heading out to attend in-person happenings, check with individual venues to make sure the event is still taking place as scheduled.
The A-List appears weekly on Wednesdays. To submit an event for consideration, email calendar@casadiadaily.com.