Football
Kevin Beason resigns as Sehome football coach
Former Mariners coach claims he was given ultimatum
November 29, 2022 at 12:17 p.m.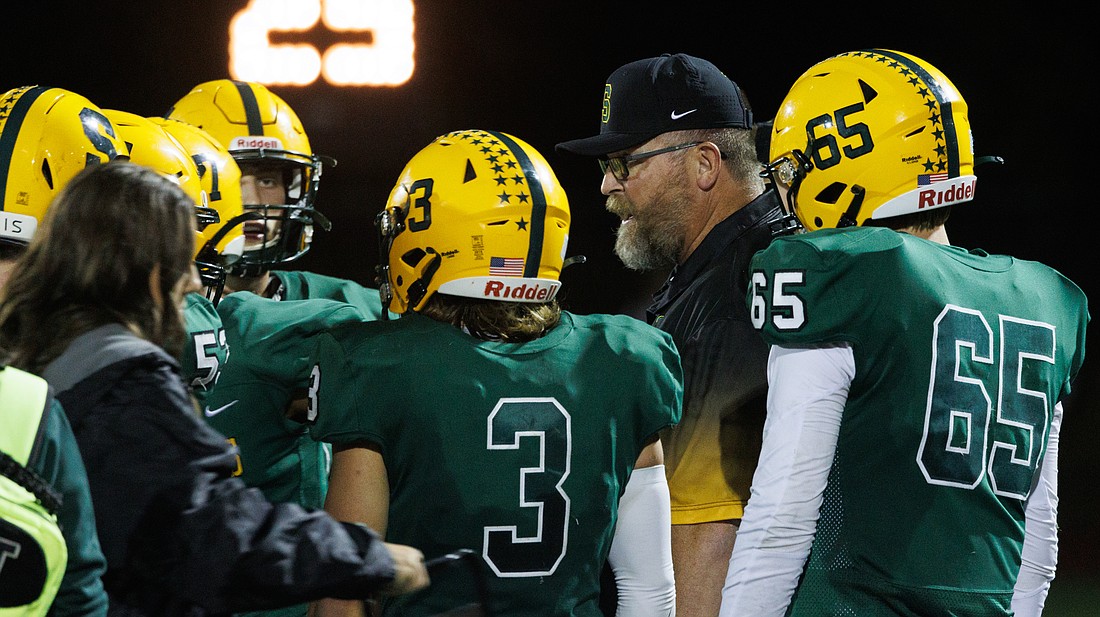 ---
---
Sehome football head coach Kevin Beason, whose team was the subject of a hazing investigation earlier this year, has resigned, according to a letter sent Monday to the football team and their families by Principal Sonia Cole.
"Today, Monday, Nov. 28, Kevin Beason announced to the team that he is resigning his position as Sehome football's head coach," Cole wrote in the letter. "Coach Beason served as head coach for the past six seasons. We recognize and appreciate the time and effort he and the entire football coaching staff have poured into this program."
Beason took to his personal Facebook page Monday to announce his resignation, stating that he was given an ultimatum by the school administration to resign or not have his contract renewed.
"On Monday, Nov. 21st, I met with our principal and athletic director at Sehome," Beason said in the post. "As a result of what was shared as a lack of improvement in the team culture over the past six years, I was given an ultimatum, resign as head coach at Sehome or not have my contract renewed at the end of the year. I chose to resign with a sense of grace."
Beason and Cole did not respond to multiple requests for comment. Dana Smith, assistant director of communications for Bellingham Public Schools (BPS), said the letter contained all the information the district is willing to share on the matter.
In the letter, Cole added that on-the-field issues with the team were being addressed.
"Before the week 10 game [against Cascade], in our learning time together we emphasized having good sportsmanship and having no personal fouls for game 10 as this has been an ongoing issue in previous games," Cole said. "This continued to be a struggle for this group, and it is something we will continue to address moving into next year."
Cole recounted the string of events that began with Sehome forfeiting a week-three game versus Sedro-Woolley on Sept. 16, two days after BPS was contacted by "an administrator from outside the district" about a potential hazing incident. BPS refused multiple times to provide specifics on the nature of the hazing incident, because of what they characterized as student-privacy concerns. 
BPS investigated the incident, which included interviews with players, their families and the team's coaches, Cole said in the letter. The district found that there was indeed "inappropriate student-to-student behavior on the football team," which violated the student-athlete code of conduct, as well as the district's harassment, intimidation and bullying policy.
"It was also found that this is not a new issue; this type of behavior has been experienced by and perpetuated by Sehome football student-athletes for years," Cole said in today's letter. "It was made clear to athletes that this behavior is hazing and needed to stop immediately."  
No players were suspended from the team following the incident.
When asked on Sept. 23 whether any players would see punitive action following a game versus Burlington-Edison, Beason said those decisions were outside of his purview.
BPS concluded its investigation and did not apply any further changes to Sehome's football schedule.
Smith noted in an Oct. 4 email that the team was undergoing a "multi-week program of lessons during practice," in collaboration with school administration, coaches and student leaders. 
Cole confirmed that players were required to attend these lessons — which aimed to identify and prevent future hazing — in order to play in games.
"This team had incredible football talent but also showed a need for continued redirection and support on appropriate behavior on and off the field," Cole said in the letter. "Individually, these student-athletes are great young men. In a group, the dynamic can quickly change and move in a negative direction. We know that we can have a positive team culture, but we also know that it will take continued intentional work to make this happen."
Cole concluded her letter by saying that a new head coach will be hired in the coming weeks. She added that "there will be opportunities for students and families to be engaged in the hiring process."
In his post, Beason said goodbye to the Sehome football community.
"I am proud of what we were able to accomplish on the field," Beason said. "At the same time, every hour spent coaching was one hour borrowed from my family in my role as a husband and father. Maybe now it is time for me to pay back some of that time."
This story will be updated as more information becomes available.