Museum
'Un/Natural Selections' is a wild ride
Animals command attention at Whatcom Museum
November 25, 2022 at 5:00 a.m.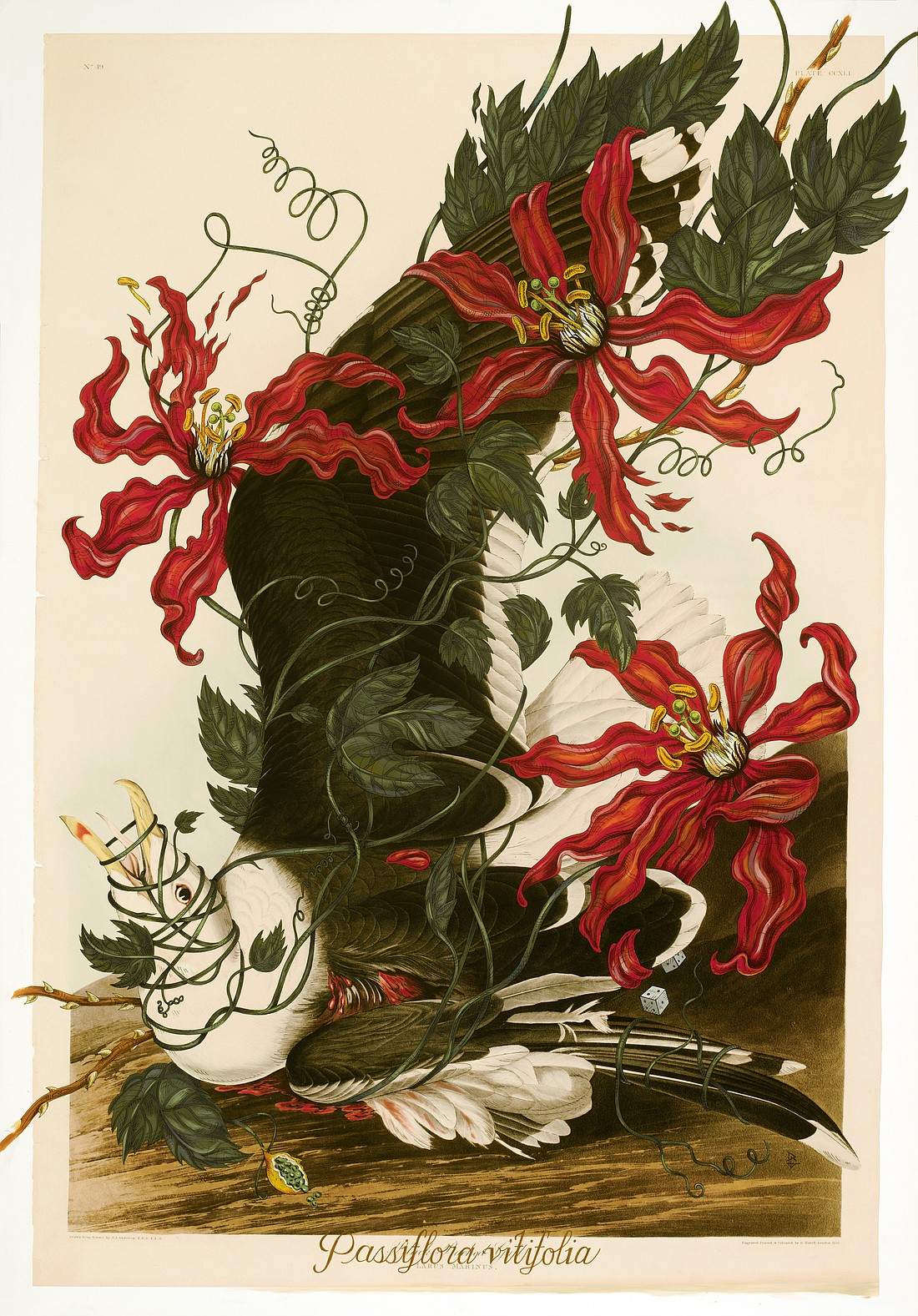 ---
---
I wasn't the only one who gasped upon stepping into the main gallery space at Whatcom Museum's Lightcatcher Building to peruse the "Un/Natural: Wildlife in Contemporary Art" exhibit on display through Jan. 8.
"Whoa!" my date exclaimed as he looked to the left and right, taking in the array of animals populating the space — including a triple stack of large bronze rhinoceroses by Gillie and Marc Schattner; vibrantly colored paintings of endangered species of birds being consumed by invasive plants courtesy of painter Penelope Gottlieb; what looked to be a tiger pelt (but was actually yarn) by Ruth Marshall; and a gigantic oil painting of a technicolor owl by Peter Gerakaris.
"What's up with that horse?" my plus-one asked, homing in on a freestanding work.
He was referring to sculptor Paul Villinski's jaw-dropping "Pegasus," a life-sized rendition of a horse built with found wood, found aluminum cans, wire and steel. The aluminum cans, we read in the artist bio, are what was used to make the white butterflies that appear to alight on the horse's torso, mane and tail. Apparently, Villinski actually breeds the intriguing insects and has come to connect viewers "more directly to the vulnerability shared by butterflies and humans in the face of climate change, habitat loss and extinction."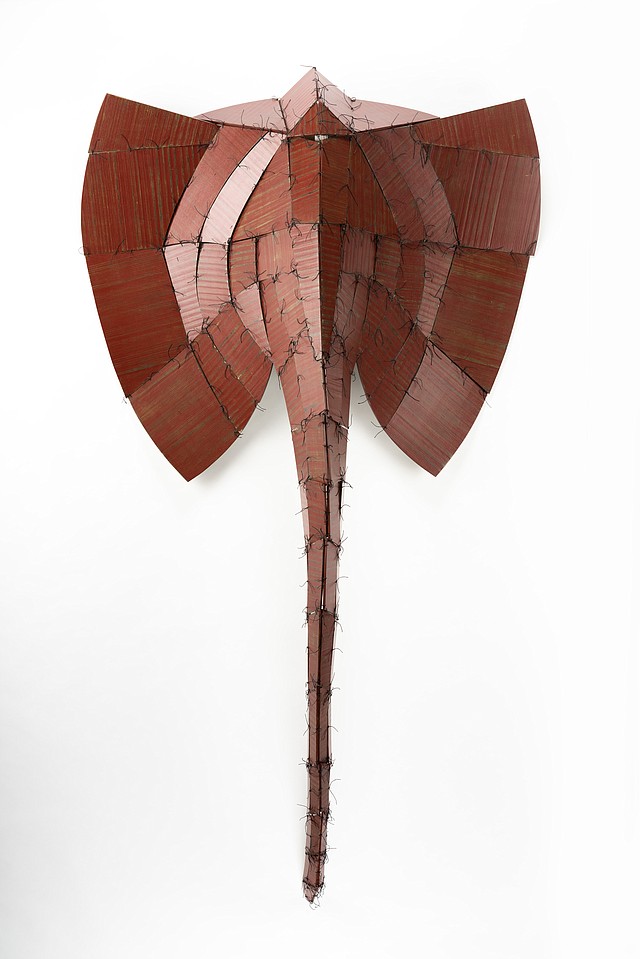 The tenuous relationship between wildlife, humans and environmental and habitat concerns could be found throughout the exhibit, including in other large works, such as Wendy Maruyama's "Homage to Tyke," a segmented elephant head made of wood, string, ink and paint. The work, made in 2015, was named after a female African elephant forced to work for a circus, who ran amok during a performance in Hawaii and was subsequently shot to death.
Organized by the National Museum of Wildlife Art (NMWA) in Jackson, Wyoming, the traveling exhibition comprises works by 42 contemporary artists from that museum's permanent collection. Because the pieces were chosen to delve into the ways modern artists use animal imagery to address humanity's interconnectedness and constantly changing relationship with the natural world, it's not a mistake that so much of what is displayed on and off the walls has a backstory related to the creatures on display.
The NMWA overlooks the National Elk Refuge, and is just a couple of miles away from the gateway to Grand Teton National Park, which makes it a perfect place to appreciate art dedicated to wildlife.
"With similar close proximities to national parks and forests, and easy access to the natural beauty of our county, the Whatcom Museum was motivated to host this phenomenal exhibition that will surely resonate with nature-loving audiences here in Bellingham," Whatcom Museum Curator of Art Amy Chaloupka said.
Judging by the amount of exclamations I heard from other art patrons stepping into the gallery for a walk-through, Chaloupka was right. People were even taking the time to read through the artist bios of the works that drew their eye, perhaps pondering their own place in the natural world.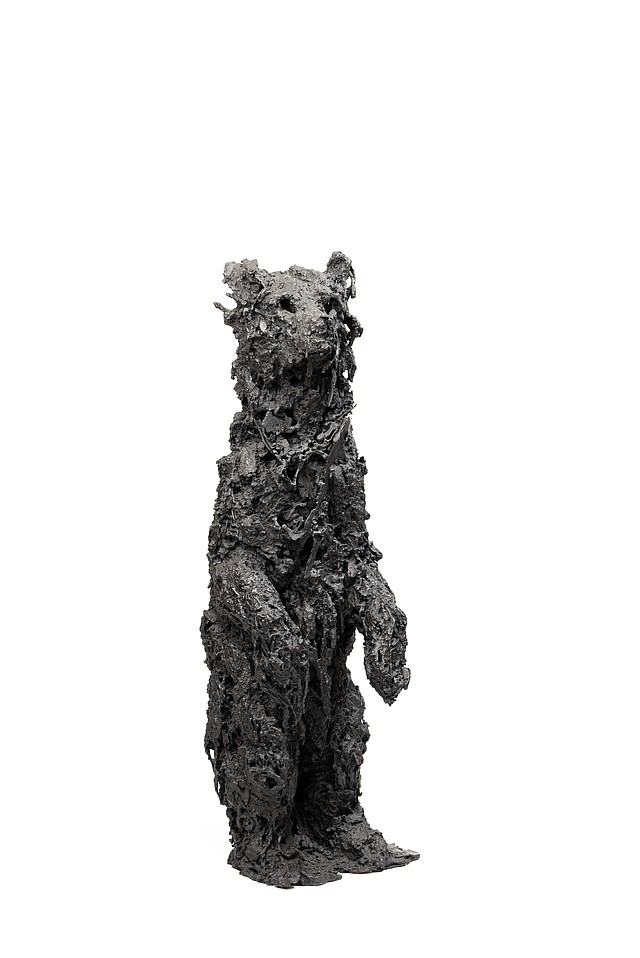 The multimedia contributions in "Un/Natural" are also worth checking out. My date and I spent about 15 minutes sitting in front of a screen watching "Animal Land, 2019," a digital media projection by Lauren Strohacker and Kendra Sollars. In a darkened room, we saw a projection of wolves, bears and deer eating, digging and wandering across the dark wall. Their forms were bright, yet simultaneously shadowy and spectral — kind of like what one might see while looking through infrared goggles.
"Is the wolf watching me? Is it going to jump out of the screen?" my date wondered. "Is this how we're going to do die?" was my not-so-comforting reply.
A few minutes later, we made it to safety and read about what prompted Strohacker and Sollars to make these "synthetic animals" which are "activated and influenced" by human behavior in urban spaces. It was then we realized that as the homo sapiens in the equation, we weren't necessarily the ones in danger.
While many of the works in "Un/Natural Selections" draw light to the troubles between the animal world and the 8 billion people that populate the planet we share, the exhibit ultimately gave me hope. The artists making these often-beautiful works care enough to make their concerns part of the creative process, and the pieces engender discussion alongside art appreciation.
My date actually left the exhibit with an idea for a piece of art he's been working on involving a rendering of a rattlesnake. Another reptile he saw in the exhibit gave him a lightbulb moment and helped him solve his "snake problem."
"That was the perspective I was looking for," he said. "It's always good for artists to go to the museum, right?"
"Un/Natural Selections: Wildlife in Contemporary Art" can be seen through Jan. 8 at Whatcom Museum's Lightcatcher Building, 250 Flora St. Another exhibit on the main floor of the gallery, "Andrea Joyce Heimer: Holy Mountain," is also on display through Jan. 8. Admission to the museum is $5–$10 and includes access to the exhibits at Old City Hall, 121 Prospect St. Info: whatcommuseum.org.