Best Bets
Getting in the spirit of the season
Margaret Bikman's weekly picks
November 23, 2022 at 5:15 a.m.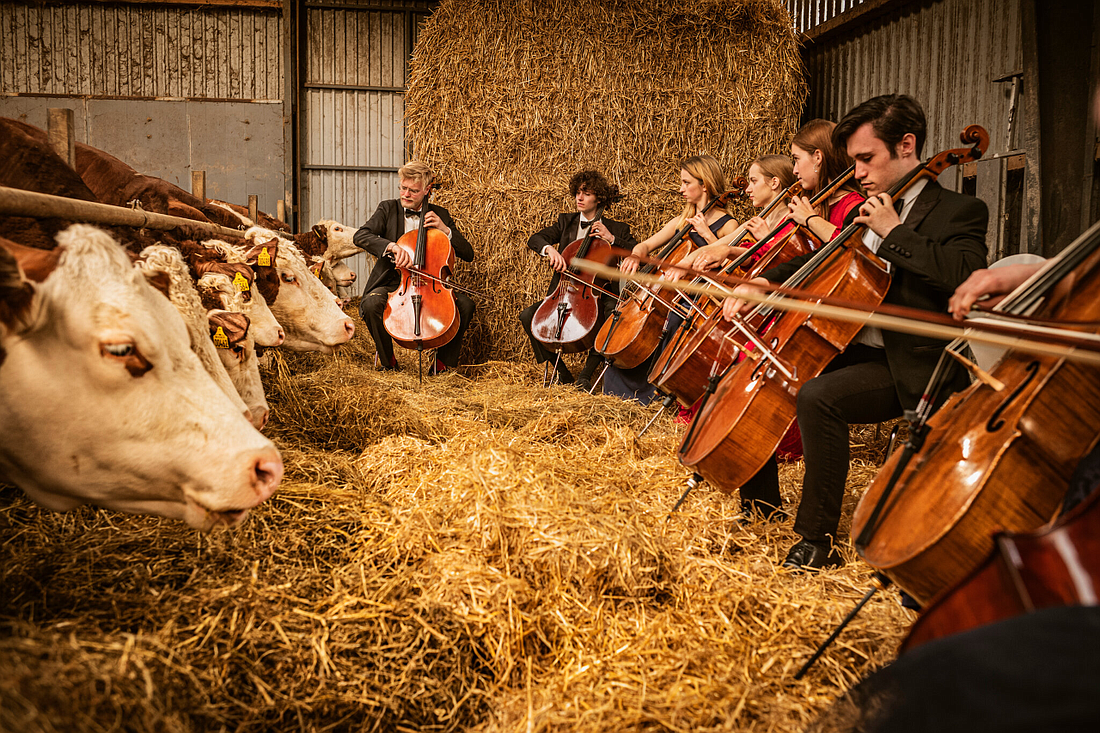 ---
---
It's that "most wonderful time of the year," meaning this week's events feature a bunch of holiday happenings — including themed Christmas trees and ornament-making, a musical about an elf, a seasonal sing-along, and a fundraiser focused on the spirit of giving.
Deck the Old City Hall
Get into the spirit by visiting Whatcom Museum's historic Old City Hall, 121 Prospect St. It will be decked out for the season during operating hours from Friday, Nov. 25, through the end of the year. View a variety of themed, decorated holiday trees in the Rotunda Room, participate in weekly holiday craft-making, and enjoy the dazzling décor. 
The trees in the Rotunda Room will be decorated by community volunteers and the interior of the building will be decorated with garlands and wreaths. Visitors can also celebrate the holiday season on Saturdays in December during "Handmade Holidays" at Deck the Old City Hall with a drop-in activity. 
On Saturday, Dec. 3, experience the suspense of gift-giving with crafts that celebrate the joy of surprise. Spruce up your tree by making ornaments on Dec. 10. Finally, Dec. 17 marks the return of "Scherenschnitt," the intricate German art of paper cutting. Supplies will be provided, and participation is by donation.
Admission to Deck the Old City Hall is also by donation, and proceeds are used to support the museum's rich offerings of exhibitions and programming. Details: whatcommuseum.org. 
Modern Christmas classic
Head to Lynden to enjoy the festive season with some hilarity and Christmas cheer with "Elf: The Musical," onstage weekends from Friday, Nov. 25, through Dec. 11 at the Claire Theatre at Dutch Village Mall, 655 Front St. 
Santa narrates the story of Buddy, an apparently oversized elf who has been raised at the North Pole. Buddy must overcome many obstacles in his mission to convey the true meaning of Christmas, and along the way, he discovers friendship, romance and his true identity. Tina Miller directs.
Tickets are $15 adults, $13 seniors and students, and $11 ages 4–9. Out of respect for others, please refrain from bringing children younger than 4 into the theater, as they can be distracting to both the audience and the actors. Find out more at theclaire.org. 
Oh, Mr. Darcy!
Bellingham Theatre Guild presents Kate Hamill's adaptation of Jane Austen's "Pride and Prejudice" Friday, Nov. 25, through Dec. 11 at the guild playhouse, 1600 H St. 
Jane Austen's beloved classic novel is brought to fresh, fun new life in Kate Hamill's adaptation of "Pride and Prejudice." There is little hope for the four Bennet sisters beyond "ensnaring" a wealthy future husband, but Lizzy dreams of more than the schemes and games of courtship. A young woman with a bright mind and free spirit, she is determined to avoid the trappings of a loveless marriage while laughing at the foolish antics of others. 
When she meets the solemn Mr. Darcy, she immediately judges him to be all that she detests — proud, arrogant, rude and so without civility that she can hardly endure his presence. Lizzy comes to discover, however, that first impressions may not be all that they seem and that she must learn the true characters' of others before jumping to harsh conclusions.
Is there any way to grow past one's prejudices? Even then, how can two partners ever be sure of their future happiness together? Tickets are $8–$18, and can be purchased at bellinghamtheatreguild.com. 
Time to laugh
The Seattle International Comedy Competition is back, and the Lincoln Theatre in Mount Vernon is excited to be a Finals Week venue. Watch comics square off against each other in a hilarious competition at 8 p.m. Saturday, Nov. 26, at the Lincoln, 712 S. First St. General seating is $30. Get more details at lincolntheatre.org or seattlecomedycompetition.org. 
Handel gathering
The public is welcome to participate in a Sing-Along "Messiah," hosted by Lynden Choral Society, at 2 p.m. Sunday, Nov. 27, at First Presbyterian Church, 1031 N. Garden St. For information, call 360-746-1130.
Cellists helping cellists
The Scandinavian Cello School in Denmark offers residencies at no cost to young cellists who get training and community experience, including fresh vegetable gardens and baking, and fine cello instruction. It halted the program when Russia invaded Ukraine, and instead the school took in seven Ukrainian violinists, fed them and kept them safe.
Then the director received a cancer diagnosis and there were no concerts, and no income for the summer while he fought for his life. Now he's home and they are looking at a winter heating bill (as is all of Northern Europe) that is more than 100 times what we in the United States pay. They need help paying for their heat.
Bellingham cellists Nick Strobel and Janey Bennett will perform a benefit concert to raise funds for them at 4 p.m. Sunday, Nov. 27, at the FireHouse Arts and Events Center, 1314 Harris Ave. All proceeds will benefit the students. Suggested donation is $20.
Strobel and Bennett will play a program of duos from the 16th to 20th centuries that are their particular favorites. You'll hear music of lesser-known early cello composers like Reggio, Cattaneo and Cirri, crowned by the amazing modern compositions of Halsey Stevens. Think of it as a tray of cello-duo bonbons, offered with love to the cellists in Denmark. Details: bellinghammusicclub.org. 
A Winter Celebration                                  
Join the Skagit Valley College Choirs, Mariachi Cardenales and the Skagit Community Band for an evening of musical delights designed to celebrate winter and all of the joy it brings at 7:30 p.m. Tuesday, Nov. 29, in Mount Vernon at McIntyre Hall on the Skagit Valley College campus, 2501 E. College Way. Tickets are $15 at mcintyrehall.org. 
Portland-based quadruple threat
Storm Large, musician, actor, playwright and author, presents "Holiday Ordeal," a night of music, gags and gifts, including tracks "2000 Miles," "Hallelujah," "Sock it to Me Santa," and what may be the greatest holiday song never written, "Somebody to Love," at 7:30 p.m. Thursday, Dec. 1, at Mount Baker Theatre, 104 N. Commercial St. When Large isn't touring with her own band, acting or writing, she performs internationally with Pink Martini. Tickets range from $24.50 to $54.50 at mountbakertheatre.com. 
Before attending an in-person event, check with individual venues to make sure it is taking place as scheduled.
Margaret Bikman's column runs every Wednesday. Reach her at margaret.bikman@gmail.com.