Environment
Avian flu likely cause of 400 Wiser Lake bird deaths
'Highly infectious' disease is spreading
November 22, 2022 at 3:08 p.m.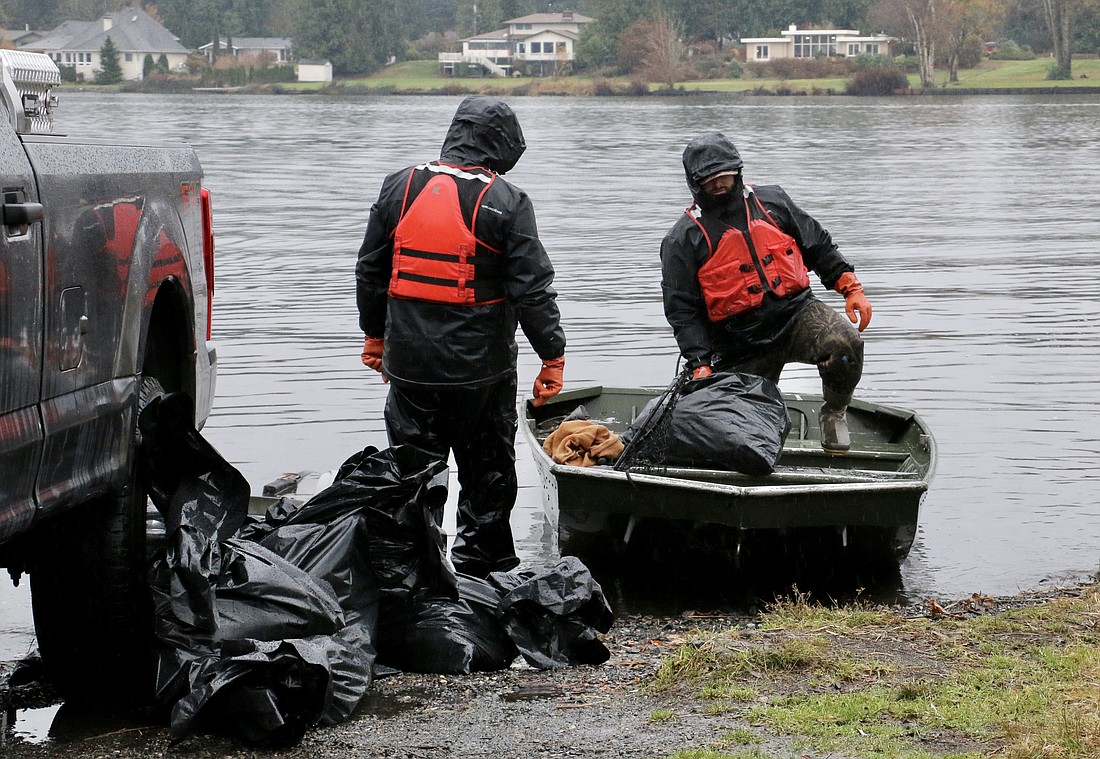 ---
---
LYNDEN — Heavy-duty black trash bags lined the shore at the Wiser Lake Public Boat Launch on Tuesday afternoon, as Washington State Department of Fish and Wildlife employees hauled dozens of dead geese out of the water. In the last week, more than 400 have been reported dead or sick in the waters along the lake. 
The geese, which began showing up en masse last week, are likely infected with H5N1: Highly Pathogenic Avian Influenza (HPAI).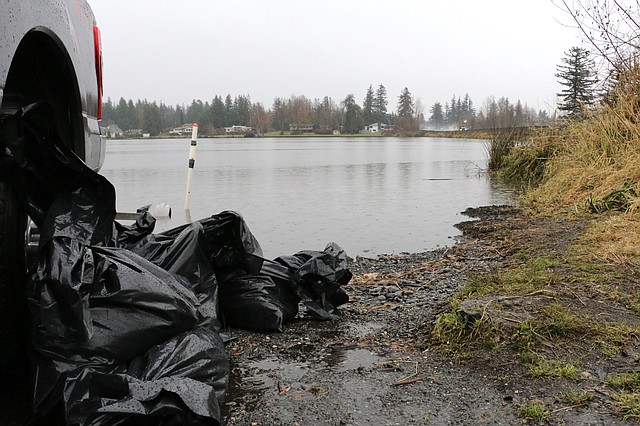 "We are seeing an outbreak of avian influenza in the area," said Staci Lehman at the Washington Department of Fish and Wildlife (WDFW). "Over several days, we've had several reports of geese that have been found sick or dead."
Between Monday and Tuesday afternoon, the number of dead birds was updated from 100 to more than 400. 
"That number is growing," Lehman said. "It's fluctuating."
The die-off began last week, and since then, WDFW employees have been at the lake recovering dozens of geese carcasses, hoping to prevent further spread. 
The virus, spread through animal droppings and secretions, spreads easily this time of year, Lehman said. 
"With the weather getting cooler and some areas not having as much water coming out of the summer, the geese will flock together in an area to feed," she said Tuesday. "With all the geese together, they just pass it to each other."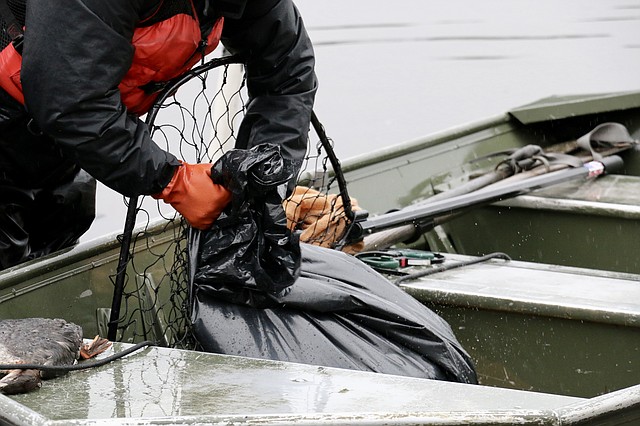 HPAI has plagued Washington flocks this year, with dozens of reported cases and even more deaths throughout the summer. According to a recent update from the Washington Department of Agriculture, more than 2,400 birds have been impacted by the outbreak. 
"It's not the first time we've seen something like this," Lehman said of the Wiser Lake die-off. "We had a similar case in the Tri-Cities last spring, where it was a lot of goslings that died." 
The Tri-Cities, composed of Kennewick, Pasco and Richland, saw small pockets of the avian flu in goslings around the Columbia Park Pond. 
Lehman said the virus this year seems to be a little bit different than in past years, impacting more species of birds. It also seems to spread faster, though is less lethal. 
The Washington State Avian Influenza Outbreak Map does not show an active outbreak in Whatcom County, though that may change as the state conducts additional testing of carcasses from Wiser Lake. 
Testing the carcasses for HPAI can be rigorous, requiring several rounds of confirmation testing. First, a sample of birds must be sent to a lab at Washington State University. If a bird tests positive at WSU, it must be sent to federal labs for additional testing. 
It's highly unlikely the H5N1 virus will spread to humans, though it has happened before. 
"We have seen it spread to humans, but it's mostly people who worked closely with birds, like in the poultry industry — you know, someone touching a lot of birds on a daily basis," Lehman said. 
WDFW will issue additional safety precautions for people in close contact with birds, particularly those frequently handling dead birds, Lehman said. 
Though the public health risk remains low, a large bird die-off like the one at Wiser can be troubling, and can pose a significant threat to animals both domestic and wild. 
"One-hundred birds or more is concerning, but more for the concern that we've got all these potentially dead birds laying around, and if they don't get cleaned up right away, raptors that scavenge on things can pick it up and carry it to other populations, further spreading the virus," Lehman said. 
It's not just birds that are at risk: Any animal that comes in contact with a bird infected with H5N1 could become a carrier and become sick. 
"We're more concerned about domestic animals like people's dogs and cats," Lehman said.
Wiser Lake, a popular fishing and recreation area in Whatcom, is relatively residential, with homes and businesses around the edge of the lake. If an ill bird wanders too close to a home, it could easily spread the virus to an unsuspecting pet. 
Guidance from the WDFW says pet owners should plan to keep their pets inside, and if a bird dies on the property, homeowners should double- or triple-bag it before burying it in the trash can to prevent scavengers like raccoons from easily getting to it.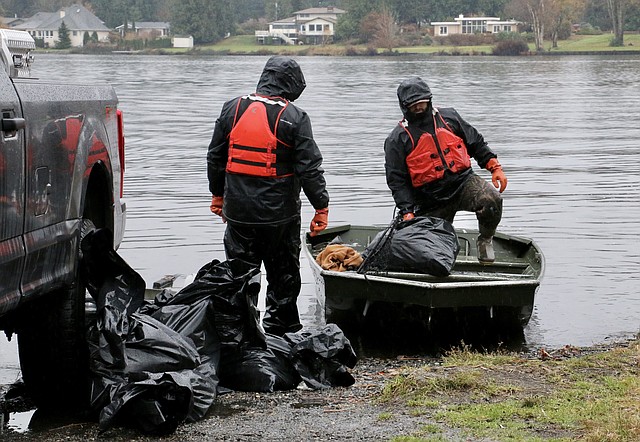 Earlier this month, the Centers for Disease Control and Prevention reported record numbers of avian influenza outbreaks across the country. 
"Since early 2022, more than 49 million birds in 46 states have either died as a result of bird flu virus infection or have been culled (killed) due to exposure to infected birds," according to a Nov. 3 press release. "This number is nearing 50.5 million birds in 21 states that were affected by the largest bird flu outbreak that occurred in 2015."
At this point, Lehman said, the state will not euthanize healthy birds to prevent spread, though they may kill already-infected animals. 
"If we find geese that are sick, they are generally euthanized to prevent the spread," she said. "At this point, we haven't been doing any culling across the state." 
Sick birds may appear lethargic and may have diarrhea and other secretions coming from them. 
To report a concern about a sick or dead bird, contact the Washington State Department of Agriculture at 360-902-2936, or fill out the online form.