Volleyball
Lynden rallies to claim first trophy since 2019
Lions win two straight after falling in quarterfinals
November 19, 2022 at 9:10 p.m.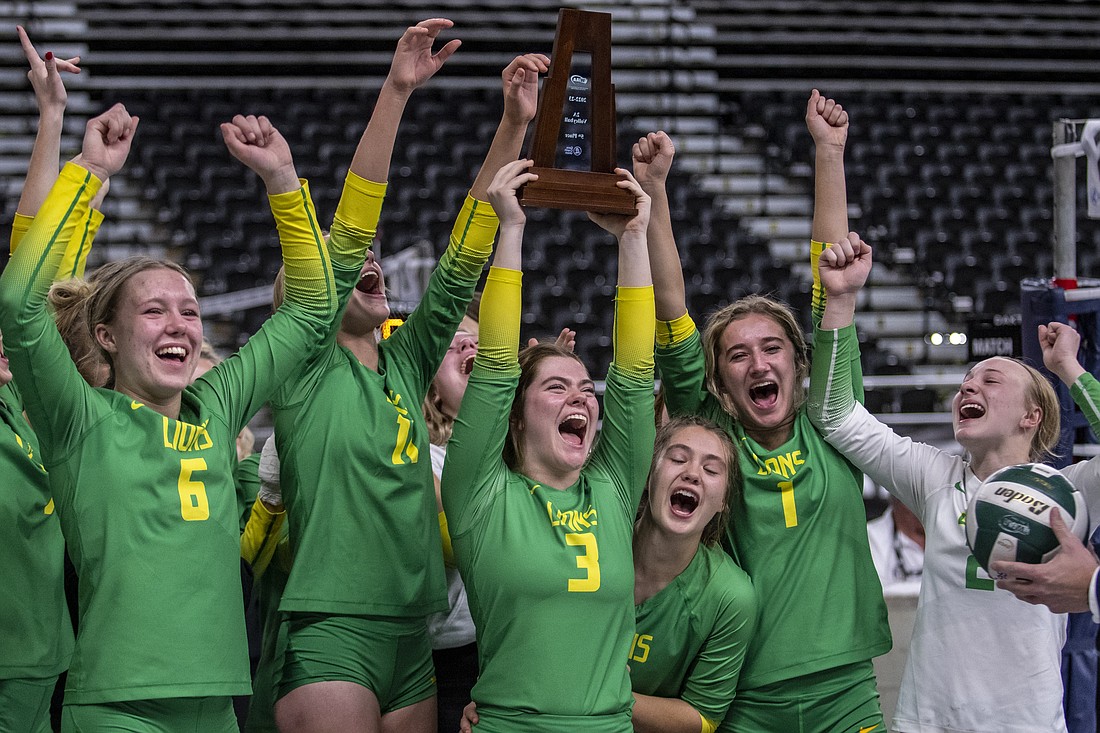 ---
---
YAKIMA — When a No. 1 seed falls early in a double-elimination state tournament, it's easy to stay in the hole and never climb back out (see Overlake volleyball in 2021).
When top-ranked Lynden volleyball was upset by No. 9 Pullman in the quarterfinals Friday night — striking down hopes of winning the program's first-ever state title — the Lions responded in the opposite direction.
Lynden rolled into the Yakima Valley SunDome Saturday, dismantled No. 5 Ellensburg (25-12, 25-23, 25-22) in a loser-out match, then overwhelmed No. 6 Washington (Tacoma) in four sets (25-13, 22-25, 25-18, 25-18) in the trophy round to claim the fifth-place trophy at the 2A state tournament.
"It's amazing," Lynden senior Kayla DeJong said. "I love this team so much and it's just great to finish it with them."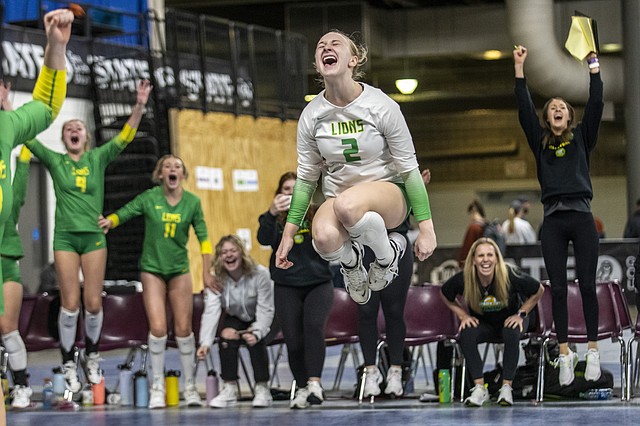 DeJong said a crucial moment came after their quarterfinal loss. It gave the team a chance to reflect and refocus. They had to come to terms that the goal was no longer about winning state; now it was to bring home some hardware.
"We talked about how we were going to change things up and come back like we normally do," said DeJong, who had seven kills, three digs and two aces against Washington.
It worked. Lynden secured its first state trophy since finishing sixth in 2019 (no tournament in 2020 due to the pandemic), and the team's highest finish since placing second in 2018. It was also Chris Elsner's ninth trophy as the Lions' coach.
"We woke up in the morning, had a great breakfast and just decided we're going to go out with joy, and whatever happens, happens," Elsner said. "They had fun, trusted each other and were aggressive."
Ashley Shumate smashed down a team-high 14 kills to go with six digs. Grace Rice was ultra-efficient, dishing out a team-high 35 assists to go with seven aces, five kills and eight digs. Haylee Koetje struck down nine kills and 11 digs, Lucy White had 10 digs and Mya VanderYacht pitched in a team-high 18 digs.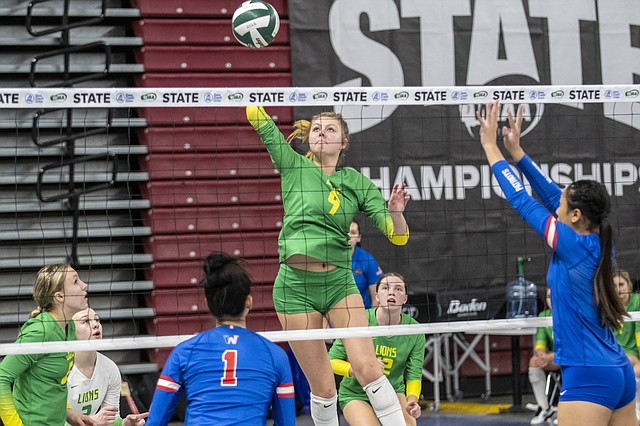 Lynden opened the tourney with a dominating sweep of No. 16 Black Hills (25-10, 25-17, 25-17), and was never seriously challenged throughout the match.
Shumate exploded for a match-high 16 kills to go with eight digs. Haylee Koetje provided offensive backup with seven kills and eight digs, while Rice distributed a match-high 34 assists and VanderYacht had a team-high 14 digs.
That set up a quarterfinal battle with No. 9 Pullman at about 10:30 p.m. Friday. Lynden led match points twice against Pullman before sputtering in a high-intensity, five-set defeat (6-25, 25-22, 19-25, 25-20, 15-12).
The loss put the Lions in the consolation bracket and into a matchup with Ellensburg, a squad that had swept Mark Morris in the opening round before losing in four sets to Ridgefield in the quarterfinals.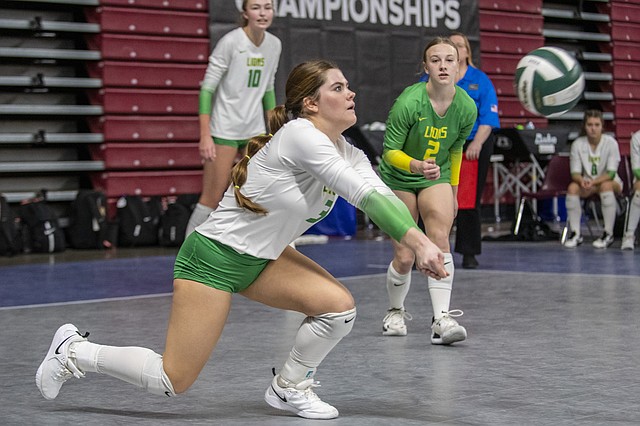 The Bulldogs have five players 6-foot or taller, but it made no difference to Lynden as the Lions used Friday night's loss as motivation and shellacked Ellensburg 25-14 in the first set. Shumate provided the kills from the front row, while Koetje hammered spikes from the back.
Ellensburg came alive in the second set and hung around two points back for most of the set with Lynden holding slight leads throughout, but the Lions hung on and gutted out a 25-23 win to take a 2-0 lead in the match.
In the third set, Lynden trailed late, kept within striking distance and retook the lead at 18-17 before keeping the Bulldogs at bay the rest of the way to complete the sweep, 25-22.
Shumate again led the attack with a team-high 12 kills to go with six digs and two blocks.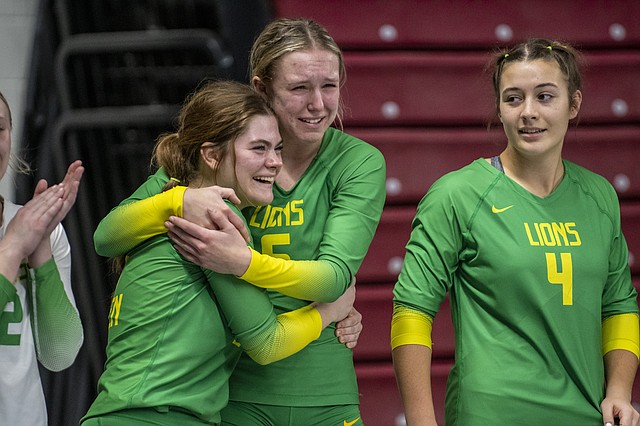 "It feels so good coming back from the loss," Shumate said. "Nobody got down on themselves today. We played for each other, stopped runs and we were just, collectively, having more fun."
It showed as three Lions tallied double-digit kills, with Rian Stephan and Koetje each finishing with 10. Rice dished out precision sets, racking up 31 assists, while VanderYacht locked down the defense with 20 digs to go with five aces.
Lynden finishes its season with a 20-3 overall record. Four seniors played their final match for the Lions: Mikiya Nyhoff, Lucy White, Joslyn Sipma and Kayla DeJong.
When DeJong looks back on this team — her friends — what she'll remember most is the sisterhood they built together.
"We're not just a team, we're a family," DeJong said. "They're going to be my sisters for the rest of my life."