Football
Lions rush into state semifinals
Lynden dominates on the ground, thumps Highline 42-13 in quarterfinal victory
November 18, 2022 at 11:05 p.m.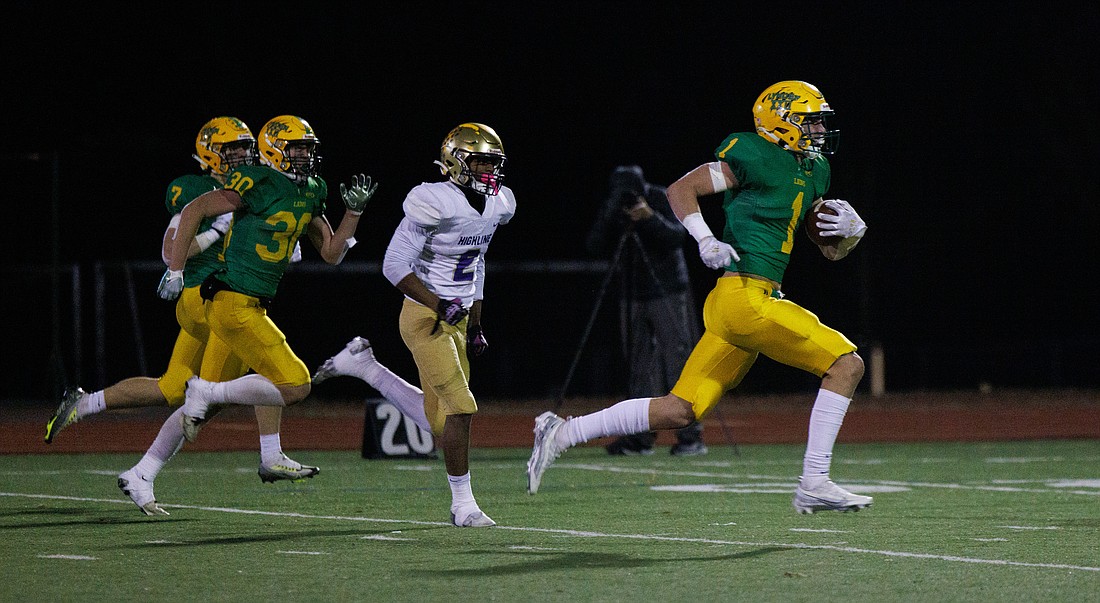 ---
---
When Lynden keeps winning, it can be hard to remember the team is now at 22 straight victories dating back to week three of last season. 
The top-seeded Lions are one win away from reaching their second-straight 2A state championship after a 42-13 thumping of No. 8 Highline in the quarterfinals on Friday night. 
Lynden had its first drive of the game stall after 15 plays, turning it over on downs at Highline's 42-yard line. That also marked the end of the first quarter. 
If there is anyone who knows how to kick his team into gear after a scoreless first quarter, it's Lynden head coach Blake VanDalen.
"We have champions," VanDalen said. "When you're champions, you can be coached hard, and [players] understand that we have a standard. If we don't meet the standard, it's my job to let them know that they can do more."
Let them know he did. The Lions came right back in the second quarter and rattled off 21 points — two scores on the ground came via senior running back Lane Heeringa, and the third was on an 81-yard interception return by senior safety Kobe Baar with just over a minute remaining in the half.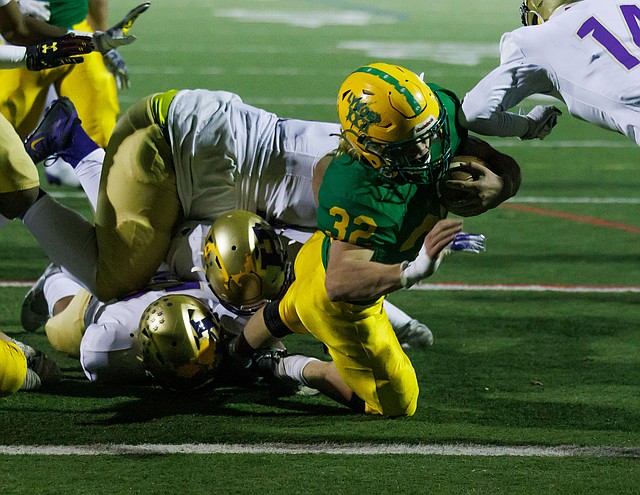 Baar's pick-six halted Highline's best drive of the game to that point, and Lynden was set to receive in the second half. Meanwhile, Heeringa had 97 yards rushing in the first half alongside his two scores.
"[Heeringa] was doing a great job of getting yards with somebody hanging on his back, and Campbell [Nolte] is so slippery that he was kind of a nice counter to that," VanDalen said. "We just look at how the defense lines up, and what they give us, we take. Tonight, they decided they wanted to give us Lane Heeringa. I don't know why."
Heeringa, in the best way possible, views football as a simple game. He may not receive the volume of touches that allows him to produce gaudy numbers every week — but when he does, watch out. If he's running angry, like he was on Friday night, get out of the way.
"Every team is the same," Heeringa said. "Nameless, faceless opponent — like we always say."
Nolte owned the third quarter. The senior rusher picked up a pair of scores from 15 and four yards out. The latter touchdown came on the final play of the third quarter, and Lynden held a 35-0 lead after the extra point.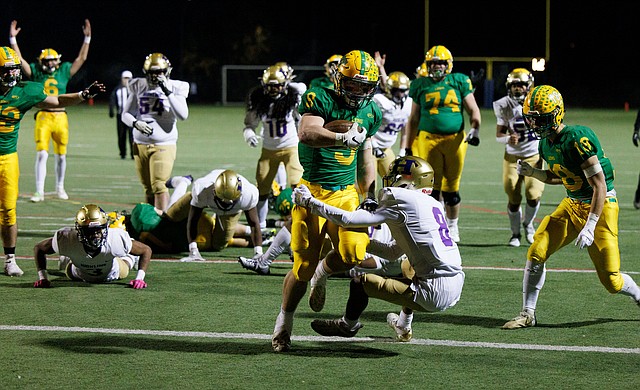 He values proper preparation and trusting that work put in during the week, Nolte said.
"It's just trusting the coaches and what they're showing us, and just trusting the system; trusting the brother next to you," Nolte said. "We know what they're going to do — when it comes to us, we've just got to be prepared and act upon it."
Nolte, in his own way, likes to keep it simple.
"The method to winning is the same every time," Nolte said. "[You've] just got to win every play."
Highline junior wide receiver Marquawn McCraney got the Pirates' first points midway through the fourth quarter on a 3-yard touchdown run. With 2:36 left in the game, Lynden senior quarterback Kaedan Hermanutz took off on a designed run and went 62 yards down the sideline for the Lions' final score.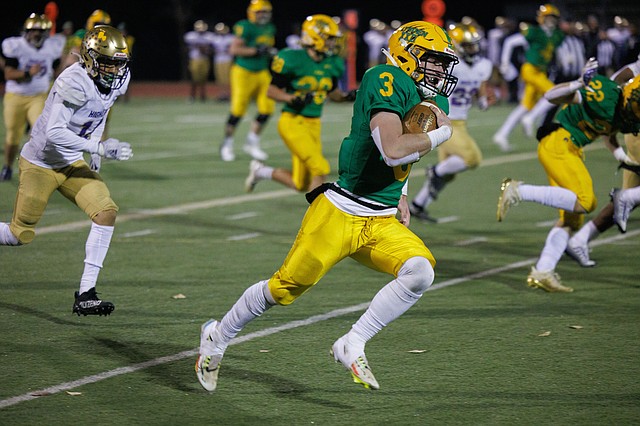 Junior running back Jamaine Matthews Jr. ran in a 17-yard touchdown for Highline about 40 seconds later against Lynden's bench squad. The point-after attempt was blocked.
"It's incredible. I mean a win's a win, right?" Nolte said. "From the beginning of the season, just like last season, we've got a goal. We're one step closer; whoever the next team is we're playing, we've got to prepare and do whatever it takes to get to that next step."
Heeringa totaled 150 yards rushing and two touchdowns on 21 carries. Hermanutz ran for 117 yards on nine carries, the grand majority coming on his long touchdown run. Nolte compiled 57 yards rushing on nine carries to go along with his two scores.
Lynden completed just two passes for 41 yards, and 32 of those were on a connection between sophomore quarterback Brant Heppner and senior athlete Troy Petz.
Highline sophomore quarterback Ronan Rassmussen completed 8-of-14 passes for 82 yards. The Pirates were led on the ground by senior running back Rico Jerez-Sosa who rushed 19 times for 150 yards.
The Lions will host the winner of No. 4 Enumclaw and No. 5 Othello. That game will be at Civic Stadium on Nov. 26 at a time that is yet to be determined.