Drink Cascadia
Wander to ROAM Coffee + Beer
Bellingham brewery opens new cafe at the convergence of three neighborhoods
November 16, 2022 at 5:25 a.m.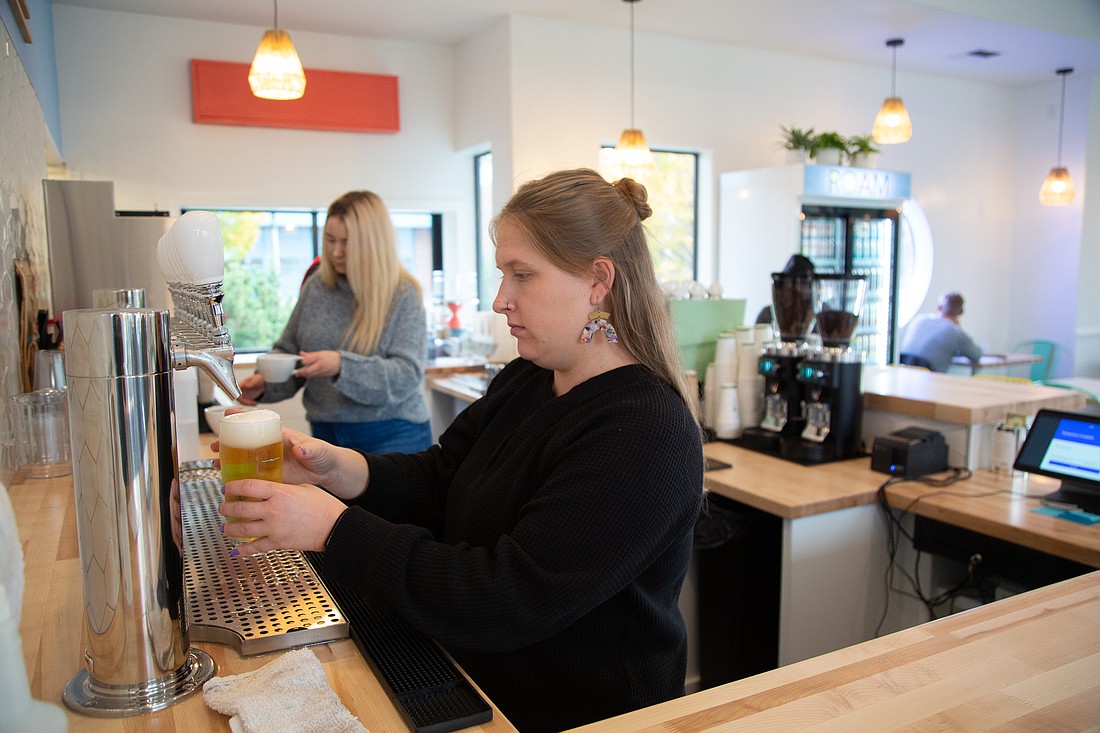 ---
---
Brought to you by the Wander Brewing team, ROAM Coffee + Beer — a coffeehouse and beer taproom located at 1205 Washington St. — opened Thursday, Nov. 10 in the former Carne craft butchery building. 
Owners Colleen and Chad Kuehl have transformed the location into a bright, colorful cafe at the convergence of three neighborhoods — Columbia, Lettered Streets and the Fountain District. The four-month buildout process resulted in an all-new space, inside and out.
"The building has been repainted, landscaping is redone; we built new patios and the walk-in cooler out back, redid the parking lot layout — everything except new floors," Chad Kuehl said. "We built out the benching along the windows, built out the bar — it was just a big white room when we got it."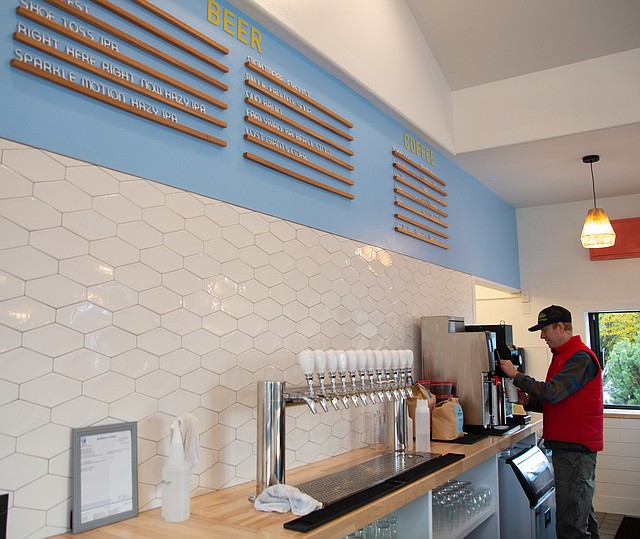 Chad Kuehl jokingly describes the theme as "beachy farmhouse" — combining natural wood elements and bright pops of color for a laid-back yet energetic vibe. The place was packed with locals during my opening-day visit. ROAM serves coffee and beer with a side of subdued excitement — does it get any more Bellingham than that?
ROAM sources its products from local suppliers. The beer, of course, is brewed at Wander Brewing just 1 mile away. Of the 12 draft lines, 10 are reserved for Wander beer, one pours a rotating cider, and another serves draft cold brew, brewed in-house. Packaged beer is also available to go.
The Kuehls have partnered with Bellingham-based Forecast Coffee as their java provider. A new brand from Tony's Coffee, Forecast "fights climate change" by sourcing coffee from farms using agroforestry. Tea comes from Flying Bird Botanicals and pastries are made by Mount Bakery. The soft opening menu also included breakfast croissants and sourdough grilled sandwiches.
Coffee is served all day at ROAM. Hours are 7 a.m. to 9 p.m. daily — spanning both "coffee hours" and "beer hours," blurring the lines between the two. You can hang out in the cafe for access to Wi-Fi and conveniently placed chargers, or use the drive-thru for coffee (and beer) to-go.
When asked about the availability of drive-thru beer, Chad Kuehl explained that the business has a curbside delivery endorsement. "You can order beer through the drive-thru, then you need to pull forward and we hand it to you in the drive-thru, but not from the actual window."
ROAM is family-friendly, and dogs are allowed outside on the patio. 
Brewery and bar holiday markets
'Tis the season for holiday markets. Local breweries and bars are hosting several festive events, where you can shop locally-made crafts and goods while sipping a cup of cheer. I'll list a few here, but more are popping up all the time, so keep an eye on your favorite spaces.
Thursdays, Nov. 17 and Dec. 8, 4–8 p.m. 
Gruff Brewing is hosting two holiday markets this year with more than 20 vendors at each. Both will be held outdoors in the beer garden. Grab some mulled wine and come say hi — I'll be signing and selling books at the Nov. 17 event.
Sunday, Nov. 20, noon to 6 p.m. 
Twin Sisters Brewing will host a holiday market with local art, crafts and gifts. Beer and hot cider will be available.
Saturday, Nov. 26
Boundary Bay Brewery's holiday market for Shop Small Saturday features more than 15 vendors.
Thursday, Dec. 1, 4–8 p.m. 
Stemma Brewing will host a market featuring locally hand-crafted goods ranging from coffee and hot sauce to earrings and textiles. From 6–8 p.m., enjoy live music from Lonely Together. 
Saturday, Dec. 3, 10 a.m. to 3:30 p.m.
L&L Libations' Shop Small Holiday Bazaar is a fun option if you'd prefer a cocktail while shopping for local artisan goods.
Saturday, Dec. 3, 2 p.m. 
Aslan Depot will host its annual Arts & Ales holiday market with more than 20 local artists, craftspeople and small businesses. Mulled wine and beer will be available.
Saturday, Dec. 10, 5–9 p.m. 
Held at K2 (Roosevelt), Kulshan's second annual maker's market features more than 30 vendors. This Holiday Makers Market will benefit The United Way of Whatcom County, with 10% of artist sales and $1 of every pint donated to the organization.
For details about more art-focused markets happening in coming days and weeks, read Amy Kepferle's "The Power of Pop-ups" story in this week's print edition, and online. 
Beer and spirits news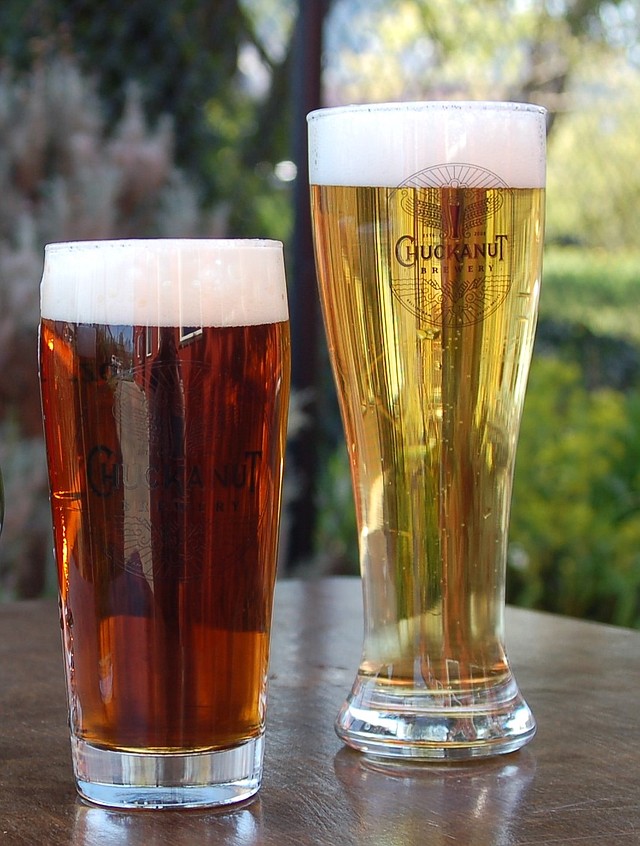 • Washington Beer Awards winners have been announced, with local Cascadian breweries winning across multiple categories. There are too many to list here, but you can peruse the 2022 winners at wabeerawards.com. Congrats to the winning breweries!
• The Temple Bar in Bellingham is reopening "soon." It may already be back by the time you read this — check social media for updates. A longtime favorite downtown hangout, The Temple Bar closed in January "to make necessary structural and organizational changes." 
Brandon Fralic's Drink Cascadia column runs every other Wednesday. Reach him at drinkcascadia@gmail.com