Visual Art
Holiday art markets: The power of pop-ups
Shop small, spend big
November 15, 2022 at 9:02 a.m.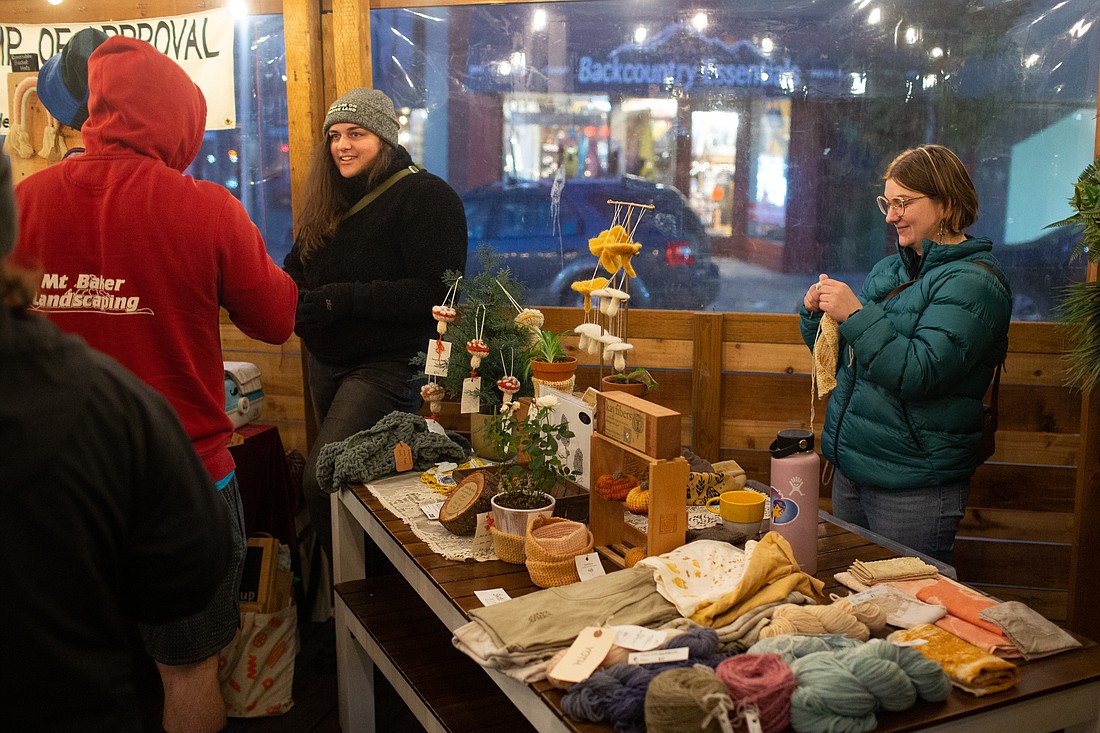 ---
---
On a typical Sunday, the doors of Lorikeet Bar would be locked and the covered "parklet" extending from the sidewalk at 215 W. Holly St. would be empty. But on Sunday, Nov. 13, that wasn't the case.
Instead, the corridor in and around Lorikeet and the soon-to-reopen Goat Mountain Pizza was buzzing with activity. Approximately 15 vendors were selling everything from handmade jewelry to prints, upcycled dog and cat toys, knitted hats, macrame plant holders, original paintings, tree ornaments and beyond. Bundled-up shoppers chatted with those selling their wares; some people sipped on warm beverages procured from Lorikeet.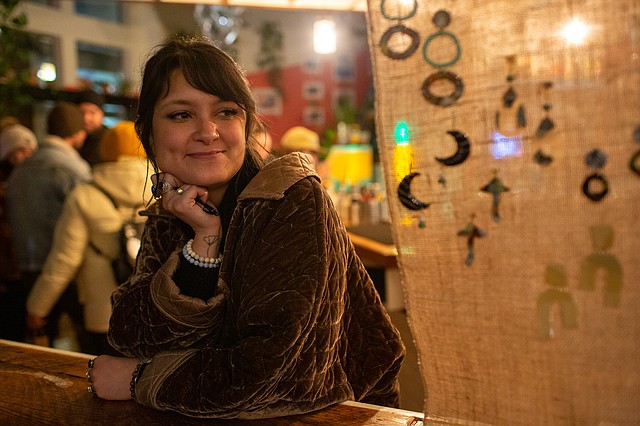 Jessica Bylin, an artist and longtime Black Sheep and Lorikeet employee, started running the markets with coworker Jordan Jenson last winter both as a way to take advantage of the space not being open on Sundays — which may change in the future — as well as providing a place for local artists to come and sell their goods. As usual, they were both among the vendors at the latest happening — with Jenson selling earrings she makes with her grandfather, and Bylin offering nature-inspired prints, T-shirts, bags and wire earrings.
"It's pretty cool because we get to meet so many different artists from around town and create so many different connections," Bylin said. "I feel really lucky to be a part of it."
In December, Jenson and Bylin will be switching things up a bit. Instead of hosting the event on the second Tuesday of the month, Lorikeet will open for Holiday Art Markets from 2–6 p.m. Sunday, Dec. 4 and 11.
Cynthia Topp of Magic Carpet Jewelry will be at both of those markets, but the Nov. 13 event was the first time she'd signed up to take part in this particular pop-up. Sales were going well, and she was happy to be there. The metalsmith said she participates in "a ton" of vending throughout Whatcom and Skagit counties and is always glad to see the expansion of temporary or semi-regular markets.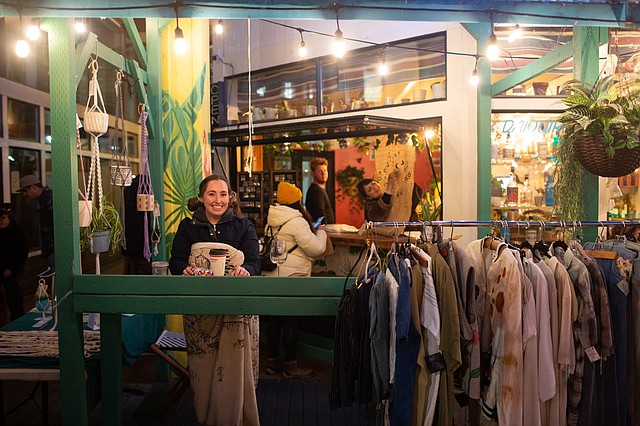 Topp is part of the Bellingham Metal Arts Guild, and teaches silversmithing at Lynden's Jansen Art Center. She's also a member of the Bellingham Makers Market, which will be hosting a Fairhaven Art Market during the Fairhaven Winter Art Walk from 4:30–8 p.m. Friday, Nov. 18, and noon to 5 p.m. Saturday, Nov. 19 at 1201 11th St. (across from the Filling Station).
"The pop-up scene has exploded," Topp said of the amount of options people have to shop local throughout the year, as well as during the holiday season. "Breweries took the lead. During the pandemic, people needed to be doing things outside and most breweries have some sort of outdoor space. Plus, I think there are a lot more people making and selling things."
If you turn to our Drink Cascadia column this week, you'll find writer Brandon Fralic has compiled a list of pop-up art markets taking place at area breweries in coming days and weeks. But these one- or two-day events aren't contained to beer-based locales — you'll also find them at barns, granges, studios and coffee shops. Read on to get more details.
Ready, set, pop-up
Friday, Nov. 18
Holiday Sale: Skagit County Historical Museum will host this sale from 9 a.m. to 4 p.m. Friday and Saturday on Fir Island at Skagit City School, 17508 Moore Rd. Find unique, one-of-a-kind holiday gifts and decorations, and enjoy the scenic drive. Info: skagitcounty.net/museum. 
Paint the Town!: From 10 am. to 4 p.m. every Friday–Sunday through Dec. 18, longtime painter Ben Mann will be hosting this event in his studio at 1000 Harris Ave. Head up the steep stairs to discover whimsical fine art paintings, cards, calendars and gift certificates, and chat up one of the friendliest folks in town. Info: ben-mann.com. 
Fairhaven Winter Art Walk: Eighteen participating businesses will host local artists from 4:30–7:30 p.m. throughout historic Fairhaven. The event is part of the district's Winterfest kickoff. Pick up a map in Finnegan's Alley, and let the treasure hunt begin. Info: enjoyfairhaven.com. 
Saturday, Nov. 19
Holiday Craft Fair: From 10 a.m. to 3 p.m., check out creative goods from artists of all ages at the Sudden Valley Dance Barn, 8 Barn View Drive. Soy candles? They've got 'em. Dog treats, jewelry, handmade ornaments, beard oil and jewelry? Check. With 46 vendors, you'll find something for everyone. Info: suddenvalley.com. 
Rexville Grange Holiday Art Show: For the second and final weekend, attend this event from 10 a.m. to 5 p.m. at Mount Vernon's Rexville Grange, 19299 Rexville Grange Rd. More than two dozen artists will be showing and selling their art — including Cascadia Daily News restaurant reviewer and photographer Jessamyn Tuttle. Info: rexvillegrangeartshow.com. 
Trunk Show: Between noon and 6 p.m, Chicago fashion designer Nancy Melvin will bring her latest collection to Bellingham at FishBoy Gallery, 617 Virginia St. Come back to the locale for the FishBoy Holiday Show from 2–8 p.m. Saturday, Dec. 3 to peruse the works of folk artist R.R. Clark at his home studio. Info: fishboygallery.com. 
Sat., Nov. 26
Shop Small Saturday Market: Bellingham Makers Market will host its second event of the season from noon to 8 p.m. at the Granary Building, 1211 Granary Ave. Every nook and cranny of the waterfront locale will be filled with local artisans, food and entertainment. Fill out a vendor passport to enter the raffle. Info: bellinghammakersmarket.com. 
Shop Small Saturday: From 8 a.m. to 10 p.m., this annual event takes place throughout downtown Bellingham. Meander through your favorite local shops, boutiques and galleries to find gifts, or take note of things you wouldn't mind finding under the tree. If you can't make it out and about today, remember almost a month remains to knock items off your list while simultaneously supporting local artists and merchants. Info: downtownbellingham.com.