Elections
Whatcom Democrats seal sweep in state races
Sefzik concedes tight race
November 14, 2022 at 6:44 p.m.
|
Updated November 18, 2022 at 10:31 a.m.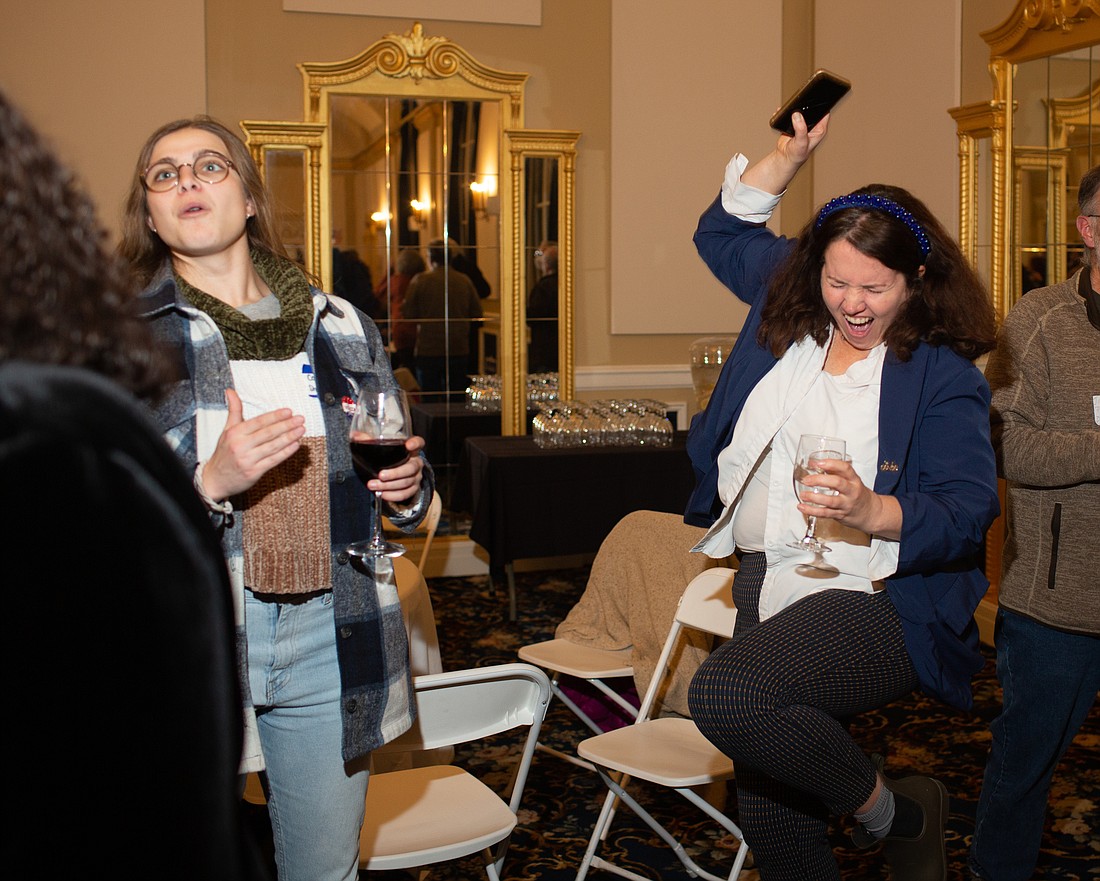 ---
---
Democratic 42nd District legislative candidates sealed victories in the Nov. 8 midterm election after a critical Whatcom County vote count Monday night.
With only an estimated 550 votes left to count, Democrat state Senate candidate Sharon Shewmake declared victory with an 863-vote lead in an expensive, hotly contested race with appointed single-term Sen. Simon Sefzik, who held the seat of the late Sen. Doug Ericksen of Ferndale.
"I have always been willing to meet anyone who wanted to speak to me ... I view the job of a legislator as [a way to] figure out that sweet spot in between," Shewmake said in declaring victory and pledging to work with all her constituents. 
As for her plans for the upcoming legislative session, Shewmake said her biggest priority is housing markets. 
"Some people won't like the ways I go forward with it, but I'll meet with them, and maybe we can figure out some ways that work as a compromise. I want to see good policy, and really good policy has broad buy-in," she said. 
Shewmake, who previously served as a 42nd District representative, said she plans to apply her prior experience in the House to her new seat in the Senate. 
"Now that I've navigated those [House] relationships, I hope to still build on them to pass better housing policy and be able to work through the Senate from within." 
Shewmake after the latest vote led Sefzik by a margin of 37,581 to 36,718. Her vote percentage, 50.53%, remained close to where it began with initial election counts last Tuesday. 
"This election was super nasty," Shewmake said. "I'm glad the mailers are done ... On a personal level, I know I'm not that person. I'm just glad Whatcom County knew that, too."
Sefzik, who called Shewmake to concede Monday evening, said he "wished her his congratulations and my best of luck to her." 
"The beauty of our system of government is you fight, you fight hard, you disagree, you disagree vehemently, and then, at the end of the day, you pass the torch on. You accept the results, and you wish her the best," Sefzik said. 
As for Sefzik's next steps, he joked "unemployment." But on a serious note, he said "I was never the most probable person to do this in the first place, and it's truly been the honor of a lifetime to do this. I feel like the luckiest person on Earth to have gotten to represent this area for the time that I did." 
Sefzik thanked his supporters and helpers, the "grandmas to young people" who have helped knock on doors in the "heat and rain" and bolster his campaign since January. 
"To my supporters ... join me in not just congratulating Sharon Shewmake, but offering her our goodwill and our honest efforts to come together and bridge our differences, because this is the coolest thing: We're fellow neighbors and fellow Americans," Sefzik said.  
Also claiming victory after the latest count were 42nd District House incumbent Alica Rule, who maintained a 2,500-vote lead over GOP political newcomer Tawsha Dykstra Thompson; and Democrat Joe Timmons, with a 1,897-vote advantage (51.24%) over challenger Dan Johnson. 
Another closely watched county ballot measure, Proposition 5, the "Children's Initiative," drew even tighter and appeared too close to call, with the "no" vote leading 53,504 to 53,211, a difference of only 293 votes. The current no vote is 50.14%. 
Children's Initiative supporter Ray Deck III said on Nov. 10 the campaign would wait before making any decision on whether to track down potential "yes" votes among the challenged ballots. 
A county EMS levy was approved by a nearly 64% margin.
The election represents a Democratic sweep in Whatcom County for state offices. County voters went 59.24% for longtime incumbent Sen. Patty Murray over challenger Tiffany Smiley; they gave a 60.3% victory margin for incumbent Rep. Rick Larsen over second-time challenger Dan Matthews; a 77.54% margin for incumbent 40th District House Rep. Debra Lekanoff over GOP challenger Shannon Perkes; a 79.33% margin for the other 40th District representative, and Democratic incumbent Alex Ramel, over Democratic challenger Trevor Smith. 
The election will be certified on Nov. 29.
A previous version of this story incorrectly stated that a ballot measure was within the realm of a recount. Ballot measures are not subject to recounts. The story was updated to reflect this change at 10:31 a.m. on Nov 18. The Cascadia Daily News Regrets the error.