Football
Nooksack Valley earns first state victory in over a decade
Pioneers total 493 yards of offense in 37-13 win over Riverside to open 1A tournament
November 12, 2022 at 10:56 p.m.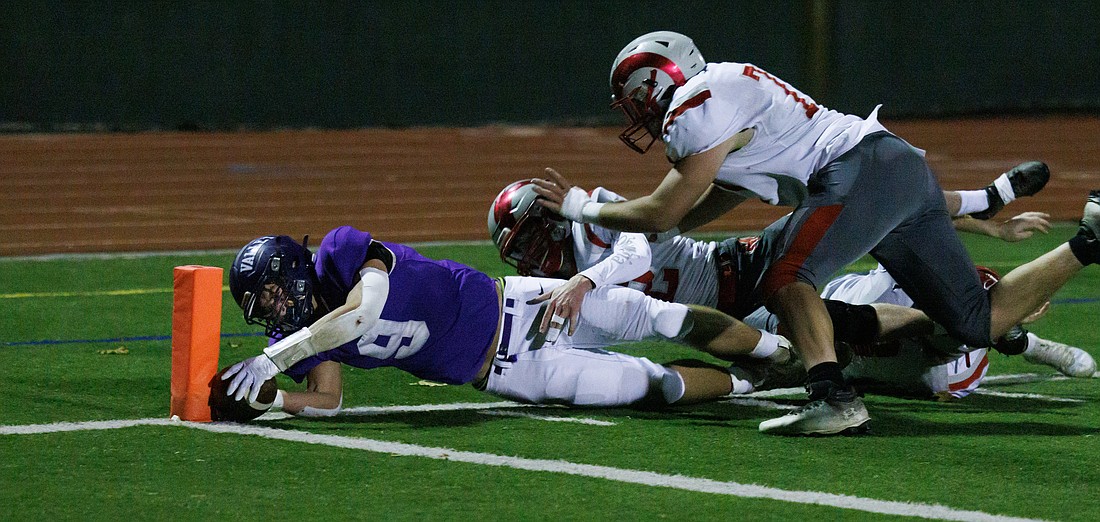 ---
---
Nooksack Valley finally ended a postseason drought that spanned more than a decade.
The No. 3-seeded Pioneers took down No. 14 Riverside 37-13 at Civic Stadium on Saturday night, earning their first 1A state quarterfinal berth since 2010. 
"A couple years ago, when we first started, everyone was satisfied just to compete," said NV coach Craig Bartl. "Once we got over that hump, now it's 'let's try to win games.' So I think we're there right now — instead of just competing, let's win."
It didn't come easily, and Bartl critiqued his team's play during the middle portion of the contest. The Pioneers, however, needed a strong fourth quarter, and that's exactly what they got.
"It was great to put them away," said senior wide receiver and defensive back Ryan Hughes. "It was great to get a win, [our] first playoff win in a long time."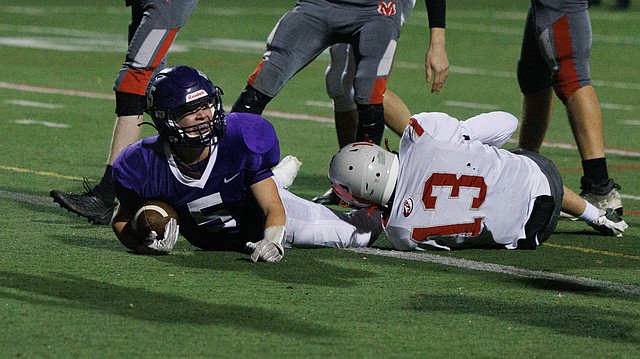 NV began the first quarter by having a 12-yard touchdown run by junior wide receiver Jackson Bennett waved off due to an inadvertent whistle. A very late offensive holding on the same play backed the Pioneers up to the 22-yard line. 
Junior quarterback Joey Brown found Hughes through the air on the next play for the latter's first touchdown of the season. The extra point was blocked, and NV took a 6-0 advantage early.
Sophomore running back Colton Lentz punched in a 4-yard touchdown run with 2:34 remaining in the first quarter to extend the lead but was penalized on unsportsmanlike conduct. NV had to attempt the two-point conversion from the 20-yard line, and it was unsuccessful.
Riverside senior running back Gavin Jaeger slimmed the deficit to five following a 3-yard touchdown rush at the beginning of the second quarter, followed by the extra point. 
NV then put together a solid drive, reaching Riverside's 1-yard line just before the halftime break. Brown took a hard hit getting there, leaving the field and clutching his abdomen. He sat out the final few plays of the half.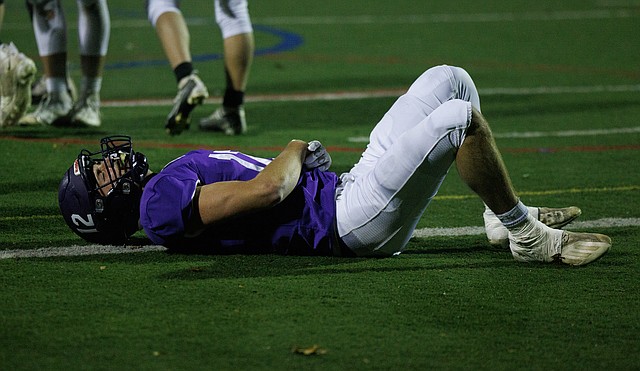 The Pioneers ran it to the outside with Lentz in wildcat, losing three yards to set up a more difficult situation. On 4th-and-goal from the 4-yard line, Riverside stopped NV short. A field goal would have made it an eight-point game. The Rams kneeled it out to make it 12-7 at halftime.
"We came out good, and then we let them and their play kind of dictate us — we let them get to us," Bartl said. "That's not what we normally do. We finished strong, but that middle part of the game is not who we are."
Brown trotted out to lead his team in the second half. He took another hard hit on a 10-yard run early but continued to tough it out. 
"Oh I was feeling it, I just didn't want everyone to know I was feeling it," Brown said. "Inside of me, I was screaming."
Lentz came back with a vengeance in the third quarter, diving for the pylon on a 26-yard run early in the period for six. NV failed the two-point conversion attempt, and the lead was at 11.
Turnovers on three straight drives marred both teams' momentum, and Jaeger scored for Riverside with 26 seconds remaining in the third quarter to bring the Rams within five once again. 
NV led 18-13 at the beginning of the fourth quarter, possessing the ball on Riverside's 43-yard line. That was when the Pioneers' production exploded.
Brown scored on a 3-yard touchdown run just over three minutes into the half. Senior wide receiver and defensive back Bennett DeLange picked off Riverside with seven minutes remaining to set up NV on the Rams' 42-yard line. DeLange joined the team just three games prior, and he made his presence felt.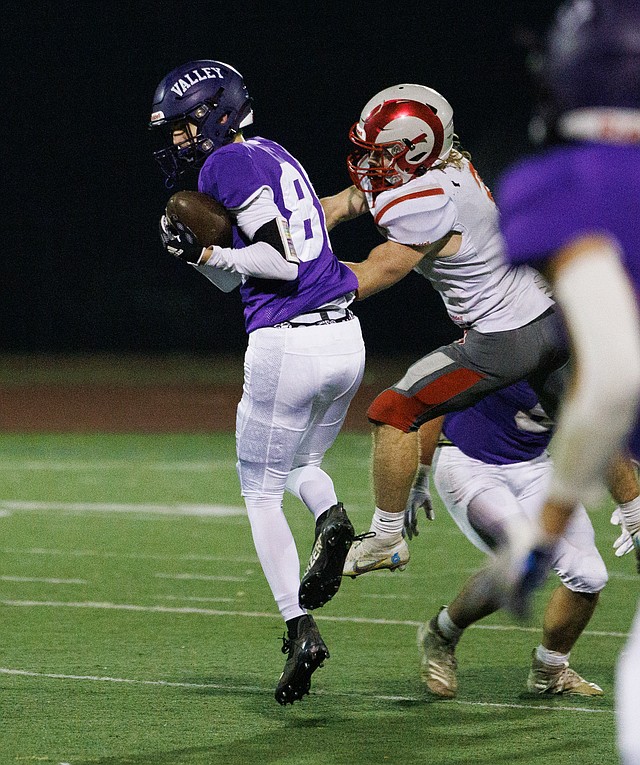 Lentz got his third score of the night on a 9-yard run, and the extra point made it 31-13. Hughes picked off his first pass of the night with 3:29 to play to give it back to the Pioneers. Junior running back Skyler Whittern turned that into points with an 11-yard touchdown run a few plays later in what would be the final score of the evening.
Hughes sealed the game with his second interception of the night. He came into the game without a pick all season.
"It feels pretty great," Hughes said. "It's nice to finally do something, on offense, I should say, and defense, too."
Brown completed 12-of-21 passes for 130 yards and a touchdown. He also rushed 11 times for 116 yards and an additional score.
Lentz carried 25 times for 143 yards and three scores. Whittern rushed for 91 yards and a touchdown on 10 carries. Bennett caught two passes for 35 yards, as Hughes had two receptions for 28 yards and a touchdown. 
Brown spread the ball to seven different receivers in the game as the Pioneers more than doubled Riverside's output with 493 total yards of offense.
Riverside was led by junior quarterback, Jake Gaffaney, who completed 14-of-21 passes for 146 yards. Jaeger carried the ball eight times for 41 yards and a touchdown.
Brown's composure amid two interceptions proved the difference. He can kill teams on the ground and through the air, no matter his mistakes. His head was always on straight when his team needed him, he said.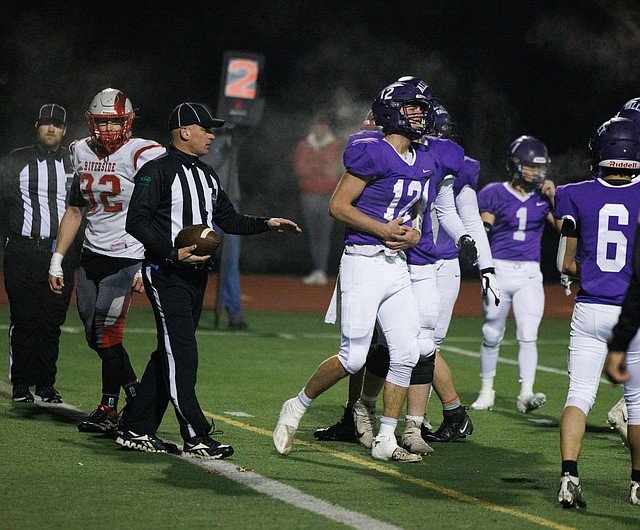 "I never let it not get straight," Brown said. "One play at a time — I don't want to let myself down, I don't want to let my team down, mainly."
NV will face No. 11 Cashmere in the quarterfinal round of the 1A state tournament on Nov. 18 or 19. The game will be at Civic Stadium. A win there would send them to the semifinals for the first time since 2009, and the Pioneers are proud of their perseverance in the team's first playoff win in 12 years.
"It was a tough battle at the beginning, in the second half we got it together and we came through as a family and we finished strong as we should have," said junior lineman Duke Halaapiapi.