The Beat Goes On
Bellingham Exit: Music booker Hunter Motto has big plans
NW Tune-up Festival and beyond
November 9, 2022 at 5:10 a.m.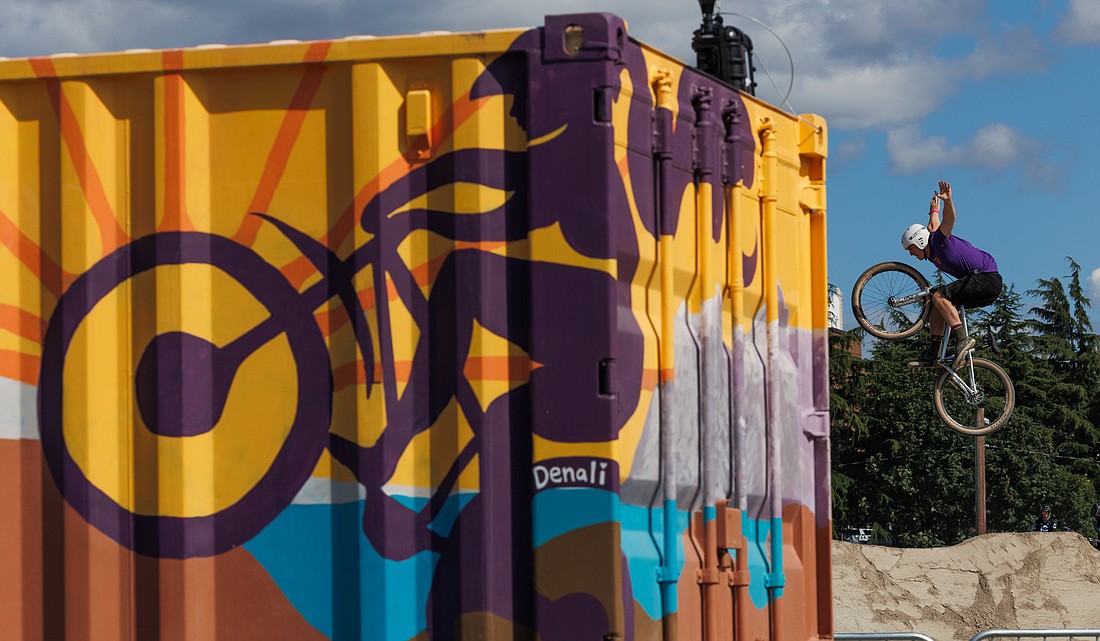 ---
---
When the Bellingham City Council announced last May that it had selected a proposal for funding for a major new music festival to take place in Bellingham, I was immediately curious about who was behind it.
When I heard it was a team led by Hunter Motto, I felt reassured. Motto first got involved with the music industry while a student at Western Washington University, where he was in charge of booking shows for Associated Students. Since then he's become a talent buyer for the Crocodile Cafe, one of Seattle's premier music venues. 
Motto was also in charge of booking the music for the inaugural Northwest Tune-up Festival in downtown Bellingham in July, bringing in headliners like The Dip, Cut Chemist, and Wolf Parade. Now he is spearheading the effort behind the new festival, called Bellingham Exit, which is scheduled to make its debut next October. 
I caught up with Motto recently to get his insights into how these two big events are developing. Our first topic was the new festival. Brent Cole, former editor of the music-focused What's Up! Magazine — which closed during the pandemic — is helping Motto with the event. That should be welcome news to anyone who remembers Cole's proclivity for planning massive, all-over-town events.
This new festival will take that to a whole other level, featuring plenty of local musicians, but also regional and national touring acts, in what Motto refers to as a "multi-venue spectacular." The Wild Buffalo and the Shakedown are already on board, but Motto foresees shows in unexpected locations as well, and a strong visual arts aspect, which will transform even more familiar venues into unexpected experiences. 
In general, one of the goals for Bellingham Exit is that it should leave a lasting impact on the city outside of the three or four days each year when it takes place. Motto mentioned creative, lasting artwork, and some kind of "start a band competition" as two ways it might achieve that goal. He thinks of Bellingham as a "land of legendary bands," and wants Bellingham Exit to help showcase that. 
In other great news, not only will the Northwest Tune-up Festival be back at the waterfront next summer, Motto said "We're going bigger!" Pandemic-related uncertainty made it hard to book touring acts last year. While he's proud of what they pulled off last year — he singled out PJ Morton's festival-closing set as a particular highlight — Motto said this year should be even better. They're also hoping to extend the set times for the headliners, and to change the messaging to emphasize that the festival is for everyone, not just mountain bikers.
When you put all that together, I'd say it adds up to a bright future for Bellingham as a music festival destination. 
Live music listings 
Wednesday, Nov. 9
FireHouse: 6:30 p.m., Jim Rotondi/Dick Oatts Quintet (jazz)
Honey Moon: 8 p.m., Open Mic
Rockfish: 6 p.m., The Colonel (flamenco)
Shakedown: 8 p.m., Sunking, Laguna Largo, guests
Stones Throw: 6 p.m., Whiskey River Mudflats
Underground Coffeehouse: 7 p.m., Foxy Apollo
Thursday, Nov. 10 
Blue Room: 6 p.m., Open Mic/ Jam
Brown Lantern: 8:30 p.m., Open Mic
Greene's Corner: 6 p.m., Peter Ali (Native American flute)
Honey Moon: 8 p.m., Brian Webb (singer-songwriter)
Shakedown: 9 p.m., The Hobby, Pretending, Ent
Thirsty Badger: 7 p.m., Open Mic
That's What I Like: 6 p.m., J.P. Falcon and Friends (folk/rock)
Wild Buffalo: 9 p.m., Balkan Bump, Willdabeast, Frubbles
Friday, Nov. 11
Beach at Birch Bay: 6 p.m., Wicked Timing (acoustic covers)
Big Stick BBQ: 6 p.m., Michael Dayvid (acoustic covers)
Blue Room: 8 p.m., The Hookups, Hockey Teeth, Groovy Nobody (rock)
Fireside: 7 p.m., Carr Parker
Honey Moon: 8 p.m., Leo Morningstar, Hannah Wyatt (singer-songwriters)
Littlefield Celtic Center: 7 p.m., Ye Vagabonds (folk)
Main Street: 9 p.m., Fossil Rock
Shakedown: 9 p.m., Glyf, Tryin, Elk (jam rock)
Skylark's: 8 p.m., Liam Poor (folk)
Vault: 7 p.m., Mary Ellen Lykins and Craig Adams (blues)
Saturday, Nov. 12 
Beach at Birch Bay: 4 p.m., Naked Cowboys
Blue Room: 8 p.m., Harbor Day, Mom Sport, Raquel Norland (pop)
Brown Lantern: 8 p.m., 7:20 String Band
Conway Muse: 8 p.m., Joel Astley ft. Johnny Burgin (blues)
Fireside: 4 p.m., Singers' Saturday
Honey Moon: 8 p.m., The McHughs (family band)
Jansen Art Center: 7:30 p.m., Front Street Jazz
Main Street: 8:30 p.m., Paper Hearts (grunge tribute)
Menace: 3 p.m., The Devillies (folk), 7:30 p.m., Michael Dayvid
Paws for a Beer: 3 p.m., Michael Dayvid
Rockfish: 7:30 p.m., Chris Eger Band (blues/rock)
Shakedown: 9 p.m., Urban Heat, Death Valley High, Vance Latta (post-punk)
Skylark's: 8 p.m., J.P. Falcon Grady (folk/blues/country)
Wild Buffalo: 9 p.m., Tai Verdes, guests (pop/soul/R&B)
Sunday, Nov. 13
Kulshan: 5 p.m., The Devillies (Irish folk)
Main Street: 6 p.m., Open Mic
Old Edison: 5:30 p.m., The Atlantics (classic rock)
Monday, Nov. 14
FireHouse: 3:30 p.m., 4 Way Street (folk/rock covers)
Foundation Lounge: 7:30 p.m., Open Mic
Kulshan: 6 p.m., Steve Webb and the Great Mad Swirl (Americana)
Tuesday, Nov. 15
Aslan: 8 p.m., Jazz Night
Boundary: 6 p.m., Paul Klein on piano
Culture Cafe: 7 p.m., Open Mic
Greene's Corner: 6 p.m., Open Mic
Before heading out to listen to live music, check with individual venues to make sure the event is still taking place as scheduled. 
Jesse Stanton's music column, The Beat Goes On, runs Wednesdays. Email: jsbhammusic@gmail.com or Twitter: @JSBhamMusic.