Elections
Live Election Day coverage: Beginning at 5 p.m.
Preliminary results will be posted tonight
November 8, 2022 at 5:00 p.m.
|
Updated November 8, 2022 at 9:01 p.m.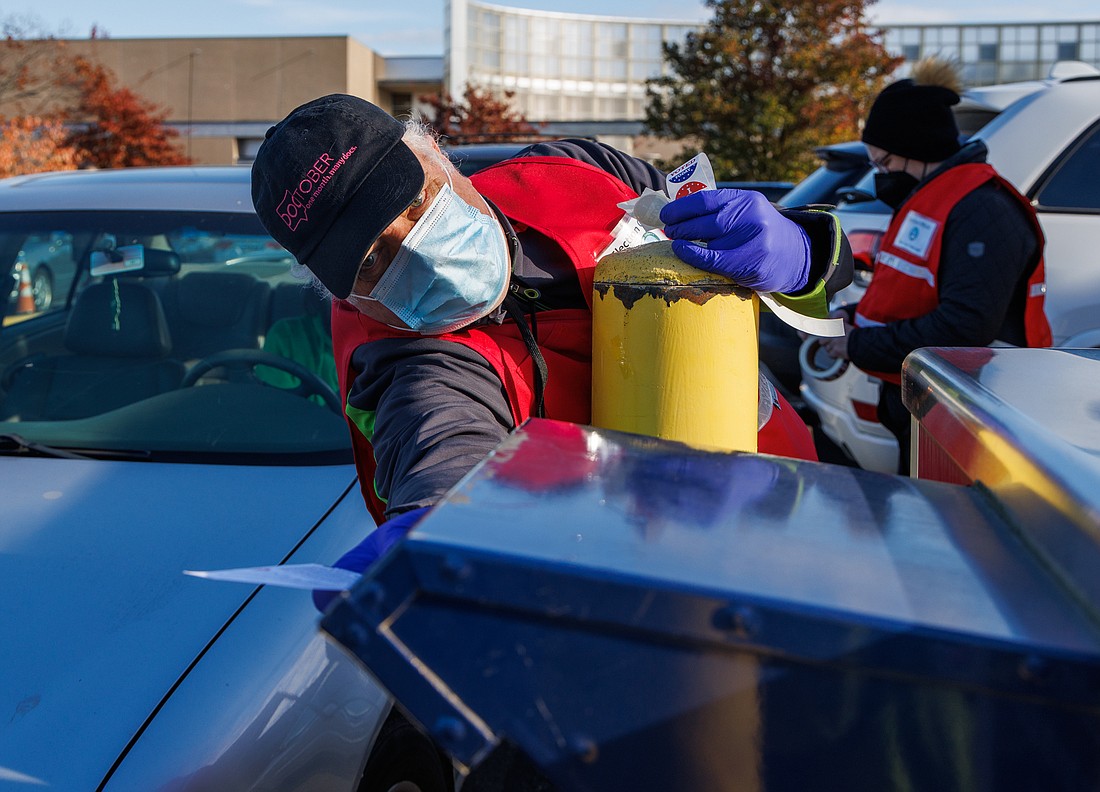 ---
---
It's Election Day across the U.S., and voters are making final choices in federal, state and county races, with control of the Washington state Legislature and U.S. Congress up for grabs.
Whatcom County voters have gone to the mail-in "polls" since ballots were mailed Oct. 19 to vote for public seats including U.S. senator, the 2nd Congressional District, the state 40th and 42nd legislative districts, Washington secretary of state, a District Court judge seat and a Whatcom County Public Utilities District seat, as well as a child care and EMS levy.
Skagit voters are voting for the U.S. Senate, 2nd Congressional District seat, and the secretary of state, along with contested races for legislative seats in districts 10, 39 and 40; county assessor, auditor and sheriff; and a county commissioner seat.
Initial results from both counties are expected sometime after 8 p.m. Tuesday.
The Whatcom County Auditor's Office reported that more than 68,000 ballots from the county's 157,100 registered voters had already been received by Monday. Of those, 62,282 had been accepted. Initial results will be a partial tally of those early votes. Results from additional counts of incoming ballots are expected to be posted daily by auditor's offices in both counties.
Ballots can be postmarked through Tuesday, but the Whatcom County Auditor's Office encourages voters to drop their ballots off at a ballot box to ensure on-time delivery. Results of the general election will be certified Nov. 29. 
In the meantime, check back here for a look at Election Day in Whatcom and Skagit counties, updated live.
Live updates
9:01 p.m.
Initial results:
Whatcom County District Judge Position 2: Jonathan Rands 62.25%, Gordon M. Jenkins 37.28%
PUD Commissioner District 3: Jaime Arnett 51.24%, Eric Davidson 48.04%
8:54 p.m.
Initial District 42 results:
State Senate: Sharon Shewmake (D) 51.31%, Simon Sefzik (R) 48.6%
State Rep. 1: Alicia Rule (D) 52.13%, Tawsha Dykstra Thompson (R) 47.77%
State Rep. 2: Joe Timmons (D) 51.84%, Dan Johnson (R) 48.09%
8:29 p.m.
View preliminary general election results here
Initial Whatcom County results with 68,232 ballots counted, with an estimated 25,500 left to count:
Prop. 5 Kids: 48.28% Yes, 51.72% No
Prop. 6 EMS: 63.9% Yes, 36.1% No.
8:24 p.m.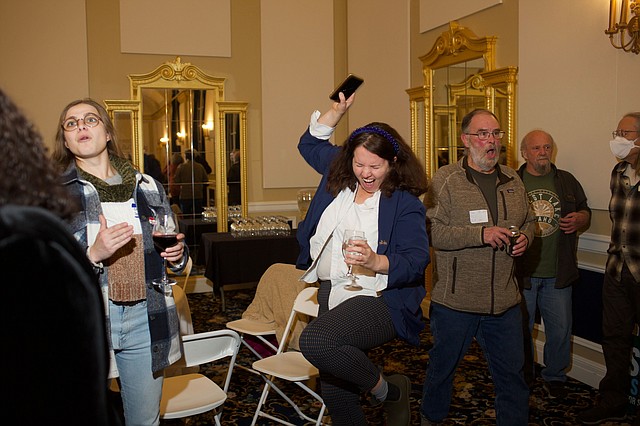 8:21 p.m.
8:15 p.m.
In a rousing speech to hundreds of supporters and campaign staff at the Northwest Washington Fairgrounds, State Sen. Simon Sefzik said it has been an honor to represent his constituents. 
"Regardless of the outcome of this election, I firmly believe there are better days ahead in Whatcom County," he said. "Regardless of what happens, it is our job to pray for our elected leaders and to wish them well."
8:03 p.m.
Polls are officially closed as of 8 p.m.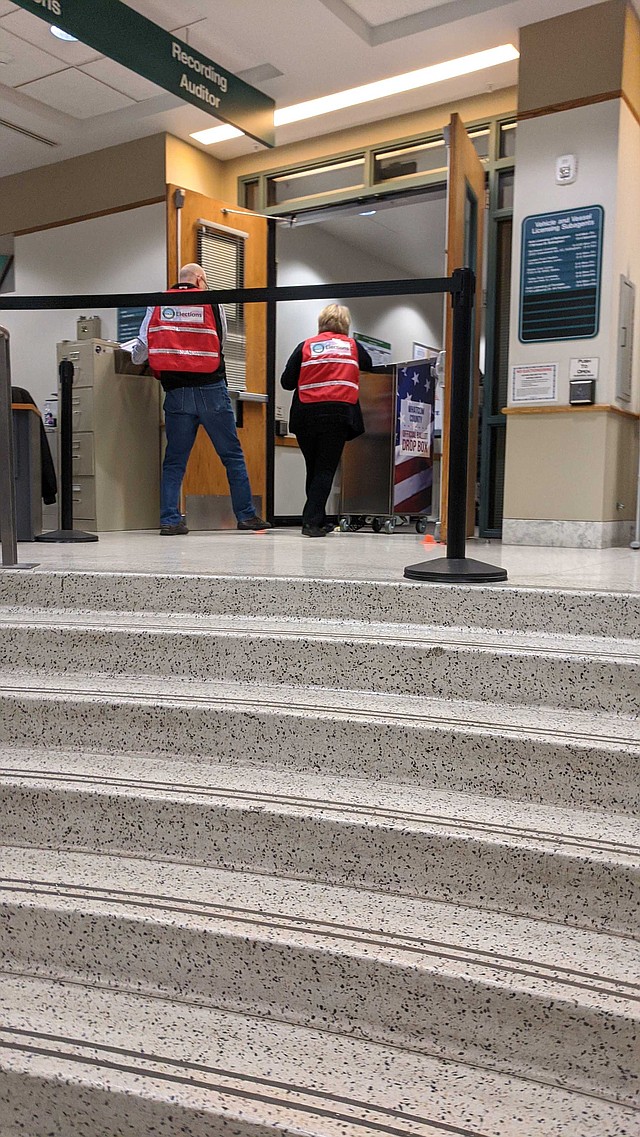 8:00 p.m.
G. Todd Donovan, 58, of Lynden, said he's at the Election Night Victory Party in Lynden as a one-issue voter.
"I'm kind of a one-issue guy, I've been fighting for years against civil asset forfeiture," Donovan said. "We could be a lot more fair to the citizens of Washington."
7:45 p.m.
Whatcom County Courthouse has emptied out, with 15 minutes left to return ballots. 
Xi Wang, 38, dropped off her ballot about 20 minutes before polls closed. She's voting to protect women's rights and close the gap on close races. "It's very, very narrow, so it's really important to cast midterm votes in this election," she said.
7:41 p.m.
Satpal Sidhu, Whatcom County executive, is "very excited, but very cautious" about the election, and is keeping a close eye on the 42nd district races. Sidhu joined Democratic candidates at an election night party at Hotel Leo. 
"All three races are so close, but especially the Senate ... The young man [Simon] is very ambitious and very articulate," he said. 
7:20 p.m.
Voters have just 40 minutes left to vote in the general election before ballot boxes and the election's office close.
6:38 p.m.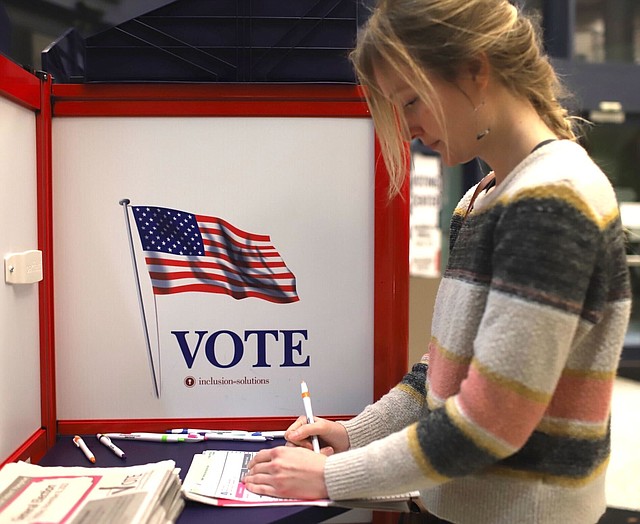 New Whatcom County resident Morgan Harrington, 30, fills out her ballot in a privacy box. "I'm just wanting to make sure that everything is moving in the right direction," she said.
6:35 p.m.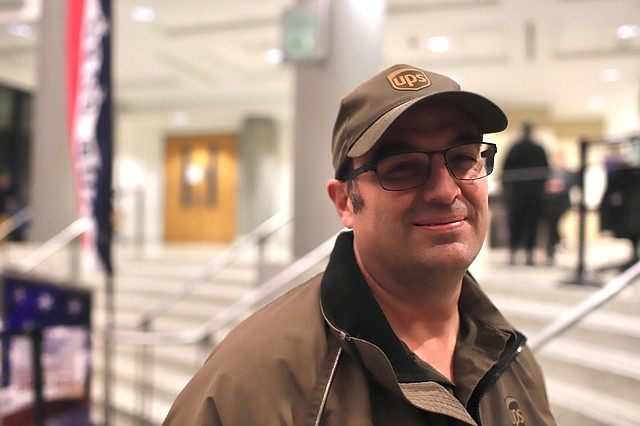 Shane Williams, 48, is voting because it's important to exercise his civic duty.  "There's a lot of things up in the air right now," he said.
6:33 p.m.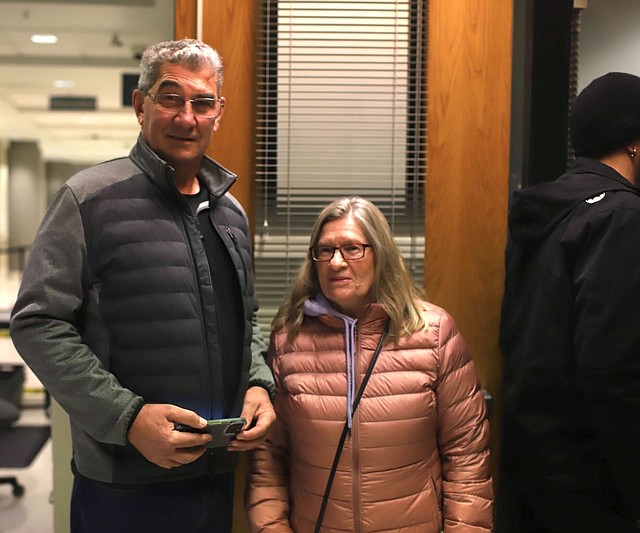 Shirley, 77, and Ralph Turner, 64, are voting against abortion in today's election. They don't believe in it and don't believe it should be legal in this state and country. "We want the blessing of God on our country," she said.
6:24 p.m.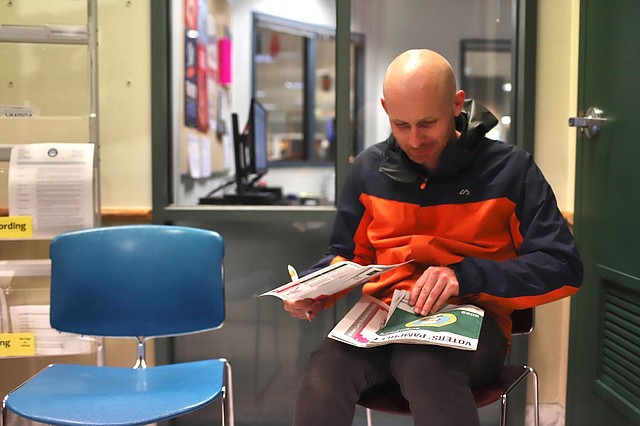 Alastair Fowler, 31, fills out his ballot from the courthouse. "I feel like it's my civic duty," he said.
6:17 p.m.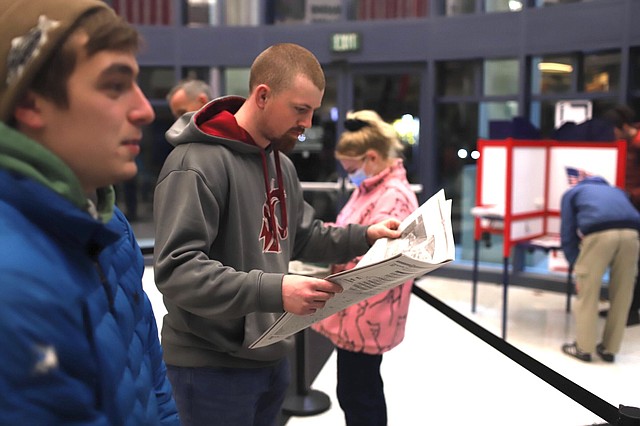 Remington Schroyer, 22, and Colin Ney, 21, are excited to be voting in this election.
"I'm really excited to vote and do my civic duty," Ney said.
Ney's dad is the project and operations manager at the courthouse, where he helps voters navigate the line to receive and cast their ballots.
6:08 p.m.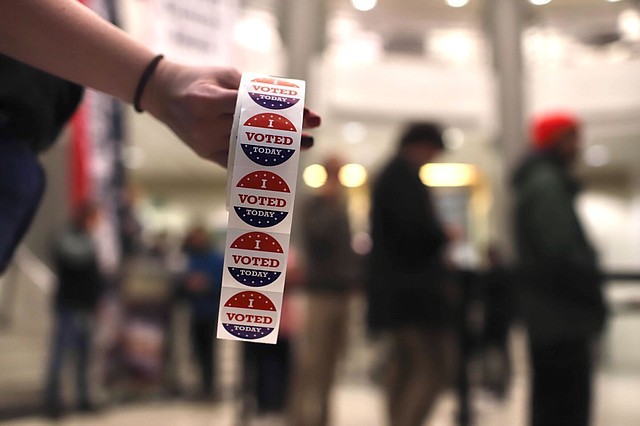 Hannah Borland, a facilities management coordinator at the courthouse, holds a roll of "I Voted" stickers. She has been at the courthouse since 8 a.m. (with the exception of a 20-minute lunch break) but is still greeting voters with a smile. It's a long day on the job, "but it is fun," she said.
6:05 p.m.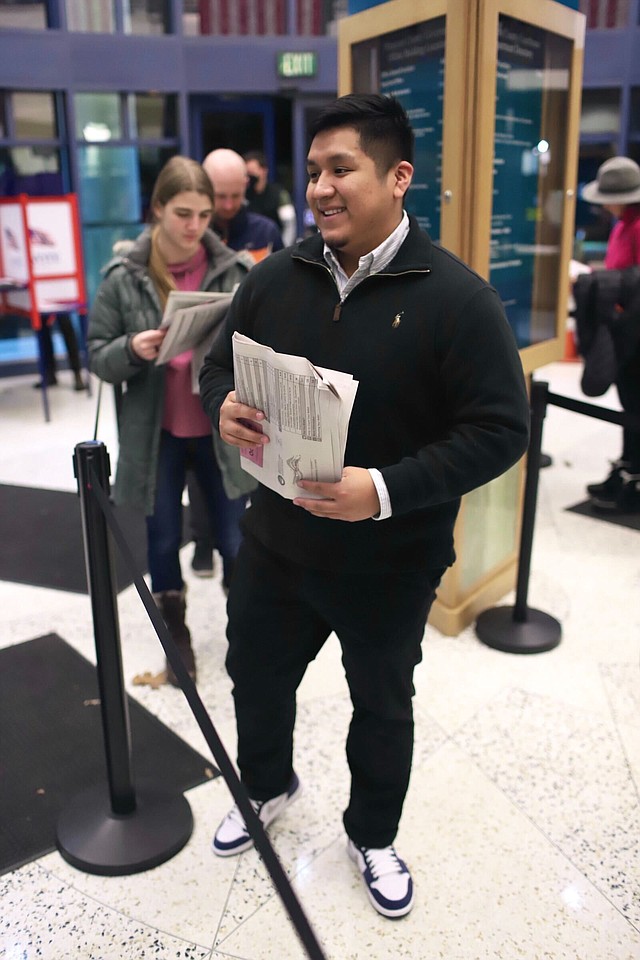 Jonathan Sanjuan, 21, lives in Skagit County and never got his ballot in the mail. He knew this election was important though, and after work, came up to the courthouse to vote in person. "There's a lot of important issues on the ballot," he said.
5:51 p.m.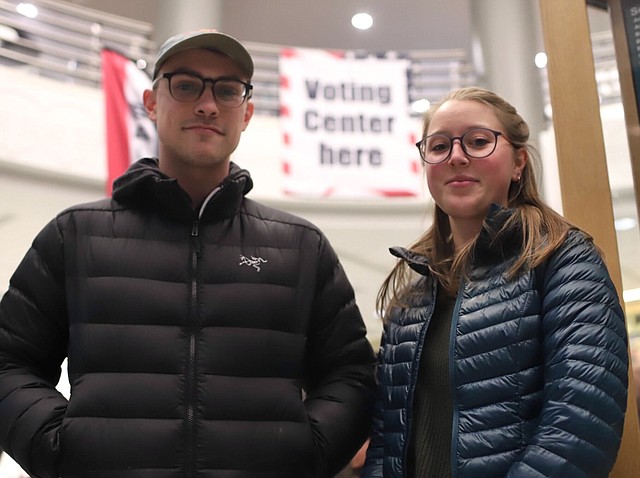 Kevin Mcarthy, 29, and Tessa Belo, 26, vote at the courthouse. "I want to protect my rights as a woman to choose. I also definitely have concerns about democracy eroding," Belo said.
5:49 p.m.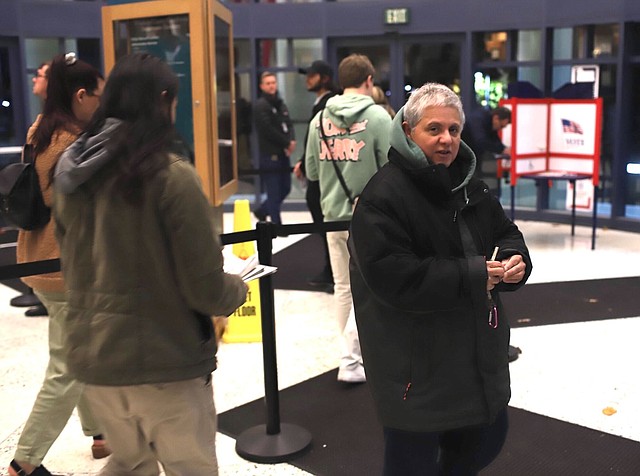 Rosemary Young, 65, has a respiratory illness but knew she needed to drop off her ballot to make a difference and give other people a voice. She drove up from the Chuckanuts to drop off her ballot at the courthouse and would have done anything to cast her vote. "I just had to get down here," she said.
5:38 p.m.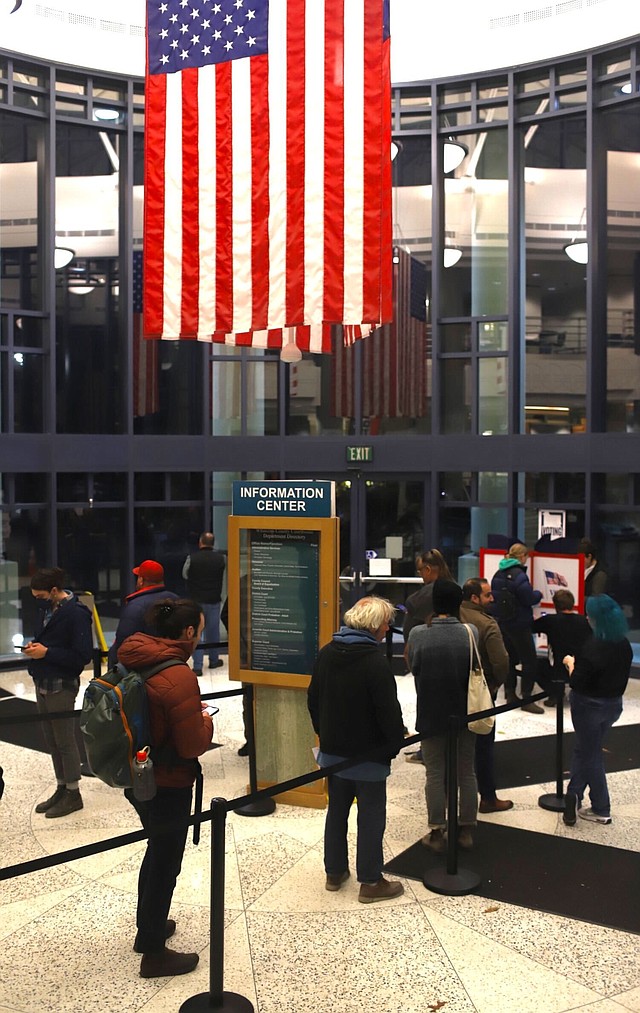 Nate Isaac, 25, is voting to make an impact. "Overall, it's just a way to make drastic change," he said.
5:35 p.m.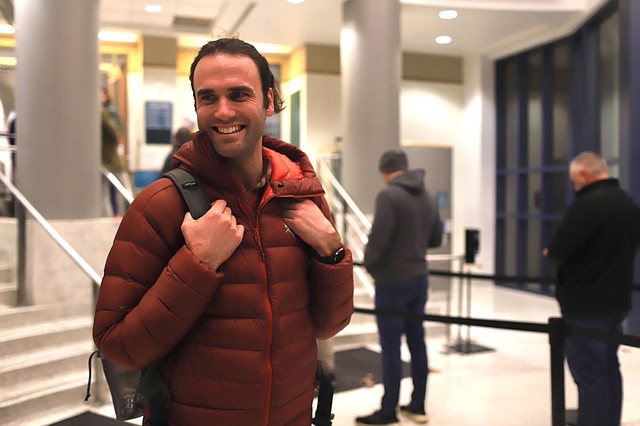 Payden Waldo, 31, just got back from three years in Germany. This is the first election he's voted in since he went abroad in 2020. "I just feel like this one is going to be close in this state, and I wanted to be a part of it," he said.
5:26 p.m.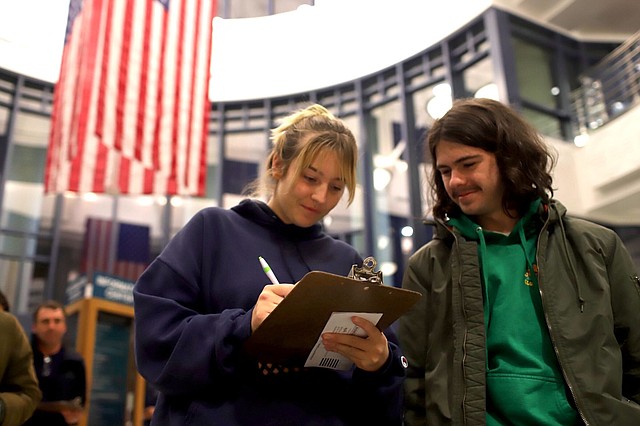 Alyssa Coleman, 19, and Tucker Zucati, 20, are voting to keep Whatcom County blue and improve voter turnout. "A lot more is on the line [this election]," Zucati said.
5:24 p.m.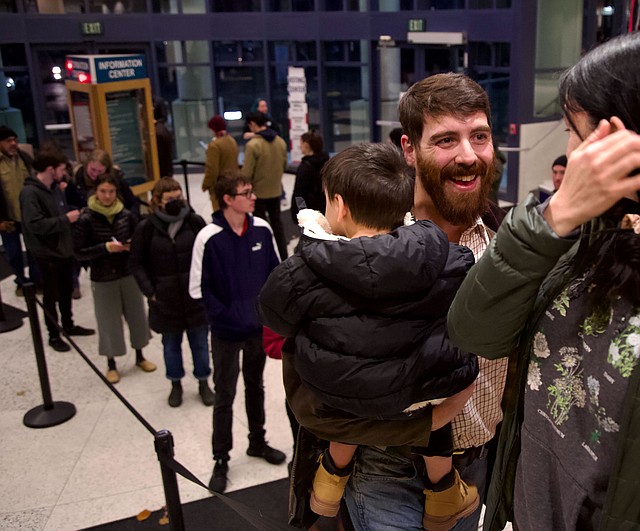 Michelle Orue, 31, and Eduardo Orue, 33, wait in line to vote at the county courthouse with their son Logan, 1. "Regardless if you think you're going to win or lose, you've got to go for it," Eduardo said.