Volleyball
Vikings serve up senior-night sweep
Senior Calley Heilborn records double-double in win over Saint Martin's
November 6, 2022 at 10:20 a.m.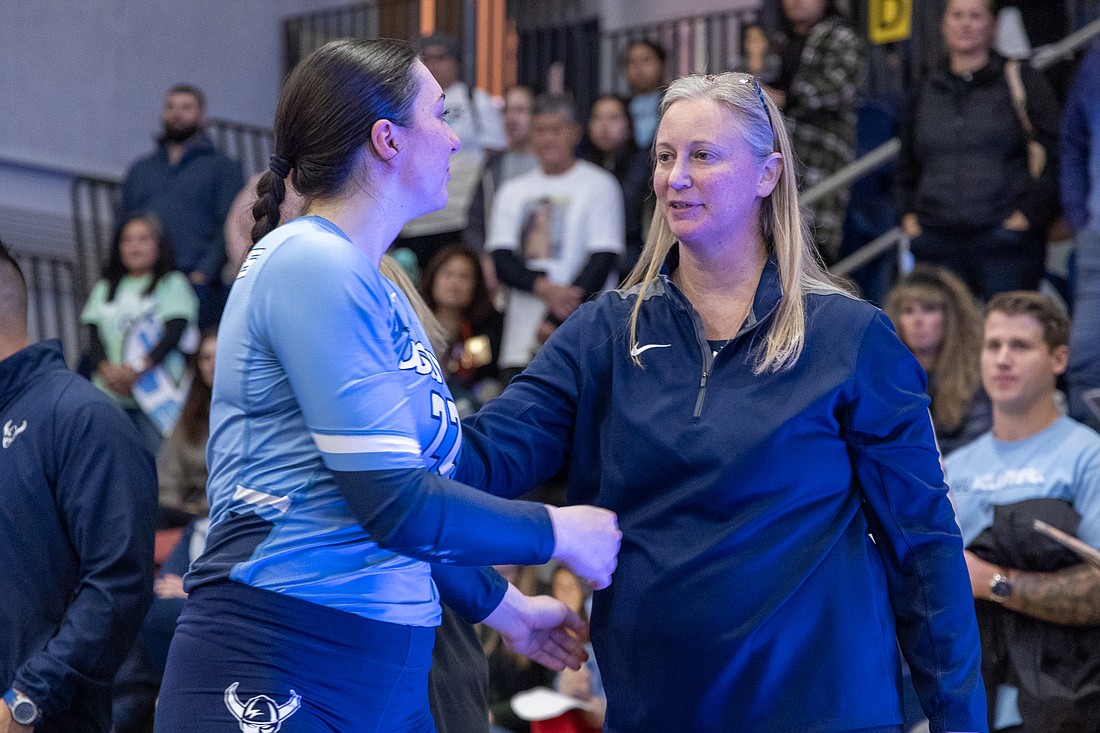 ---
---
In senior-night domination, Western Washington University volleyball swept Saint Martin's University (25-20, 25-12, 25-19) to cap off its home schedule Nov. 5. 
Eight seniors showed up and showed out in their final home game at Carver Gym, but no performance stood out more than senior outside hitter Calley Heilborn. The two-time All-American dominated Saint Martin's all night with three service aces, three blocks and a 17-kill, 14-dig double-double.  
By the end of the second set, Heilborn had recorded 19.5 of Western's 40 points, showing why she earned 11 GNAC Player of the Week honors and three all-Great North Athletic Conference selections during her career. 
Senior middle Chloe Roetcisoender recorded a game-high .714 hit percentage, while senior defensive specialist Tupu Lologo tallied a game-high 38 assists. Seniors Kasey Woodruff, Gabby Gunterman and Heilborn all added 14 digs.  
The senior class has reeled off a slew of achievements over the years, including four-straight GNAC championships, two Elite Eight appearances and a second-place finish in last year's NCAA Division II Tournament. 
"They've been through a really long five, six years together," WWU coach Diane Flick-Williams said of her eight seniors. "So many things have happened, and they just have the character, the strength and the togetherness to weather those kinds of storms." 
WWU's streak of four consecutive GNAC championships will likely be snapped by the end of the season. They currently sit in second place with a 13-2 conference record, behind University of Alaska Anchorage, after two losses to the Seawolves.  
But Western's season is far from over. WWU still has two regular-season games left, on the road against conference rivals Montana State University Billings on Nov. 10 and Seattle Pacific University on Nov. 12.  
Then comes the real show, when the NCAA Division II Tournament begins Nov. 17. Western will likely rank high in the West Region bracket, an eight-team tournament that feeds into the larger, 64-team national bracket.  
In 2021, WWU made it to the Final Four before finally losing to Washburn University, 3-1. It was the farthest a  Flick-Williams-led team had gone since her 2018 squad lost in the championship game. Now, with playoffs in the team's sights yet again, Flick-Williams seems confident in her core of seniors and the depth behind them.  
"I think we're almost close to a time where we're going to have everybody, knock on wood, healthy," Flick-Williams said. "We haven't had that all year. So, with all of us together and as deep as we are, the sky's truly the limit." 
The seeding selection for the NCAA DII tournament will be announced at NCAA.com on Nov. 7.