Restaurants
Review: Samish Oyster Bar at Taylor Shellfish Farms
Where the seafood and the view can't be beat
November 4, 2022 at 5:00 a.m.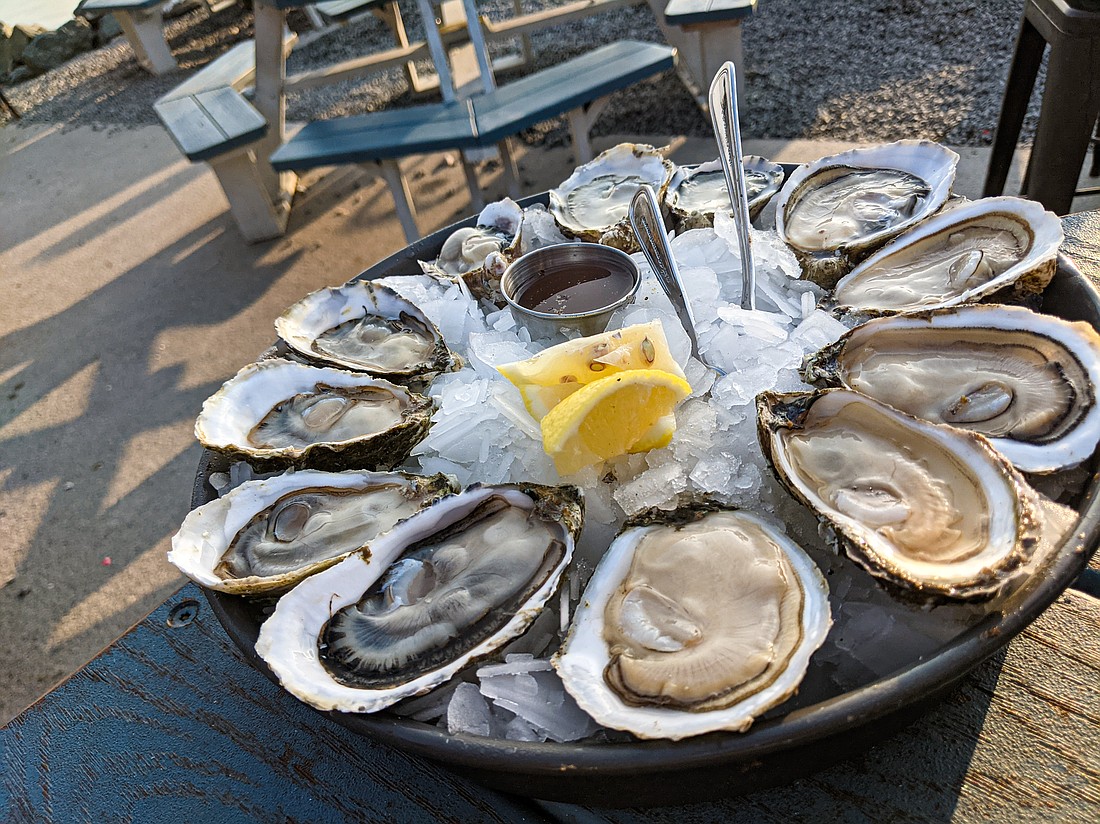 ---
---
Once upon a time, going to Taylor Shellfish Farms off Chuckanut Drive meant a quiet visit to a working oyster farm above a muddy tide flat. A retail shop was there to sell you oysters by the bagful, maybe a crab or geoduck, and a few picnic tables on the shell-strewn beach were available if you wanted to eat your purchases right away, along with whatever other goodies you might have picked up in nearby Edison.
On a sunny summer day, there would be quite a few people (and dogs) enjoying the beach, but frequently it was quiet and felt like Skagit's best-kept secret.
It's a little different now. Along with the original retail shop, there is now the Samish Oyster Bar and Shellfish Market, with prepared food and beverage options (no outside food permitted anymore), and especially since Taylor Shellfish opened similar places in Seattle, word has spread far and wide.
On a recent hazy Sunday afternoon, so many cars were parked along the access road it was nearly at capacity, and the decks and picnic areas were crammed full of what seemed to be hundreds of people. The only time I had ever seen it so crowded in the past was at the Bivalve Bash, an annual event that involved a Mud Run, oyster shell sculptures and a shucking contest. The Bash is long gone, but Taylor obviously continues to pull people in to enjoy local shellfish. We gave up and went home.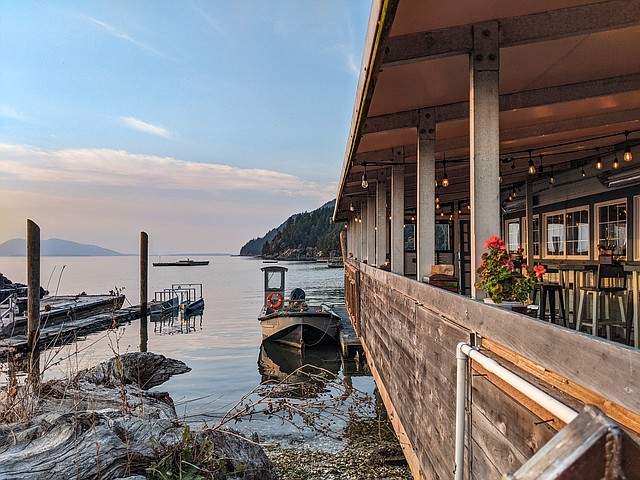 We tried again on a weeknight and had much better luck. This time we could park in the small lot near the retail store, and there was no line at all. We ordered at the counter and took our drinks to a table at the very edge of the water, looking across Samish Bay and Taylor's oyster beds. The feel is distinctly rustic, which makes sense given Taylor's is still very much a working farm, with tractors and shucking sheds right next to the patio. All the tables are outdoors (some under cover) and dogs are allowed on leashes.
The menu at the Samish Oyster Bar is not posted online, since it's highly variable. Also, dishes seem to run out with some regularity — on our first attempt to eat there they were out of four different menu items. But as long as you like seafood, you are almost certain to get something fantastic.
The oysters, of course, are amazing. I asked at the counter if they could recommend any particular oysters that day and was directed to the "shuckers dozen" ($33.50). This turned out to be four each of Virginicas, Fat Bastards and Sunseekers on the half-shell, served on ice with lemon and mignonette (we were also offered hot sauce). My dining partner ate one of the Sunseekers and announced it may have been the best oyster he had ever consumed.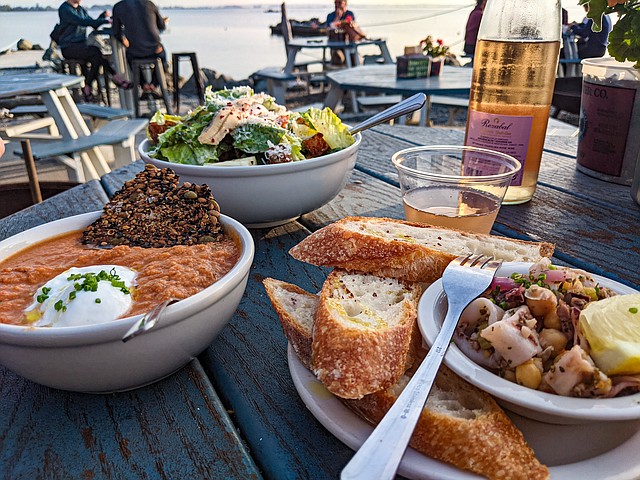 Other seafood selections on the menu that night included shrimp, whole crab, geoduck crudo, a smoked seafood platter and marinated squid. We ordered the squid ($12), which was served mixed with chickpeas, celery and pickled onion alongside a few slices of good bread. I enjoyed the flavors and textures of the beans and squid together.
To accompany our seafood feast, we ordered gazpacho ($10) and Caesar salad ($12). The gazpacho was thick and brightly acidic, with a large blob of fromage blanc floating in it and a seedy cracker on the side. One bowl is a generous serving, enough to share if you like your table-mates. The salad was also large and well dressed with a liberal helping of smoked paprika-dusted croutons, and two marinated anchovies (I used my anchovy to top a piece of bread from the squid plate; highly recommend).
To drink, there is a nice selection of local beers and ciders, and a well-curated wine list, including an orange wine, a lightly sparkling rosé, a Basque cider and an Albariño. There were also a few non-alcoholic options, like kombucha and sodas.
Since the website says the kitchen is open until 7 p.m., we were surprised when last call for orders was announced at 5:30 p.m. I wasn't sure if this was a seasonal change or just because there weren't many customers that night.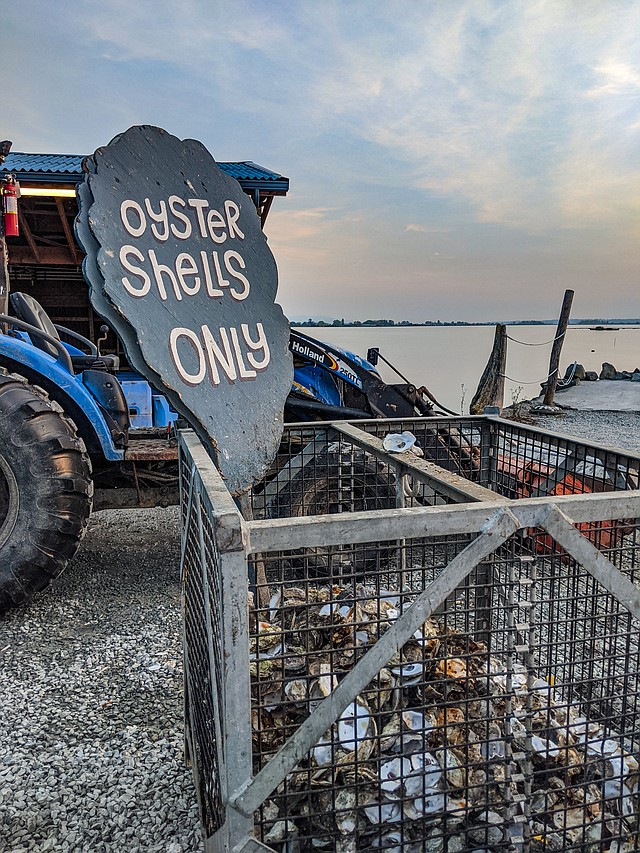 Customers are expected to bus their own tables, which is a bit more complicated than most restaurants since in addition to bins for silverware and dishes, there are also separate bins for ramekins, ice and oyster shells, plus garbage for lemons and shrimp shells. Fortunately, everything is labeled and there's an explanatory sign for where everything goes (but it's still a lot to process after a bottle of wine).
Although it's a little quirky as a dining destination, the seafood and the view at Taylor Shellfish absolutely can't be beat. And while it will always be a perfect place to take out-of-town guests, don't forget to take advantage of this jewel for your own sake. 
The Samish Oyster Bar is open from noon to 7 p.m. daily in Bow at Taylor Shellfish Farms, 2182 Chuckanut Drive. The shellfish market is open from 10 a.m. until sunset. Info: taylorshellfishfarms.com.