Outdoors
Blue Lake Trail under a damp, steel gray sky
Snow flurries and a suitable adventure following confinement from polluted air
November 3, 2022 at 5:00 a.m.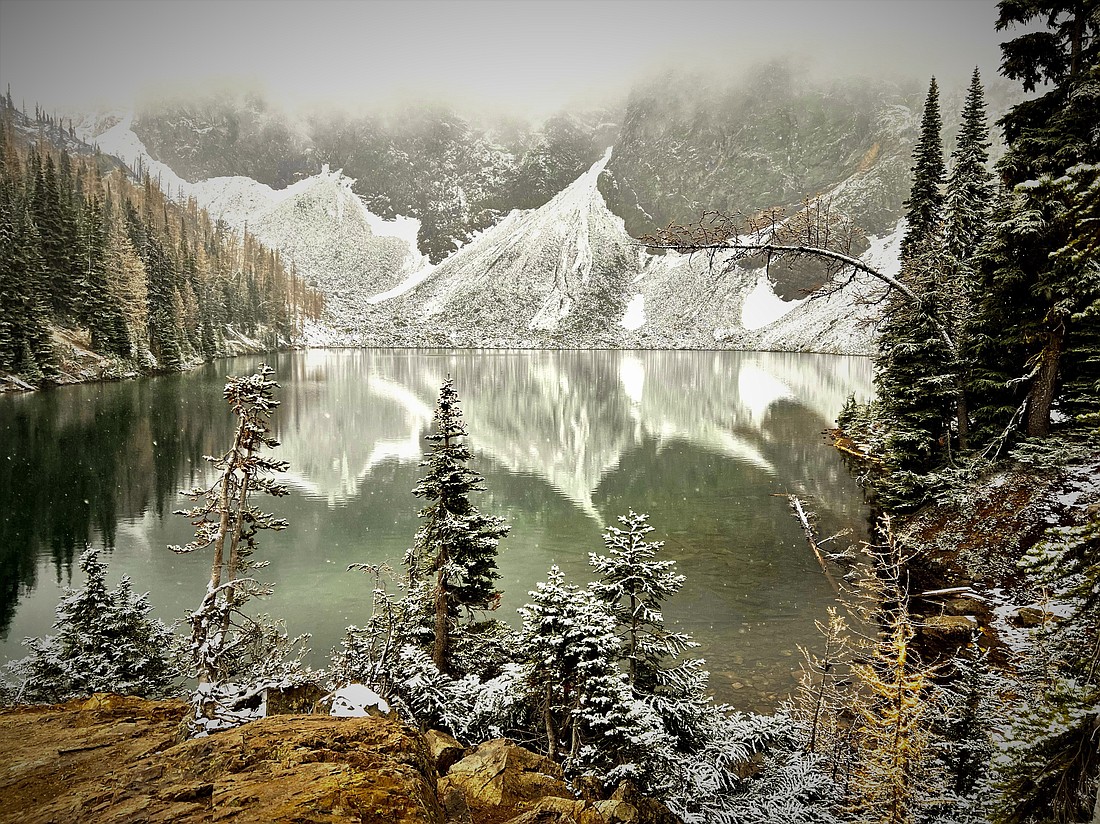 ---
---
WASHINGTON PASS, Okanogan County — The smoky days of October tarnished autumn's annual highlight reel in the upper left corner. 
The melancholy I had felt while experiencing wildfires up close in Northern California resurfaced over three despondent weeks as unhealthy plumes of smoke put our wanderlust in a sleeper hold. 
Then a message arrived at 6:08 a.m. on Oct. 21 asking if we should head out into the season's first air-cleansing storm.
My Bellingham friend Marjorie already knew the answer to her question as the yearly winter closure of state Route 20 inched closer. We mobilized for a much-needed getaway to Washington Pass along the North Cascades Scenic Byway.
Autumn is the time for spontaneous day trips into the mountains. No definitive destinations. No reservations. Just an escape from all of the dime-store Halloween decorations dotting our neighborhoods.
So we set off a little bit desperate, not knowing what to expect heading into the maw of the stormy North Cascades — we felt too restless to care.
Some people think of the hairpin-turning highway only as an asphalt connector from the west side to the Methow Valley — or vice versa — but it becomes something far grander when traveling from Bellingham to 5,476-foot Washington Pass for the sake of an outing.
Tourists fly across oceans to enjoy our backyard where the Skagit River has left an impressive 150-mile imprint, flowing south from the Canadian Cascades to the Salish Sea.
Over two and a half hours, we passed dramatic yellow-draped deciduous trees and tangerine-colored flora tumbling down mountainous ridges like a lava flow.
Autumn paraded its colorful costumes along the road as we reached Rainy Pass, and then Washington Pass, to bear witness to the season's first snow. To see nature drizzle soft, white flakes on the evergreens and ruddy blueberry bushes was like awakening to a miracle.
Fall's delicate hush tempered our disappointment of obstructed views of the statuesque peaks we had come to see. The jagged spires of the Liberty Bell Group and Snagtooth and Kangaroo ridges were hidden behind clouds. But smoke and ash had dissipated on a day that cried out for rain shells and coats.
Before the polluted sky sabotaged plans, we had envisioned hiking the nearby Blue Lake Trail to lunch in an evergreen forest speckled with trees aflame in seasonal splendor.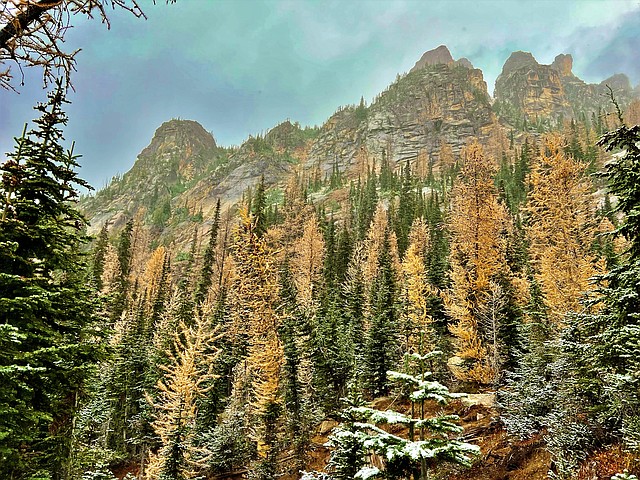 A half-dozen cars sat in the parking lot despite the wet conditions. We were not the only caged-in desperadoes seeking adventure.
With snow floating in the chilly air, I wasn't sure if the lake, a little more than 2 miles up the trail, had any payoff views. Marjorie, though, darted through the forest, and only after a half-mile did we regroup to consider our next steps. A hiker came bounding down the mountain saying, "Snow covers the trail up there but the views are worth it." 
Sold. 
We continued the march toward the lake at 6,254 feet. Larches suddenly appeared underneath the climbers' paradise of Early Winters Spires and Liberty Bell Mountain. 
The conifers held on to their fall attire, albeit looking like old yellowed newspapers so late in the season. Their presence energized us, despite lacking the golden vibrancy of those I had seen on nearby Maple Pass earlier in autumn. 
We could not make out Cutthroat Peak or Whistler Mountain to the northwest, nor the granite summits that frame Blue Lake under a steel gray sky. But we reveled in the fresh air and vivid reflections on a shimmering lake.
Blue Lake is one of the more popular trails along state Route 20 because of its gentle ascent and short distance.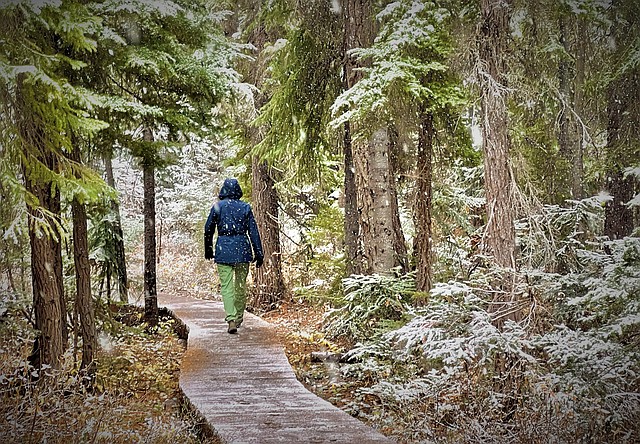 About 30 miles of the 120-mile journey (one way) from Bellingham to Washington Pass traverse North Cascades National Park. The pullouts have nice views, but the serrated granite peaks don't truly reveal themselves from the road; it takes huffing up one of the more rigorous trails to fully appreciate why people call the park's ranges the "American Alps." 
Still, families looking to let their kids run free also have plenty of satisfying options. During summer months, rangers at the national park visitors center can get people on the right path. A few stomping grounds for those looking to stretch their legs include Trail of the Cedars in Newhalem. The self-guided path showcases cedars, maples, paper birch, Douglas fir and Pacific yew.
Another family stop is just past Newhalem at 242-foot Gorge Creek Falls. It is part of the Skagit River Hydroelectric Project which includes three dams that form Ross, Diablo and Gorge lakes. Seattle City Light, which started the project about 100 years ago, offers a boat and lunch tour on Diablo Lake. Officials canceled tours this year because of road construction delays on Highway 20 after serious flooding a year ago. It's not too early to reserve a place for 2023.
After long days on dusty park trails, our Bellingham hiking group often dines at Mondo Restaurant in Marblemount, which closes for the season by November.
Sam Shim opened this offbeat roadside attraction a decade ago with the idea of introducing Korean food to the eclectic Skagit River community. But, it also has become a popular burger eatery.
We stopped for photos but not food because Marjorie and I ate packed lunches in the shelter of the car after hiking to Blue Lake. It had been a long day with lots of sightseeing.
Mondo's bulgogi marinated meat would have to wait until next year.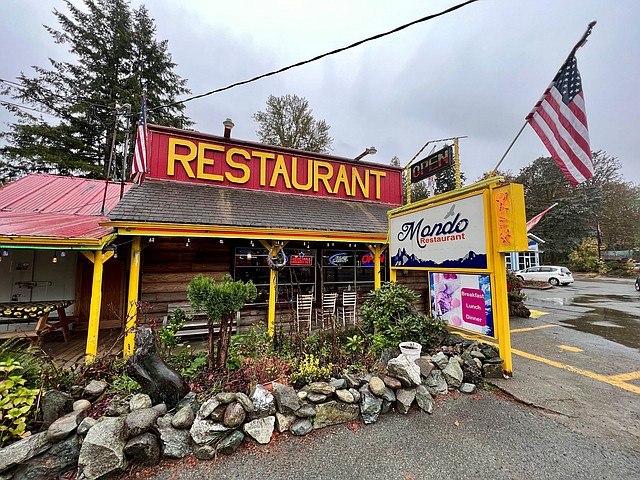 If you go
Winter highway closures: Check the Washington State Department of Transportation website.
North Cascades National Park: The Newhalem visitor center is closed until late May. Contact information: 206-386-4495 ext.11.
The North Cascades Institute: The institute offers events and programs throughout the year to help people better understand the region. Contact information: 360-854-2599 or info@ncascades.org.
The Skagit Information Center: The office on Main Street in Newhalem is closed until May. It offers information on Newhalem, Skagit Tours and general national park information. Walk around historic Newhalem year-round with the help of a guided map found on its website.
Seattle City Light: The hydroelectric company has information about recreation in the Diablo and Ross Lake area on its website.
Popular trails for families 
Trail of the Cedars in Newhalem
Ladder Creek Falls Trail near Newhalem
Thunder Knob Trail at Diablo Lake
Cutthroat Lake at the Rainy Pass Picnic Area
Popular trails for serious day hikers
Maple Loop Pass at the Rainy Pass Picnic Area
Cutthroat Pass at the Rainy Pass Picnic Area
Easy Pass off SR 20 before Rainy Pass
Cascade Pass and Sahale Arm at the end of Cascade River Road outside of Marblemount
Hidden Lake Lookout along Cascade River Road out of Marblemount: Go about 10 miles and turn left on Forest Service Road 1540 to reach the trailhead. (Four-wheel drive vehicles recommended).
Winter eagle viewing
Howard Miller Steelhead State Park in Rockport: See the Skagit County Parks website or the Skagit River Bald Eagle Interpretative Center website. 
Where to eat 
Mondo Restaurant: 60102 state Route 20 in Marblemount. Mondo is a deliciously odd mix of American diner food with Asian dishes. It has an extensive list of burgers and fries as well as gyoza and egg rolls. Open weekdays from 9 a.m. to 8 p.m., weekends from 9 a.m. to 9 p.m. It closes for the winter by the end of October. For information, call 360-873-2111.
Birdsview Diner: 39974 state Route 20 in Concrete. This is a favorite haunt for Hamster hikers craving milkshakes. The diner offers 25 flavors, including pomegranate, root beer, watermelon and marshmallow. The diner stays open year-round. For information, call 360-840-1878.
Cascadian Farm Home Farm: The roadside stand just past Marblemount, usually open May through September, has been closed since 2021. We're left dreaming of the best pumpkin ice cream ever — and many other enticing flavors.
Elliott Almond's outdoor column appears monthly. Email: elliottalmond4@gmail.com.