Business Matters
What might a mega-merger mean for Haggen in its hometown?
After nearly 90 years, new concerns about a beloved grocery name
November 2, 2022 at 4:50 a.m.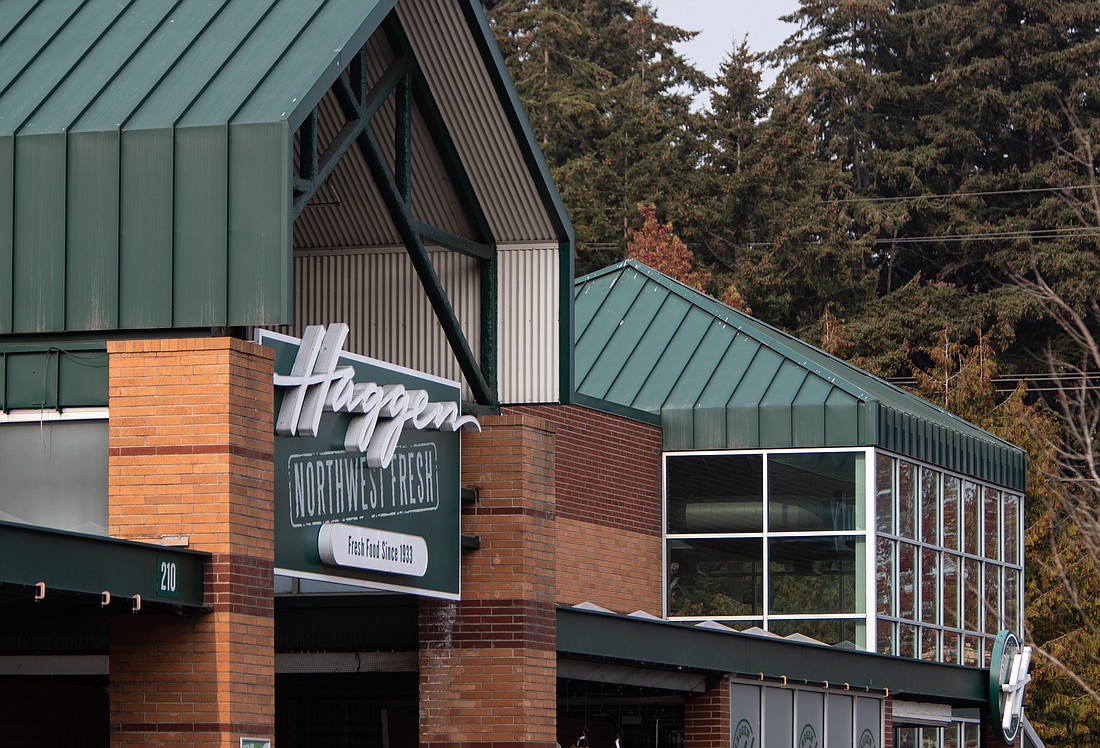 ---
---
Freddy's to be family. What's in a name, if that name is "Haggen"?
The mid-October announcement of a definitive merger agreement between Albertsons Companies — the current owner of the Haggen grocery brand — and competitor Kroger has led to renewed questions about what will become of Haggen. 
Haggen's banner is now prominent on 15 stores in locations from Olympia to Ferndale, with a cluster of four in Bellingham where the grocer was founded. The Haggen office (formally, "support center") sits on Sequoia Drive in Bellingham's Cordata neighborhood. 
It doesn't take a lot of reading between news release lines to realize this is less a merger than an acquisition: Kroger, owner of Fred Meyer, QFC and many other chains, will buy all of the outstanding shares of Albertsons, which owns its eponymous brand, Haggen, Safeway and more. 
In order to head off concerns about anti-competitive concentrations of stores all under the same parent, Albertsons has said it will create a new public "SpinCo" with an estimated 100 to 375 stores that it's willing to spin off when the transaction closes, expected to be in early 2024. Which stores will be spun? Details are promised "prior to closing."
Now, 15 Haggen stores out of a combined 4,996 make up less than one-third-of-one-percent consideration. 
But the 15 have an outsized impact on those who recall Haggen's strong heritage and industry innovations in northwest Washington state, as well as its business history: from a family start in 1933, to a majority sale to private equity in 2011, to a lawsuit and bankruptcy after a failed 2014 expansion bid involving Albertsons and finally its 2016 purchase by Albertsons. So renewed questions about its future, post-bankruptcy and purchase are not a surprise.
Haggen's legacy resonates even more so, understandably, if your name is Haggen.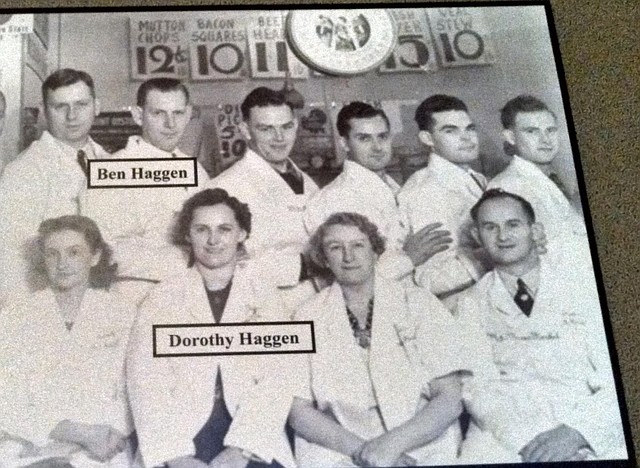 "I hear that some folks still don't know the family no longer has ownership," said Brad Haggen, who left the company in 2013 and now owns Skylark's Café in Fairhaven. "I would credit that to the current operators, but it will diminish over time, not because the current operators don't believe in these things, but they don't have the same presence as our grandmother, Dorothy Haggen."
Dorothy, who founded Haggen with her husband Ben and brother Doug Clark, "was still selling See's Chocolates in the stores at 99 years old for her church, just before she died" in 2008, recalled Brad. Brad's father Don, who ran Haggen with his brother Rick as the second generation of family leadership, "was still involved at 80 years old, right up to the day the company sold" to the private equity firm.
Brad himself held a variety of titles over the years — his LinkedIn profile lists general manager, VP marketing, VP new business and fresh foods merchandiser, among others — but his personal memories of Haggen's willingness to innovate go back to when he was 18, working in the produce department and on night crew in 1979 while attending college. That was the year the current large-format Meridian Street store opened in Bellingham.
"It was a game changer," he said. "The store had the first in-store bank branch (Bellingham National Bank), first in-store FTD floral shop, fresh squeezed O.J., large bakery, service deli counter, service meat and large wine department. Eventually, it had one of the first in-store Starbucks in the country (the Everett store had the first in-store Starbucks)."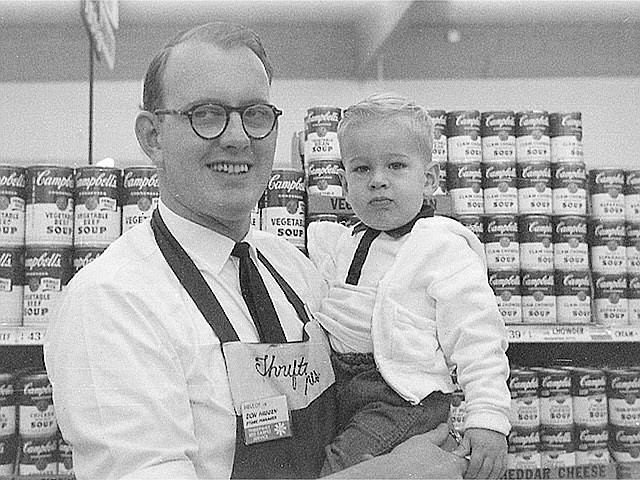 Haggen again differentiated itself from other grocers by opening the Top (an acronym for "tough on prices") Food stores in the 1980s that emphasized scale and discounting. When the Everett Top opened, he said, "it became the largest volume store in the state."
"But, this was before Costco," Brad said. "I remember being on a fishing trip with my dad, and my dad receiving a phone call from Jeff Brotman, Costco co-founder, letting him know they were looking at building a Costco next to the Olympia Top Foods." Eventually, the Top name was phased out beginning in 2011 in favor of the Haggen banner. 
Haggen's run of business innovation — and consumer loyalty — gives it what marketers call brand equity, a value that goes beyond sales numbers. It's one reason why the storied Bartell Drugs name is still on the Seattle-based chain purchased by Rite Aid in 2020, and a reason why Kroger kept the Fred Meyer name on its northwest stores after their acquisition in 1998.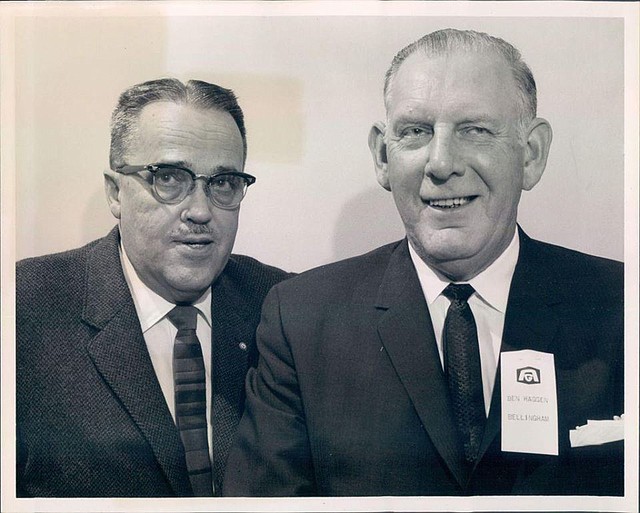 That precedent probably bodes well for those worried about the Haggen brand disappearing, even with seven Haggens outnumbering each group of four Safeways and three Fred Meyers that will drop into the same ownership basket in Whatcom and Skagit counties. 
"Consistent with Kroger's history of merging with strong operators and maintaining local banner names, at this time there are no plans to change Albertsons Companies banners after closing," a Kroger spokesperson responded by email when asked directly about the importance of the Haggen brand.
"Of course, it would be great if they are able to keep operating as Haggen," Brad said. But, perhaps characteristic of what he had described as a family priority to take care of employees and customers, the fate of the name seemed secondary. 
"I would be concerned about the wonderful people in the Haggen corporate office if the new owners would decide to consolidate offices," he said. "Some of them have been with the company for over 40 years."
People
Sustainable Connections in Bellingham has named Rose Lathrop as interim executive director. Derek Long, the current executive director, is on a six-month sabbatical that began Oct. 21.
Visit Bellingham | Whatcom County CEO Sandy Ward has been inducted into the Washington Tourism Hall of Leadership. Ward is in the first group of professionals and volunteers in the state to be so honored.
Economic Development Alliance of Skagit County (EDASC) CEO John Sternlicht has received an Honorary Life Member award from the International Economic Development Council at IEDC's annual meeting. The award recognizes Sternlicht for furthering the economic development profession and being "a teacher and inspiration to others in the field." 
Whatcom Land Title CEO Bill Ronhaar has been named chair of Washington state's Limited Practice Board by the state Supreme Court. The board is responsible for exams, forms and other duties guiding limited practice officers, who have a limited license to practice law for documents to close real estate and personal property transactions.
Places & things
Banter Hospitality said its original cafe at 119 N. Commercial St. in Bellingham will close after Nov. 12. The current Banter After Hours spot at 114 Prospect St. will gradually pick up its morning/midday cafe menu over time with a goal "by late November/early December to be up and running with seven days a week, 8 a.m. to 10 p.m. (breakfast, coffee, lunch, happy hour, dinner and drinks)." Banter now also operates a weekend brunch spot at 1307 11th St. in the Fairhaven neighborhood.
(For the latest Places & Things, check here throughout the week.)
Frank Catalano's column appears Wednesdays. Email: frankcatalano@cascadiadaily.com; Twitter @FrankCatalano.