Breaking News
Teammates remember life, legacy of friend who died during Ski to Sea
Rob Lawrance described by loved ones as lively, uplifting, deeply loving
May 31, 2022 at 9:16 a.m.
|
Updated May 31, 2022 at 4:43 p.m.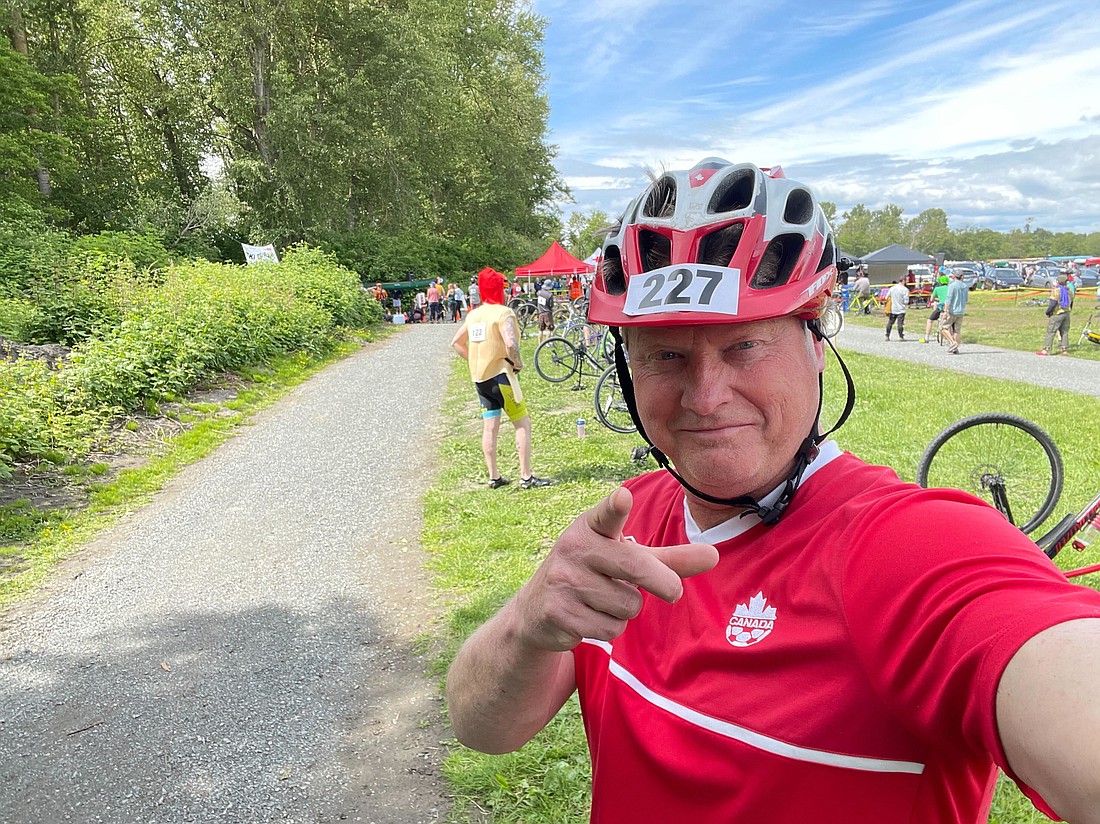 ---
---
Ski to Sea was much more than a grueling annual test of athleticism for Rob Lawrance — he met his wife, celebrated precious friendships and unleashed his zest for life on different legs of the race over the years. It was also where he would spend his last moments Sunday.
Lawrance, a 58-year-old race veteran, died of a massive coronary event during the cyclocross leg of the 49th annual Ski to Sea. He had recently moved from British Columbia to Blaine and was a member of Border Traffic, a veterans-division team. 
Lawrance's teammates recounted the devastation and shock they felt upon learning of their friend's death at the Fairhaven finish line. It was a stark contrast to the festivities and excitement that surrounded them.
The Border Traffic team's downhill skier, Joe Dobson, said he and other team members were waiting at the end of the race, confused why it was taking their friend so long to finish his leg — the second-to-last in the event. Eventually, word spread that Lawrance had experienced a medical emergency on the course.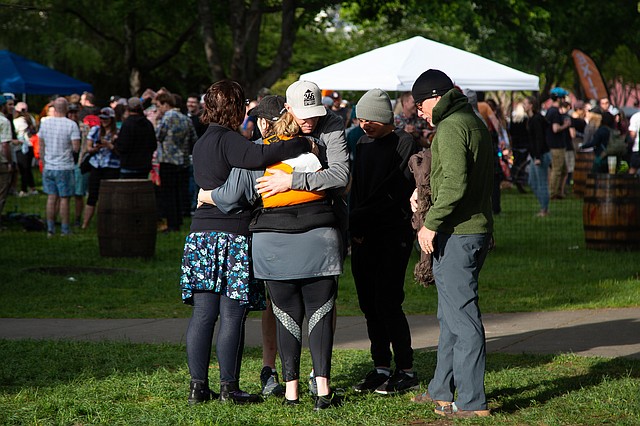 Another teammate, Amir Freund, was cycling home to Nanaimo, British Columbia, after completing the road bike leg of the race when he received a text that Lawrance "had a medical emergency."
Freund said he initially thought Lawrance, an active cyclist, may have injured himself while riding on the course that covers mostly flat, muddy terrain. 
A short while later, Freund got a call from a teammate with a devastating message: 
"'I have something to tell you that you don't want to hear.' My heart sank completely," he said. "How is it possible?"
Border Traffic's canoeists logged the team's last official time in the race, finishing the leg at 8:57:57. The team's sea kayaker, Dawn Groves, participated in an early release for kayakers from Zuanich Point Park after Lawrance failed to show at the handoff zone. In an early release, racers get a new timing chip and begin the final leg to ensure everyone is off the courses and to the Fairhaven finish line by 6 p.m. 
Groves was the last kayaker to finish the race. She ran through a chorus of congratulations and a sea of high fives to ring the event's traditional finishing bell.
For Karen-Margrethe Bruun, one of Border Traffic's canoeists, waiting at the finish line for teammates has always been a favorite part of the event. When the team learned of Lawrance's death, "our hearts broke," Bruun said. After a quick prayer, they gathered themselves enough to cheer on Groves, then gently told her the news. 
"Our lives stopped for that time period while the beautiful festivities of our beloved community Ski to Sea gathering swirled around us," Bruun said. "It was surreal."
Bruun's husband, Larry Jelsing, and Dobson's son, Ryder, had both been with Lawrance on Sunday as he started the cyclocross leg at Hovander Homestead Park with a smile on his face. He sent a selfie to his beloved wife, Becky Lawrance, moments before pedaling off.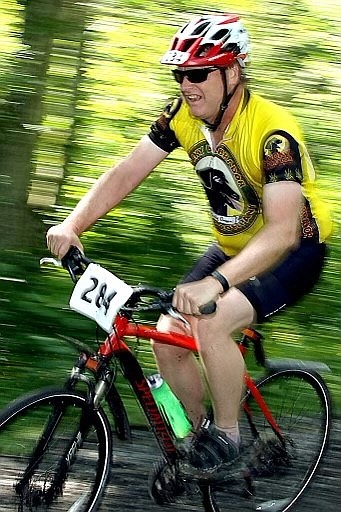 "My son and another friend were one of the last people who saw him when he left for his leg," Dobson said. "Apparently, he looked happy and full of life and vigor. He was excited to go out and pedal his bike. How devastating."
Dobson said he, Lawrance and another teammate, Dave Skippon, became friends in their college years, working a summer job planting trees around British Columbia in the 1980s. 
"He brought a joy and a smile to all around him," Dobson said. "Some people have a presence that just lifts others, and he was one of those people."
As the group of friends settled into their careers, moved away, married and started families, time spent together became more scarce — and precious. Over the last 20 years, Ski to Sea has been an opportunity to reconnect. 
Of all the friends, Lawrance had a particularly special connection to Ski to Sea. It was on the rushing waters of the Nooksack River, paddling frantically to keep their canoe upright, that he met the love of his life, Becky Lawrance. The team had pushed the pair to compete in the leg together in 2010. 
Rob Lawrance, who lived in B.C., and Becky Lawrance, who lived in Blaine, embarked on a years-long journey for their love. It involved visa applications, a plethora of border crossings and eventually a wedding at the Peace Arch on the U.S.-Canada border. Finally, Rob Lawrance secured a green card.
The team's name this year, Border Traffic, alluded to the pair's struggle, Dobson said. 
Their relationship endured eight years of residential separation. Lawrance was only able to move to Blaine to be with his wife 11 months ago after retiring from his position as an environmental planner for the city of Nanaimo. 
He was loved by everyone, Freund said. The friends met through work in 2011. Freund, a transportation planner for the city of Nanaimo, described Lawrance as intelligent, articulate, kind and humble. 
"I don't think he had anybody that didn't enjoy his time and temperament," Freund said. "He was always cheerful and friendly, and always ready to help."
Skippon said his friend was best remembered for his empathy and fairness. 
"He always wanted to help people make their lives better and wanted everyone to be treated with fairness. It didn't matter if he had just met you, or you were a longtime friend," Skippon said.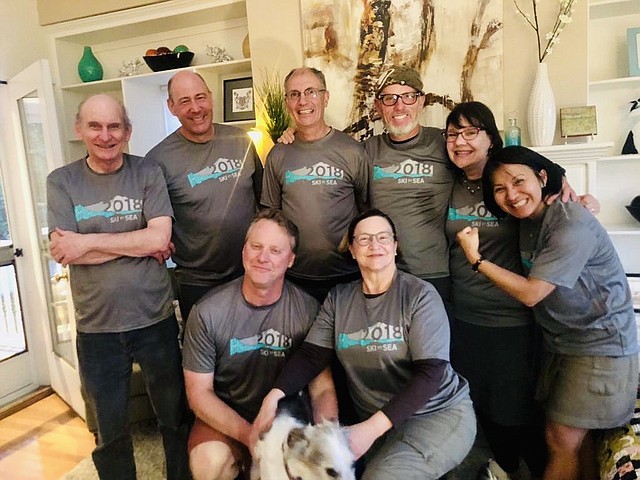 Lawrance was an avid outdoorsman — "you have to be as an environmental planner," Freund said. Upon moving to Blaine, Lawrance started a job working on invasive species with the City of Bellingham Public Works Department. 
"He was such a lively guy, the center of attention when he's with his friends," Freund said. 
On Friday, the team celebrated seeing each other again after a solitary two years.
"This year was doubly tragic, after not being able to see each other for so long with the border and the pandemic," Dobson said. "Then we're finally able to, and tragedy strikes."
On Saturday, Freund and Lawrance were tinkering with their bikes in Lawrance's garage. Freund never could have imagined it would be one of his last moments with his friend. 
"It's just unreal for that to happen," Freund said.
Race organizers were shaken by the incident as well. 
"Myself and the board of directors express our deepest condolences to the family, the friends and the teammates," race director Anna Rankin said.
For an event that has involved thousands of participants for nearly 50 years, in sometimes trying conditions, the Ski to Sea race has been largely free of serious and fatal injuries, or medical emergencies.
In 2002, a woman died while practicing for the canoe leg of the race. She drowned after her vessel became stuck in a logjam; her teammate made it safely to shore but suffered a head injury, according to an Associated Press story. 
Groves organized a GoFundMe to help Lawrance's family cover the costs associated with his funeral arrangements and an end-of-life service.
This story was updated at 4:19 p.m. June 1 to add Rob Lawrance's age, manner of death, and to clarify previous reporting on his move to Blaine.