Prep
Area schools take home 24 state championships
22 in track and field, one each in softball and soccer
May 31, 2022 at 2:01 p.m.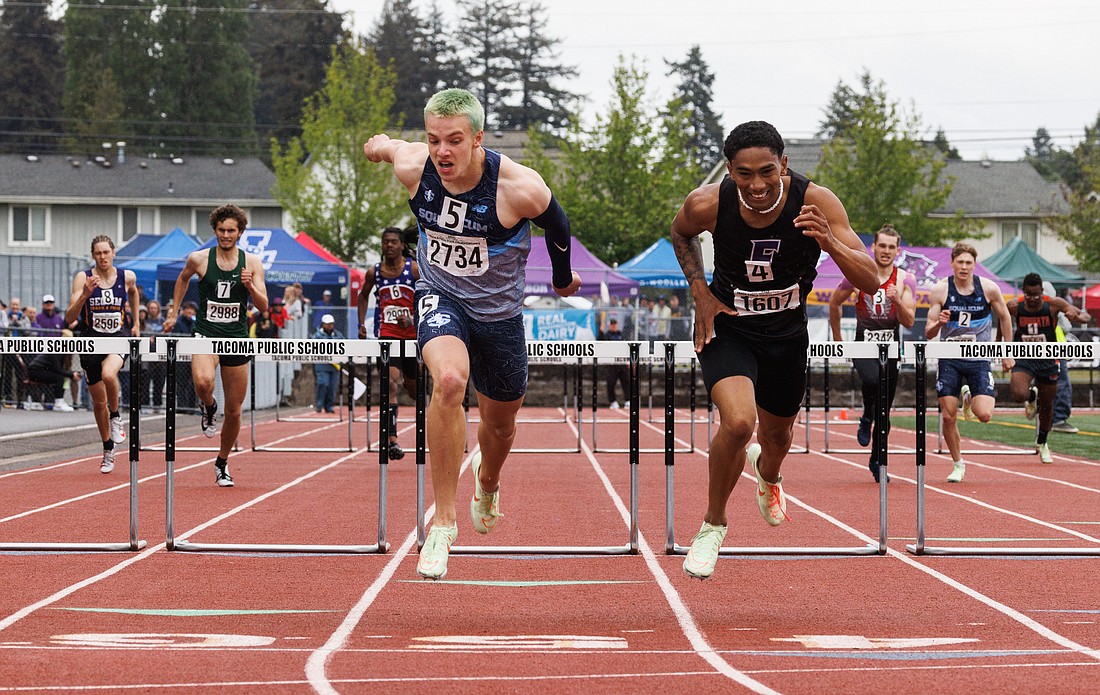 ---
---
The final prep sports season is officially in the books and just like fall and winter, multiple state champions came from Whatcom County schools in the spring. Twenty-four to be exact.
The celebration started last Thursday on the first day of the 2A state track and field championships where Lynden junior Troy Petz won the 2A boys long jump title with a mark of 22-02.00. It would be the first of 17 titles won by area athletes in the Tacoma competition.
"It's pretty cool," Petz said of winning a state title. "My dad has a 4-by-1 state championship, my uncle has some track state championship, my mom has a bunch, my sister has like four, so I fit in the family. I gotta get more and pass them all."
The last day of the spring sports season belonged to Whatcom County. The Nooksack Valley softball and Squalicum boys soccer teams both lifted state championship trophies while the track and field stars added to their total.
Korbmacher's two hurdle wins
Squalicum junior Andre Korbmacher, already a national champion hurdler, won the 2A boys 110-meter hurdles in 13.83 seconds, setting a new state meet record. That wouldn't even be his most impressive performance of the meet.
In the 2A 300-meter hurdle final, Korbmacher lined up next to Foster's Lyricc Lopez, the state's best in the event.
The marquee matchup of Korbmacher vs. Lopez didn't disappoint as Korbmacher narrowly upset Lopez by .03 seconds to win his second title of the meet. Korbmacher's time of 36.30 set a new state meet and personal record.
"Having that competition and being able to push with him to run a time like that was an awesome experience with awesome energy," Korbmacher said.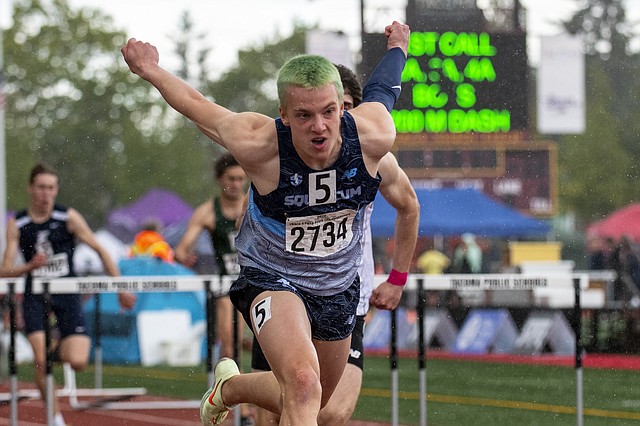 Squalicum vs. Sehome relays
Everyone in attendance might not have known, but the Squalicum and Sehome 4x100 and 4x400 relay teams knew it was going to be one or the other finishing in first place.
The Storm boys won the 4x100 with a time of 43.18 with Sehome in second with a time of 43.50.
"We knew if we ran our race we were going to win," Squalicum senior Josh Bates said. "We did that and got the job done."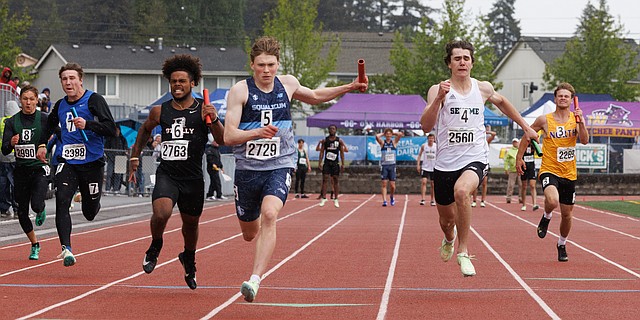 It was a closer race in the 4x400, but Sehome came out on top that time around, winning by .02 seconds.
"We had that same exact race the first race of the season," Sehome senior Carter Birade said. "I was anchoring and it was again like .05 we won by."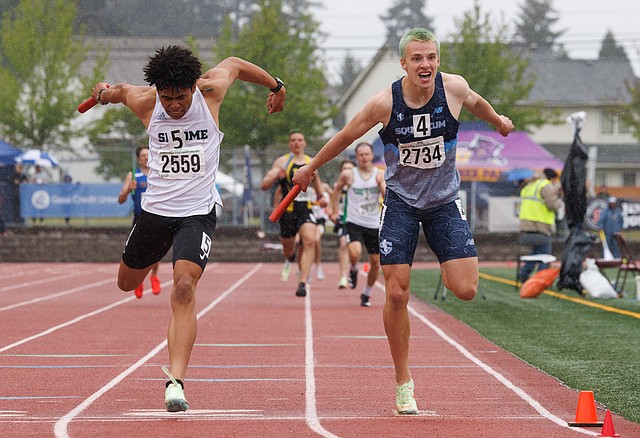 Photo finish
Bellingham junior Will Giesen was trailing Selah's Cooper Quigley for much of the 2A boys 800-meter final, but the two were neck-and-neck the final 100 meters.
Giesen's race plan hadn't gone accordingly until that point, but he caught up when it counted. The two clipped arms and started wobbling the last 50 meters and both dove head first across the finish line and Giesen won by 0.1 seconds.
"This is my first time here running," Giesen said. "My sister was here when I was in eighth grade and I watched and since then I knew I wanted to be here and win a race."
First year, first titles
In her first year long jumping and her first time at the state championships, Bellingham sophomore Chayse Flick-Williams recorded a new personal record of 18-07.00 to bring home the championship.
Only to outdo herself, Flick-Williams also won the 2A girls 100-meter dash with a 12.34 personal record.
"I was coming here just wanting to do the best I could," Flick-Williams said. "That's all my parents ever ask of me and all my coaches ever ask of me. I just laid it out on the line."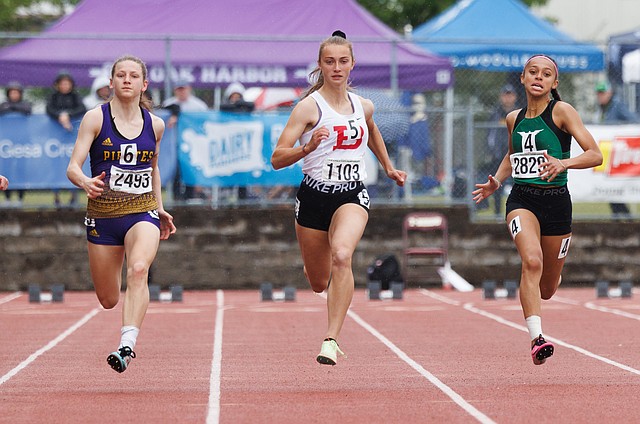 Other individual titles were earned by Sehome senior Virginia Arthur (2A girls discus), Bellingham senior John Twedt (2A boys triple jump) Sehome senior Dawson Rothenbuler (2A girls shot put), Birade (2A boys 100-meter dash), Sehome junior Zack Munson (2A boys 3200-meter run), Sehome junior Jake Andrews (2A boys 200- and 400-meter dash) and Sehome sophomore Jayda Darroch (2A girls 400-meter dash).
The Sehome boys scored 88 points as a team, the most of any team including 3A and 4A schools, to win the 2A team championship.
Small school titles
At the 1A track and field championships in Cheney, Meridian won the 1A boys 4x100 relay with a time of 43.65. The Trojans got another state champion in senior Jordan Hallmark, who won the 1A boys 110-meter hurdles in 15.91.
Mount Baker senior Davin Beason won the 1A boys discus with a mark of 144-03. Beason doubled down on throwing events, also winning the 1A boys shot put with a throw of 56-06.75.
Blaine senior Eleeshiyah Faulkner brought home the 1A girls 100-meter hurdle title with a time of 16.09.
Rally the Valley
Nooksack Valley softball earned its first state championship in school history with a 4-3 comeback win over Lakeside of Nine Mile Falls. The Pioneers' win is the first fastpitch softball championship for a Whatcom County school.
The two teams were tied at 1-1 for much of the game until Lakeside broke the tie with a two-run home run in the top of the fifth inning. 
Nooksack Valley cut the deficit to 3-2 early in the bottom of the sixth inning before junior Jayden Loreen stepped up to the plate with runners in scoring position and two outs.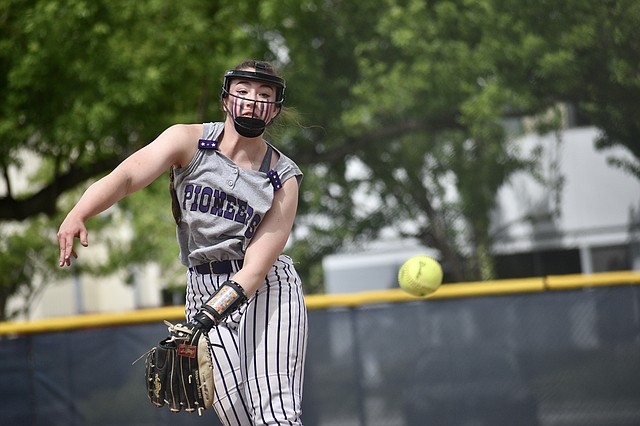 Loreen connected for a hard-hit one-hopper that bounced off the shortstop with no backup, allowing two runs to score, giving the Pioneers a 4-3 lead late in the game.
Nooksack Valley head coach Tom Harmon said a strong suit of the team this year was scoring with two outs, especially in the postseason.
"With two outs, we wanted to get at least one run and we did a lot more than that at times," Harmon said. "We were able to put together some great two-out rallies, which is really hard on a defense."
Not only did the Pioneers finally get their first state championship in program history, Harmon got his first in 36 years of coaching.
He said a state title is priceless no matter how long you've been coaching, especially for the girls on the team who suffered a one-point loss to Lynden Christian in the basketball championship in the winter.
"It's all the hard work that goes into it and ours was one that comes after a real bitter one in March, so there's some vindication for some kids, but for our community, it's neat to bring home a state title," Harmon said. "There's a lot of sharing this by our community."
Revenge game
Squalicum entered the 2A boys soccer state championship with only one loss all season. That came in the district championship against Burlington-Edison.
The Storm was given the No. 6 seed in the state tournament despite having lost only the one game, but there was a chance at redemption last weekend against the Tigers with the state title on the line.
Squalicum led 2-0 at halftime and had three more goals up its sleeve in the second half to bury Burlington-Edison 5-0 for the win.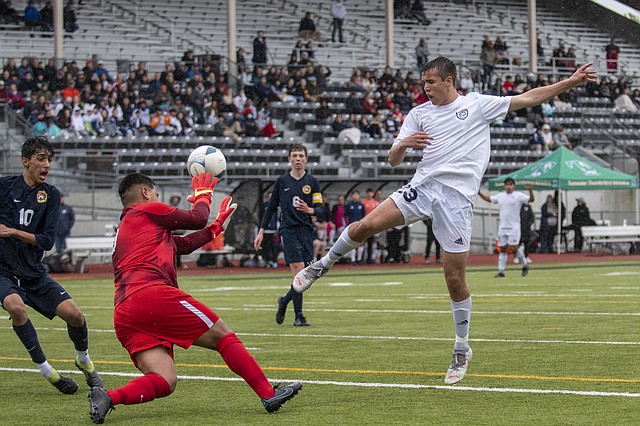 It was the third state title in program history; all have come under head coach Joe McAuliffe.
"[We] knew there was a lot of talent on the team and sometimes they didn't work as much as they should; they thought it was just gonna happen for them," McAuliffe said. "But they learned those lessons, and by the time we got to the state tournament, we didn't see any of that. They cleaned that out of their system, and we're just all about hard work and working together."
Squalicum senior Jordan Voigt said he and the other eight seniors on the team had been dreaming of a state championship together since they were playing in elementary school.
"It's amazing," Voigt said. "We talked about this growing up and to be here is surreal — and it's just amazing."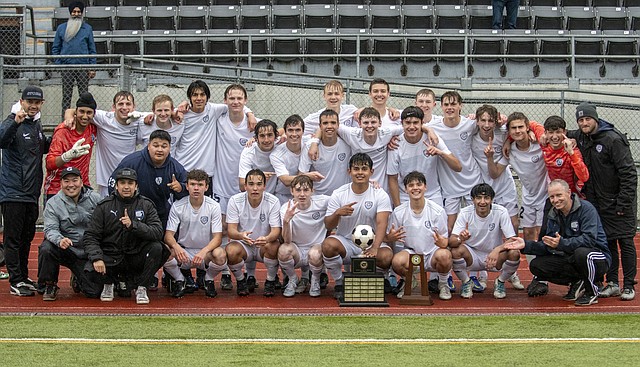 CDN News Producer Eric Trent contributed to the reporting of this story