Soccer
Dream comes true for Storm seniors in state championship win
Squalicum slams Burlington-Edison in a 5-0 shutout
May 28, 2022 at 8:28 p.m.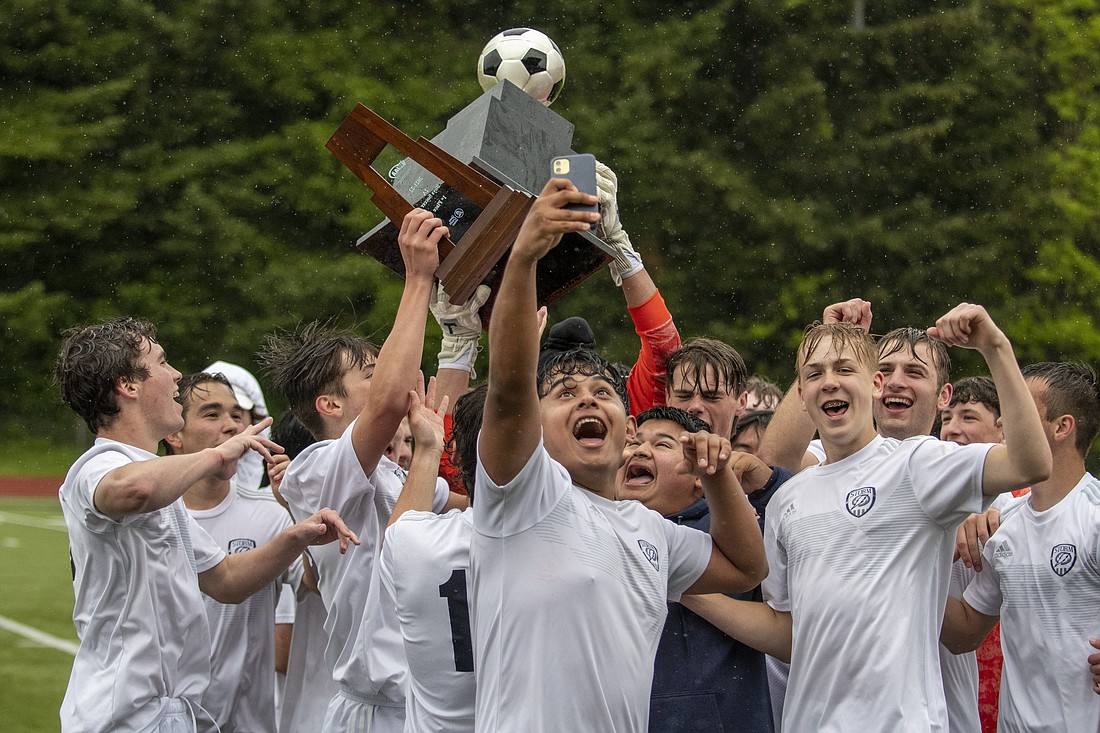 ---
---
TUMWATER ⁠— Squalicum's nine seniors started playing together in elementary school — and they've been dreaming about winning a state championship together ever since.
Their dreams came true on Saturday as the Storm slammed District 1 foe Burlington-Edison 5-0 to capture the 2A state championship at Tumwater District Stadium.
"It's amazing," Storm senior Jordan Voigt said. "We talked about this growing up and to be here is surreal — and it's just amazing."
The Storm left no doubt against a Tigers team that had handed Squalicum its first loss of the season, 2-0, in the 2A District 1 championship on May 14. It was a frustrating defeat for the Storm, who had shut out the Tigers 3-0 in the regular season and not been beaten in 17 matches entering the district championship.
But it was the wake-up the Storm needed as it entered the state tournament, Squalicum senior Gurparam Singh said.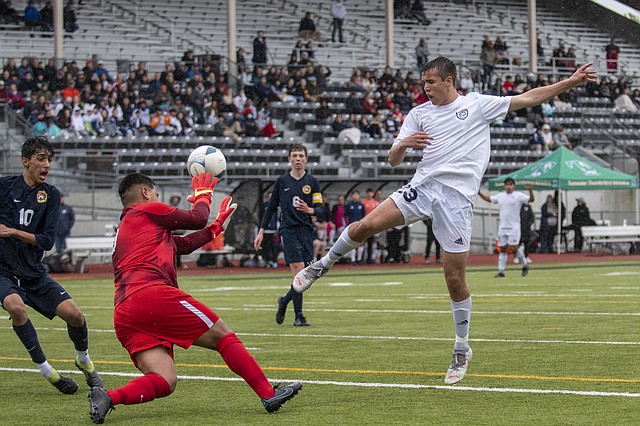 "We just weren't ready and we were so cocky that game that after that loss we had a mood switch, everybody on the team," Singh said. "We switched our formation, we played way better the next game and we just wanted it more than them. We beat them before and we knew we could do it again."
Squalicum had a long road to set up the state championship clash with the Tigers, however. 
The Storm was given the No. 6 seed in the state tourney, while the Tigers were awarded the fourth seed — just more fuel for their motivation.
Squalicum shut out Fife 4-0 in their state opener, then shut out East Valley of Yakima 2-0 in the quarterfinals. Next was a showdown with No. 2 seed Sammamish in the semifinals, where the Storm stormed back from a 2-0 deficit to score three unanswered goals in a 3-2 overtime victory.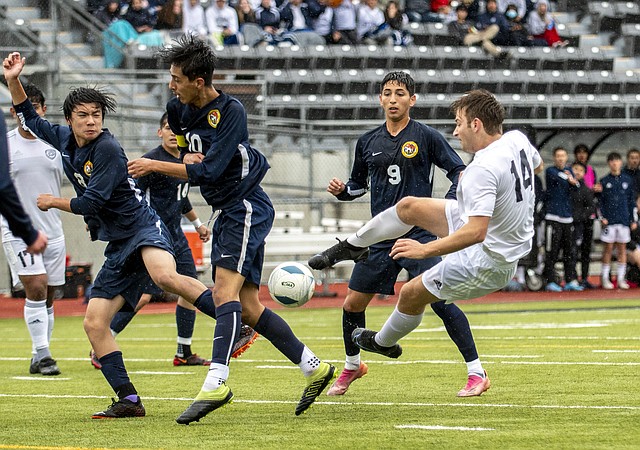 That set up Saturday's state title tilt — and a chance at revenge — against Burlington-Edison, who had upset top-ranked and undefeated Columbia River in its semifinal bout.
After 29 scoreless minutes, Squalicum finally found the back of the net first when Carter Weener scored from up close to put the Storm up 1-0. Just three minutes later, Ace Carr connected on a penalty kick that sailed into the far left corner of the goal for a 2-0 Storm lead.
Gurparam Singh gave Squalicum a 3-0 cushion in the 47th minute, then Trevor Keeley knocked in a header in the 67th minute for a commanding 4-0 lead. The Storm scored one more insurance goal in the 71st minute during chaos in a scrum near the box for the fifth and final goal of the night.
Squalicum has now won three state titles (2009, 2014, 2022), all under head coach Joe McAuliffe.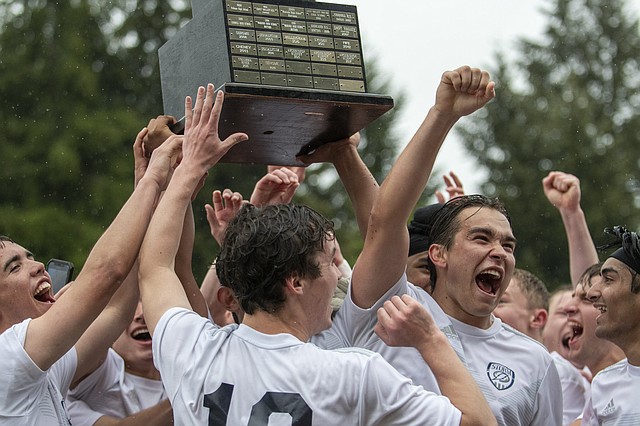 "It's hard to put in words," McAuliffe said. "I'm just rum-dummy with exhaustion, excitement and elation. It's amazing."
It was a satisfying victory for McAuliffe and his team, who thought they might be playing in a consolation game today after falling behind 2-0 to Sammamish in the semis on Friday. Now, after beating their district rival Tigers for the title, they're on the top of the Class 2A mountain.
"[We] knew there was a lot of talent on the team and sometimes they didn't work as much as they should; they thought it was just gonna happen for them," McAuliffe said. "But they learned those lessons, and by the time we got to the state tournament, we didn't see any of that. They cleaned that out of their system, and we're just all about hard work and working together."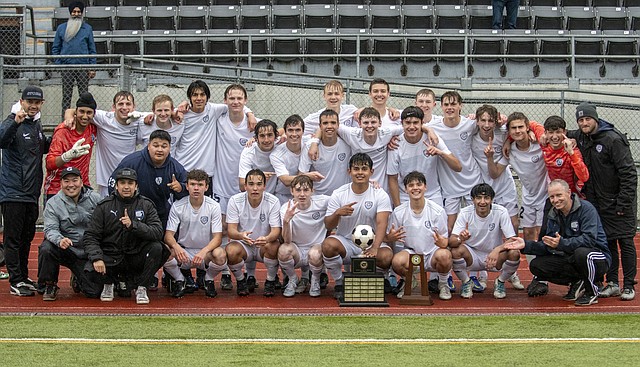 For the nine seniors — Voigt, Singh, Weener, Carr, Keeley, Jaden Miller, Sean Ford, Joshua Durfee and Ryan Johnson — there's no better way to cap their high school careers.
When they look back on this day, this team and their journey, Voigt and Singh said they'll cherish the bus rides together, staying in hotels together and the memories they made along the way.
"They're family," Singh said. "We've all played together since we were kids. It's amazing to actually win the state title with them. Not everyone gets to do it. Everyone wants to but not everyone gets it. We worked really hard for this."