Track & Field
Whatcom athletes claim four more titles at state track
Squalicum's Andre Korbmacher sets new state meet record
May 27, 2022 at 7:28 p.m.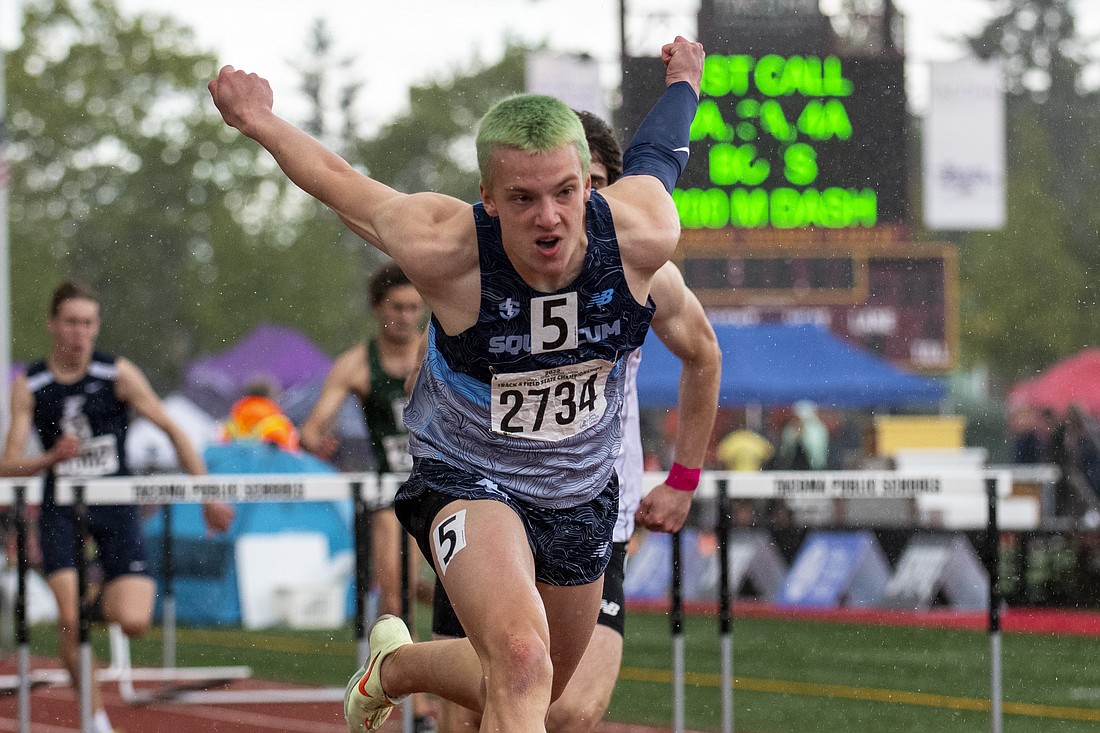 ---
---
TACOMA — If Squalicum junior Andre Korbmacher's speed on the track isn't enough to make him stand out, his freshly dyed, now green, head of hair will.
Korbmacher was one of four Whatcom County athletes to earn a state title Friday during the second day of the 2A state track and field championships at Mount Tahoma High School.
His time of 13.83 seconds in the 2A boys 110-meter hurdles set a new state meet record and put Korbmacher at the top of the podium.
"I knew it was coming after the New Balance Indoor coming home as a national champion," Korbmacher said of his state title. "I'm so grateful to be here. This is my first state meet and coming home a state champion really fulfills it."
Finishing in second place in the event was Sehome senior Carter Birade, Korbmacher's teammate at Ready-Set-Go Sprinters, with a time of 14.28.
"Iron sharpens iron and getting to race him and being so close — we just don't want to lose to each other," Korbmacher said.
Bellingham claimed two state titles with sophomore Chayse Flick-Williams winning the 2A girls long jump and senior John Twedt winning the 2A boys triple jump. 
Flick-Williams set a new personal record of 18-07.00 to win the long jump title. 
"It feels amazing," Flick-Williams said. "I'm really happy and want to thank my coaches because they've trained me a lot this year. This is my first year long jumping and this was just so incredible."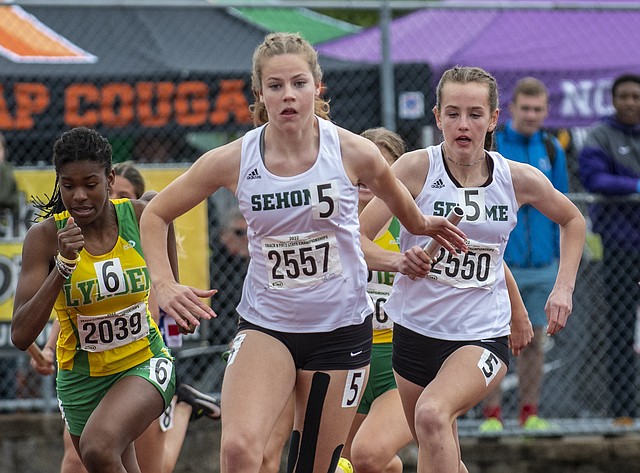 Squalicum sophomore Ella Hendershot finished sixth in the event with a personal record of 16-00.50.
After finishing second in the long jump on the first day, Twedt was able to take one more step up on the podium, winning the triple jump with a mark of 45-08.75.
"I warmed up extra early just so I could feel ready to go whenever, and it paid off," Twedt said. "I got way further than I thought I was going to today with the bad weather, so I feel pretty good."
Lynden senior Luke Scarlett also finished in the top eight with a jump of 40-11.75 to earn fourth place in the event.
Whatcom County also placed two girls on the podium in the discus with Sehome senior Virginia Arthur winning the event with a huge personal record of 121-02. Lynden senior Sadie Furdyk placed fifth with a personal record of 112-00.
Other state placers from the second day were Bellingham's Henry Sheldrup in the discus who finished fourth with a toss of 147-08. Sheldrup had sprained his ankle last weekend and didn't know if he was even going to be able to compete.
"It was more of just wanting to get the experience of throwing here," Sheldrup said. "I have one more year and I was thinking, regardless if I can throw far or not, I was going to come and throw just so I know what it's like for next year. I wasn't really expecting to place, honestly."
Placing eighth in the event was Lynden sophomore Kuyper Assink with a mark of 136-09.
Sehome freshman Bella Connell finished eighth in the 2A girls 100-meter hurdles with a time of 16.56.
Ferndale senior Andrew Nelson, the school's lone representative in the 3A competition, placed seventh in the javelin with a mark of 166-10.
Most of the events Friday were preliminary races, setting the stage for the final day of competition Saturday.