Elections
Shewmake weighed in as Whatcom Council picked her opponent
Democrat's text recommended 22-year-old Republican
May 26, 2022 at 5:30 a.m.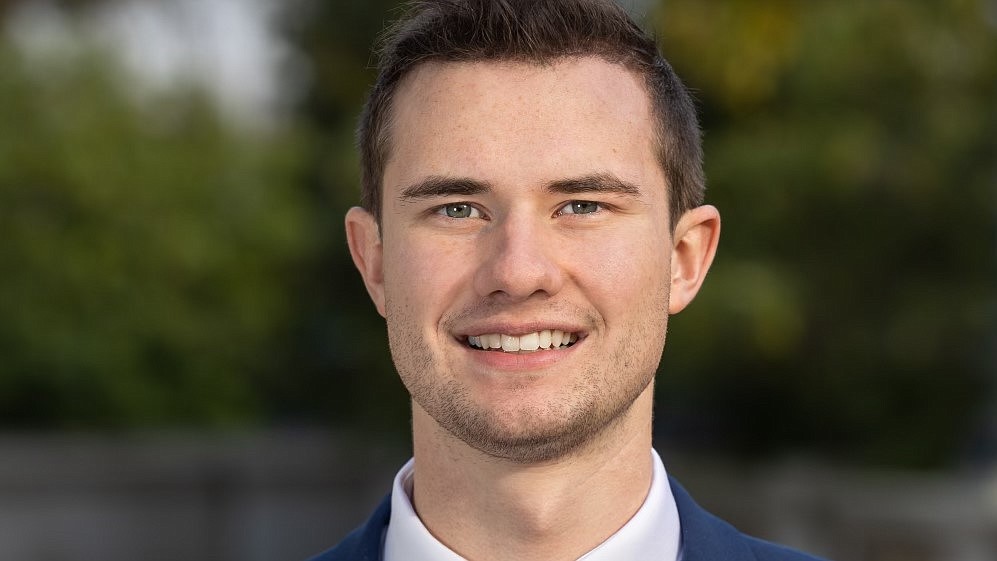 ---
---
Among a flurry of messages sent to Whatcom County Council members as they prepared to appoint a replacement for the late Republican Doug Ericksen in the state Senate, one message stood out. It was a text from Sharon Shewmake, a state representative and a Democrat who had already announced that she was running for Ericksen's Senate seat.
The Council's pick to replace Ericksen, who died Dec. 17, 2021, would arguably have an advantage in the 2022 elections, after a 60-day incumbency. On Jan. 8, three days before the decision, Shewmake texted progressive council member Carol Frazey to recommend one of the three GOP applicants: Simon Sefzik, a 22-year-old political unknown.
"I still think Simon is the best choice," Shewmake wrote in her text. "Probably easiest for you to make too."
Shewmake's text was among more than 100 messages sent to council members about the appointment, obtained by Cascadia Daily News by a public records request. 
In interviews, Republicans said they suspected the four progressives on the council lined up behind Sefzik because he was the least experienced, and arguably least electable, candidate come November. Progressives on the council, meanwhile, insisted they chose the best candidate, regardless of how Shewmake or anyone else had advised them to vote.
Local conservatives and progressives agree on one thing: Regardless of the propriety of Shewmake weighing in on Sefzik's appointment, she and her party may not have gained any advantage promoting him in what promises to be one of the hottest local election battles this year.
Rep. Shewmake downplayed her text to Frazey in an interview.
"It wasn't my decision to make. Obviously, I was interested in it, but it wasn't my job to make that decision," Shewmake said, adding, "I could have beaten all three of them."
Shewmake deflected the notion that she was trying to help decide who might oppose her on the ballot this year, saying her input was based on merits of the candidates. For various reasons, Shewmake said, Sefzik's application rose to the top.
County Council member Ben Elenbaas, one of three candidates put forward by the GOP for the Senate seat, did not take the application process seriously, according to progressives. They were also critical of the third candidate, Lynden resident and former Bellingham police officer Tawsha Thompson, because she had been fired from the Bellingham Police Department for refusing to get a COVID-19 vaccine on religious grounds.
"I don't think you could have picked anyone else once you looked at the way they responded to the questionnaire," Shewmake said. "Simon is the only one who said he would get a vaccine" if Senate rules required it.
The four council progressives — Frazey, Todd Donovan, Kaylee Galloway and Barry Buchanan — all voted for Sefzik, giving him the majority he needed to win the appointment. 
"I would like to think that the County Council did its job and picked me for my merits, my ideas and my optimism about a new future for Whatcom," Sefzik said May 20 in a prepared statement to Cascadia Daily News. "If it turns out that the representative and others decided to play politics, that gives us an unfortunate reflection of their priorities."
Republicans, such as Elenbaas, weren't surprised to learn about Shewmake's text recommending Sefzik.
"I'm not appalled by it," Elenbaas said. "Maybe that's because I've been around for so long."
Elenbaas didn't participate in the selection of the appointee because he was a candidate for the vacant seat. But he got the votes of the two other conservatives on the council, Kathy Kershner and Tyler Byrd. Thompson, the third candidate, did not receive any votes.
Progressive council members said Shewmake's text message didn't influence their votes for Sefzik. 
"She's going to have an opinion about who would be a better candidate to run against as the incumbent, so she's welcome to give me that opinion," Frazey said. "Even with people influencing us, I still always say I'm going to vote how I'm going to vote." 
Sefzik, Frazey said, was enthusiastic and energetic, and "he was the only one that I remember that said, 'I would reach across the aisle and work with people.'"
Galloway had similar praise for Sefzik at the Jan. 11 meeting, before casting her vote for him. She said his "spirit of collaboration" was inspiring to her.
In a phone interview, Donovan said he did not hear from Shewmake before the vote. And under different circumstances, Sefzik wouldn't have been Donovan's first choice. He said he would have voted for Elenbaas if he would have agreed to resign from the council so he didn't hold two political offices at the same time. 
Donovan acknowledged in January that it wouldn't have been illegal for Elenbaas to be both a state senator and a county council member. But he was concerned about possible conflicts of interest. 
"There is that potential for the interests of the county and the interests of the state to be different," Donovan said on Jan. 11. "I just can't get past that." 
Elenbaas said last week that he wouldn't have resigned from County Council because the progressives, as a majority, would have appointed his replacement, giving them a 5-to-2 advantage.
Buchanan, the fourth progressive council member, did not respond to multiple requests for comment, and did not explain his vote at the Jan. 11 meeting.
As it turned out, Shewmake will face both Sefzik and Elenbaas in the Aug. 2 primary. If money talks, Sefzik is the clear favorite among establishment Republicans. The state and county party organizations donated $12,500 to his campaign as of May 23, while making no contributions to Elenbaas' campaign.
If Democrats got their wish in Sefzik, observers on both sides say it remains to be seen whether Shewmake has gained an advantage.
"I will say that he's a force to be reckoned with," Kershner said.
"If you see him speak publicly, he does not look like the weakest candidate to me," Donovan said. "We might have screwed up, if that was the conspiracy theory."