Outdoors
Hiking Fidalgo, that not-quite-San Juan island
No ferry lines involved
May 20, 2022 at 5:20 a.m.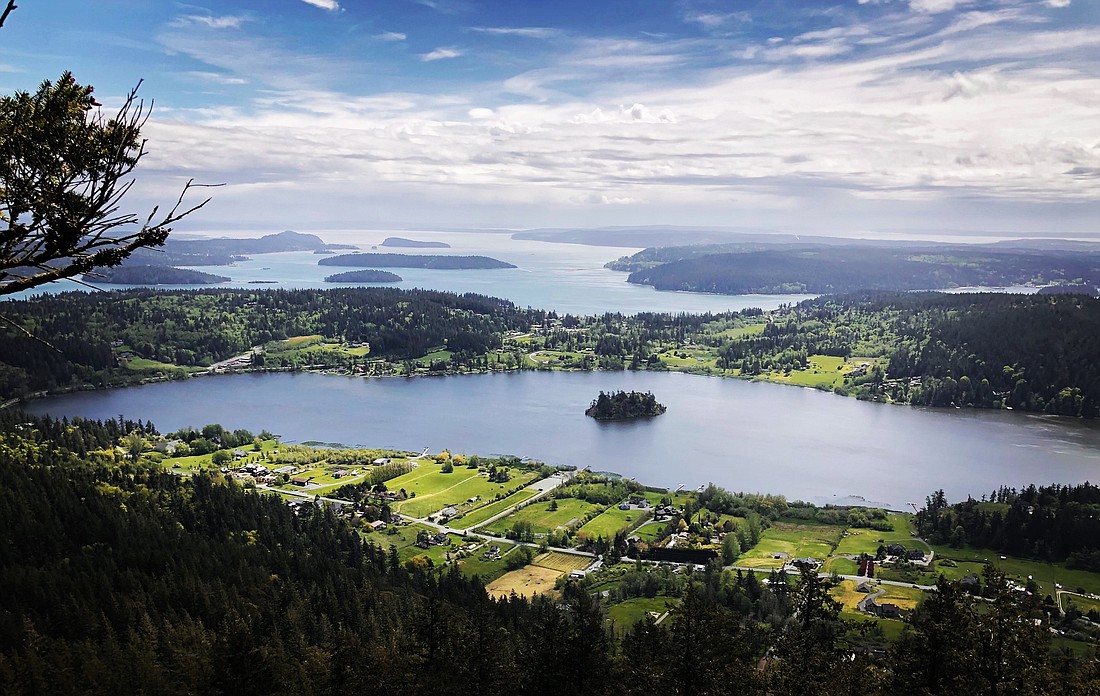 ---
---
ANACORTES — City parks director Jonn Lunsford didn't mince words when asked about the beautiful forests above his port town of Anacortes.
"We're forbidden from talking about it," he said.
Pregnant pause.
"I'm joking." 
Or not.
Fidalgo Island residents are serious about preserving the Anacortes Community Forest Land, 2,950 acres with 50 inviting miles of multi-use trails for hikers, bikers and horse riders. The stewards of the Hundred Acre Wood next to Fairhaven Park share a similar mission in Bellingham.
Keeping outsiders at bay helps to reduce the human footprint. Islanders don't advertise the trails lined with bigleaf maple, Douglas-fir, red alder, lodgepole pine, western hemlock and a salad bar of vegetation.
According to Friends of the Forest, an advocacy group that helped stop logging of the area in 1989, Anacortes has one of the country's highest ratios of forest-to-civic populations.
"People here feel strongly and they've given their hours by the thousands helping us do everything" from rebuilding trails to rehabilitating sites, Lunsford said. 
Residents have contributed more than $2 million to create a permanent easement to preserve the forestland forever.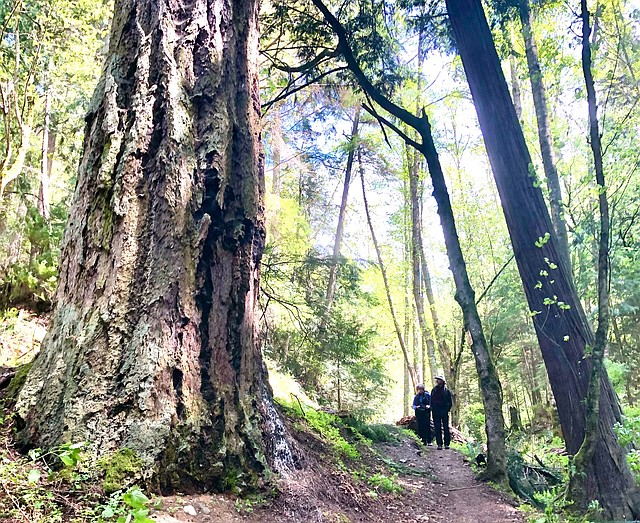 Yet almost everyone we met on the trail was cordial during a recent 8-mile loop that included summiting Sugarloaf Mountain and Mount Erie.
The exception was a runner barking about letting her pass on a wide section of trail in which I had already moved all the way to the right when I heard her approach. 
I know it is catty but I couldn't resist: "You can't get around me?" I asked incredulously.
When my trail companion caught up he unsolicitedly noted the runner carried a lot of aggression for such a beautiful spring morning. 
I didn't give Ms. Get Out of My Way another thought as we hoofed up a moderately challenging path to 1,044-foot Sugarloaf.
After reaching the summit we asked a local hiker for directions to Erie across a deep valley. We couldn't follow his detailed instructions taking us through a maze of intersecting trails.
Let me stop here and say something about poor preparation. The previous day I took a cursory photo of the trail description from a website and figured I had it covered. After all, the intel said the trails are well marked.
They indeed are clearly posted but without local knowledge or a map, the uninitiated are toast because the trail network uses a number system. If my fellow hiker didn't have the AllTrails app we might still be out there searching for the car.
At dinner that night, an experienced Bellingham outdoorswoman ranted about the number system when I mentioned I hiked in Anacortes. It justified my frustration.
At least until I talked to Lunsford. The city has a list of trail maps to download for free at friendsoftheacfl.org/maps. Waterproof paper maps can be purchased for a nominal fee at City Hall, the visitors center and from local merchants. Or, we could have taken a photo of the map at the trailhead kiosk. 
In other words, it would have taken two minutes to get photos of area maps with just the slightest bit of foresight. 
Forest managers use numbers to make it easier for law enforcement and emergency rescue personnel to pinpoint where they need to be.
"Names can get a little confusing," Lunsford said. "There are local names for many of the trials."
Will stick to the number system for my next visit. If I am allowed back.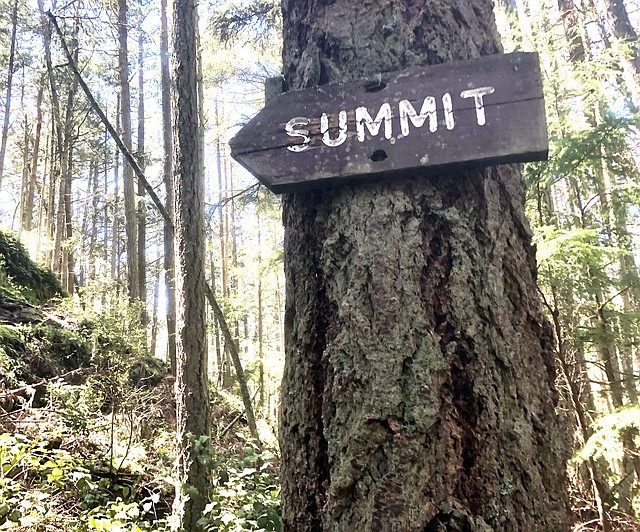 In 2012, a Friends of the Forest board member called these woods one of Western Washington's best-kept secrets.
Ten years later the "best" description might still apply but the "kept" is out the window, judging by a full parking lot on a May weekend. 
Lunsford said some residents adhere to sworn secrecy because sometimes city dwellers carry big-city problems with them.
It has reached the point where Anacortes police have posted parking lot signs warning of car prowling. We Bellinghamsters nod knowingly.
Before it became a popular recreational locale, Anacortes leaders purchased the watershed in 1919 to use Cranberry and Whistle Lakes as primary water sources. Then it was a logging resource for the next 70 years.
Finally, citizens chose to work to preserve their forests. The parks and recreation department manages the area with assistance from an advisory board, the Skagit Land Trust and Friends of the Forest.
Lunsford said Samish Indian Nation leaders also play an important role in preservation efforts because they have been guardians of the island for thousands of years.
Perhaps the best remedy to discourage visitors is to close the paved road to 1,273-foot Mount Erie and those mouthwatering views. The parking lot on the island's highest point looked like Pike Place Market in Seattle by the time I climbed the igneous rock boulders to reach the top.
Rock climbers had gathered in a favored spot. Sightseers snapped photos of a cluster of islands in Skagit Bay near Whidbey Island. 
Then there were the remote control toy car fanatics using the rocky ledges for a competition that seemed counter to the mountaintop's outdoor aesthetics. 
I scrambled down the steep north face for a half-mile to reconnect with my hiking partner who decided against climbing the final pitch. We again consulted the AllTrails app when reaching a juncture showing trails #26 and #207. A woman hiking with her dog had previously told us to take #26 to return to the parking lot. But the app indicated that we would have to re-climb Sugarloaf Mountain by that route. My friend suggested we take the long way around Sugarloaf, hoping the trail would merge with the one we knew we needed. 
It took us through a verdant forest and past impressive Doug-firs. We eventually saw Heart Lake through the trees and knew we had chosen the right way to the parking lot.
If you go
The Anacortes Community Forest Land is just under an hour's drive from Bellingham unless using scenic Chuckanut Drive to get to Skagit Valley. Take Exit 230 on Interstate 5 toward Anacortes. Follow State Route 20 west to the junction with the SR 20 spur into Anacortes. Continue left on SR20 for almost 2 miles before turning right onto Campbell Lake Road. Bear right onto Heart Lake Road after 1.5 miles. Continue another 1.5 miles to the turnoff at Mt. Erie Viewpoint where the parking lot and trailhead are located.
Notes:
Limited parking for horse and bike trailers.
No entry fee or parking pass is required.
The forestland has three trailheads north of Heart Lake and another one north of Whistle Lake. A 9.4-mile hike recommended by the Washington Trails Association loops around Whistle and Heart Lakes and tracks over Sugarloaf.
Elliott Almond's outdoors column appears monthly. Email: elliottalmond4@gmail.com.