Growth & Development
Union cements contract with Blue Wolf for potential smelter restart
Power contract negotiations still ongoing
May 19, 2022 at 10:09 p.m.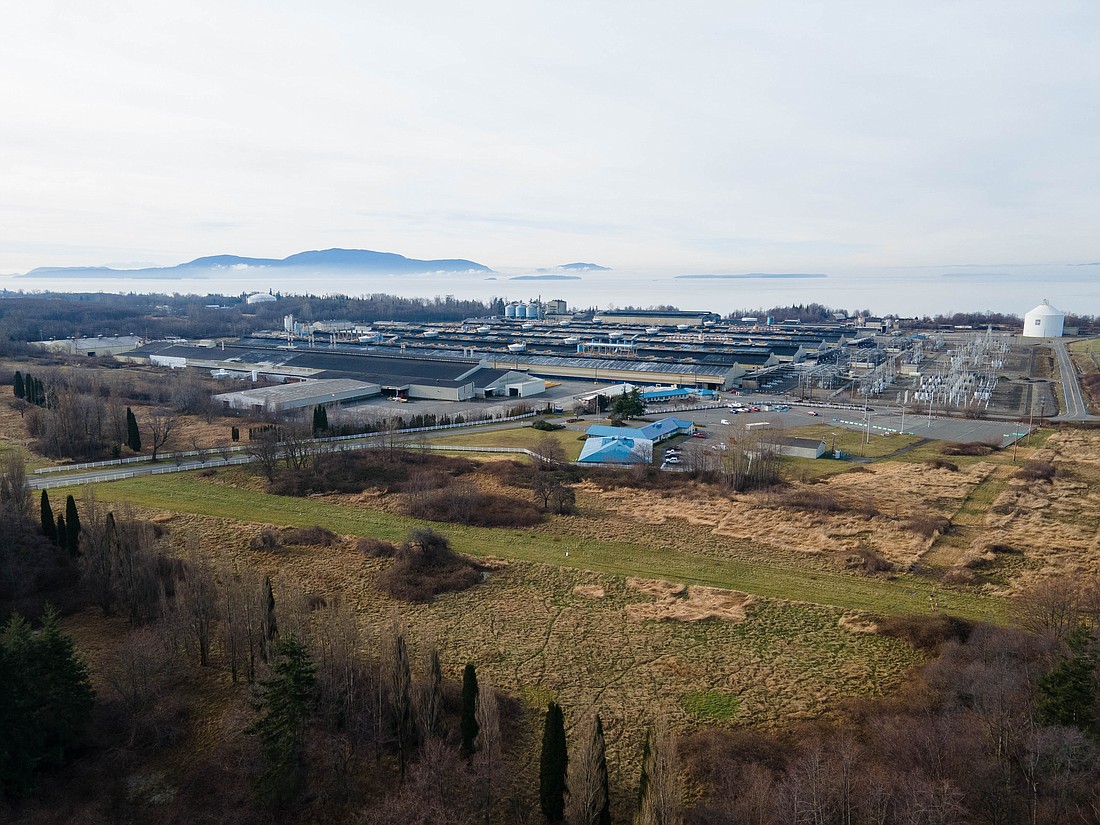 ---
---
Ferndale's local machinists' union has finalized a collective bargaining agreement with Blue Wolf Capital Partners, the private equity firm attempting to restart the curtailed Intalco aluminum smelter.  
The pact between Blue Wolf and the International Association of Machinists (IAM), which would raise wages and include equity in the company for employees, is a positive step toward restarting smelter operations. 
Highlights of the agreement include: 
Higher wages, performance bonuses, paid sick leave and vacation.
Quarterly retention bonuses.
Seniority honored for previous employees.
Guaranteed equity in the new company; if a sale occurs in the future, employees and retirees will get a payout.
"We didn't lose anything; we made gains in every area," IAM Business Representative Luke Ackerson said of the agreement, ratified by union members. "Equity is a pretty significant compensation piece."
Owning equity in the company means employees could receive payouts in the event of future sales. Just this week, employees at the Illinois-based CHI Overhead Doors company made headlines after a sale of their company meant office managers and truck drivers walked away with $180,000 checks. Several saw checks in excess of $800,000. Because details have not been disclosed, it's unclear whether the equity arrangement proposed for the smelter is structured similarly.
Ackerson worked at the smelter in various roles for 15 years prior to curtailment and has been heavily involved in attempts to restart the smelter. 
"We've been at this for about two years now," he said. "The Ferndale community took a big hit. Seven hundred jobs in a community of that size is a pretty significant thing to go away." 
At this point, Ackerson said, the only thing standing in the way of a full restart is ongoing negotiations with the Bonneville Power Administration (BPA), the group Blue Wolf hopes will provide enough clean energy to power the facility at a below-market rate. BPA previously supplied power to the facility, though contracts were voided or closed when the plant was curtailed. 
When Intalco closed its doors in 2020, it was using around 400 megawatts of electricity annually as a "Direct Service Industrial" customer, or DSI. A DSI contract allowed the plant to purchase power from BPA at below-market rates. 
Bonneville has said from the beginning of the restart negotiations that it cannot meet the 400-megawatt power need, nor can it legally develop a new DSI contract with Blue Wolf, which would qualify as a new customer. 
"We've been clear that we don't have that much power," said Doug Johnson, a BPA  spokesperson.
Though BPA once provided the power to Alcoa, that power is now contractually obligated to other customers. 
Johnson said Blue Wolf has not presented an official deal nor contract at this point. 
"The basic idea is that we do not have enough firm power to offer them the full amount of what they need to operate the plant," BPA spokesperson Maryam Habibi said. "We're looking at … maybe 20 to 25 percent of what they're requesting. It would just maybe depend on the circumstances and whether or not they agree to our market price." 
Despite political pressure from local, state and federal politicians, BPA has not been able to create a new contract. 
Habibi said BPA's goal, at this point, is to "determine what we could provide as part of a portfolio to help them meet their power needs." 
Because BPA can only provide about one-fifth of the necessary power, Blue Wolf has started to look elsewhere. 
"Blue Wolf has accepted that not every electron provided will have to come from Bonneville Power," said Larry Brown, president of the Washington State Labor Council. "I'm not at liberty to say exactly who they're talking to at this point, but we are working on doing our part of securing electricity on the open market, but it's got to be combined with some help from Bonneville Power."
Though a new union contract is a step in the right direction, several additional obstacles impede a quick restart. 
The facility has yet to submit a state-mandated "Four-Factor Analysis" plan to the Washington Department of Ecology. The plan, required by an administrative order issued in early 2021, must be submitted at least 180 days prior to a restart. Failure to submit the analysis may result in fines of up to $10,000 per day per violation.
Despite the challenges, Ackerson said Blue Wolf is in it for the long haul. 
"This isn't just a temporary thing for them," he said. "They want to see this through for a very long period of time."