Health
Whatcom parents scour shelves for scarce baby formula
Despite Abbott Nutrition plant reopening, formula may take 6 to 8 weeks to hit shelves
May 18, 2022 at 5:25 a.m.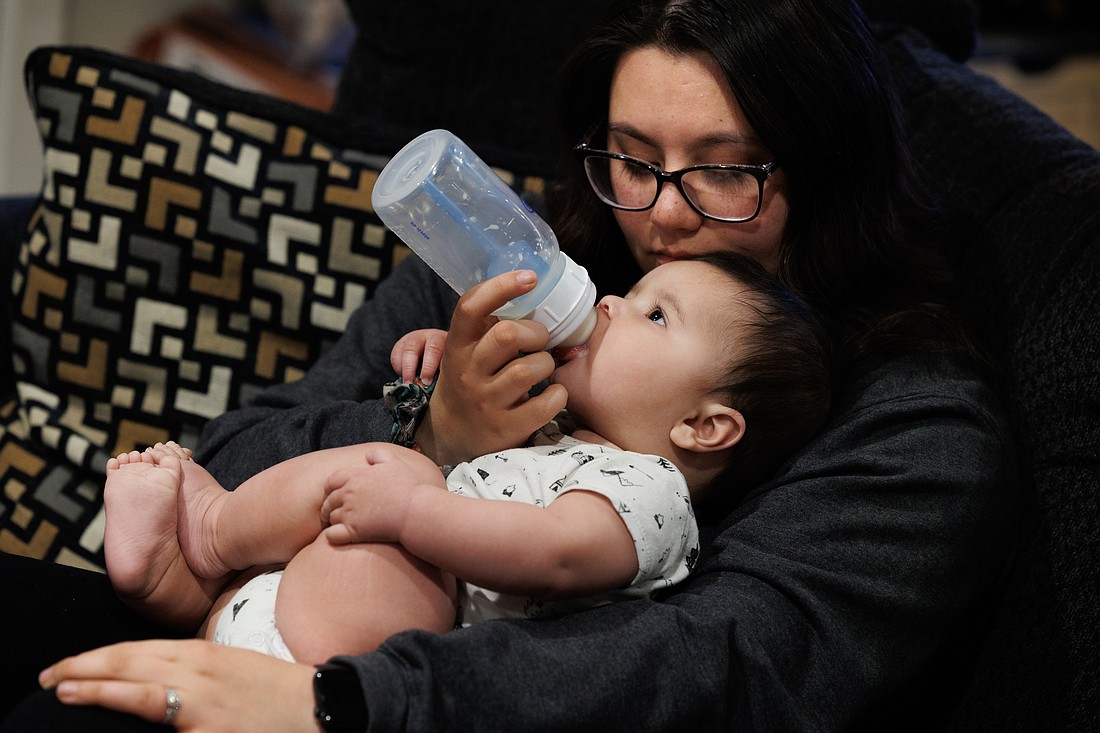 ---
---
Callie Smith has enough baby formula to feed her 6-month-old, Caden, for about another week. 
Then, the Lynden mother will be back on the hunt for formula Caden can eat with his sensitive stomach. Smith is one of millions of parents around the U.S. who have been impacted by the baby formula shortage. 
The Washington out-of-stock rate for baby formula hit 41.89% on May 8, according to the Washington Post. Compounded by supply chain issues, labor shortages and inflation, the formula shortage was accelerated by Abbott Nutrition's voluntary recall in February of certain powdered formulas due to possible Cronobacter contamination that led to the death of two infants. 
Abbott Nutrition announced Monday that its closed manufacturing plants in Sturgis, Michigan will reopen within two weeks, subject to FDA approval. However, it will still take 6–8 weeks from the time production starts for formula to hit shelves. 
The White House released a fact sheet Friday on the steps it's taking to address the shortage. But these steps will take time to have impacts, said Paul Throne, the Washington director of Women, Infant, Children (WIC), a national nutrition program for low-income families. 
While they wait for formula to arrive in stores again, parents are in a lurch. Smith's son was on Similac's sensitive infant formula, one of the recalled formulas. Caden has switched formulas three times in the last few months due to the recall and the compounding formula shortages. 
"I've had some moments where I'm like, 'What do I do if I can't feed him? What if I can't find it and I have to give him a formula that's going to mess up his tummy?' So, it's a lot of what-ifs," Smith said.  
To deal with the recall, WIC sent Smith a list of suggestions closest to the Similac formula Caden was on. 
"Typically, it's very hard to switch formulas so that was part of the stress at first," Smith said. "[Caden] did not do good for the first couple of switches and this last switch has finally been OK." 
Throne said the recall posed a problem for WIC. 
"The plant that closed voluntarily is one of three factories that make infant formula for Abbott, and Abbott is our major supplier for WIC in Washington. We really rely on them," Throne said. 
Throne said WIC added 60 new formula options into its system in the first couple weeks after the recall. 
"In spite of all that, there are still families that search and have to go from store to store," he said. "So, it's not over. I think the substitutions we've made have been really helpful, but I'm still worried about families not finding what they need." 
Smith said some parents list an Amazon order of formula through Canada since the northern country isn't experiencing the same shortage. 
Locals have also hit the Bellingham subreddit to share information on where they're finding formula, and some even offered to donate samples they have lying around.  
Smith is trying relactation before potentially turning to milk donations. Caden's been on formula since he was about a week old.  
"I did not do well with breastfeeding or pumping, but now I wish I tried harder," she said. 
However, relactation isn't for everyone, said Erika Queen, a certified lactation educator in Skagit County. Queen, who also works as an Indigenous breastfeeding counselor and a student lactation consultant, said it's concerning that some health professionals are telling women a solution to the shortage is to relactate. 
"People quit [breastfeeding] because it's not working," Queen said. "Casually telling somebody ... 'Oh, you can relactate,' as a solution to their baby being hungry and they only have two scoops of formula left, is completely asinine." 
Throne said WIC has professionals trained to help women with relactation if needed. He also stressed that the White House's willingness to offer WIC waiver flexibility to bend some stringent rules allowed them to react quickly to the shortage. 
"When we did ask for [the waivers], they turned around their approval within a day which is absolutely unheard of. They usually take up to 60 days to approve anything," Throne said. "They have been incredibly helpful, but they don't make formula, they don't have a magic wand and they can't make formula appear on the shelves." 
Throne said he thinks the administration is looking to the future and trying to find ways to make the system "more resilient."  
As for Smith and her baby, Caden is on a formula he likes for now.  
"I have neighbors that have been looking for it when they go shopping, and my family members have been looking for it, and we just get it when we can," she said.