Visual Art
Art-focused pop-up comes to Bellingham's waterfront
Welcome to Container Village
May 14, 2022 at 5:00 a.m.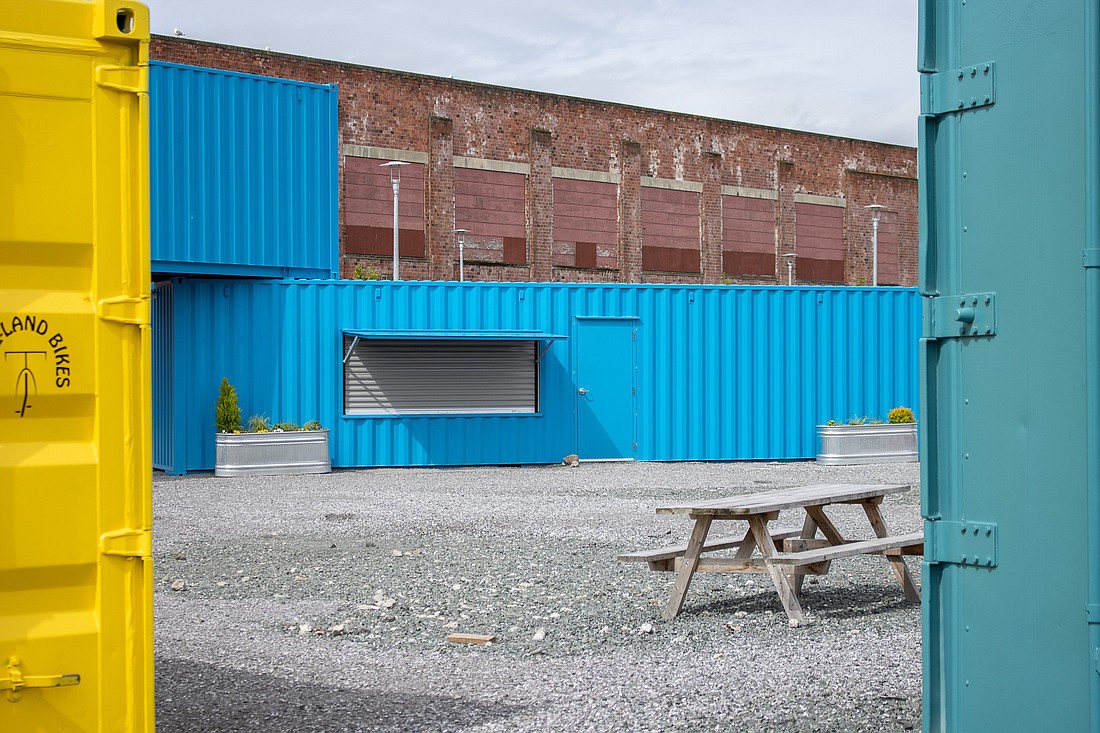 ---
---
For now, the robin's-egg-blue shipping container located at Waypoint Park on the Bellingham waterfront features a closed door and a large shuttered window with an adjacent awning. The only signs of life come from a large silver planter in front of the container filled with shrubs, grasses and a smattering of orange, white and yellow blooms.
But according to Stephanie Wiley, the community outreach supervisor for the Port of Bellingham, the Container Shop — a 20-foot container connected to a power source — will soon open up to provide temporary space for regional artists and makers to showcase and sell their work as part of the "Container Village."
In late April, the Port put out a call for short-term rentals for the space for $75 per week (with a maximum of two weeks). Rentals for the pop-up have already filled up, Wiley said, noting there is also a waitlist for those wanting to temporarily take up residence in the venue. Starting June 13, those visiting the village will be able to peruse and purchase locally made goods such as hats, stickers, pins, various genres of art, ginger beer, children's clothing and much more.
"The Port is very interested in offering retail sales in the Container Village and engaging with the local arts community," Powers said. "The development of short-term rental space in the Container Shop creates opportunities for multiple artists and vendors and adds interest for regular visitors with a variety of arts and crafts being sold in the Container Shop throughout the summer and early fall."
But that's not all, Wiley said. In the near future, there will also be a new container offering coffee and homestyle baked menu items from a partnership of the D.I.S.H. Foundation and Our Kitchen — a nonprofit with a mission to hire people with intellectual and developmental disabilities.
Additionally, there will be a new container opening from the owners of the Filling Station called the "Rain or Shine Riviera Club," featuring burgers, fried chicken sandwiches, fish and chips, craft cocktails and bar space. These new containers will join Kulshan Trackside Brewery and Beer Garden — which opened in April — the Selkie Scoop (handmade, organic ice cream and fresh rolled cones), the recently opened Sun-E-Land Bikes (pump track bike rentals and electric bike sales and rentals) and the Container Shop.
"The Port is also developing plans to expand the container village and public amenities on the downtown waterfront in the coming years," Wiley said.
Opportunities still remain for food trucks to reserve a pad for a single day or for the season (one day per week from May through October). Regularly scheduled food trucks already on the docket include Simmering Tava (Tuesdays and Sundays), Greektown Food Truck (Tuesdays and Saturdays), Hungry Street Food Truck (Wednesdays), OVN Wood Fired Pizza and New Public Food Truck (Thursdays), Cicchitti's Pizza and Where's the Food? Truck (Fridays), and Captain's Cod Company (every other Saturday). Lumpia Luv and Monolo Eats also have select dates they'll be on site.
Starting Wednesday, June 1, the waterfront will also gain other vendors in the form of the Bellingham Farmers Market's Wednesday Market at 300 W. Laurel St. From 4 p.m. to 7 p.m. every hump day through Sept.14, find fresh produce, hot sauce, arts and crafts, baked goods, tamales, shave ice and more. Not long after it opens for the season, the accordion-style window at the Container Shop will be rolled up, and you can finally find out what's inside.
To inquire about available space at the Container Shop or for various food truck dates, call 360-676-2500 or email events@portofbellingham.com.