Track & Field
Squalicum hurdler brings down state record
Junior Andre Korbmacher runs 110-meter hurdles in 13.68 to set new state mark
May 13, 2022 at 8:30 p.m.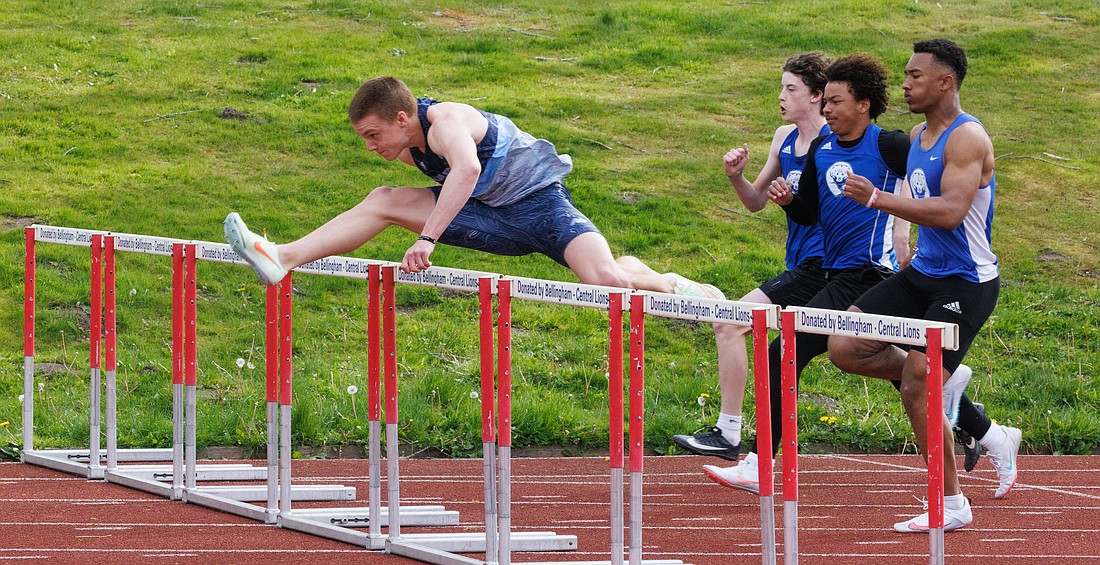 ---
---
It was only a matter of time.
After tying the state record in the boys 110-meter hurdles in early April, Squalicum junior Andre Korbmacher officially broke the record Friday at Civic Stadium during the District 1 2A North Sub-Districts Meet.
Korbmacher now stands alone at the top across all classifications with a time of 13.68 seconds, beating the previous time of 13.84 set by Daniel Zmuda of Steilacoom High School in 2013.
After the race Korbmacher said he felt good about his time and was expecting a new personal record. Given that his previous personal record was his tying time of 13.84, he knew his time had to have broken the state record.
"I'm really excited and I'm really proud of myself, but I'm going to go faster at state and improve on that time," he said.
Korbmacher made sure to give credit to his coaches for him being able to set the new time.
"They're awesome. They taught me how to do it and then I did do it," Korbmacher said.
The state 110-meter hurdles record is just one goal on Korbmacher's list. Beyond high school track, he'll be competing on the national stage this summer hoping to qualify for worlds.
He said he's also now looking to keep lowering his new time in the 110 hurdles before the end of the season. 
Korbmacher's next chance to improve on his new state record will be next week. The Squalicum track team will be at the 2A District 1 Meet Wednesday at Lakewood High School followed by the state championships the week after.
Korbmacher already knows what he's looking for in Tacoma in a couple of weeks.
"I want to run around a 13.5," he said.
The state championships will be held May 26-28 at Mount Tahoma High School in Tacoma.