Track & Field
Meridian runner resets school's 3,200-meter record
Kayla Aalpoel breaks own previous record by about 14 seconds
May 13, 2022 at 5:15 a.m.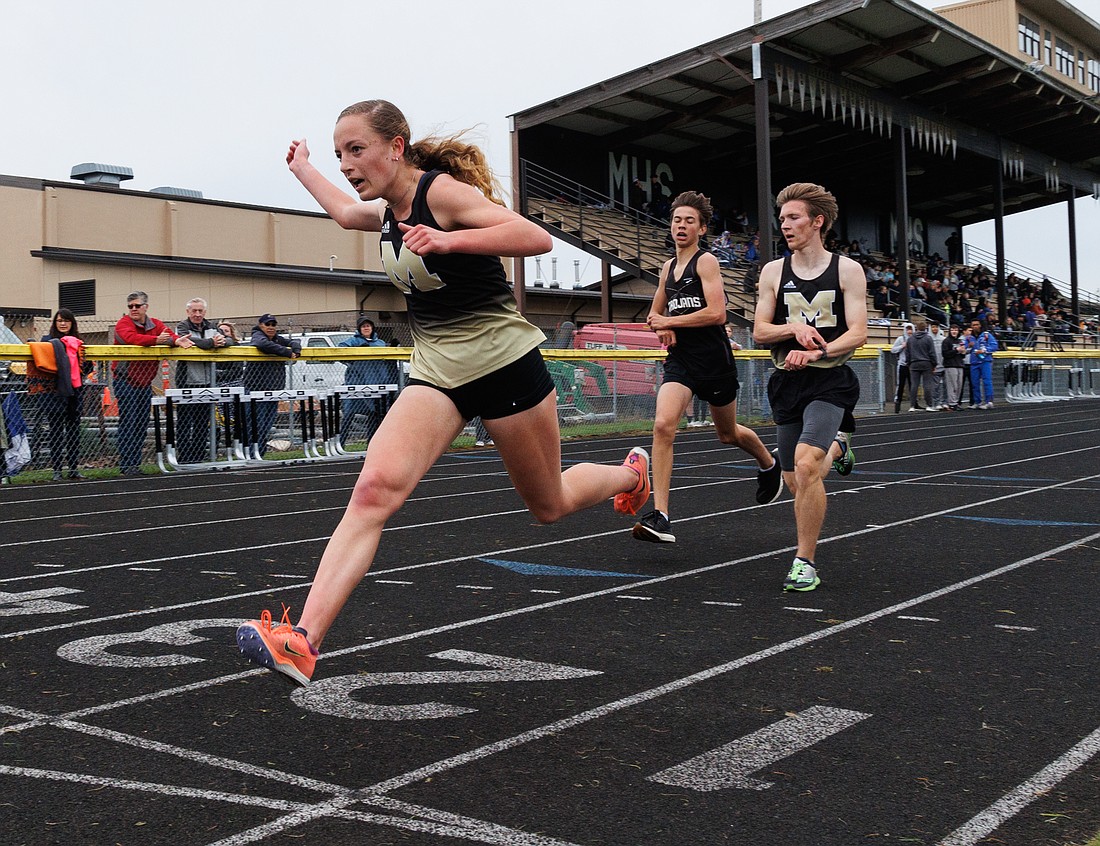 ---
---
It's time for Meridian High School to update its record book.
Senior Kayla Aalpoel broke her own record in the 3,200-meter run last week, shattering her previous time of 11:12.10 by about 14 seconds.
Aalpoel's previous record was set last season.
Not only did Aalpoel break her own record, she also broke the 11-minute threshold as the new record stands at 10:58.91.
Heading into Meridian's meet last week with Blaine, Nooksack Valley and Sedro-Woolley, Aalpoel said she had her eyes set on a new time.
"Me, my coach and all the guys on the team were talking and that was the meet to do it," Aalpoel said. "We're coming up to the end here and that was my last home meet I was ever going to have. We thought it would be really special to go after it on that night and we did."
She didn't plan too far ahead of when she wanted to break the record but said she knew it was going to be later in the season. The small meet last week provided the perfect opportunity because the 3,200-meter race was co-ed. This allowed the boys on Meridian to run with her and pace her across the eight laps around the track.
After the race, the rest of Aalpoel's teammates ran out on the track and told her she had done it.
"They were all cheering me on and so happy for me and it was also my senior night, so my immediate reaction was just excitement," Aalpoel said. "I was starting to go into a little bit of tears. It was just really exciting, and I didn't even really feel tired after because I was just too excited."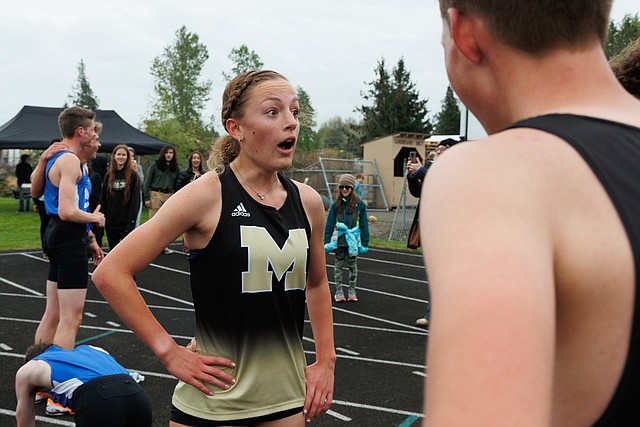 She said breaking the record by as much as she did was rewarding. Much of the beginning of the season for Aalpoel is used for training and preparing to get better for the late part of the season.
"All of my hard work that I've put into track and cross country this year has been paying off," Aalpoel said. "To come in, feeling a little bit of pressure, and running a little bit less this week, I think that really helped me to run really fast. It just kind of showed me I'm in the shape I want to be in."
Resetting her own school record is just one example of the success Aalpoel has had on the track this season. 
Arguably the best long-distance runner in girls track in the county, she has dominated the competition in distance runs this spring as she did last year during the abbreviated season.
Aalpoel has consistently finished under the 12-minute mark in the 3,200-meter this season, finishing first each time she's raced. She's also placed first each time she's run the 1,600-meter this year.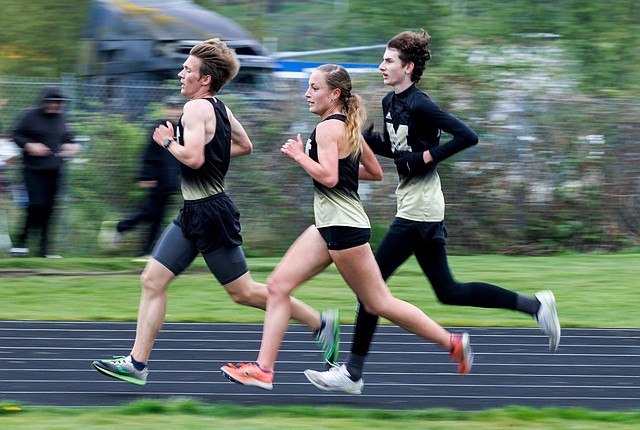 Performing at that high of a level requires an intense training routine that Aalpoel follows throughout the season.
Aalpoel typically runs 60 miles a week. She spreads that out with medium-length runs, long runs and two harder workout days. She considers her long run days to be 14 miles.
"It's a lot of high-mileage weeks, a lot of hard training and a lot of hard work," she said. "It's a lot of time and dedication, for sure."
That dedication to her training has led to not only her obvious success competing, but the opportunity to keep pounding the track after high school.
Aalpoel recently committed to run on the cross country and track teams at George Fox University in Newberg, Oregon.
After visiting campus for the first time, she said she knew right away it was where she wanted to continue her athletic and academic career.
"I spent a long time looking and toured a lot of colleges," Aalpoel said. "When I stepped on the George Fox campus it felt like home, and I knew I wanted to be there. The coach is amazing and he had put a lot of time and energy into me and trying to get me there."
Aalpoel had the chance to run with the college's team on a visit and said she's excited to be part of such an amazing program.
But before Aalpoel joins her new team down in Oregon, she'll be competing in the postseason for track, hoping to run well enough to qualify for the state tournament.
Injured in 2019, it would be the first time Aalpoel has ever been to state.
"I'm really looking forward to the high level of competition that goes into this after districts," Aalpoel said. "My goal is to qualify for state. I'm looking forward to racing a couple of girls there and placing at state and trying to run my best time. I haven't gotten to go yet, so I'm very excited."
Aalpoel's postseason run starts this week. The 1A District 1 meet is scheduled for 4 p.m. Wednesday and Friday at Lynden Christian High School.