Parks & Rec
New Galbraith parking lot opens soon
Whatcom Mountain Bike Coalition completing construction, hands it over to city this month
May 7, 2022 at 5:30 a.m.
|
Updated May 7, 2022 at 12:34 p.m.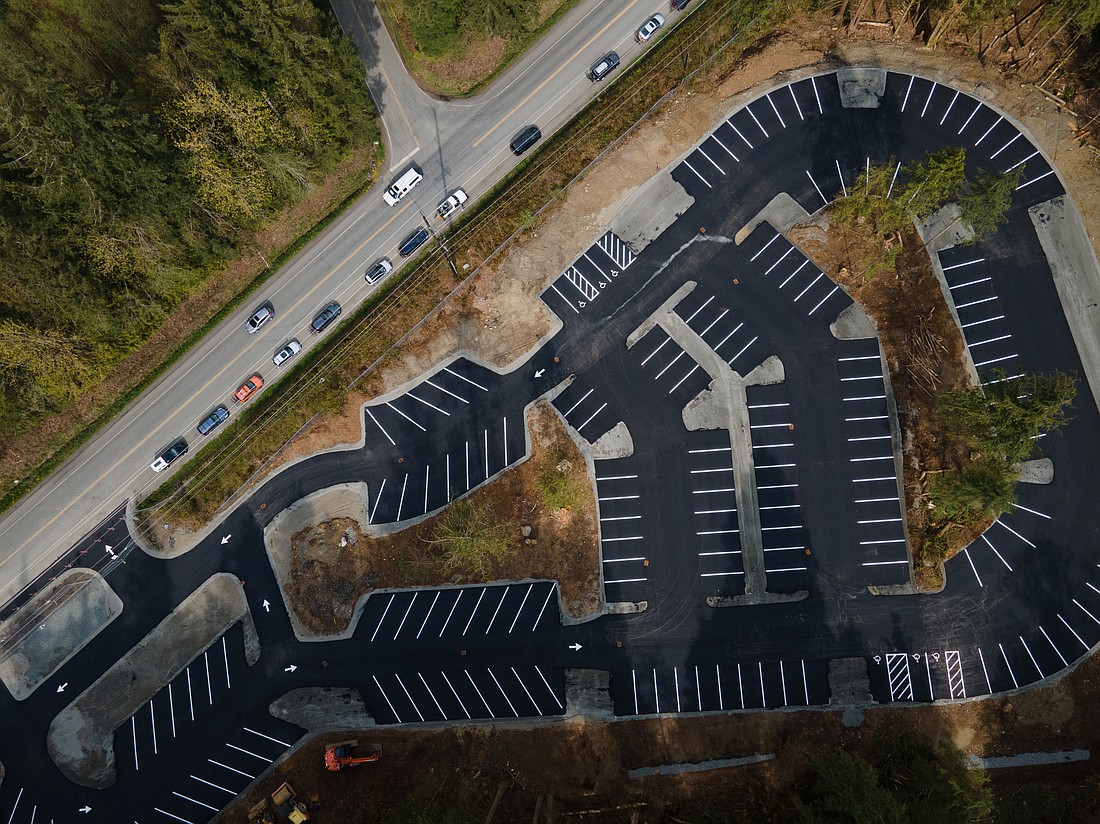 ---
---
The new Galbraith Mountain South Side Parking Lot has a few small hurdles to jump before it's slated to open next week. The lot still needs approval from the City of Bellingham.  
The parking lot is right off Samish Way across from Galbraith Lane. Galbraith is a popular mountain bike recreation area that is only getting more attention as time goes on, and traffic congestion is commonplace on the roads and neighborhoods that surround the mountain.  
Samish Way, a common place for Galbraith Mountain visitors to park, is a busy road with little to no shoulders, making visibility difficult both for oncoming cars and pedestrians.
The Whatcom Mountain Bike Coalition (WMBC) — a nonprofit organization that promotes access for mountain biking and cycling — coordinated years of fundraising, donations and volunteer work to raise $606,000 to construct the new parking lot.  
Once the parking lot is approved following a walkthrough inspection, the city will take ownership of the parking lot. WMBC has a deal with the city that allows the lot to be used as an area for mountain bike events at Galbraith. The Whatcom County Public Works Department is working on a crosswalk project spanning Samish Way but did not provide a timeline for the project. 
The parking lot is paved and has 184 large parking stalls that accommodate longer vehicles as well as vehicles with bike racks. Gravel parking for horse trailers and porta-potties is also available. WMBC plans to have picnic tables, a kiosk and sculptures created from removed tree stumps installed around the parking area. 
"It was a huge safety thing, honestly," Eric Brown, executive director of WMBC, said. "Our community has come through in a big way because the people who donated know that it's necessary."  
Brown said the idea for the parking lot came up roughly five years ago when discussing how dangerous it is for mountain bike riders, especially the youth mountain bike programs, to cross Samish Way from the old, cramped parking lot on the other side.  
The WMBC planned to support the Whatcom Land Trust by matching their $250,000 donation toward the Galbraith Mountain easements. However, after the easements concluded with Galbraith Tree Farm to secure recreational and conservation easements on Galbraith, those funds were not needed and instead were used to kickstart the parking lot project and the WMBC began fundraising.
"It's a big accomplishment for our organization. We never thought we were going to be in the parking lot business, but this is about access," Brown said. "If you have a safe place to access, especially if you're with families who are trying to come to the trails, whether it's here in Padden or it's over there on Galbraith, I mean, it's significantly easier." 
Brown hopes the parking lot will help ease congestion in the neighborhoods on the north side of the mountain and make the area a safer place for people to ride their bikes.  
To learn more about WMBC and their partners in the parking lot construction project, visit wmbcmtb.org/galbraithparking.  
A previous version of this story incorrectly stated the Whatcom Land Trust pledged $250,000 toward the parking lot, however, that money was pledged toward the easements around Galbraith Mountain. The story was updated to reflect this change on May 7, 2022 at 12:34 p.m. The Cascadia Daily News regrets the error.