Visual Art
Review: 'Super Natural' at MoNA
A transcendental legacy
May 6, 2022 at 5:00 a.m.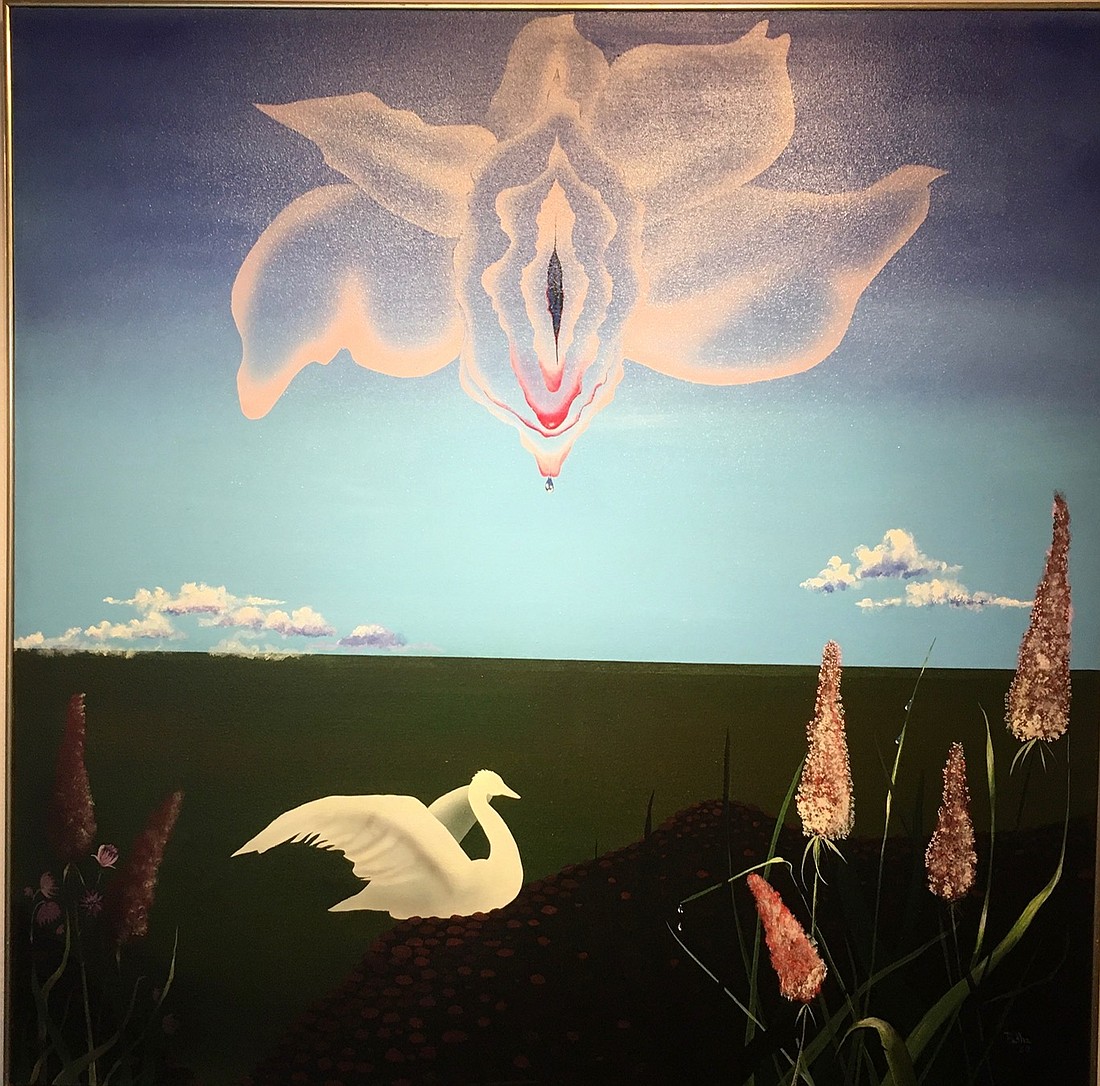 ---
---
The Museum of Northwest Art's new executive director, Stefano Catalani, took one look at the second floor where conservators were working and said, "The museum must be open to public viewing!" He delved into the vast holdings of the La Conner-based museum to assemble an exhibit of rarely seen, but important works by Northwest masters. The result is "Super Natural: A Northwest Tradition."
What he achieved is magical — elements in one painting are echoed in works of others. Many are based on the circle: It's a central element in works by Morris Graves, Richard Gilkey, Leo Kenney, Guy Anderson, Kai Rhoads and George Tsutakawa.
Graves was one of the key members of the movement called Northwest "Mysticism," which owed much to the influence of East Asian art. His contemporary, longtime University of Washington faculty member George Tsutakawa, reveals this influence, not only in his design of statuary fountains but also in two-dimensional works like "Yellow Sun," (Sumi ink on mulberry paper) in which the "radiant orb" emits "a light of transcendental quality."
Leo Kenney's "Magic Circle" (pastel on paper, 1963) expresses his fascination with the mandala. He dropped out of high school at age 18 to devote himself to painting and sold a work to the Seattle Art Museum two years later. It's been said "he never saw the world as others see it."
Opposite is the large, commanding oil on linen "Passage" (1991) by Richard Gilkey, a Skagit Valley native. This work was completed in the last decade of his life, when he focused more on abstraction. It mesmerizes the viewer with its multitude of waves, like leaves of grass, behind which we see the sun or moon. It may be the perfect synthesis of the influence of his two mentors, Mark Tobey and Graves.
Curator Catalani points out that in Gilkey's "Lunation" (oil on linen, 1976), the moon "becomes the eye of the salmon" — which rises to frightening dimensions.
It's no surprise that another circle is by Guy Anderson. His "Untitled" (oil on roofing paper, mounted on masonite, 1978) gives us an enormous dinner plate, over which dives a nude male figure, together with symbols from Vedic mysticism.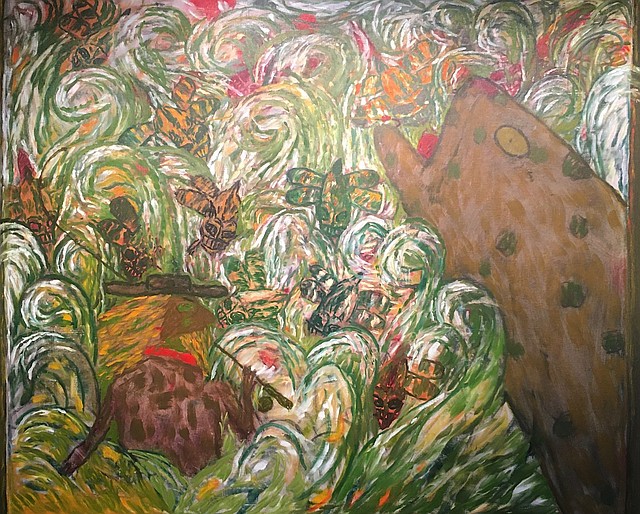 Also round is "Boulder" (oil on canvas, 1992) by Paul Havas. A mesmerizing piece — to me, the rock appears to be becoming animate — looming over a faintly surreal landscape including a road and a "yield" sign.
Galen Hansen provides a welcome bit of humor in his "Fisherman, Fish and Bees" (oil on canvas, 1986). Here, in a fantastical landscape, a monstrous trout leaps to catch some "rather ominous-looking bees" as the artist himself — "the Kernal" — smokes his pipe.
Included in the exhibit is the rediscovered 1941 WPA mural by William Cumming which has been painstakingly restored and is now in the permanent collection of MoNA. It occupies the entire west wall on the second floor and is a perfect accompaniment to executive director Catalani's selections.
Sharing space on the second floor is the exhibit "Migrant Youth/Chicana Perspectives: Living in Multiple Spaces." The alcove on the northeast of the gallery is home to the Outside In Gallery, which is dedicated to the inclusion of those outside of the museum. The photographs and texts of the Underground Writing Project, led by writing instructor Matt Malyon and photographer Marilyn Montufar, focused on mentoring and photographing female migrant youth with heritage in Mexico.
The resulting images capture the severe beauty of the Mexican desert. One documents the burning of an altarpiece erected in the desert of Chihuahua to memorialize Native women who have disappeared without a trace. A poem, "Ending the Isolation" by Anaelsin, records the feelings of a young girl who has lost the only bilingual friend who could help her bridge the language gap in a North American elementary school.
See "Super Natural" and "Migrant Youth/Chicana Perspectives: Living in Multiple Spaces" from 10 a.m. to 5 p.m. daily through May 15 at the Museum of Northwest Art, 121 S. First St., La Conner. Info: monamuseum.org.