Business
Hundreds march in support of farmworkers in Skagit County
Farmworker union, immigrant rights group celebrate recent victories
May 1, 2022 at 10:59 p.m.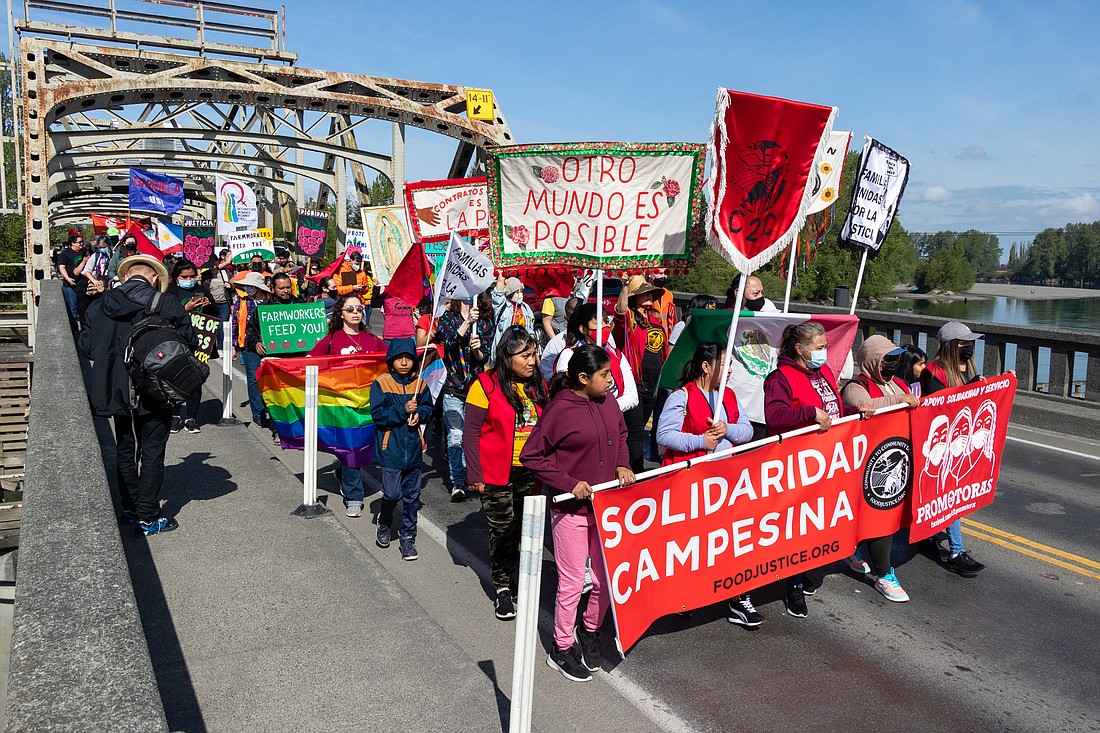 ---
---
Hundreds of farmworkers, their families and supporters took to the streets of Skagit County in a 4-mile march Sunday from Edgewater Park in Mount Vernon to the Dike District Field in Burlington. 
Community to Community, a women-led food sovereignty and immigrant rights group, along with Familias Unidas por la Justicia, an independent farmworker-led labor union, organized Marcha Campesina. The event honored the struggles of farmworkers and advocated for improved working conditions in Whatcom and Skagit counties.  
Demonstrators also celebrated the recent unionizing efforts and negotiations of Skagit County tulip workers after they walked off the job and began a strike in March.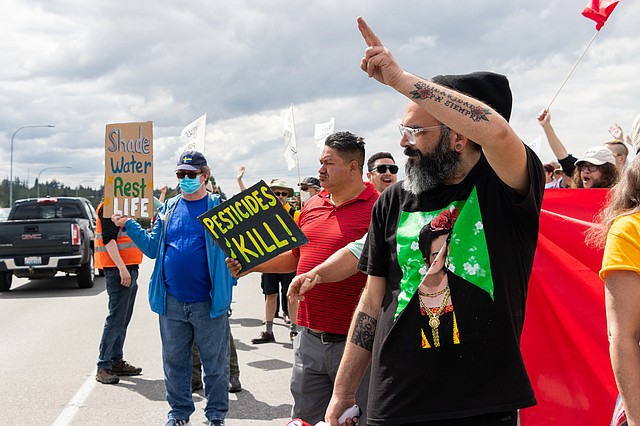 "It's International Workers Day, so we want to be in solidarity with all the people that are doing actions and taking part in their communities on this important day," said Edgar Franks, political director for Familias Unidas por la Justicia. "I think it's important for us as a farmworker union to be out, and showing that solidarity right now is a historic moment." 
Marcha Campesina was aptly timed, following the tulip workers' strike and unionization efforts, but it isn't the first year hundreds have gathered in support of farmworkers. In the 1980s and '90s, similar marches were held annually, Franks said. 
"This is a restarting of a march and a tradition here in Skagit County," Franks said. "... We have a lot of farmworkers — young farmworkers — taking leadership. So we want to make sure that this becomes an institution here in the Skagit community where every year we can get together and march in solidarity, but also continue working."
Demonstrators waved flags, signs and banners supporting unions, farmworkers and laborers. Some signs included phrases like, "farmworkers feed you," "Justicia" and "migrants and workers of the world unite." 
Several unions and organizations like the International Women's Alliance, Industrial Workers of the World, Jobs With Justice and Jewish Coalition for Immigrant Justice Northwest came out to support the march.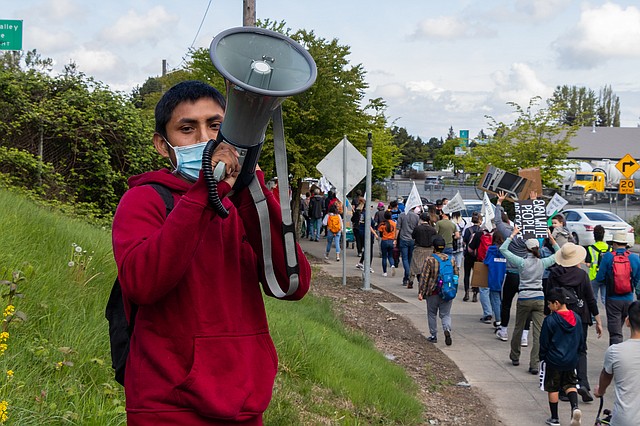 "Farmworkers have been one of the most essential workers as declared by the government, but at the same time, continue to be some of the most marginalized folks, whether it be bad wages or bad working conditions, or putting up with environmental hazards," Franks said. "I think this is important for farmworkers to be here in Skagit County showing that we're still a force." 
Australia Tobon, promotora at Community to Community for Whatcom County, said she hopes the march will help workers in the county realize they have support. 
"We just see a lot of workers afraid and also not aware of their rights to organize in the workplace," Tobon said. 
Marcha Campesina volunteers made sure demonstrators were safe, healthy and informed. There were several rest stops along the route for demonstrators to receive food and water. Bellingham-based drum group Batucada NW played enticing rhythms, which some demonstrators couldn't resist dancing to during the march.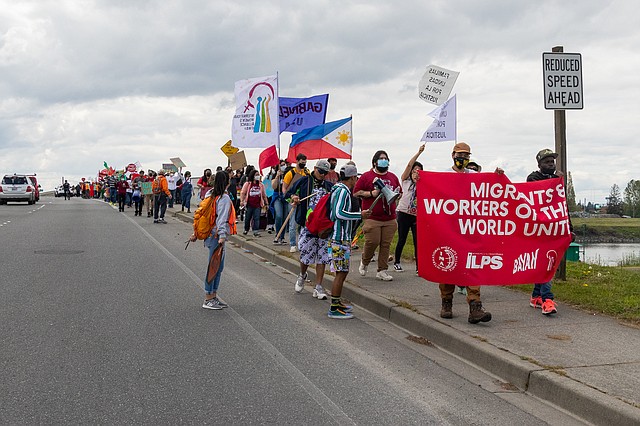 Demonstrators navigated the sidewalks of streets busy with weekend traffic. Many in passing cars honked and cheered on the marchers. Burlington and Mount Vernon police helped ensure safety for the protestors by coordinating traffic through intersections and closing lanes on roads with narrow sidewalks to give demonstrators ample room to pass.  
"We just want to make sure everybody's able to come out and share their piece peacefully and protect their rights to free speech," Burlington Police Sergeant Michael Lumpkin said.  
The march ended at Dike District Field in Burlington where organizers prepared a huge feast, made speeches and shuttled demonstrators back to their cars in Mount Vernon.