Local
Bellingham man will embark on 1,700-mile fundraising journey driving John Deere
Cross-country tractor trip will benefit Parkinson's association
May 1, 2022 at 5:00 a.m.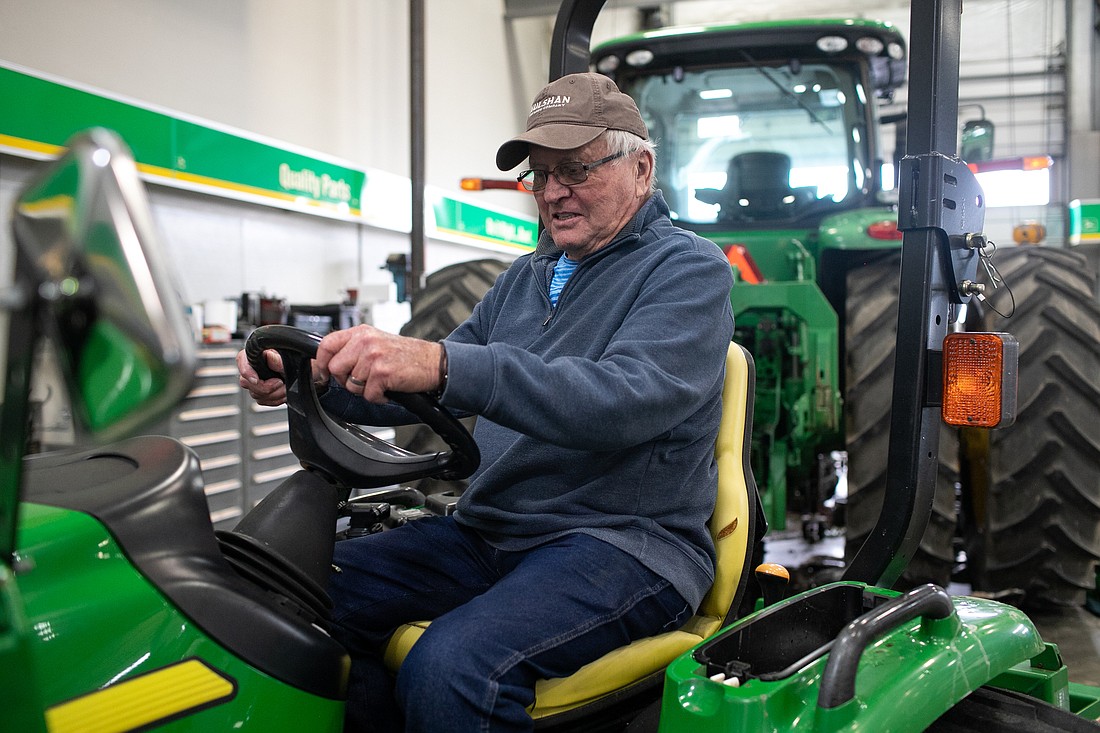 ---
---
Under spacious skies, through amber waves of grain, below purple mountain majesties, Bellingham resident Mike Adkinson will be puttering 1,700 miles across the country in his 2008 John Deere tractor.
Average speed: 12 mph. 
The green farm vehicle will be hard to miss, juxtaposed by the cars, trucks and semis flinging past it. Mike's journey will take him along Highway 20, U.S. 2 and Minnesota State Highway 1. 
The 76-year-old retiree will embark from Kulshan Brewery Sunday morning, May 15. He will be exposed to the elements, with no cab to protect him against rain, wind, insects or the blistering mid-May sun. 
Hooked up to the back of the tractor will be a 6-foot by 4-foot trailer, donated by supporters of Mike's journey. When he "starts to stink," Mike may treat himself to a motel room, but the trailer will serve as his primary sleeping quarters for the month-long endeavor. Fat red letters on the side of the trailer read "Tractor Trip For Parkinson's."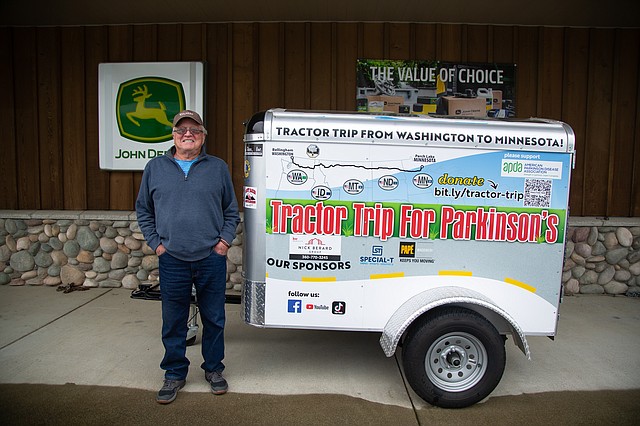 Mike's brother-in-law took a liking to the John Deere tractor several years ago. Mike thought — with some semblance of sincerity — that one day he'd drive it all the way to Perch Lake, Minnesota, and sell it to his brother-in-law. 
"Being retired, I thought, I kind of need a challenge, maybe I'll just do that," Mike said. "Then I got serious about it."
Around that time, Mike's older brother, Dan Adkinson, was diagnosed with Parkinson's Disease, a neurodegenerative disorder. Dan, 80, is one of nearly a million Americans who are living with the disease, according to the Parkinson's Foundation. 
"He was really active before he got this," Mike said of his brother. "A couple years ago, he was walking 3, 4 miles a day. Now he has trouble standing."
The trip, Mike decided, is one long, bumpy fundraiser to benefit the American Parkinson Disease Association Northwest Chapter and support his brother. The bright yellow seat will be his soapbox, and the people he meets along the way will be new friends and listening ears as he raises awareness for the terminal disease. 
"It's such a helpless feeling because you can't do anything," Mike said. Watching his older brother deteriorate, he tries to help in any way he can. "I go visit him, and bring him pastries, and try to keep his weight up."
Mike's "hidden agenda" is to talk openly about the disease, which has no cure and is the 14th leading cause of death in the United States. With the number of diagnoses expected to rise to 1.2 million by 2030, nearly everyone knows someone.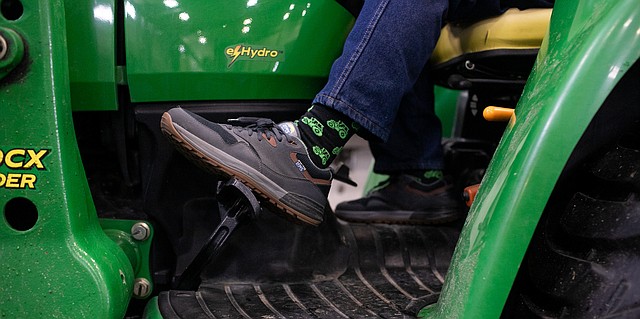 Mike's wife, Phyllis, is nervous about her husband's trip, but it's entirely in character. 
"My friends describe Mike as 'able to collect friends,'" Phyllis said. "Mike will go out and have a beer now and then, and it's amazing because recently, it's like he's sending out this aura. He sits down and talks to people and they're saying things like 'My husband just passed away. He had Parkinson's.' 'My wife's had Parkinson's for 45 years.'"
Mike will document the trip through a GoPro on his tractor, posting videos to Facebook, Youtube, Instagram and TikTok. The names of sponsors are on display on the trailer, and a QR code leads to a donation link for the American Parkinson Disease Association Northwest Chapter. As of April 25, Mike had raised $6,500. He hopes to collect $50,000.
Mike's nephew, a former state patrolman, called Washington, Idaho, Montana, North Dakota and Minnesota law enforcement agencies to determine the limitations of driving a farm vehicle along state highways. 
Mike won't be allowed to navigate any interstates, but U.S. 2 will parallel Interstate 94 for the majority of his journey. 
He's made a list of small towns he plans to stop in. There are hundreds. Whether it's on the side of the road or in a local diner, Mike wants to "deal with people." 
"If I break down, then I gotta deal with someone coming by in a car, and I'll say, 'Hey, I need some help here, and I got a lot of beer in the back,'" Mike laughed. 
Mike's second "hidden agenda" for the trip is to prove there are more decent and kind people in the world than not. 
"He chooses to believe the positive, that people are going to be helpful, that everything's going to be fine, so I'm on that boat with him," Phyllis said.