Business
Tulip workers' union enters negotiations with Skagit farm
Washington Bulb employees walked off job 1 week before Tulip Festival
March 30, 2022 at 4:30 a.m.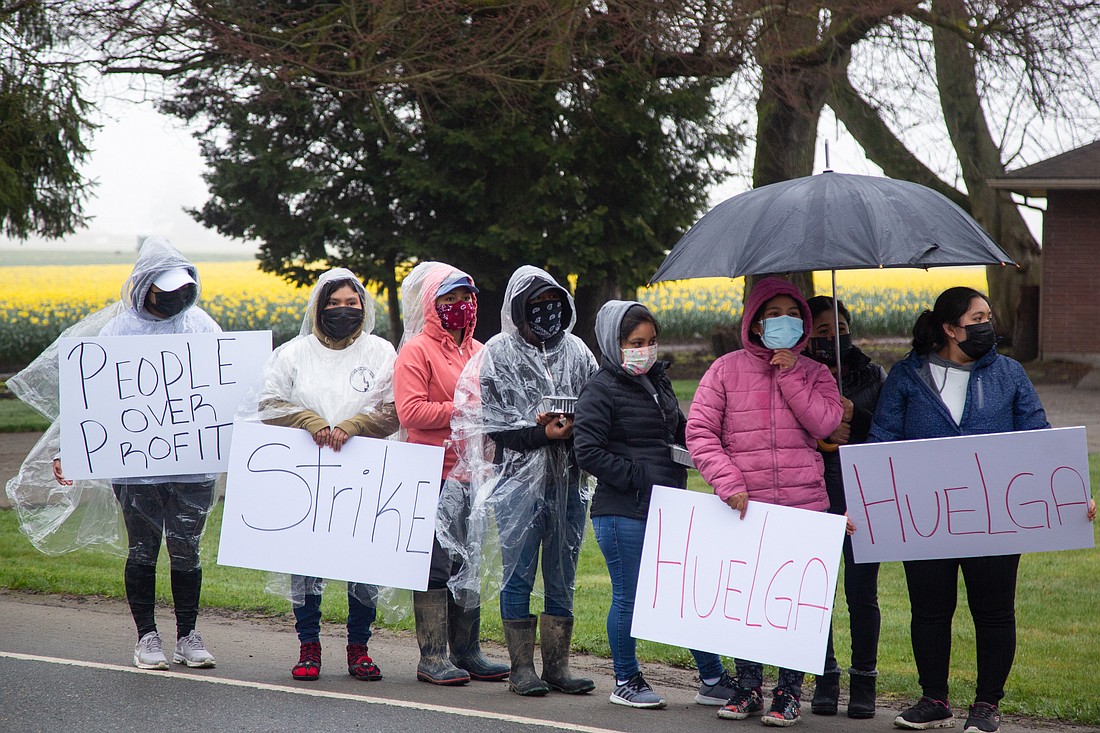 ---
---
MOUNT VERNON — Workers demanding better conditions and pay at a Skagit County tulip farm returned to work last week after a three-day strike, as management at Washington Bulb Company agreed to meet with a newly formed workers' union.
The strike halted fieldwork one week before the start of the Skagit Valley Tulip Festival, attended every year by visitors from around the world. During their strike, Washington Bulb employees composed a two-page list of demands under the guidance of Familias Unidas por la Justicia, an independent union of Indigenous Mexican farmworkers. 
Union representatives presented the demands to management on March 24, then employees met at the United Steelworkers union hall in Mount Vernon and voted to unionize. A video of the vote count, broadcast on Facebook Live, showed 93 workers in favor of forming a union — "an overwhelming majority" of Washington Bulb employees, according to a Familias Unidas press release.
Workers agreed to end the strike as a good-faith gesture while union representatives negotiated with management over workers' demands. 
Washington Bulb employees seek a guarantee of eight hours minimum of work per day, sick leave, raises on performance bonuses and training for supervisors "to treat workers with respect."
The union is also asking management to eliminate workers' exposure to harmful chemicals during pesticide applications and to provide waterproof clothing, gloves and boots.
Workers have been expected to provide their own gloves, said Edgar Franks, Familias Unidas political director. Some employees have developed lesions on their hands and face from the nectar the flowers secrete, Franks said.
Washington Bulb management reacted harshly to the strike, yelling at news media to leave company property on March 23 and ordering some workers back to the fields. The next day, management told strikers to leave a field or they would call the sheriff, one of the picketers said in a Facebook Live video. 
Negotiations started on March 25 and continued into Tuesday, when union officials were waiting for a "final document" from management responding to worker demands, Franks said.
Franks said he had the impression Washington Bulb was taking workers' concerns seriously. The union had been in discussions with Leo Roozen, a member of the family that owns Washington Bulb and RoozenGaarde, the retail side of the family business. 
Franks said Roozen told the union, "We want to improve as a company and hopefully still be communicating, not just for this season but for a long time." Washington Bulb did not respond to a request for comment.
On March 23, Brent Roozen emailed Cascadia Daily News a statement responding to the strike, saying Washington Bulb believed "only a small number of employees are actively involved in protesting."
"A number of our farm employees joined with labor activists in protesting against our farm," the statement said. "Washington Bulb Company has a long history of positive working relationships with our valued employees, and this action is upsetting to both our company and employees."
The Tulip Festival opens with a gala kickoff event March 31. The monthlong celebration involves three gardens: Tulip Town, Garden Rosalyn and RoozenGaarde.