Basketball
Dramatic late run leaves WWU women one step from top
Ups, downs and everything in between en route to the national championship
March 30, 2022 at 4:45 a.m.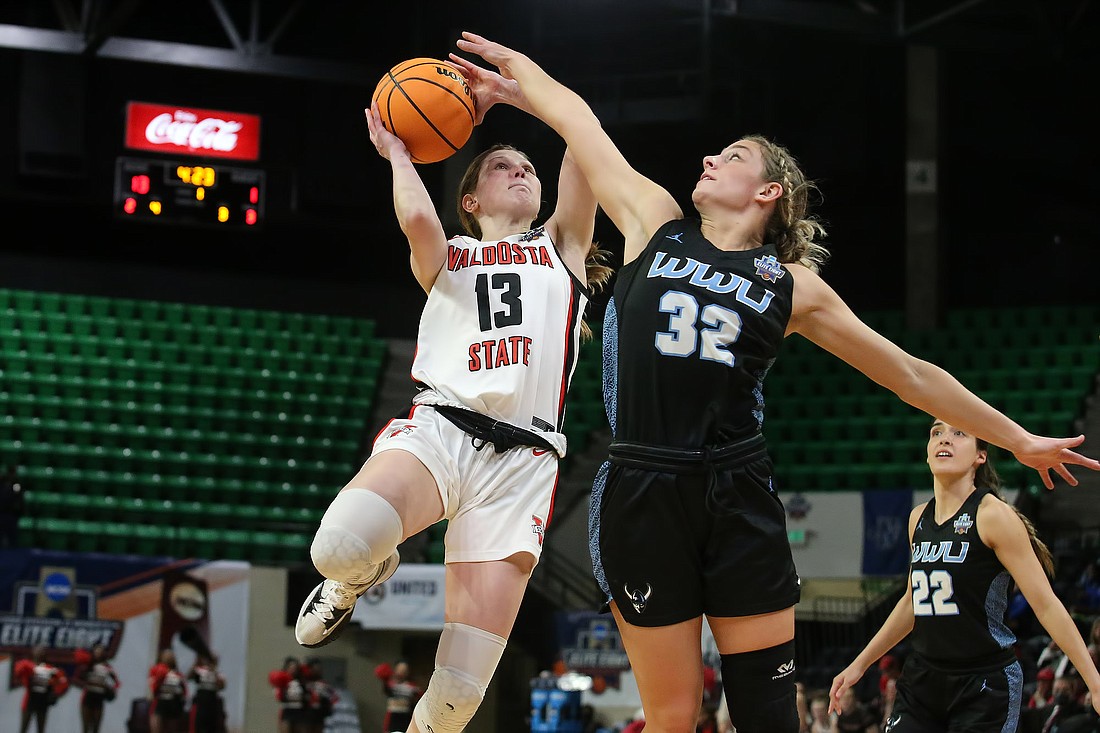 ---
---
Nobody saw the Western Washington University women's basketball team going as far as it did this season.
Having only played six games last year in an abbreviated season, it was hard to put a gauge on where any team was heading into the NCAA Division II 2021-22 campaign.
Head coach Carmen Dolfo, who would become the Great Northwest Athletic Conference coach of the year, said she knew the team had the potential to be good after winning all six games, but the first goal was to win the GNAC.
"Our team does really well focusing on one game at a time and that's one thing we really learned about ourselves," Dolfo said. "We didn't really want to jump too far ahead. We wanted to stay in the moment and focus on that game and when that was done move to the next one."
A core of youth and experience 
Western was led by senior guard Emma Duff, who averaged 15.6 points and 7.1 rebounds per game. She ended her career at Western 10th all-time in points scored with 1,346 and was named to the GNAC first-team.
Junior guard Avery Dykstra of Everson was named GNAC defensive player of the year and her younger sister, Riley, was given freshman of the year honors and made her way into the starting lineup about halfway through the season. Junior guard Mollie Olson and sophomore forward Brooke Walling were named GNAC honorable mentions.
The Vikings got off to a fast start, winning their first nine games before suffering their first loss to conference and in-state rival Central Washington University in January.
The biggest loss for Western against Central wasn't just the game. Senior guard Dani Iwami suffered a season-ending knee injury and the Vikings weren't just losing one of their top scorers, but a leader on the court.
Dolfo called losing Iwami the lowest point of the season.
"She was such a key to us and so huge, but they rallied and Dani rallied for us," Dolfo said.
The team rallies
Rallying was a theme for the team all season. 
With the pandemic still looming, there was constant COVID-19 testing, games were postponed or canceled, fans weren't allowed at some games, but the team never complained.
"There have just been so many things we overcame," Dolfo said. "I remember so many times I would call the girls together in the team room and they'd come in kind of freaked out like, 'What's next?' It got to a point where they were kind of numb to it."
Beyond the once-in-a-lifetime hurdles the Vikings had to overcome this season, there were also the regular basketball ones.
The team hit a mini cold stretch in late February, losing two games in a three-game stretch leading up to the GNAC postseason tournament.
Central had Western's number again in the championship game, giving the Wildcats the GNAC tournament title and an automatic bid to the NCAA tournament. Western, meanwhile, earned an at-large bid.
"We did not play well in the GNAC tournament," Dolfo said. "We came back and refocused then. They just beared down and made the changes we needed to. We got our good energy back and things started rolling at regionals."
A postseason run 
Western's run at regionals included wins over the University of Alaska Anchorage and Central before beating Cal State East Bay in the championship game to advance to the Elite Eight in Birmingham, Alabama.
The Vikings entered the final week of the season as the No. 5 seed, upsetting No. 4 Valdosta State to advance to the Final Four. Another win as the underdog against No. 1 North Georgia put Western in the national championship game against No. 3 Glenville State for the first time in program history.
The high-powered offense and intense defensive pressure of Glenville State ended the Vikings' incredible postseason run in an 85-72 loss in the title game.
It's still fresh, but looking back early on, Dolfo said she couldn't be more proud of her team for not only making it all the way to the last possible game of the season, but for how they dealt with everything along the way. 
"They were focused on what they needed to do. They worked so hard and didn't complain," Dolfo said. "They saw the good in everything we were doing and each other. I wish we could have gotten that final step, but to get where we were at for all the things we've gone through, it was great."
Western will lose three seniors in Duff, Iwami and Gracie Castaneda, but will retain key starters in both Dykstras and Walling.
The Vikings also have a plethora of young talent that came off the bench this season coming back that will look to help build off this year's success.