Environment
WA kicks gas-powered cars to the curb
'Move Ahead WA' will end gas car sales by 2030
March 28, 2022 at 3:31 p.m.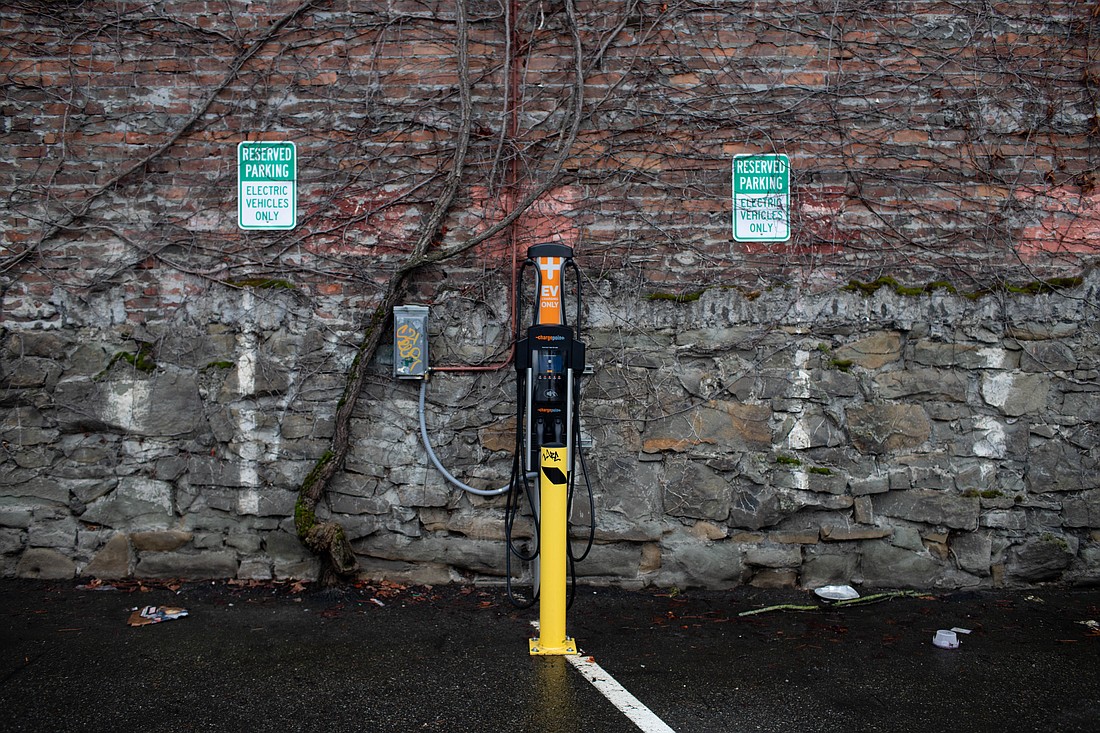 ---
---
Washington plans to halt the sale of gas-powered cars by 2030 in an effort to curb carbon emissions.
"A target is established for the state that all publicly owned and privately owned passenger and light-duty vehicles of model year 2030 or later that are sold, purchased, or registered in Washington state be electric vehicles," according to section 415 of Senate Bill 5974, which passed the legislature earlier this month. 
The initiative is part of the "Move Ahead Washington" package, consisting of several bills passed by the state legislature earlier this month and signed into law by Gov. Jay Inslee on Friday, March 25. 
The package is designed to create more access to greener technology for Washingtonians by developing clean and sustainable transportation policies, investing in hybrid-electric ferries and building thousands of electric vehicle charging stations and maintenance backlogs on highways and bridges, all to the tune of $16.9 billion over 16 years. 
"Transportation is our state's largest source of greenhouse gas emissions," Inslee said during the signing event Friday. "There is no way to talk about climate change without talking about transportation. This package will move us away from the transportation system our grandparents imagined and towards the transportation system our grandchildren dream of."
Inslee vetoed a similar measure last year after it was tied to a "road user fee," according to the Seattle Times, though he continued to support the 2030 deadline. 
"Setting and achieving a goal of 100 percent electric vehicles is too important to tie to the implementation of a separate policy like a road usage charge," Inslee wrote in a statement last year.
The package comes on the heels of the 2021 Climate Commitment Act, committing the state to a significant reduction in greenhouse gas emissions. 
"We passed a law that Washington state is actually required to reduce greenhouse gas emissions by 50 percent by 2030, and then get to net-zero [emissions] by 2050," Inslee's senior policy advisor on energy, Anna Lising, told Cascadia Daily News in December. "We realistically can't do that without decarbonizing our transportation sector."
The state is not currently on track to reach its 2030 goal, with current estimates forecasting a 25% decline in emissions, according to the state Department of Ecology. Currently, the transportation sector represents almost half of the state's greenhouse gas emissions. 
The state already has incentives in place to encourage buyers to switch to electric vehicles as gas prices skyrocket across the country.
Though Inslee proposed additional incentives in his 2022 budget, like an annual $100 million for customer rebates to reduce the upfront costs of electric vehicles, they did not pass the 2022 legislature. 
The proposed rebates, $7,500 for new and $5,000 for used battery electric vehicles and fuel cell electric vehicles, were designed to help offset the higher costs of EVs, which can cost anywhere from 10% to 40% more upfront than a gas-powered vehicle, according to a cost analysis study from Consumer Reports.