Film
Review: 'Cyrano'
The pen is mightier than the sword in this romantic musical
March 24, 2022 at 5:00 a.m.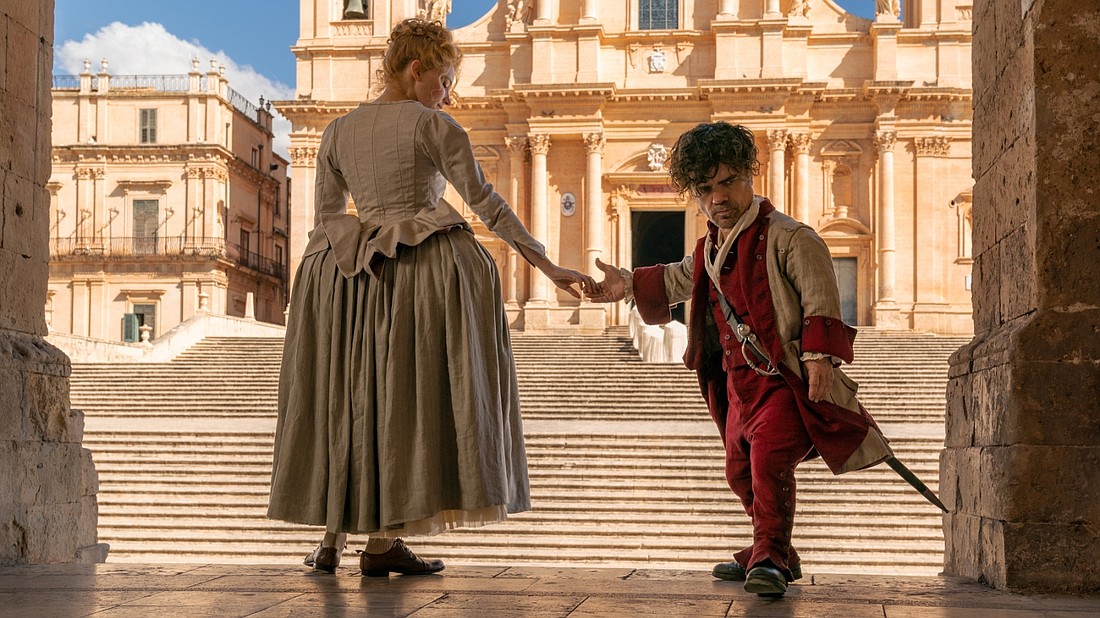 ---
---
"Have you ever loved someone madly?"
Like the intricate lace stitching of a wedding gown, this question is delicately draped throughout the romantic musical  "Cyrano" — the latest film adaptation of the classic five-act play set in 1640 Paris.
The story depicts the troublesome love triangle of Cyrano de Bergerac, Roxanne and Christian.
The skillful army cadet Cyrano de Bergerac, played by Peter Dinklage, is as quick with his wit as he is with his blade. An expert wordsmith and swordsman, Cyrano is everything a woman of his era could want — if only he were a couple of feet taller. 
This revamping of "Cyrano" is based on Erica Schmidt's 2019 stage musical that also starred Dinklage, which is inspired by the original 1897 play, "Cyrano de Bergerac" by Edmond Rostand. In most adaptations, Cyrano has an abnormally large nose, the source of his shame.
In this retelling, Dinklage sets the hero just under 4-and-a-half feet tall. In Cyrano's mind, his diminutive stature drives a wedge between him and Roxanne (played by Haley Bennett), the beautiful but poor orphan whom he loves.
Dinklage delivers an outstanding performance that would soften even the coldest heart. When he gazes at Roxanne with adoration, it is as if Cyrano is seeing an angel descend from the heavens. How disappointing it is when Roxanne confesses her love for another man — a beautiful stranger she locks eyes with at the theater, Christian de Neuvillette (played by Kelvin Harrison Jr.).
Time stops the moment they set eyes on one another. Overcome with blissful desire, Roxanne feels as if she has always known this handsome stranger and they must be together.
Christian is brought to Paris to join the Cadets of Gascoyne, Cyrano's company of guards from Southern France. Knowing this, Roxanne confesses her love for Christian, begging Cyrano to pursue his rival to write her letters.
The look on Dinklage's face when Roxanne says she is in love with Christian is excruciating. You can almost see his heart shattering.
Not wanting to disappoint Roxanne, Cyrano agrees to befriend Christian and encourage him to pursue Roxanne. Upon meeting Christian it is apparent that he has the mind of a rabbit (Cyrano's words, not mine). Although he is incredibly handsome, Christian is slow with his words and unable to express what he truly feels.
As a clever and well-spoken writer, Cyrano has mastered the art of poetry and agrees to write letters to Roxanne as if they were from Christian. The course of the film flows around this secret.
A series of heartfelt ballads and impassioned songs are scattered throughout the film. "Madly" is the recurring medley that stitches the story together. Although Dinklage is not a classically trained singer, his voice is raw and genuine, creating a deeply impacting sense of vulnerability. Harrison Jr. and Bennett have voices that ring with traditional Broadway musical tones, strong and sure with every note.
Each song unravels a unique choreographic pattern. In one scene, Roxanne reads the first love letter that she believes is from Christian. As she sings the song "Every Letter," Roxanne caresses the missive along her body, face and lips. The dynamic camera movement during the song is captivating, flowing seamlessly as viewers see every detail of what Roxanne, Christian and Cyrano are feeling.
One of the most visually stunning elements of the choreography is how the clothing moves with the dancers. The 17th-century Parisian costumes create an optical symphony of color between the women's dresses with bulging bustles and the soldier's uniforms — a detail that likely helped the film snag a Best Costume Design nomination at the 94th annual Academy Awards, which take place Sunday, March 27. 
Ultimately, "Cyrano" is a story for lovers. As in many romantic stories, there are some plot points that left me scratching my head. For instance, Roxanne demands a man of high intellect but she also desires a man of incredible physique; the superficial juxtaposition is frustrating.
But by the end of the story, this film made me feel something deeply. I couldn't help but care for the characters as if I knew them personally — a mark of impactful storytelling.
"Cyrano" is showing at the Pickford Film Center in Bellingham through March 24, and from April 1 to 4 at the Lincoln Theatre in Mount Vernon. Visit pickfordfilmcenter.org or lincolntheatre.org for details about viewing this movie on the big screen.