Snow Sports
There's something to be said about walking up a mountain
... and to be savored about riding down
March 23, 2022 at 4:30 a.m.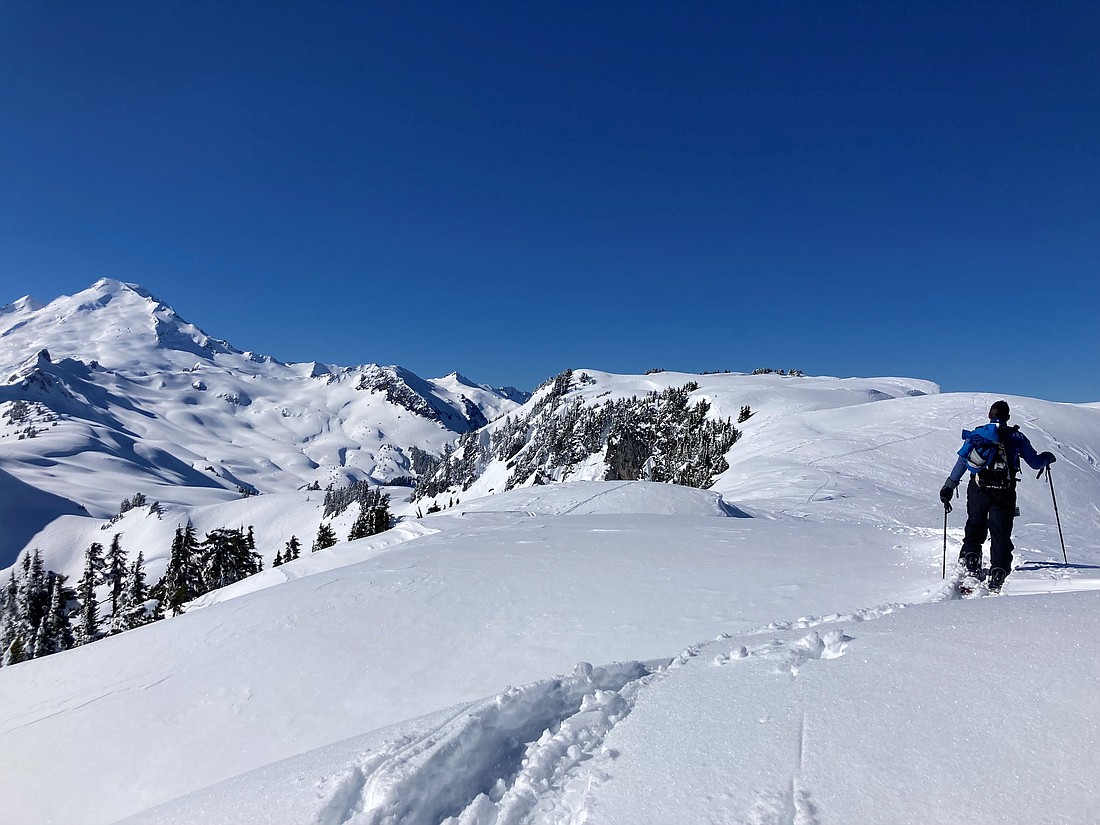 ---
---
The squawking of the alarm shoots my body up to relieve the unwanted noise from the previously peaceful state of my dark room. The clock looks back at me, revealing that it is in fact 5:30 a.m. and time to get up. 
My partner and I give up a little conversation, both of us trudging through the slump to get on the road. I check the forecast: the sun tells me that she plans to be out all day, warming the mountain peaks, so I dress accordingly.
I grab my backcountry pack and start filling it with my life-saving essentials. A stop at Haggen is added to our to-do list as my avalanche beacon's battery life blinks the precautiously low number "34," as in percent.
As we drive, the drowsiness is drowned out by the cottonwood trees entangled in moss and the snow-capped peaks standing guard behind them. The sky starts to brighten, illuminating a light green aura swimming between the trees. 
The Nooksack River guides us up the meandering road until we reach the dead end. I open the door and the cool breeze does not hesitate to enter the warmth of our car. I step out into the Heather Meadows backcountry lot and look at my watch: 7:50. A little later than anticipated, as usual, we slapped our climbing skins to the bottom of our split boards and set off for the day.
There is something to be said about walking up a mountain.
I have part of this quote tattooed on my thigh from one of my favorite writers, Edward Abbey, saying: "Walking takes longer, for example, than any other known form of locomotion except crawling. Thus, it stretches time and prolongs life. Life is already too short to waste on speed. To be everywhere at once is to be nowhere forever."
I repeat this quote often whilst walking up the seemingly never-ending mountainside. 
About 45 minutes into our trek, I stop and look out into the valley of jagged peaks and can see Baker Lake cradled by mountains in the distance.
I close my eyes and take a breath, and that feeling bubbles up inside, where I am so small, so insignificant, that it makes me feel alive. There is a strange comfort in knowing that the world will continue to spin whether I am in it or not. 
I open my eyes and watch as the sun dances off the snow, making the whole world sparkle. The pale moon lingers, working overtime, guiding us to our summit.
Our goal for the day was to take a longer hike, summit Table Mountain, then drop into the bowl between Table and Mazama Dome and hike out Chain Lakes Loop. The avalanche forecast for the day predicted that south-facing aspects were going to be dangerous, along with reactive wind slabs lurking in upper elevation terrain.
Once hiking, we could see these predictions come to life, with small sluffs of avalanches laying at the bottom of those south-facing slopes. Although seeing avalanches of any size is gut-wrenching, when the predictions you had planned for hold accuracy, it gives confidence within that day's decision-making.
Mount Baker greets us at the top of Table Mountain. Although it would probably take another day of hiking to even get to the base of the active volcano, it looks as if I could reach out and touch it. It is funny how enticing danger is. Crevasses, glaciers and avalanche terrain fill my vision, yet all I see is the potential for adventure and the mysterious beauty the mountain holds.
Looking in the other direction, I see our line of descent. Well, actually, I don't. Below me is what looks like a straight drop off into the vastness of the mountains. I watch my partner inch to the edge and look back up to me saying, "looks sick" with that pow-hungry grin painted on his face. I remind myself of my own ability and follow suit. Once balancing on the edge, I too feel that same smile unfolding beneath my mask. 
I dropped first. The mountain becomes my canvas, and I am the paintbrush. In my own pursuit of expression, I can work in collaboration with the mountain to create our own piece of art. Untouched snow sprays my face and I drag my hand through a low turn feeling the intimacy between the mountain and me. All my attention is concentrated on that moment. Nothing else matters.
The three-hour hike leads to these 45 seconds of pure bliss. Forty-five seconds that I wouldn't trade for the world. Afterward, I can feel the mountain pulsing within me, giving me the energy I need to sustain myself.
Kayla Heidenreich is a CDN Outdoors Contributor: heidenreichmk@gmail.com. She acknowledges she is living, working, and recreating on the sacred lands of the Nooksack and Coast Salish peoples.