Business
Skagit tulip workers strike on eve of festival
Union says worker concerns have persisted for years
March 23, 2022 at 3:43 p.m.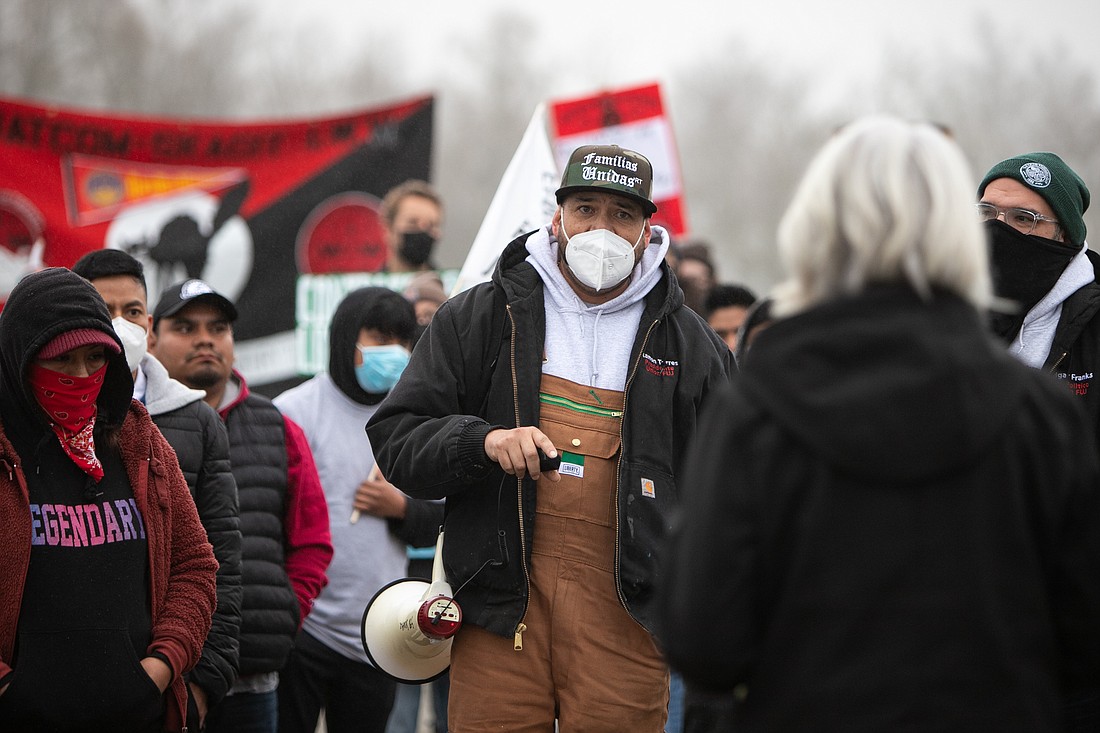 ---
---
MOUNT VERNON — With the Tulip Festival little more than a week away, workers at the nation's largest tulip grower have walked off the job to demand better pay and working conditions.
About two-thirds of Washington Bulb Company's employees halted work Tuesday and voted to form a union, said Edgar Franks, political director at Familias Unidas por la Justicia, an independent union of Indigenous Mexican farmworkers. Work conditions at Washington Bulb have been a concern for the company's field and warehouse employees for years.
"Some of the workers have been afraid to speak out" for fear of retaliation from management, Familias Unidas volunteer Alfredo Juarez said. 
Ramon Torres, Familias Unidas president, said before this week's action, Washington Bulb has fired employees before they could strike. 
Dozens of employees gathered Wednesday morning at a dirt parking lot near a field of Washington Bulb daffodils to meet with management. Minutes later, a man identified by union officials as one of the owners arrived and demanded that television camera crews and other reporters get off private property. The man also tried to order all employees who were not part of a particular crew to return to work.
Initially, no one left the lot as an unidentified female manager offered to speak to workers individually. 
"We try to be very fair, and we always have been," the woman said.
Torres, speaking in Spanish while Franks translated into English for the owner and manager, said meetings with individuals were not an option as the workers had already unionized.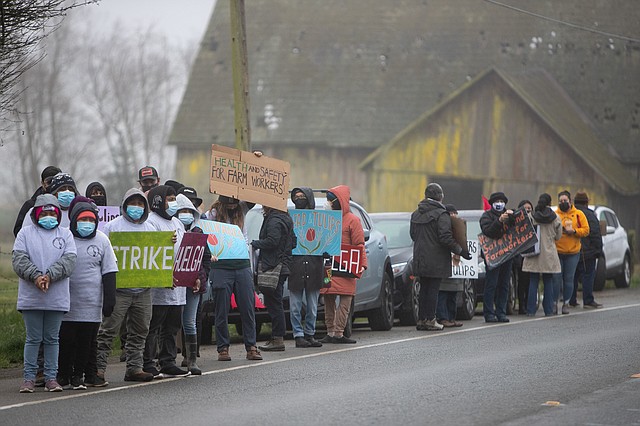 After the discussion ended, Torres instructed workers and a crowd of supporters to move to the public right-of-way along Best Road and form a picket line.
Juarez, the Familias Unidas volunteer, outlined some of the workers' concerns in an interview: Employees were expected to work off the clock. Workers who took more than two bathroom breaks were told to go home for the day, Juarez said, adding that these workers were blacklisted and denied work in future seasons.
This year, an hourly bonus for picking 8,500 flowers in a day was reduced by $2. Workers wrap 10 flowers in rubber bands as they pick; if one flower in the bunch is damaged, all 10 are taken out of the bonus count, Juarez said.
Workers are expected to provide their own gloves, Franks said, adding that some employees have developed lesions on their hands and face from the nectar the flowers secrete.
Washington Bulb manager Brent Roozen provided a statement to Cascadia Daily News Wednesday afternoon:
"On Wednesday, March 23, a number of our farm employees joined with labor activists in protesting against our farm. Washington Bulb Company has a long history of positive working relationships with our valued employees and this action is upsetting to both our company and employees," the statement said, adding that "only a small number of employees are actively involved in protesting."
"The primary issue stems from an inadvertent error made by our staff when calculating the daily performance bonus for two groups of employees. One group was mistakenly overcompensated, and one group mistakenly undercompensated. We have communicated with our employees to resolve this concern and made the decision to compensate all groups at the higher bonus level," the statement continued.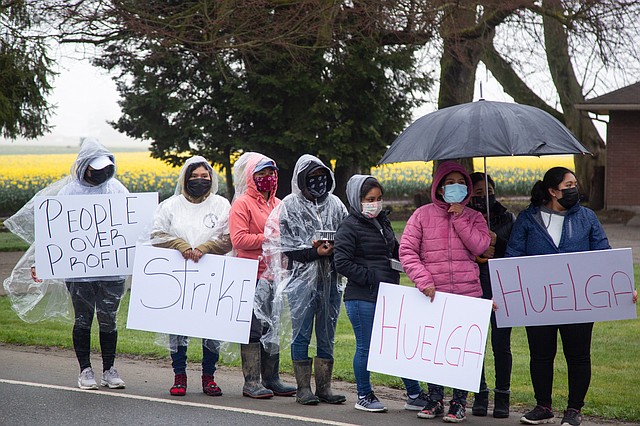 "A few employees already involved with the labor activists have used this unfortunate mistake as a pretext to make accusations against our company and management."
On a Facebook Live video posted from the picket line, Franks said he anticipates that the workers' elected union committee will meet with Washington Bulb management to address the union's demands.
Union leaders and workers composed a list of demands while on the picket line Wednesday. It includes a guarantee of 8 hours of work per day; two sets of waterproof clothes, and boots and gloves for all workers; training for supervisors "to treat workers with respect;" and no retaliation against strikers. The committee is also asking for a $3 raise on the hourly bonus. 
The strike will continue Thursday, Franks said. The Tulip Festival opens with a gala kickoff event March 31. Festival Executive Director Cindy Verge said Wednesday the festival will go on as planned. The monthlong celebration includes three gardens: Tulip Town, Garden Rosalyn and Washington Bulb's RoozenGaarde.
"We know that this is a very lucrative and very prestigious event that happens here, the Tulip Festival in Skagit County," Franks said Tuesday in a Facebook Live video. 
"These tulips don't just magically appear," Franks added. "There's a lot of workers that make this possible, to make the fields look nice and everything run smoothly. And it's time for people to recognize all that labor and the contributions that they do."